Jared Leto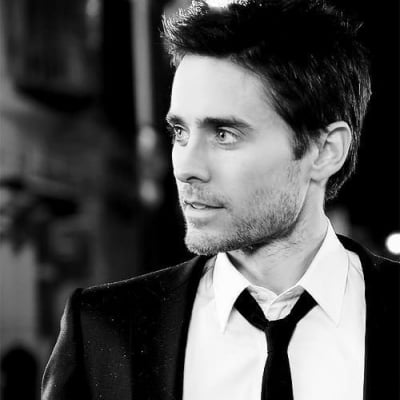 Uploaded by catwalk
Comments
Top
Popular
Newest
Jared has an amazing voice! His voice brings you into the song with depth and emotion. He not only sings the lyrics, he tells a story with heart and soul.
Jared's voice is so amazing because when I listen to : 30 Second To Mars I have so many emotions, and I think is one of the best singers of the world!
He is really the one, he need to be chosen, he need to be on the world stage. If you really need someone, who makes a difference - pick him, you will never regret. He makes his life for himself and a life for everybody. He is a legend. He is everything.
He's not just the best male singer, he is the most hot and talented singer. Vote him! You will never regret! Have sure!
How on earth is Justin Bieber better that Jared Leto? Seriously?! Jared has got a beautiful, natural voice, so I'm kinda confused on why he's only 64! Come on people! Half the people higher up on this list use autotune! Anyway, Jared deserves to be a lot higher on this list that he currently is!
Oh, and he's really hot too
The song of his voice doesn't go from my ears to my brain. It goes from my ears to my heart I don't hear his voice, I feel it. Best voice I have EVER heard! Brilliant range, powerful yet gentle at the same time. Love you Jared Leto!
He has an amazing voice. You should here him scream. He is the only person that can scream like that! I specially love his voice in the slow songs! If you haven't hear him before, you should!
Never underestimate the powers of Jared. He is a one man show, he gets everything done. Not only is he an amazing actor but a singer, a songwriter, a director, a musician. Jared is everything and he proved himself many times.
He's has such a strong voice, that is slightly underrated. His song Kings and Queens show cases his undeniable talent with his strong singing skills!
Menowin on 11 really? And Jared Leto on 26? Are you serious? Come on vote for the best singer ever! He's so awesome and talented! His voice is just unbelievable! All echelon vote
Jared leto is one of the best singers period. Listen to "From Yesterday", This man has an amazing amount of power, and emotion in his voice.
Jared Leto has the amazing talent to change his voice and make it so extraordinary and mind blowing! And he keeps reinventing his music and you never get bored of it! He is the best male singer, no doubt! Defiantely does not deserve #9! He deserves up in the top ten!
He's the best singer ever, vote vote vote Echelon. He need to get 1st place, VOTE, VOTE, VOTE We can do it Echelon. (rock)
His voice makes goose bump on my body. He is very talented person and he really care about the Echelon.
Jared at 18th place?! I don't want to live on this planet anymore... ECHELON - you know better who is the best
Most amazing voice I ever heard. Fell in love with his music and voice the second I heard it... He makes you dream and believe
He's the best male singer of all times! Not only is he handsome, but also ambitious, devoted to his fans, ambitious, great singer! What more can I say?
He have so amazing voice! And he also is so talented! He is the best singer ever! Please, vote for him! Echelon!
Jared is so amazing. His voice is incredible. I love when he singing.. He's powerful and funny.
Jared Leto is simply amazing. The man can belt with so much power.
michael jackson? no no no no! I like him an all but jareds voice is so beautiful! I love him and his bands music!
He has an amazing powerful voice. Even when he runs around on stage like a mad man he still sounds great. And he can hit really high notes.30 seconds to mars Unplugged is so beautiul.. He puts his heart and soul into his music.
I hate people Jared has more talent than 90% of other people on this list...
Jared he is so hat and his voice so amazing
He is amazing! He has the most powerful voice in the whole universe! He is well talented!
Related Lists
Best Jared Leto Movies

Top Ten Actors Who Should Replace Jared Leto's Joker
Best Jared Dines YouTube Videos

Top 10 People Named Jared