Tom Chaplin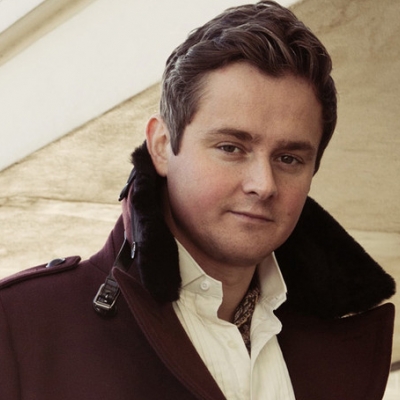 Found on fanpop.com
Info
Thomas Oliver Chaplin, is an English singer-songwriter, musician and composer, best known for being the lead vocalist of British alternative rock band Keane.
Comments
Top
Popular
Newest
Tom Chaplin is truly an awesome singer. He's got such a universal voice and can sing everything, from soft and mellow ballads to more groovy and power pop songs. His tenor range is outstanding too - not many people can sing that high like he does. But it's not just about the range. His technique is brilliant and he sings with feeling and passion every time. The best singer definitely.
#38? This could be the joke of the day! Find me anyone whose voice (not band or favorite group), but whose voice sounds better than Tom's - not gonna happen. This man's voice is heaven-sent! As a bonus, his band, KEANE, is equally talented in putting out some of the best music you'll hear anywhere. They are far too under-played, under-rated, and under-appreciated here in the USA! Give them a listen and you'll see. Tom Chaplin should be top 5 in any list of best male voices in music, period!
Tom deserves to be at the top of this list! He has the most amazing voice! He can reach heights with his chest voice with ease that other singers can only dream of in falsetto. Hearing him live is the most incredible experience! His voice is so powerful yet hauntingly beautiful... He takes you on an emotional journey like no other singer I've ever heard. He is an angel here on earth.
Tom Chaplin's voice is amazing, he easily reaches high notes and sing them with the same sensitivity. He has perfect tuning, pure and warm resonances and incredible texture and interpretation. He is able to fill a theater in an acoustic performance, singing without a microphone.
Its unbelievable just how little attention this guy gets! He's the best there is. The voice of Keane! Just listen to "Leaving so Soon" That song is a brilliant example of just how amazing Tom is. Also take a look at Keane's cover of "Under Pressure" by Queen! And you'll see!
His voice is perfect without even trying to be. Angelic, powerful, and inspirational talent! Tom Chaplin needs to at least be in the TOP 5! You can't help but sing along whenever he sings. I love you Tom!
He has the best voice in the United Kingdom! It's so perfect, and not only that, but also it gives you a good vibration which turns you from a sad and bad mood situation into a relaxing one! I just love him!
He has a lovely range, and his voice reminds me of Freddy Mercury. Tom's defintely the most amazing singer of the last decade!
Tom Chaplin is the closest to Freddie. His voice is amazing, it even resonates when he talks. He can also hit the very high notes (Highest note I've heard of him is a C5 with normal voice, not head voice! ).
His voice can cover Queen like no one's can do it! He can make you cry like a kid without his mother or laugh like lovers in the best phase of a relation ship. And is not just good in the records, live is perfect too, he just don't miss a single note.
No. 14? Really? Come on folks such a range and clarity and can sing with both tenderness and real passion within the same song. Fantastic live, really gives it everything. Enough said
31st in this list is an absolute disgrace. It's despicable how Keane are ostracised and put into this grouping of Soft-rock bands such as Coldplay. Unbelievable voice. Perhaps not the best of all time, but certainly the best live voice of the past decade. Flawless, I'm yet to hear him sing a bad note. Did anybody see the fan-made video of Tom and Freddie virtually duetting "It's a Hard life"? He creamed Freddie (vocally).
Easily the best Singer of this generation. He can sing anything, take any song and make it sound better than the original. One of the best live singers ever, even better than recordings, even non Keane fans have been converted after hearing this band live.
Not only can he dominate high notes on records, he can and does dominate them live. Not only does he have a powerful voice, he also has the ability to be very delicate and sensitive. This man can do it all.
Tom has an amazing vocal range! He is only in his 30s. I can only imagine what his voice will be like in another 10 years! Seeing him and his band perform live is quite the treat!
Tom is probably THE best yet most underrated singers out there today. To hear him live is a thing to behold. He blows your mind. His voice is so powerful yet so hauntingly beautiful. You feel every emotion in his voice.
He has an amazing voice, that can't be matched. He deserves to get 1st, not 14th. His voice is full of emotion and power. He gives lyrics feeling. I am going to see Keane in live concert in a month, and I can't wait to hear him.
Tom Chaplin really does have an astounding voice. His range is fantastic, his vocal diversity and ability to change tones is wonderful, and he puts his heart and soul into all that he does! I would vote Tom a thousand times over!
There isn't a song Tom Chaplin can't sing. Under Pressure life by KEANE is the best proof: singing both Bowie's and Mercury's parts!
Tom has a wonderful voice and not only on cd. His life performances are professional and personal at the same time.
I never experienced such a inspiring frontman before.
Tom deserves to be much higher. He is truly one of the most incredible singers I've heard. Also, Keane are one of the few groups around who are still making real music, using real talent, such as Tom.
He don't have just a good voice. He IS "The Voice"... He sounds live just as good as on CD. Just wonderful. He should be on the top 3! (as Number 1, of course! )
Probably the best singer of this generation. He's simply amazing live, possibly even better than on recordings
He has a really unique voice. He radiates such pure and powerful vibration that makes me feel happy and flying. The beauty of his songs sometimes makes me tear. I would like to be like him very much.
Tom has THE most beautiful, strong and emotive voice I have ever heard. He sings with such passion so effortlessly and can lend his vocals to ANY song he choses!... And he owns that stage SO well!
Tom is the best voice since Freddy Mercury, hands down. He can sing every type of song and cause emotions that no one else can cause. Go Tom!