Best Modern Metal Guitarists
This list is for the best MODERN metal guitarists. Bands that formed after 1990 and are still around today, making albums.

The Top Ten

1 Synyster Gates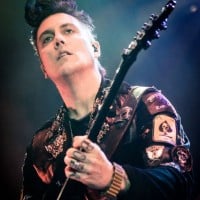 Brian Elwin Haner, Jr., better known by his stage name Synyster Gates or simply Syn, is an American musician, best known for being the lead guitarist and backing vocalist of the band Avenged Sevenfold.
I'm old school metal listener. I like Metallica, Megadeth, Pantera, Black Sabbath, Death, Opeth to name a few. I use to hate on this band so hard especially when they first came out because in my opinion they sounded to me like a metal fallout boy type emo band. That being said, I recently heard a few songs of theirs and gave them an honest try. It took some time to adjust to their style, but once I did I realized just how talented this band is. Now to the subject at hand, Synyster Gates is the best new (2000's and on) guitarist that I've heard to come into the metal scene. He's not my favorite of all time, but boy oh boy can he play. Listen to the Stage or Exist in their latest album to get a good idea why most of the young ones rate him so high. Just pure talent. The band in general has matured and developed their own sound, if you were like me, a hater, give them a second chance and try out some of their newer music.
Avenged is a very hated band from "old school metal" listeners but the truth is only one: they gave heavy metal "a new life", first album in my opinion is bad but the rest, specially The Stage, give them a place among the best metal bands, either u like or not. Most of their success is because of this man, the best guitarrist of this generation and their most talented man. Hats off.
Sun is actually extremely hated by a lot of people in the metal fan base. But that's just stupid. Gates is an amazing guitarist and he has some awesome solos is Second Heartbeat, Afterlife, I Won't See You Tonight Part 2 and many other songs by Avenged Sevenfold. Just an awesome guitarist.
Ok let's get something straight...Linkin Park and A7x are my 2 favorite bands. This being said, Brad Delson shouldn't even be on this list. Especially so high up at 3. Syn is obviously the #1 spot here. Just listen to solos like Afterlife, Welcome to the Family, and Scream and tell me he doesn't deserve it.
2
Alexi Laiho, Children of Bodom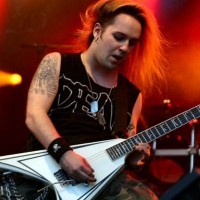 Alexi "Wildchild" Laiho (April 8th 1979 - December 29th 2020) was a Finnish guitarist, composer, and vocalist. He is best known as the lead guitarist, lead vocalist, and founding member of the melodic death metal band Children of Bodom. He was also the guitarist for Sinergy, The Local Band, and Kylähullut. ...read more.
Seriously, 18th? This list is the best modern metal guitarist not your favorite band guitarist, before you start voting for Linkin Park, B4MV, LOG, etc. Check this guy works on any COB song.
Just listen to songs like Kissing the Shadows, Bodom blue Moon, Downfall, Needled 24/7, Living Dead Beat... many more great ones missing tho
He is not fastest or cleanest guitarist in the world unlice Jacky Vincent and others BUT! One thing he certainly has - is STYLE!
Brad of Linkin Park better than Alexi what?
3
Jeff Loomis, Nevermore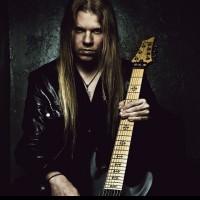 Jeff Loomis is an American musician, best known for his role as lead guitarist in the progressive metal band Nevermore and death metal band Arch Enemy.
Jeff Loomis has some of the most intelligent and involved riffs out there. His solos are near impossible to play. I've never seen someone sweep like him. His ability to play great emotion as well as shred your face off make him my number 1 pick.
Listen to the shredding he does on "Miles of Machines" - all I'm saying. - petrucci75hammet
Jeff is probably the best underrated guiarist out there, his solos are guitar playing is unmatchable
4
Buckethead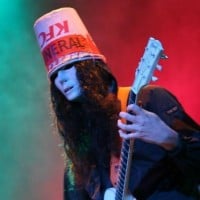 Brian Patrick Carroll, known professionally as Buckethead, is an American guitarist and multi-instrumentalist who has worked within many genres of music.
Modern or classic, he's better than any other guitarist here.
Should be third with petrucci at 1 and jason richardson at 2
5
Christian Muenzner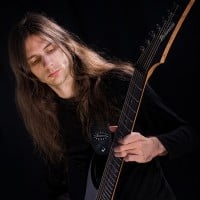 Lead guitarist (Obscura, Necrophagist) - neo-classical style, awesome sweep picking. - Metal_Treasure
6
Rafael Trujillo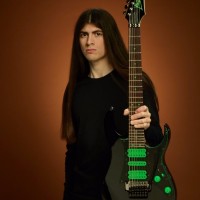 7
John Petrucci, Dream Theater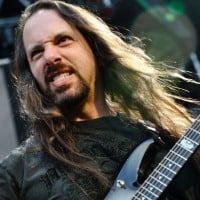 John Peter Petrucci is an American guitarist, composer and producer. He is best known as a founding member of the progressive metal band Dream Theater. Compared to his level of skill, John Petrucci is relatively unknown in the modern music industry.
Why is he higher in the best metal guitarists (all time), vs the best modern medal guitarists? :? Also, look at the panic attack solo people.
There is literally no excuse for Petrucci not being at the top of this list. Gates is a very good guitarist, but Petrucci is one of the greatest, living technical guitarists.
No one on this list can touch the level of musical virtuosity of John Petrucci. Period.
This guy practically rivals Hendrix in matters of skill
8
Gus G, Firewind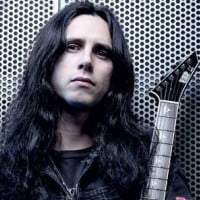 Konstantinos Karamitroudis also known as Gus G, born September 12, 1980 in Greece is a heavy metal guitarist. He currently plays with his band Firewind and Ozzy Osbourne
He is just amazing, and he also play together with Ozzy!
9
JR Bareis, Love and Death
A guitar prodigy discovered by Brian "Head" Welch when he was only 15 years old. His skills increase exponentially each year. He can definitely hold his own with the best of them. Watch out he is just getting started.
His style of play is precise but fluid, he reminds me of Randy Rhodes, he has the gift were he makes it look easy and he is dead on each note when I seen him live, he just blew me away
JR blew us away when we caught the live show with Korn this last year! When I researched and saw just how young he really was I was even more in Awe He's incredible already! I'm a fan4life! I'm excited by what he will bring us next! It should be noted that he's a talented vocalist as well! Keep Rocking JR! -PrincessJena
He's awesome! God gave him his talent at such an early age and he ran with it. Love and Death is tied with Red for my favorite band, and his sweet riffs are a big part of it (and not to mention his voice as well)!
10
Mikael Akerfeldt, Opeth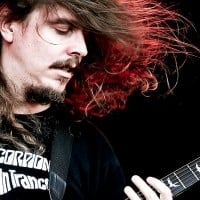 Lars Mikael Åkerfeldt is a Swedish musician, prominently known as the lead vocalist, guitarist, and primary songwriter of progressive death metal band Opeth, as well as being the former vocalist of death metal supergroup Bloodbath for three albums up until 2012. ...read more.
Greatest in tone and composition.
This site is full of metalhead wannabes. How can Synster Gates be above John Petrucci and why is Mikael so low,(also Steve Wilson,Buzz Osborne,Adam Jones,Brent Hind,Stephen Carpenter,Daron Malakian are not on this list)
The Newcomers
?
Brandon Ellis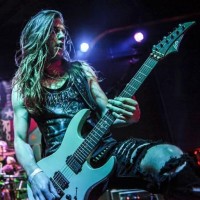 The Contenders
11
Muhammed Suiçmez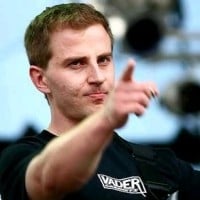 Muhammed Suiçmez was born in Karlsruhe, Germany, to Turkish immigrants. He is the frontman and guitarist of the German technical death metal band Necrophagist.
12
Michael Romeo, Symphony X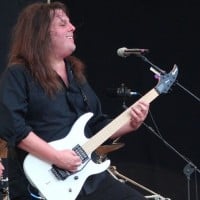 Michael James Romeo is an American guitarist and a founding member of the progressive metal group Symphony X.
Has all the skills of the old Masters, and then improves it in every metal way, He's the ultimate metal shredder, he has all you need to know about new Metal guitar
The greatest metal guitarrist I know, a virtuoso with really great taste.
13
Adam Jones, Tool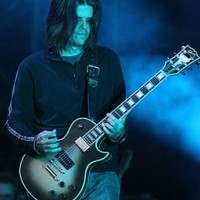 Adam Thomas Jones (born January 15, 1965) is a three-time Grammy Award-winning American musician and visual artist, best known for his position as the guitarist for Tool.
This dude, along with Petrucci should definitely be in the top 3. No wait, top 2.
Dude, this guy deserves a MUCH higher spot, do you realize how demanding his guitar writing is in Tool's songs? He is part of the reason Tool's songs are so well-composed!
The most efficient guitarist I've ever heard. His parts are so perfect for each song that I often don't notice how well-composed they are. He approaches music from a designing perspective.
Don't get me wrong, Gates is a pretty awesome guitarist. But the fact that Adam isn't #1 astounds me. While Synyster is the Dave Mustaine of modem metal, Adam is the Tony Iommi of modern metal. Meaning, whenever Adam's solo comes on songs like Ænima or The Pot, I literally get goosebumps down my spine. Just the way Adam plays the guitar just gives me this cold, yet very satisfied, feeling. Again, I love Synyster Gates, but he's #2 when compared to this master of modem metal. Like said before, he's pretty much the modern Tony Iommi. - OnyxDash
14
Daron Malakian, System of a Down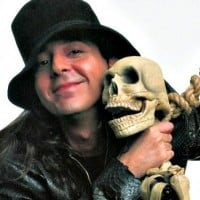 Daron Vartan Malakian is an Armenian–American singer-songwriter, multi-instrumentalist, and record producer. He's best known as the main songwriter, guitarist, and co-vocalist for Armenian/American rock band System of a Down. After System of a Down's hiatus in 2006 he began to release music through ...read more.
You've got to be kidding me!

How can he be on such a low place?!

Such a uniquely talented musician!
This is stupid, he deserves to be in the top 3 at least
Easily top 10 id give him the 8th or 9th spot
Has Anybody listened to rebellion?
15
Mark Tremonti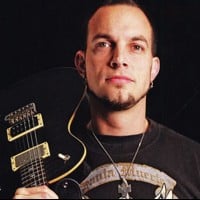 Mark Thomas Tremonti is an American musician, singer and songwriter, best known as the lead guitarist of the rock bands Creed and Alter Bridge.
Mark tremonti made Creed and Alter bridge..and went on to form his own band, before Creed released their album weathered, Brian Marshall left the band well most bands would look for a new bassist but mark tremonti pulled his and to be honest I never noticed Brian's absence, he's better than Zach Myers, Zach Wilde, hell you can go so far as to say he's as good if not better than Jimi Hendrix...he has his own unique style which leaves his own personal signature in music...and he never catch his guitar on fire or pick strings with his teeth to get popularity and recognition... Guitar world ranked him 4th greatest metal Guitarist of all time but I don't think that's right either, this guy deserves #1, yaw are choosing Guitarist from what famous band you like most and don't actually listen to their individual talent.
Tremonti is the backbone of three successful bands Creed, Alter Bridge, and Tremonti. He can shred as well as anyone in metal today. He's by far the most complete guitarist in the game right now!
People who think that mick Thomson is better than Mark are too stupid. Go study and don't vote for a casual guitarist
Mark is a lot more better guitarist then some others in the list like Brad Delson. He is so versatile!
16
Michael Padget, Bullet for My Valentine
His solos are shred and melody at the same time. #2 For me Behind SYN he was the one who inspired me to pick up a guitar.
He's awesome! He can play both heavy metal electric and then turn around and play amazing acoustic solos! And they're all original. He simply fascinates me.
He is the most underrated guitartist he and mick thompson but mick thompson is better in my mind :) but padget is so underrated - nooreldeen
He should be in top 2 behind SYN
17
Richard Z. Kruspe, Rammstein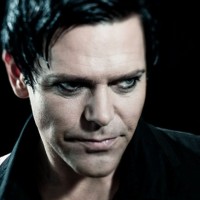 Richard Zven Kruspe is a German musician and guitarist of the German band Rammstein, as well as the frontman of the band Emigrate.
He is not typical modern guitarist - he has no knowledge about playing technics or well known solo scales. But he has great precision in playing riffs! Also, he is a great composer, his guitar sound is outstanding...
Yeah, I know, his riffs often only contain two notes, but in other songs he shows definite musical ability.
Great guitarist! His solos are amazing!
18
Brent Hinds, Mastodon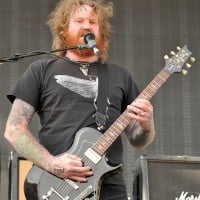 Brent Hinds is an American guitarist/singer best known as a member of the Atlanta, Georgia metal band Mastodon, in which he shares guitar duties with Bill Kelliher and vocal duties with Troy Sanders and Brann Dailor.
19
Mark Morton, Lamb of God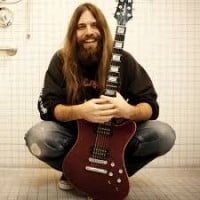 Not only is a humble great man. He has so much soul. Such a great improviser. The beginning to "grace" is the most beautiful soothing guitar play I could fall asleep to. I love mark
Mark is one of the greatest metal guitarists the world has ever seen. he covers everything in guitar to the fullest. He should be number one.
20
Herman Li, Dragonforce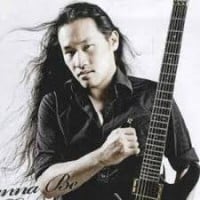 Herman Li is a Hong Kong-born, British Chinese musician, record producer, and lead guitarist for the British Power-Metal band Dragonforce.
He is the best. Just listen to any song of dragonforce. I'll see for yourself
21
Thomas Youngblood, Kamelot
While his soloing often needs improvement, he knows what he's doing with the main riffs.
22
Willie Adler, Lamb of God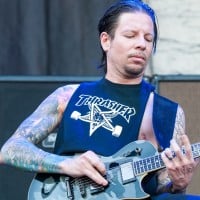 William M. Adler is the rhythm guitarist in the heavy metal band Lamb of God. He is the younger brother of his bandmate, drummer Chris Adler.
An old friend... He used to be more of a hippy who liked Rage Against the Machine and Beastie Boys... Lived in the Redwoods and is the most amazing drummer I have ever heard... All before becoming one of the best guitarist in the world
Keeping technical ability in the mix while still being intense, he definitely deserves his spot on this list.
This list is overly biased, Adler is far more talented than anyone on this list
It's Mike Morton who writes and even plays almost all of the solos in the band though...
23
Adam Dutkiewicz, Killswitch Engage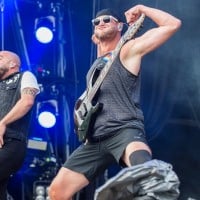 Adam Jonathan Dutkiewicz is an American musician, recording engineer, songwriter, and music producer, best known as the lead guitarist and backup vocalist from Massachusetts metalcore bands Killswitch Engage, Aftershock, and Times of Grace.
One of the best Hardcore bands of all time needs a great guitarist, and they have it.
You just need to listen to killswitch engage and you will know adam is the best modern metal guitarist of all time! All hail king adam!
What is Mick doing here Tremonti is probably better Mick does nothing but chugs..
He's a genius pure and simple
24
Mick Thomson, Slipknot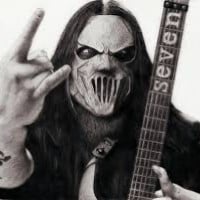 Mickael Gordon "Mick" Thomson is an American heavy metal musician. Born in Des Moines, Iowa, he is best known as one of two guitarists in Slipknot, in which he is designated #7.
though his chugging skills are excellent, people overlook his serious musical chops, his ability to shred like no other with fluidity and amazing dexterity, clean. much better than virus of dope. He can really play his ass off.
Great guitarists deserves to be no. 1 and what is brad Delson doing on this list linkin park is not metal
A great range of metal for this guitarist, much like the singer.
Definitely Mick he is amazing on guitar.
25
Virus, Dope
He's the most amazing guitarist. Every time he picks up a guitar he puts everyone else to shame. He can play everything and anything without practice. The man is just a genius.
His personality is totally expressed through his playing. Especially when you listen to all the music he has recorded, he is a total package guitarist outside of Dope!!
Virus deserves this spot more than anyone else. I mean come on have you seen him perform on broadway "Rock Of Ages". He's AMAZING!
Is this really a competition?! Hands down Virus should win this thing. His talent oozes out of his pores. He is a very underused talent
PSearch List