Best Male Metal Singers
The Top Ten
1
Ronnie James Dio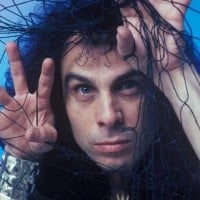 Ronnie James Dio (born Ronald James Padavona; July 10, 1942 – May 16, 2010) was an American heavy metal singer, songwriter and musician. He fronted and/or founded numerous groups including Elf, Rainbow, Black Sabbath, Dio and Heaven & Hell. He is credited with popularizing the "metal horns" hand gesture ...read more.
The god of metal, he could sing good in both aggressive style and calmly and he sounded great even when he was dying from cancer and he invented the devil horns, that's enough to justify my choice.
Power and range from such an unimposing creature. Height isn't everything
Ronnie's voice perfectly suits metal.
Very strong voice
2
Bruce Dickinson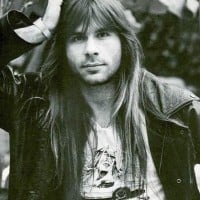 Paul Bruce Dickinson, known professionally as Bruce Dickinson, (born 7 August 1958) is an English musician, airline pilot, and broadcaster. He is most well known for being the lead singer in heavy metal band Iron Maiden and his solo career.Outside his career in music, Dickinson has pursued a number ...read more.
Probably the best vocalist of all time. Initially self-taught, could manage 4 octaves and a bit, could do everything from air raid siren screams to 22 second holds on a note. Amazing.
Just A talented vocalist all round. Has A vocal range of 4 octaves most of which he is able to reach in full voice and what A powerful voice that is (more so live than on the Cds. ) He also has A great mix of Raspy vocals and clean ones (although he struggles with the raspy ones live nowadays. )

Definitely deserves to be on this list and I'm happy to see him in the top 10
How come he's not on top when he's on top of "best metal singer" list.
3
Michael Kiske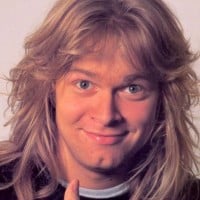 Michael Kiske is a singer best known as the former lead vocalist for the German power metal band Helloween.
He's the best rock/metal singer on the earth, it's not question. Brutal clear sound in a funny character from Germany! GOD!
Clean voice and singing with high pitch mouth very close to microphone without any sound break..
His voice is still amazing after all these years!
Unbelievable singer... Makes me shiver and smile
4
Rob Halford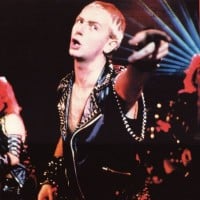 Robert John Arthur "Rob" Halford is an English singer and songwriter, who is best known as the lead vocalist for the Grammy Award-winning heavy metal band Judas Priest and famed for his powerful wide ranging operatic voice.
This list totally fails - 36 names so far and Rob Halford hasn't been mentioned yet?!?
Thank God Dio, Dickinson and Kiske are already in the top 10!
Let's get Rob Halford and Hansi Kürsch up there where they belong, too!
This man is easy top 5, if not top 3!
He is perfect, the metal god!
5
Marco Hietala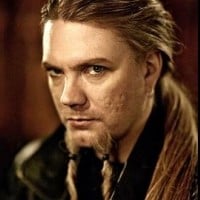 Marko Tapani "Marco" Hietala is a Finnish heavy metal vocalist, bass guitarist and songwriter (Nightwish, Tarot).
This list says Marco Hietala is the best metal singer, #1. Hmm... no offense but he is not even the best metal singer from Finland. He's not bad but something tells me that there are at least 70 metal singers better than him.
His voice is captivating, even more so live. I love the range of his voice, which might not be as wide as the one of the other mentioned artists, but he definitely is one of my favorites.
Yeah Marco has a tenor range, but he can reach very low notes as well. Check The Islander by Nightwish..
I think he is even better with the low tones, the Islander is no challenge to his voice. Check the Raskasta joulua, he is doing amazing things there
6
Tobias Sammet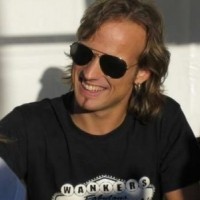 Tobias Sammet is a German metal musician, best known as the vocalist and primary songwriter of the power metal band Edguy, as well as the founder, main singer and bassist of the metal opera Avantasia.
He is now #6 and it's exactly where he should be, based on his incredible vocal skills.
His tone reminds of Bruce Dickinson and I love it. Try 'Nailed to the wheel' by Edguy.
Number #5 now! A great singer that keeps delivering in each of his albums! Amazing voice!
Tobias is the best vocalist of the entire world. Not a fan mode On...
His live performance is much better than in the CD! He's awesome!
7
Attila Dorn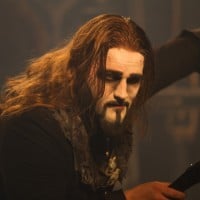 Attila's voice is exceptionally powerful. The fact that people don't know him as well as other singers (Marco Hietala, Dio, etc) is what makes him so much underrated. His operatic yet harsh style is what makes him unique from a lot of the typical high-pitched metal singers. His voice conveys power even at even very high notes.
My favorite vocalist of all. He is the reason Powerwolf is my favorite band. His strong voice good for high and low, soft and loud, for all sorts of things to it. Sadly, I never get to hear him sing anything simply about life itself or anything romantic when I am n those moods. But when I am up for powerful sounds with powerful lyrics, I listen to him first and their band!
Attila's voice is powerful as a nuclear strike and catchy as AIDS, also perfectly fits Powerwolf's music. The dark god of metal deserves to perform a duet with Floor Jansen, but this will drastically revamp the world!
I tried to sing along to Powerwolf. Lets just say he has one of the best vocal ranges I know. Also, where is Ozzy?
8
Hansi Kürsch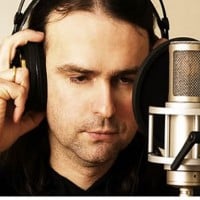 Hansi Kürsch, born Hans Jürgen Kürsch, is the lead singer, lyricist, co-composer and bassist for German power metal band Blind Guardian . Heavily influenced by Freddie Mercury, he creates a huge choir effect by overdubbing his own voice multiple times in complex, overlapping vocal harmonies. He records each vocal track individually because harmonizers and "perfect pitch" programs don't work with his voice due to distortion and the natural double layer effects his vocal cords have .
His early technique made use of a more aggressive and harsher, "screaming" technique . ...read more.
Easily, TOP 5! One of the vocal gods in metal. His skills are remarkable but one thing never cease to amaze me: those angelic/demonic dimensions of his voice and Hansi's ability to switch from raw demonic to soft melancholic tone (and vice versa) in less than a second! No one else does that so powerfully and beautifully! (ex. My last sunrise, Heaven Denies, Path Of Glory, Love's Tragedy Asunder - by Demons & Wizards).
His extremely aggressive thrashy tone is awesome, too (Majesty, Banish from Sanctuary, Valhalla - by Blind Guardian). He's got the most passionate and emotive voice ever and always moves.
Hansi is just one of a kind metal singer who is amazing live, too.
Favorite metal singer, so versatile!
The best ever
9
Roy Khan (Kamelot)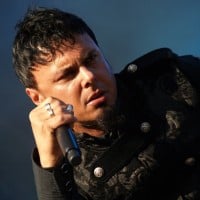 Roy Sætre Khantatat, is a Norwegian singer-songwriter. Commonly known as Roy Khan or simply Khan, he was the lead vocalist for the symphonic power metal band Kamelot from 1997 to his departure in 2011. He co-wrote most of Kamelot's songs with the band's guitarist and founder Thomas Youngblood during ...read more.
Should be number 1! Unique voice and stage presense, very talented man, miss him
Pure talent and passion.
Just unique.. Enough said
Just the most perfect voice of world and the more emotional singer
10
Geoff Tate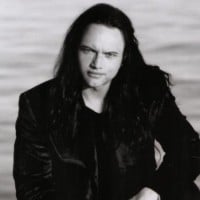 Geoff Tate is a German-born American singer and musician who rose to fame in the 1980s with the progressive metal band Queensrÿche.
Oh dear, he should be in the top 3... not 53
Take Hold of the Flame is a song powerful enough to get him to the top of the list
The Contenders
11
Jari Maenpaa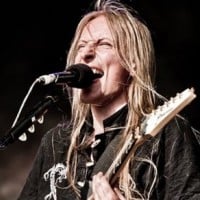 Jari Mäenpää (born 23 December 1977) is a Finnish heavy metal multi-instrumentalist and songwriter. He is the founder of metal band Wintersun for which he records all instruments. Before forming Wintersun, Mäenpää was best known for his role in the folk metal band Ensiferum.
12
Tony Kakko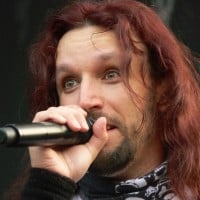 Toni Kristian "Tony" Kakko is a Finnish musician, composer and vocalist. He is mainly known as the vocalist, primary songwriter, and creative force in the band Sonata Arctica since 1996.
He has so much emotion and power in his voice. Unbelievable and mostly underrated. Made enough covers to prove that he can do more than rock/metal. Listen to "Nothing compares 2 U" or "My heart will go on".
Tony is one of my favourite vocalists. He has such an incredible tone to his voice and he sings with so much emotion in every song.
Cannot beat this guy. What an awesome singer
Very good but not exactly top 10, maybe 25-30.
13
Kai Hansen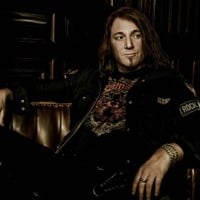 Kai Michael Hansen is a heavy metal guitarist and vocalist. Hansen is the founder, lead guitarist, and vocalist of power metal band Gamma Ray. He is also the co-founder and former member of German metal band Helloween.
14
Timo Kotipelto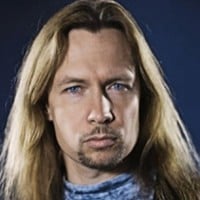 Timo Antero Kotipelto is the vocalist of the Finnish power metal band Stratovarius and is the creator and vocalist of the power metal band Kotipelto.
Come on guys what a powefull voice.. he make our days live.. I can't describe with words how means this guy for our universe.. listen he's voice and feel the song! Then you'll find the truth of masterpiece soul.
15
Warrel Dane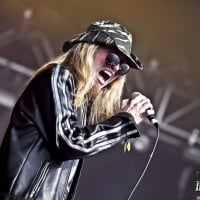 Warrel in Sanctuary's two albums "Refuge Denied" and "Future Tense" in the late 80's created some of the most awesome wicked high pitch vocals ever. The guy is a freak of nature and he didn't just sing high, he could enunciate and was controlled. Still gives me chills.

He is still around and a fine singer, but (probably) can't hit the high notes consistently anymore. A shame, but I am enjoying his newer stuff because the guy still sounds great, but lower.
16
Tommy Karevik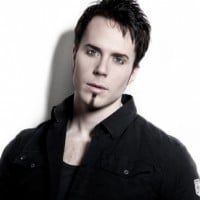 Tommy Karevik is a Swedish metal vocalist, best known as the singer for metal bands Seventh Wonder and Kamelot.
Probably the best balanced singer of the list. Still learning, but nowadays should be on top 5 just listening seventh wonder's albums. Seventh Wonder has extreamly amazing vocal melodies and their live versions and the Kamelot ones are more than great.
Just listening to the concept Album Mercy Falls (Seventh Wonder), his voice is captivating and if you need proof listen to Live in Atlanta.
Also Kamelot's Silverthorn is a masterpiece. Simply an amazing Vocalist.
A technical beast.
17
Ozzy Osbourne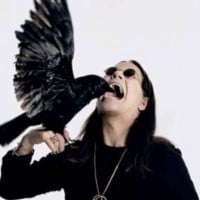 John Michael "Ozzy" Osbourne was born on December 3, 1948. He is also known as ''The Prince of Darkness''. Ozzy is an English singer, songwriter, and television personality. He rose to prominence in the early 1970s as the lead vocalist of the band Black Sabbath. Osbourne was fired from Black Sabbath ...read more.
Number 53?

I have lost trust in this site. Everyone knows Ozzy is the best!
How can this Legend be so low on the list. He literally shaped Metal with Black Sabbath
Why is ozzy last?
18 Andreas Bergh
19
Bobby Blitz Ellsworth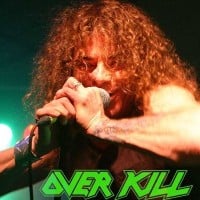 Robert Ellsworth, mainly known as Bobby "Blitz" Ellsworth, is the lead vocalist of New Jersey thrash metal band Overkill.
20
Corey Taylor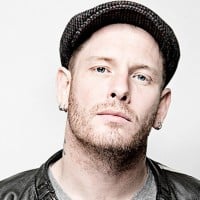 Corey Todd Taylor was born in December 8, 1973. He is an American musician, author, and actor best known as the lead singer and lyricist of the Nu-metal band Slipknot and hard rock/alternative metal band Stone Sour.
My favorite Metal singer
21
Waylon Reavis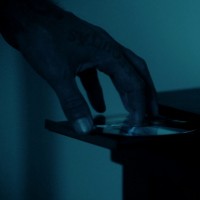 22 Tim 'Ripper' Owens
23
King Diamond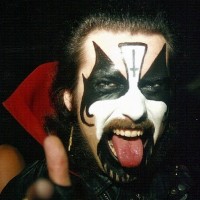 Kim Bendix Petersen, better known by his stage name King Diamond, is a Danish heavy metal musician. He is known for his extensive vocal range, usually sung in falsetto. King Diamond was originally known as the vocalist for Mercyful Fate, but has become notorious for his horror themed Concept albums ...read more.
He changes between falsetto, cleans and gutturals looking effortlessly. And he still does it at his age (62)
24
Phil Anselmo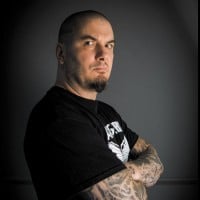 Philip Hansen "Phil" Anselmo is an American musician who is best known as the former lead vocalist of the heavy metal band Pantera. He currently is the vocalist of heavy metal bands Down and Superjoint Ritual.
25 Benjamen Sotto
PSearch List