Top 10 Models Who Left Us Too Soon
Models, known for being symbols in fashion & branding, just like other people, are born & die, but some end their lives too soon. This list has to do with the most important models & isn't a ranking on age.

The Top Ten

1 Marilyn Monroe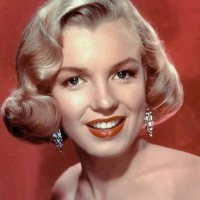 Marilyn Monroe (born Norma Jeane Mortenson Baker; June 1, 1926 – August 5, 1962) was an American actress, singer and model. Decades after her unexpected death, she has remained one of Hollywood's greatest sex symbols with her eye-catching style, champagne blond hair, and breathless manner of speaking. ...read more.
Who would ever forget this. Marilyn Monroe, the legend who became 1 of the most popular sex symbols between the 1950's & 1960's & was emblematic of the sexual revolution. She was the top-billed actress for only a decade but $200M at the time & $2B in 2020 during her death in 1962 which was caused by barbiturate overdose. She had a chance of hitting her 40's but she made the poor choice of overdosing at 36. Even long after her death, she remains an icon of pop culture & in 1999, the American Film Institute ranked her 6th place on the list of the G.O.A.T. screen legends from the Golden Age of Hollywood. Nobody will ever forget or replace her. She will always be Hollywood's top model of the 50s toward the 60's. She was a symbol for nearly every woman & artist since then & even artists like Madonna recreated her look in her tribute over her look. Like I said, she dominated fashion as well as acting & even music. She was a great musician & a top female of the 50's to the 60's toward her ...more
That's crazy, can you imagine what the world will be like if she was still alive after 1962?
2
Gia Carangi

The legendary supermodel which many claim was the 1st & dominated the fashion world yet inspired many people including Cindy Crawford to become supermodels battle AIDS related. She was only 26. There will never be another model or supermodel as important as her or the others that were also claimed to be the 1st supermodels. Without her, we wouldn't have Cindy Crawford the way she is or any of these later supermodels. R.I.P. Gia.
3
Ruslana Korshunova
Ruslana Sergeyevna Korshunova, the Russian model who rose in fashion by posing for magazines like Vogue as well as designers like Vera Wang & Nina Ricci, was killed in an apparent suicide by falling intentionally from a building in Manhattan on June 28th 2008. She was only 20.
4
Sarah Harding

The music, acting & fashion world was shocked when it was announced that Sarah Harding, 1 of the 5 members of the Irish female former dance group Girls Aloud, passed away on September 5th 2021. She was less than 2.5 months away from her 40th birthday, but she lost her battle to breast cancer at the worst time, all showing us that such great people can die young at the worst times possible. She lived for over 99.5% as long as the 40 year lifespan that Kimberly Walsh hopes to achieve, meaning Kimberly is the oldest living member of Girls Aloud & it's 1st to turn 40 if nothing cuts her life like what happens to some of these other people whether model or not. We remember she was diagnosed on August 26th 2020 with it & it turned out to be terminal & she "did not expect another Christmas", but who knew she would be dead after 39 years 9.5 months. She was among the most profound female dance & pop rock artists of Ireland & her fusion of such genres brought a new intensity to music we would ...more
5
Stella Tennant
Legendary supermodel & fashion designer Stella Tennant, who was ~5'11" (almost as tall as Elle Macpherson & Brooke Shields who approximate 6' in height) & spanned almost 30 years in fashion designing, yet dominating the fashion world as a whole, committed suicide on December 22nd 2020, 3 days before Christmas. She was 50. R.I.P. to 1 of the best supermodels & fashion designers of all time.
6
Sidharth Shukla
The actor of the 13th season of Bigg Boss & many other Indian works as well as the 1st Asian male winner of the Best Model in the World competition (where he beat 42 others, all at his age of 25), passed away due to a sudden heart attack toward the start of September 2021. He developed a heart attack at 9 AM & he was brought to the hospital, but unfortunately he was pronounced dead on arrival. He was over 40. His death was among the most shocking for all of Asia as well as the modeling community anywhere & he will never be replaced. It shows us life is the most unpredictable thing in existence. He was the G.O.A.T. of all ordinary male models in Asia.
7
Godfrey Gao
The world's 1st male Asian supermodel & 1 of the tallest models & supermodels of any gender anywhere ever (at roughly a whopping 6'4") was working on a reality film, but he developed a sudden heart attack leading to his death on November 27th 2019. He was 35. He didn't make it to Thanksgiving that year as he left Earth the day before. R.I.P. to a legend.
8
Mercedes Morr
Popular Instagram model from Texas by the name of Miss Mercedes Morr was killed as September approached. She had over 2.6M followers on her platform & was better than most users on the platform nowadays & we know the Kylie Jenner dominates it as far as models go & we know plastic surgery isn't the best influence for us. But the thing here is that she was strangled to death as September approached. Recent reports state the strangler may have been a fan, meaning she was being stalked prior to her death. Such a profound death of a kindhearted & supported icon for touch a popular community has her death reminiscent to music artist Christina Grimmie's death back in 2016 except it was a strangulation rather than a shooting & what makes matters worst for this was that it wasn't at a public place where people usually get targeted in, but at her Home, in PRIVATE PROPERTY! This shows us people can get killed anywhere & that we need to watch out for crazy weirdos. She was only 33 & loved by ...more
9
Anna Nicole Smith

Anna Nicole Smith was an American model, actress and television personality. Smith first gained popularity in Playboy, when she won the title of 1993 Playmate of the Year. She modeled for fashion companies including Guess, H&M, Heatherette, and Lane Bryant.
Iconic model Anna Nicole Smith became popular in Playboy magazine & won the 1993 Playmate of the year. She modeled for fashion companies including Guess, H&M, Heatherette & Lane Bryant. She was big on entertainment. Unfortunately she went though drug overdose at a bad time (yet drug overdose is never good at any time) on February 7th 2008. She was just past 39. R.I.P. to a Playboy queen.
10
Nikki Grahame

The Contenders
11
Ashley Tokaruk
The model that co-founded the Main Street Project's fashion show event The Runway to Change, which helped the homeless people in Winnipeg, passed away so soon on March 11th 2021, 10 years after the 9.1 earthquake that hit Tohoku Japan. R.I.P. to such a beloved hero for Winnipeg & the world.
BAdd New Item