Top 10 Most Famous Muslims
The Top Ten
1
Muhammad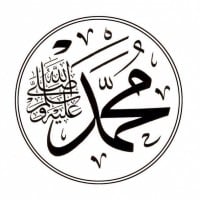 Muhammad (570 AD - 632 AD) was an Arabian Prophet, best known as the central figure (and last prophet) of the Abrahamic religion of Islam and is amongst the most revered and important historical figures in the world.
The last of the prophets, who brought the ultimate divine message and complete code of life for all humanity. He was endowed with the most perfect human attributes. No other human has ever had the personal qualities and the love and care for fellow human beings. Allah (SWT) in Qura'an has called him as supreme blessing for both the worlds. He glorified the best human qualities. He was the greatest law giver and message and code that he brought holds good and is relevant to all times till the final day of judgement. May glory and peace be upon him and his descendents.
Prohet Muhammad is appointed as the seal of prophethood and brought final scripture, Quran to this world. He is the prophet for all humanity. It is mandatory for all Muslims to believe in all other prophets such as Jesus, Moses, David, Abraham, Joseph, Isaac and Adam etc sent from the same God.
Islam is the religion of peace and love with every creature of God but unfortunately it has been misrepresented by very few people causing harm to the whole world.
Muhammad is the prophet and founder of Islam. According to Islamic doctrine, he was God's Messenger, sent to confirm the essential teachings of monotheism preached previously by Adam, Abraham, Moses, Jesus, and other prophets.
Please don't be disrespectful. If you have a problem with this list, just ignore it rather than talking nonsense. This is to the previous commenter for his rude comment.
2
Sami Yusuf

Sami Yusuf is a British singer-songwriter, composer, producer and multi-instrumentalist musician of Iranian Azerbaijani descent. In 2003 Yusuf released his first album "Al-Mu`allim" at the age of 23. He released his second album "My Ummah" in 2005.
The best singer with heart touching voice
All the beautiful features of humanity are gathered in Sami's character.sami is the best in the world
I chose sami yusuf
Love him
3
Osama Bin Laden

Osama bin Mohammed bin Awad bin Laden was a Saudi Arabian-born stateless terrorist. He was a founder of al-Qaeda, the organization that claimed responsibility for the September 11 attacks on the United States, along with numerous other mass-casualty attacks against civilian and military targets worldwide. ...read more.
Osama bin Laden is a skunk! He's one of the biggest reasons why Islam is such a widely misunderstood/ hated religion!
4
Molana Tariq Jameel
Great scholar...criticized by a few...talks about piousness, consciousness, "Taqwa" and peace through the globe...N most important has a way actually communicate and make u visualise and ponder
He is such a nice Islamic scholar in the world his voice is very heart touching
Great scholar and human being
The best speaker of islam I know
5
Muhammad Ali

Muhammad Ali (January 17th 1942 - June 3rd 2016) was an American former professional boxer . He was generally considered among the greatest heavyweights in the history of the sport.
A great ambassador for Islam, power to stand up for his people and believes...
He was a great man! and a good man that was a amazing example for his religion.
Greatest in the world American boxer
He is famous muslim may he rest in peace
6
Salahuddin Ayubi
We want indian salahuddin ayubi (Great warrier in islam). Thanks for your contribution
Best King in the world
Saladin is Sultan of Egypt. His Great Warrier in Islam.
Best of both!
7
Zayn Malik

Zain Javadd Malik, born on 12 January 1993, who records mononymously as ZAYN, is a British singer and songwriter. Born and raised in Bradford, ZAYN aspired to pursue a career in music from a young age leading him to audition as a solo artist for the British reality television music competition The X ...read more.
He should've been in top 5. Zayn is a global name now. Lot of people know him than those in this list apart from Muhammad and Mohammed Ali. I'm an Caucasian American and I only know Zayn the most here.
Zayn Malik is the best! He is awesome and funny and is the best singer in the world
Amazing boy with best Singing I like him very much.!
He is a very successful man around the world.
8
Muhammad Ilyas Qadri
Most reliable and pious personality
My peer is the best best wonderful person in the word in persent
Now a days he is 1st
Sincere with islam. so I like
9
Junaid Jamshed

Junaid Jamshed Khan جنید جمشید was a Pakistani recording artist, television personality, fashion designer, occasional actor, singer-songwriter, preacher and televangelist.
Junaid Jamshed is Muslim Singer. His most top Naat's.
Its hard to change so much as he did
He was a great and nice man
10
Shahid Afridi

Most loved personality
Best player of cricket
No doubt,he is one of the most famous Muslims
Pathan Afridi Khan is a Pakistani Cricketer.
The Contenders
11
Maher Zain

Maher Zain is a Swedish R&B singer, songwriter and music producer of Lebanese origin. He released his debut album Thank You Allah, an internationally successful album produced by Awakening Records, in 2009.
He is more popular than zayn Malik
The number one of the list is just for holy prophrt you fool
The World is Better with him)
He should be the first you fool
12
Mustafa Kemal Atatürk

Created the modern republic of Turkey, and fought off foreign powers.
He wasn't even muslim.
He was jewish, and gay
Western puppet
13
Cat Stevens

Yusuf Islam, commonly known by his former stage name Cat Stevens, is a British singer-songwriter, multi-instrumentalist, humanitarian, and education philanthropist.
14
Prince Moazzam
Prince Moazzam Beg (Mirza Moazzam Beg; B. 18 November 1991) He is an Indian Most Famous Muslim singer and writer (naat, humd, nazam). He was born in ahmedabad, gujarat, india.
15
Mohammad Rafi

Mohammed Rafi was an Indian playback singer and one of the most popular singers of the Hindi film industry.
Evergreen and versatile singer of the world never came before and never come will come again
A God given voice that will live till the end of time.
16
Moazzam Mirza
Prince Moazzam Beg (Born Mirza Moazzam Baig; 18 November 1991) is a Indian muslim singer with writer. He was born in Ahmedabad, Gujarat, India.
17
Haidar Ali Khan
Haidar Ali is a famous man in Islam. The father of Sultan Ali Khan.
18
Amir Khan

Is he wow I didn,t know it.Wow!
19
Sultan Ali Khan
Tipu Sultan is a famous man in Islam.
20
Muhammad Tahir-ul-Qadri
A very educated personality
Simply the best of this era
Great
The Grate Islamic Scholar & The Grate Leader
21
Irfan Khan Pathan
Pathan Irfan is a Indian Cricketer.
I prude Muslim
22
The Aga Khan
Spiritual leader of the Ismaili sect.
23
Saeed Anwar
Saeed Anawar is a Pakistani Cricketer.
Because he is related to tableegh
24 Suleiman the Magnificent
25
Maulana Saad Sahab
World most popular moulana of tableegi jamat, very sincere amongst whole ummat
PSearch List