Most Overrated Musicians
The Top Ten
1
Justin Bieber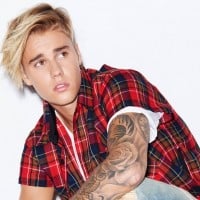 Justin Drew Bieber (born March 1, 1994) is a Canadian singer, songwriter, and record producer. He currently resides in Ontario, Canada and is Christian. He is the son of author Pattie Mallette. ...read more.
I HATE JUSTIN BIEBER. I am a 14 year old girl and most of my friends are obsessed with him, but I don't get it AT ALL. This guy has absolutely NO TALENT, he just qualifies as a singer because a bunch of crazy 10-year-old fan girls wish they had hair like him. I can't even believe he isn't at #1. The JONAS BROTHERS? Really? I haven't even heard of them since 2006. All I can say is, Baby Baby Baby Baby Baby NO!
Not even ten year olds that I know like him. My 10 year old stepsister hates this guy. Well okay she sort of converted into a Bieber hater because of me, but still as long as she likes good music like The Beatles and things like ABBA I'm fine with it.
I'm a 12-year-old girl. I hate Justin Bieber, Rebecca Black, all those other generic pop singers, Twilight, and I am not a Facebook addict. I am not an attention whore, a fangirl, a prep, an emo, or any sort of bad stereotype. I have friends, a social life and get A's (Yes, I'm Asian. Get over it. ) I don't understand the hype with Justin Bieber. His singing is mediocre. But THE WORST PART IS THE FANGIRLS. ESPECIALLY WHEN THEY CRITICIZE ANY OTHER FORM OF MUSIC UNRELATED TO JUSTIN BIEBER.
I don't know why he is not at the top in the list? Maybe because he is new and bands like Linkin Park, evanescence, breaking benjamin are not at their prime. His real fan base are silly girls who don't know anything about the music but just like his childish face. He is just a four day wonder and soon will be at the top of the list
I just don't understand why people like him,he's not even a good singer.
2
Beyonce

Beyoncé Giselle Knowles-Carter, is an American singer and actress, who started out in the popular pop/r&b girl group Destiny's Child. They had multiple top 5 hits such as "No, No, No", "Say My Name", "Bills, Bills, Bills", "Survivor", "Independent Women", "Bootylicious", and "Jumpin', Jumpin" from ...read more.
Here whole career is based on her ass and looks. All her vocals sound the same and married Jay- Z (the most overrated rapper of all time ) to stay famous. She is talented but is famous for the wrong reasons.
I don't know why so many people think she is good I don't like her
Yes, she is overrated. Because she is more popular with her big butt and her relationship with than with her voice and music. She is always in panties, with open legs.

...And sometimes, when she dance she jumps and tumbles as possessed, metal hen in rut.
People literally worship her! What?! She might be a good singer and all, but she ain't THAT good. And her whole image is so ingenuine, so controlled and curated. She is literally not a human, but a walking machine that says what people like to hear. There is absolutely nothing special about her or her music, which she doesn't even write or produce herself. A true testament to how gullible humans are.
3
Taylor Swift

Taylor Alison Swift is an American singer-songwriter. ...read more.
She is mediocre and I'm trying to be nice. Her voice is limited, very! Yes she does write her own songs but they are all about the same thing, not much creativity there. It's not like we have not heard songs with these type of lyrics before and from far better talented artists, like Linda Ronstadt, Stevie Nicks, Kate Bush. There are way to many female artists who write with more creativity and thought. If her fans were not so young maybe they would get a true ear on music and listen to more and find out she is very mediocre compared to many artists in music history and show some respect. Very limited with guitar playing, as well. Very little cords she can play. Sorry, but I expect truly great artists to be well versed and sing with a greater range and play instruments that they truly play with craftsmanship by practicing for a long, long period of time. She is what she is and that is nothing even close to Linda Ronstadt, Kate Bush, Annie Lennox, Joan Baez, and even Judy Collins. That ...more
Am I the only one who thinks this girl is a poor role model? Let's start with a couple of her songs.

"Mean" basically says people can't change. If they're a bully their just mean, screw the reasons they're mean. And you can't change because "all your ever going to be is mean"

"Blank Space" basically tells all guys are jerks and they'll never find the right guy.

Now let's talk about Taylor Swift's personality.

Does she have to be overdramatic and have to make a big deal out of everything?

She made a big deal when her dancers CHOSE to dance for Katy Perry. She sues people for mentioning her.

Let's not forget how she stole copyright from her photographer.

And publicity and media makes her look like this sweetheart. People actually buy it and actually look up to this freak.

I'm sorry but not only does she have no talent, she's the most overrated in general. She's not that good of a person. Dare I say she's kind of a bad person.
This girl cannot stay on key to save her life. She should be a song-writer with co-writers (b/c without them all her songs sound the same) but NOT "sing". However, she is a brilliant business woman as was writing young women on Facebook to be friends when she was just getting started. She knows how to sell her brand and get many people overlook her horrid voice. She is talented but not vocally. VERY overrated.
Yes, her fans need to really get some schooling. Stop placing her high on lists of any kind where great is used. I agree she has yet to earn greatness in music endeavors. I'm not putting down her music in anyway but it is the truth her fans do need to listen to more artists before putting her on great achievement in music lists. There are far, far, far more that have earned it and should be respected. Most would be way before the 2000's. They have earned it so much more and are far better at their craft. She is overrated for that fact that there are more talented artists around who deserve respect and have earned it.
4
Madonna

Madonna Louise Ciccone, known professionally as Madonna, is an American singer, songwriter, actress, and businesswoman. She influenced a lot of singers such as: Lady Gaga, Jennifer Lopez, Rihanna, Beyonce Knowles and Britney Spears. She is known as Queen of Pop and at modern pop culture specifically ...read more.
A very below average vocal range. If she tried to be a singer in the 40's or 50's she would have trouble getting a job sweeping a recording studio let alone singing in one.
She's a mediocre singer who uses shock value to draw attention to herself and to distract from her lack of talent. I don't understand why people like her.
She's in her fifties now and she's still using shock value to draw attention. Madonna if you're reading this, GROW UP! You're 56 years old. You can't keep this up forever you know!
Madonna was the bee's knees in the 80's, but for some reason, her career managed to keep her in work through the next 3 decades. She should have retired like 25 years ago, she's not that good anymore.
5
Lady Gaga

Stefani Joanne Angelina Germanotta, known professionally as Lady Gaga, is an American singer, songwriter, and actress. ...read more.
She's the biggest copycat in the world! She's has money and sucess just because she has copied the Queen of Pop!
The theatrics - meat wearing, semi-nudity and costume gimmicks cover up an average voice and pretty uncomplicated compositions. Yes she has talents (classically trained pianist) but so what? She doesn't seem to use her talents in the slightest.
Lady Gaga can definitely sing, and she can definitely play piano. Unfortunately, she manages to hide her actual talent behind some of the worst pop songs around, with terrible lyrics, visual gimmicks and cringeworthy production. She deserves to be ahead of Madonna in this list since at least Madonna's best songs are tolerable - Like A Prayer and Papa Don't Preach don't make me want to go deaf like Poker Face or Bad Romance do. Lady Gaga chooses to make bad music.
Personally, I don't understand the high praise she endlessly gets. Most of her songs range from the perfectly fine (Alejandro, Born This Way) to utterly atrocious and unlistenable (Bad Romance). Her extravagant persona is far more alive and interesting than the music she produces. That is all you need to know.
6
Kurt Cobain

Kurt Cobain was born February 20, 1967, in Aberdeen, Washington. In 1987, he started the grunge band Nirvana, which became one of the most successful bands ever. He was a talented yet troubled grunge performer. Kurt Cobain became a rock legend in the 1990s with his band. He committed suicide at his ...read more.
Anybody who says Kurt Cobain's music is terrible because of his voice or his guitar-playing does not understand the essence of grunge. Yes, his voice wasn't the best, and he did damage it often by how passioantely he sang on stage, but grunge is about the darker, less pitch perfect side of humanity, it's not about hitting all those notes, which is why it appeals to so many teenagers and outsiders sick of being told they're imperfect. His guitar chords WERE simple but that's why they're memorable, at a time when everybody was striving for complexity--complex guitar solos and complex lyrics and complex structures--Kurt kept it simple, and it was the best thing he could do. Frankly, simpler is better than the technical and grandiose, those are the things that survive time.
All the time, I see him on lists of great guitarists and being one of the best guitarists ever. He was never even that good of a guitarist. He knew it too! He would say all the time that he wasn't that great of a player. His solos were sloppy and not that unique, his riffs were repetitive, his clean and acoustic stuff was just too simple, and not to mention that he screwed up about every show!
Chad kroger from nickelback can play guitar better than kurt - Th3Zm0nst3r
I'm sorry but this guy in the top 25 of Rolling stones top 100 guitarists and Slash not in top 100, somethings messed up, I respect him, but the hype around how good he is is way too big, there best song is not the crowning achievement in rock, all they did was make Grunge popular, which isn't even that good of music
I'm gonna have to go with Cobain just because most of the rappers and pop stars on this list do not deserve to be called musicians. I really never understood why he is one of the most praised guitarists ever. I honestly think that if Kurt Cobain did not change the world with his simple music, somebody else would have beaten him to it. His vocals and guitar playing are both very average and unimpressive. While I would say that the most overrated guitarist is definitely Slash, Cobain is the most overrated all-around musician. I know that he started grunge, but I would honestly rather listen to the bands that followed his footsteps.
7
Mariah Carey

Mariah Carey, born March 27, 1970, is an American singer, songwriter and actress. She is one of the biggest best-selling women in the music industry, with 18 number 1 records to her name. She is regarded as a sex symbol through her songs and music videos, and she is "well known" for her over-the-top ...read more.
I admire her talent, but the part coming with her job is the part where you have to respect your fellow musicians. She basically dissed Ariana Grande for being compared to her, hates on Eminem (One of the biggest rappers of all- time, and pretend Nicki Minaj isn't alive. I'd suggest that you don't diss on people who have a lot of fans, have had a number 1 song in the past 5 years and can come up with something other than a remix of a Christmas song that gets played on the radio every Christmas Eve. I love your music, you just have to pull yourself together!
The only reasons she remained popular throughout the 21 century are her enormous fake boobs, her over-the-top diva personality, and for looking fat and always performing in clothes three sizes too small. She and Nick Cannon are the corniest couple of all time, and they were meant for each other honestly because both of them are lame cornballs who need to retire and stop embarrassing themselves.
All I can say is go and listen to vision of love and try to sing it you would do good at first but after maybe two or three minutes into the song and a couple of 3 or 4 or 5 octaves your voice will start to get tired and run out of breath and gasping for air Mariah Carey vision of love song is a hard song to sing can't nobody sing the song the difficulty of the song is just way to powerful especially the studio version it was enhanced and the live version is hard and difficult to sing as well Mariah Carey vision of love song, nobody will never master that song while singing it it's way to hard to sing along to.
If there was a singing contest in the Olympics she would win hands down. She can hit any note in any song mans nearly always does, that is why she us so terrible. Has no idea how to approach a song, any singer that tries to be better than the song cannot be taken seriously.
8
50 Cent

Curtis James Jackson III, better known by his stage name 50 Cent, is an American rapper, actor, entrepreneur, investor, record, film, and television producer.
Led Zeppelin Is over this clown?
what this guy sing is all about gangsta and some nonsense stuff
I wouldn't consider he rap because It's like he was just talking the lyric
nothin special
Those guy who said Led aren't good must not know what rock is voting Led Zeppelin instead of others
I'm not even born around 60's 70's or 80, s
but I love Led Zeppelin
Better than sellout marketing artist these day
and Eminem is the man dude
He really raps somethin meaning full
not just making fun of someone else
those who vote eminem must listen just 2 songs of him
never listen to Like Toy Soldier? Hailey's song? Mockingbird? My Daddy's gone crazy? Lose Yourself? Beautiful? and so on
He's not making fun at all
actually he really rap

These should be voted
The Jonas Brothers
Daughtry
Soulja Boy
Miley Cyrus
Pete Wentz
Lil Wayne
Justin Timberlake
Fall Out Boy
Avril Lavigne

people who commented and vote for a7x, 30seconds to mars, slipknot and linkin park you SUCK...! don't vote them becase they are popular.. they will never get overrated to us.. True music lovers... 50 cent, solja guy or whatevr they are music eaters... dnt call them mussians... justin kid, miley cyrus, rihanna, michel jaka... etc... can they sing...
50 cent is just so great...His lyrics are dope and his first Album went platinum to tell u how great he his...He should be part of the top 5...This is insulting
Hip hop / rap was cool in the 80s. Then it got annoying real fast except the more abstract & soulful stuff no one knows about
9
Britney Spears

Britney Jean Spears (born December 2, 1981) is an American singer and actress who was born in McComb, Mississippi, and grew up in Kentwood, Louisiana. She performed acting roles in stage productions and television shows like "The Mickey Mouse Club" as a child before signing with Jive Records in 1997 ...read more.
Kirk Hammett has more talent in his pinky finger than this overrated pile of garbage has in her entire body. As Metallica would put it, it's "Sad But True".
She cannot sing! Her body sold her music. Now her voice all autotune or electronic
No the Beatles are the best britney sucks
She actually sounded normal in the early 2000s, but now drugs made her sound like a troll.
10
Michael Jackson

Michael Joseph Jackson was an American singer, dancer, and songwriter born on August 29, 1958 in Gary, Indiana and passed away on June 25, 2009. He donated (at least) a remarkable 500,000,000 dollars to charity. Michael is also known as The King of Pop (a title given to him by Elizabeth Taylor) or under ...read more.
This list is complete garbage. Honestly what idiot thinks that Nicki Minaj and Miley Cyrus are better than Michael Jackson? He's the best musician of all time and is DEFINITELY not overrated. to be honest I'd say he's underrated. People focused on his personal life more than the musician. So first of all haters, he became white because he had a skin disease called Vitiligo which caused white patches on his skin and he used makeup to cover it up. He had nose jobs because the stupid media wouldn't stop bugging him about his "big nose" and when he did get nose jobs, they made fun of him AGAIN. Also, he NEVER molested a child. The idiot who claimed that he did admitted that he was lying and his dad hung himself after MJ died. Coindence? I don't think so. Michael Jackson was the nicest, sweetest, most beautiful human being to walk on Planet Earth. He deserved to be treated way better. People only talk about his flaws which are complete lies considering it all comes down to tabloids. They ...more
If you think he is underrated you didn't even know what this word mean UNDERRATED DOESN'T MEAN GOOD, it means thing with less lights on than it deserves and since he is called King Of Pop and is top one on the best singers list he is NOT underrated AT ALL!
Seeing him on here makes me want to cry. He is NOT overrated. If anything lots of people seemed to have forgotten about him. I'm not saying that to be rude to anyone or anything though. It's like he died and then everyone forgot about him and then sometime later, he blows up again.
Michael left his mark on the world, be grateful. Some of his songs were more successful than others but so what? He's WAY better than a majority of the so called "singers" on the planet today. Back in his days, mumble rap, screamo rap, songs about disrespecting people, and singers who use autotune did not exist. He is no longer walking among us but the music game is falling and he's STILL managing to save it.
No way Michael Jackson should be anywhere near this list. Believe it or not, he did in fact make a huge contribution to music and is also very enjoyable to listen to. His vocal charisma alone takes him out of this spot. Also, Eminem, really? Kurt Cobain? Come on, guys. And you can't be overrated if you're more hated than liked, anyways! (Justin Bieber)
But seriously, get Michael Jackson out of this list and bring in Nicki Minaj (who is below him? ) and company. Have a little respect towards this legend
His songs sound similar? Not at all! from Heal the world to Dirty Diana, from The lady in my life to Give in to me, from Who is it to Billy jean, from Speechless to Dangerous, I could go on and on, they couldn't be more different! The one who said that his songs sound similar has obviously never listened to Michael's songs.
The Newcomers
?
Hayley Williams

Hayley Nichole Williams is an American singer, songwriter and musician. She is best known as the lead vocalist, occasional keyboardist and primary songwriter of the American rock band Paramore. In 2020 she started a solo career.
?
Mike Dirnt

Michael Ryan Pritchard, known professionally as Mike Dirnt, is an American musician best known for being the co-founder, bassist, backing and occasional lead vocalist of the American punk rock band Green Day.
The Contenders
11
Nicki Minaj

Onika Tanya Maraj, known professionally as Nicki Minaj (born December 8, 1982) is a Trinidadian/American rapper / pop music artist. Minaj is most known for her songs such as "Anaconda", "Super Bass", "Starships" and her feature on "Bang Bang". ...read more.
Sure it takes talent to rap like that but it doesn't change the fact that her lyrics make no sense AT ALL. I'm a junior in high school and literraly everyone is obsessed with nicki minaj. Nicki's music it WAY too overrated and she should be nearer to the top of this list.
Her "music" is so incredibly nonsensical, it makes me wanna rip my ears off
Why is this chick not at number 2? She has millions of followers in which I can't understand why at ALL! She has no talent. Her voice sounds like she was possessed by Satan himself, and keeps on torturing her inside making her voice more awful.
How are Kurt Cobain and Bono both above Nicki Minaj? Nicki Minaj sucks!
12
Lil Wayne

Dwayne Michael Carter, Jr. is an American rapper from New Orleans, Louisiana. He was discovered by Brian "Baby" "Birdman" Williams at a very young age, and was signed to Cash Money Records, where he would be one quarter of the rap group Hot Boys. In the years to follow, he would go on to find his own ...read more.
This clown sucks! He got booed off the stage at bonaroo, his lyrics suck, he's a whiny little prick. He repeats his lyrics because he's a terrible song writer.

Why the hell are Led Zeppelin, Nirvana (Kurt Cobain, Bono, U2, Eminem even on this list. The people who are voting to put these people with actually talent are thick and uneducated. They haven't listened to good music.
I almost doesn't get worse than Lil Wayne. Dumb thoughtless unlyrical hip-pop. Not to mention the fact that lollipop is one of the worst songs ever made
Definitely the worst popular hip-hop artist of all time. Makes me wanna kill myself.
Honestly this guy is garbage, and before you ask, yes I've listened to the Carter 2, it was okay. Lil Wayne fans will never shut up about how great this guy is. They always talk about how the Carter 2 was a classic. These people have no taste in music and need to listen to someone who makes good music.
13
Bono

Paul David Hewson, known by his stage name Bono, is an Irish singer-songwriter, musician, venture capitalist, businessman, and philanthropist. His original nickname was Bono Vox which means "big voice".
Bono is above Lil Wayne? You must be joking.
If you think he is overrated then you must be biased towards U2. No, he doesn't have the greatest singing voice, but man does this guy have soul. His lyrics that he writes are amazing. I know this comment won't change any minds, but Bono is not an overrated musician. There is a reason they still sell out baseball stadiums and break tour records. It's because people like listening to them. I have a friend who never listened to U2 hardly. He knew a couple songs, but not many. Anyway he won tickets to U2 360 and after the show he called me and said that is the best live concert I have ever seen. Bono is a great artists who loves to make music and loves to help people.
What bono is the one of the best singers of all time he helps the poor and someone please remove him off this list
What a double face guy who talks about helping the poor people but wants to see people that sends his pirate merchandise in jail, what an hypocrite!
14
Eminem

Eminem, born Marshall Bruce Mathers III, is an American rapper, actor and music producer born on October 17, 1972 in St. Joseph, Missouri. Eminem has sold over 300 million records making him the bestselling hip-hop artist of all time. In addition to his solo career, he is a member of D12 and (with Royce ...read more.
Eminem is one of the greatest rappers Ever period no more no less. Other rappers are just jealous of his flow and awesome rhymes
Eminem is probably one of the most overrated rappers of all time. Sure, his flow and lyrics are awesome, but many of his fans treat him as the omnipotent god of hip-hop. Just go to ant top ten list on this site that is rap-related (and even some lists that are not rap-related) and you will see him in the #1 spot. His first few albums were great, but Encore and the albums that followed were kind of mediocre. His newer songs are mainly popular since they have popular singers like Rihanna sing the hook, and they appeal more to the pop music that would normally not enjoy hip-hop. While I still think he is a cut above lame rappers like 2 Chainz, he certainly isn't the king of the game, so stop treating him like he is.
Greatest rapper, I really think he's a RAP GOD FYI He's kinda underrated
Eminem is probably my favorite rapper of all time, but he gets WAY too much attention, especially with his mediocre newer songs like Rap God and Detroit vs. Everybody. Also, this isn't the top 10 WORST musicians, this is the top 10 MOST OVERRATED musicians. Justin Bieber is NOT overrated. Everybody hates him. Same with Lil' Wayne, Taylor Swift, Lady Gaga, Nicki Minaj, Britney Spears, and Beyonce.
15
Chris Brown

Christopher Maurice "Chris" Brown (born May 5, 1989) is an American singer, songwriter, dancer and actor. Born in Tappahannock, Virginia, he was involved in his church choir and several local talent shows from a young age. He is most well known for his physical assault towards the singer Rihanna in ...read more.
There are too many 12 year olds here not knowing that OVERRATED means they should not be as popular as they are. It really bothers me how names like Michael Jackson and Eminem are in contention for top ten.
That's quite insulting to say, I am 12 and overrated means being more popular, or people thinking they are better than they actually are or deserve.
I have never really like Chris brown my sister does but I think he is just another black guy trying to sing
Stop beating women and actually focus on your music career for once.
He shouldn't even be counted as musician!
16
Miley Cyrus

Miley Ray Hemsworth (born Destiny Hope Cyrus), known as Miley Cyrus, is an American singer, songwriter, and actress. She was born on November 23, 1992, in Franklin, Tennessee, to Tish Cyrus and Billy Ray Cyrus. Her voice type is Mezzo-Soprano and has 4 octaves. She became a teen idol starring as the ...read more.
some people doesn't know what music is, they listen to her commercial stupid music!

by the way, THE BEATLES here? since Oasis to SOAD, many bands like them, only a retarded would vote for that in this list. LED ZEPPELIN? I bet the people who voted there likes to listen Justin Bieber. METALLICA and KURT COBAIN ahead Justin Bieber? that's stupid!
shocking to believe she isn't higher and should be in the top 10 along with daughtry
Horrible plastic pop singer... Cheap soulless pop rubbish this is, totally plastic rubbish music... A total insult to the music industry, eek!
She's just as bad as Justin Bieber. And she's been looking so desperate lately, it's literally sickening.
17
Snoop Dogg

Cordozar Calvin Broadus Jr., (born, October 20, 1971) known professionally as Snoop Dogg, is an American rapper, actor, record producer, and television personality from Long Beach, California.
Snoopy is lousy rapper. More interested in young girls than music
Excuse me, but why is everyone hatin' on Eminem! Just cause ya'll don't like rap and don't understand what real rap is doesn't mean you can just hate on Eminem. He's beast. But Snoop dogg sucks, he doesn't even rap, he just talks without any beat or rythem.
All he does is sell himself out. Rapping with crappy artists like Big Time Rush, Jason Derulo, Lil Wayne, and even promoting terrible artists like Wiz Khalifa and Far East Movement. This guy truly is a sellout.
I never ever liked this man! Songs about marijuana will only get you so far, Snoop. Give it up, just retire and go live in Pakistan or something!
18
Ariana Grande

Ariana Grande-Butera, known professionally as Ariana Grande, is an American singer and actress. She was born on June 26th 1993 in Boca Raton, Florida to Joan Grande and Edward Butera. She is best known for her role as Cat Valentine on the Nickelodeon sitcom Victorious and its spin-off show Sam & Cat. ...read more.
what I like airana grande I wish I could sing and look like her your all just hater's I get that's what this sit it about so it's ok thank-you next
Her little 10 hear old fangirls are always talking about how flawless she is. To be honest she has bad enunciation, a nasally voice, and without makeup and her song with Mac Miller she would be nothing.
She should be on top of this list. She IS a good singer, with good singing potential (if you want hardcore proof then see her songs when she was 11-17) I LOVED her on Victorious
HOWEVER, her pop songs are meaningless trash which isn't even music. Its just noise! She wasted all this potential. She doesn't even have the same good singing ability anymore, and her voice sounds like a smoker's
Also she gives me fake vibes, her urban accent, everything. She doesn't even hang around the right people. Fame got to her head. She is heading towards Justin Bieber, but I hope she doesn't get ruined completely.
Wait til she like 33 and the lines start showing. She wont be relevant if she lives that long.
19
David Bowie

David Robert Jones, known professionally as David Bowie (January 8, 1947 - January 10, 2016) was an English singer born in London, the son of a fundraiser and a waitress. He is credited for his experimental and creative musical discography which has won praise and accolades for many critics and fans. ...read more.
All his begging for a knighthood, it makes me sick.
David Bowie is not over rated at all what
Hey! He died in 2016 and u call him overrated?
He's promised not play anymore
20
Janis Joplin

Janis Joplin (1943-1970) was an American singer who rose to fame as the main singer of acid band Big Brother and the Holding Company. She was known for her eccentric hippie style and psychedelic rock music.
You're a tone-deaf moron, in addition to having no understanding of the words "soul" or "emotion" if you are unable to recognize, let alone fathom, Janis Joplin's gift.
Admittedly raw and a bit pitchy in the earlier years, her voice matured in the years preceding her death.
Problem is, ignorami such as yourself have been listening to pure crap produced since the mid-eighties, and think music was invented by your vapid generation.
Have to disagree here. If anything, Janis doesn't get ENOUGH credit. She was one of a kind
Her voice isn't even pleasant
Drug addict talentless chick
21
Garth Brooks

Troyal Garth Brooks is an American singer and songwriter. His integration of rock and roll elements into the country genre has earned him immense popularity in the United States.
I'd pay good money to see Lars Ulrich beat up this overrated piece of garbage excuse for an artist.
This talentless pretty boy ruined country music. He's as much of a disgrace to country music as Luke Bryan, Sam Hunt, or Kane Brown.
He is only the second of your worst "musicians" that even usually plays an instrument. I expected to see people who were overrated at playing a musical instrument. This basically looks just like the Top Ten most overrated singers list. Garth may be overrated as a guitar player but that's not his strength anyway. His singing, showmanship, and songwriting are what made him famous.
Garth can be credited with one thing... He is hugely responsible for turning true down-to-earth country music into what it is today... A pandering pop-influenced. Adding insult to injury was his annoying pop twang singing which has gone on to be used by every country music hack since. The guy essentially ruined country music.
22
Kanye West

Kanye Omari West is an American rapper, songwriter, and fashion designer. He was born on June 8, 1977 in Atlanta, Georgia. After West's parents divorced, him and his single mother moved to Chicago, Illinois. At the age of 10, West temporarily moved to Nanjing, China, because his mother was teaching ...read more.
He's just a regular human. I wouldn't even call him an artist
Always praising himself instead of working on his own music. That's just stupid.
The guy isn't really an artist, just a douche.
This dumbass thinks he is a god. I feel sorry for the ones that follows him.
23
Psy

Park Jae-sang, better known by his stage name Psy, stylized PSY, is a South Korean singer, songwriter, record producer and rapper.
Yeah there is something wrong with this dude. He on something no wonder he here
Jackass sang about killing US soldiers.
One hit wonder mediocre artist
24
Drake

Aubrey Drake Graham, known professionally as Drake, is a Canadian rapper, singer, songwriter, record producer and actor, born on October 24, 1986 in Toronto, Canada. He started his career on Canadian reality show "Degrassi: The Next Generation".
Still don't know how he is popular.
I am note even sure you can consider him talented. Auto tune talking.
There is no need for explanation. He just simply IS overrated.
Jewish connections are the only reason he's even famous today
25 Günther
PSearch List