Best Female Fronted Japanese Rock Bands
The Top Ten
1
Tokyo Jihen
Great band upbeat style
2
exist†trace
Not just my favourite J-rock band - they're my favourite band of any kind!
Their songs are exciting, uplifting and have strong melodic structure - always more than just one hook per song; they experiment with different styles; extremely high level of musicianship; each one is a definite character; and they don't feel they have to wiggle their bits to get noticed, they let their music speak for them. All round 11 out of 10!
Exist Trace overall have great musical talent, vocal talent, style and creativity not just for a 'girl band', but for a rock band in general. I will always love Jyou for being my first real inspiration as a female vocalist and the one who made me want to sing.
They were my first jrock girl band, actually one of the first bands I listened to in general. I love them more than SCANDAL and DESTROSE.
3
Dazzle Vision
Best ever. Creative, beautiful, passionate, perfection. Should be number 1 by a margin.
Excellent band. High energy, great balance between heavy and clean vox, good stuff.
Beautiful music and her voice lives inside of my heart.
4 ALI PROJECT
5
BABYMETAL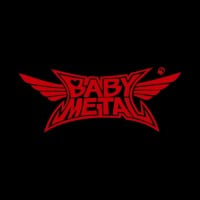 Babymetal is a Japanese metal idol band. Their line-up consists of Suzuka Nakamoto as "Su-metal", Yui Mizuno as "Yuimetal", and Moa Kikuchi as "Moametal".
They are the best live concert now! They concert is full of energy with the crowd really into it!
Not really rock but metal, like the name suggests.
They are something totally new and cool.
6
Blood Stain Child
Brilliance. Japanese techno thrash metal
7
Scandal
Absolutely the best Japanese musical group of all genres. I've been following these girls since before their breakthrough, as an indie act, all the way to the present.
It has been a wonderful journey...!
It's simply the best Japanese band of all times, genres and gender. Any minor song by this band is better than the most popular song by any other Japanese band. enough said!
Simply the best. Lots of talented girl bands, but scandal to me are the tops. How can Baby Metal even be on here when they are a glorified Idol act...not a band
8
Aldious
How can Aldious be this far down? Ludicrous!
Ok there are a couple of dodgy songs *cough* without you *cough* but musically and vocally these ladies are tight...
Listen to "sweet temptation" and then change your vote...
You're welcome...
An all female band that plays power metal and the vocalist Re:No provides great vocal performance.
I like this band. They play cool music.
9 Melt Banana
10
Band-Maid
I created an account just so I could add Band-Maid. Formed in 2013, they're a great all-female J-Rock band consisting of 4 members: Saiki and Miku are the vocalists, and Kanami and Misa are the instrumentalists. I've also seen Miku play guitar, but I think she's mainly a vocalist. Highly recommended. My second-favorite J-rock band behind Babymetal. My top 3 favorite songs by them are:
1. Glory
2. Daydreaming
3. Choose Me
This band hitted a really sweet checkmark for me. Heavy or Powerful rock with great rhythm and melodies, beautiful voice in their vocals, and girls completely shredding their instruments.
Not only the best Female Japanese rock band, best female rock band in the world and best rock band period in the world.
The Contenders
11
Doll$Box
Amazing talent in Doll$Boxx! Doll's Apartment is the best CD I ever bought.
This is one of the best bands I've ever heard.
12
Gacharic Spin
Full of energy and hardworking, these funny young women always stay themselves! Their drummer is the lead singer.
Each is extremely talented, so diverse and prolific. Not just their thrash stuff, even their synth pop, or their joke songs, all of it Rocks
13
Mary's Blood
Very talented band. Saki is an amazing guitar player.
14
Unlucky Morpheus
To me, Unlucky Morpheus is the most technically talented. Just look at each of the individual members' accomplishments outside UM, plus Fuki has immense stage presence - their live performances are epic. Buy the "Change of Generation" tour Blu-ray. You won't be disappointed.
15 Wagakki Band
16
Aural Vampire
Exochika is a beautiful and so is her voice. The band is simply amazing.
17
Stereopony
My favorite Japanese rock band. Their music is fantastic (Aside from a couple songs, but that's it), and the band members are so talented. I wish they were still around and performing in the US.
I don't listen to many female jrock bands, but I think Stereopony is awesome.
I love those that I have
18 Head Phones President
19 Danger☆Gang
20 DecoLa Hopping
21
Yousei Teikoku
This band is really great!
I love the way that they're able to harmonize romantic classical, dark wave and Metal!
Should be higher. Real classic
The best japanese band ever!
22 Shonen Knife
23 Puffy AmiYumi
24
FLiP
Laila is one of the best song I ever heard in my life. Many song of Flip are based on great riffs (if you like led zeppelin) with Sachiko's rough voice and result is a beautiful mix... Love!
25 Destrose
PSearch List