Top 10 People Who Can Be Argued to Be Cults of Personality
For those of you who don't know, a cult of personality is anyone who becomes the object of peoples' obsessions as they rise onto the public scene due to their charisma, interests, and methods and become something to defend until the end. This glorification can be inadvertent or it can be entirely in the person's intentions. The person themselves might not be bad at all, or they might exploit those who come to their aid. And the person may not even come to mind when people talk about cults of personality. The last of these is what this list is made to explore.

The Top Ten

1 Steve Jobs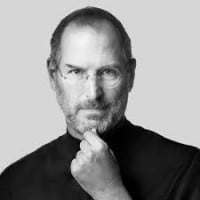 Steven Paul Jobs (February 24, 1955 – October 5, 2011) was an American entrepreneur and business magnate. He was the chairman, chief executive officer (CEO), and a co-founder of Apple Inc., chairman and majority shareholder of Pixar, a member of The Walt Disney Company's board of directors following its acquisition of Pixar, and the founder, chairman, and CEO of NeXT. Jobs is widely recognized as a pioneer of the microcomputer revolution of the 1970s and 1980s, along with Apple co-founder Steve Wozniak.
His name is a synonym of the phrase "cult of personality". Everyone talks about how he rose onto the scene from Anakin Skywalker beginnings making a multibillion dollar company in his garage, but nobody talks about how rocky his personal relationships were or how he tried to hide scandals in his company such as how it obtained cheap labor by underpaying citizens of third world countries.
2
Walt Disney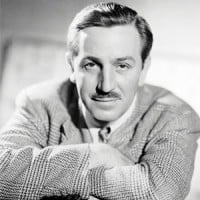 Walter Elias Disney (December 5, 1901 – December 15, 1966) was an American animator, film producer and entrepreneur. A pioneer of the American animation industry, he introduced several developments in the production of cartoons. As a film producer, he holds the record for most Academy Awards earned and nominations by an individual, having won 22 Oscars from 59 nominations. He was presented with two Golden Globe Special Achievement Awards and an Emmy Award, among other honors. Several of his films are included in the National Film Registry by the Library of Congress. Disney was the first person to be nominated for Academy Awards in six different categories, a record he shares with Alfonso Cuaron ...read more.
For a man who a worldwide culture revolves around, there are many morally questionable things he's done. For example, he was instrumental in McCarthyism and could be a jerk to people he didn't like.
He was a complete Nazi, along with many other things. Enough said.
3
William Shakespeare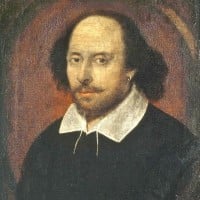 William Shakespeare was an English poet, playwright, and actor, widely regarded as the greatest writer in the English language and the world's pre-eminent dramatist.
The author of the most famous plays of all time, even to this day, you'd have to be brave to disagree with his work in front of his fans, as famous author Tolkien learned.
4
Stephen Hawking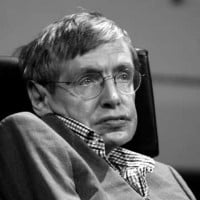 Stephen William Hawking (January 8, 1942 - March 14, 2018) was an English theoretical physicist, cosmologist, author and Director of Research at the Centre for Theoretical Cosmology within the University of Cambridge. His most famous research was on the theory of Black Holes.
His fans make it hard to criticize this person. His tragic backstory and works on physics compel them to exalt him enough that he has a movie based on his love life, which Mrs. Hawking herself likened to fan fiction.
5
Baha'u'llah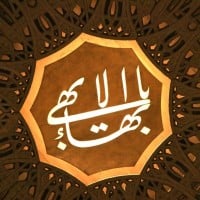 While not a bad person, his followers, who also follow his son and great grandson, take their loyalty to him a wee bit far, which ends up fueling aversion to a decent movement.
6
Michael Jackson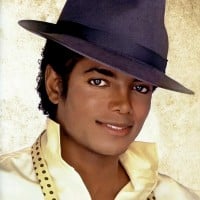 Michael Jackson (Michael Joseph Jackson; August 29, 1958 – June 25, 2009) was an American singer, dancer, and songwriter. He passed away from cardiac arrest caused by a propofol and benzodiazepine overdose on June 25, 2009. He donated (at least) a remarkable 500,000,000 dollars to charity. Michael is also known as The King of Pop (a title given to him by Elizabeth Taylor) or under the initials MJ. Dubbed the King of Pop, he is regarded as one of the most significant cultural figures of the 20th century. ...read more.
Even today, it's difficult to criticize him without upsetting a world of fans, so be extra careful if you ever decide to make a joke about him.
7
Ayn Rand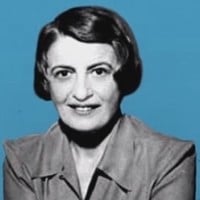 Her fans are still alive and well. Fortunately the rocky relationship is warming up.
8
Gordon Ramsay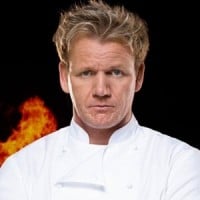 Gordon James Ramsay is a Scottish-born British chef, restaurateur, and television personality. He is famous for being the host of shows like Hell's Kitchen, Kitchen Nightmares, and Hotel Hell. He tends to have a fiery personality on television.
He may not sound like he fits the mold, but there is a huge contrast to how he is in public and how he is in private that pointing out is taken to heart by many of his fans. His biography shows people really will do anything.
9
John Lennon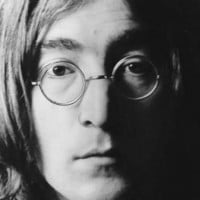 John Winston Ono Lennon, MBE (9 October 1940 - 8 December 1980) was an English singer and songwriter who rose to worldwide fame as a co-founder of the Beatles, the most commercially successful band in the history of popular music. He was assassinated by Mark David Chapman on December 8, 1980 at age 40. Lennon was characterised by the rebellious nature and acerbic wit in his music, writing and drawings, on film, and in interviews. His songwriting partnership with Paul McCartney remains the most successful in history.
His demise was tragic, yes, and his songs aren't bad, but he is really just like everyone else. His band's famous claim that he is "above Jesus" shows he did have the personality cult undertone in mind. His songs are also formulaic to an extent.
10
Winston Churchill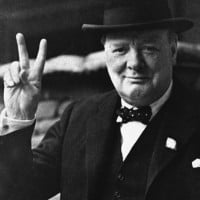 Sir Winston Leonard Spencer-Churchill was a British statesman who was the Prime Minister of the United Kingdom from 1940 to 1945 and again from 1951 to 1955. Churchill was also an officer in the British Army, a historian, and a writer.
He is great as far as leaders go, but he is in absolute loads upon loads of YouTube videos praising him that don't talk about the rough parts of his rule, how he gave India the cold shoulder and made way for the pet holocaust. His association with anything makes the item's price skyrocket, and people continue to express the same sentiment towards him as they would to someone they'd jump in front of a double decker bus for.
The Newcomers
?
Orson Welles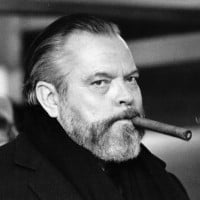 George Orson Welles was an American actor, director, writer, and producer who worked in theatre, radio, and film.
?
Coco Chanel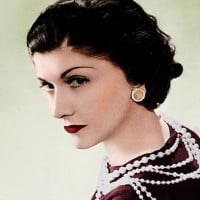 Gabrielle Bonheur "Coco" Chanel was a French fashion designer of women's clothes and founder of the Chanel brand.
The Contenders
11
Evita Peron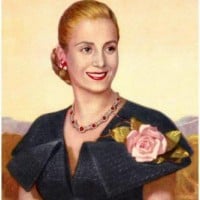 María Eva Duarte de Perón was the second wife of Argentine President Juan Perón and served as the First Lady of Argentina from 1946 until her death in 1952. She is usually referred to as Eva Perón, or by the affectionate Spanish language diminutive Evita.
12
Joseph Stalin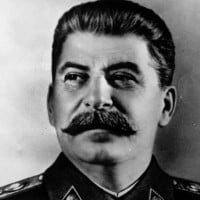 Joseph Vissarionovich Stalin was a Georgian dictator, and was the leader of the Soviet Union from the mid-1920s until his death in 1953. Holding the post of the General Secretary of the Central Committee of the Communist Party of the Soviet Union, he was effectively the dictator of the state.
13
Mahatma Gandhi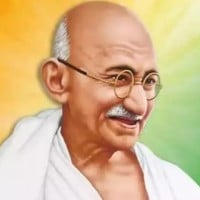 Mohandas Karamchand Gandhi was the preeminent leader of the Indian independence movement in British-ruled India.
14
Benito Mussolini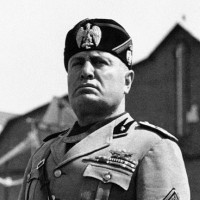 Benito Amilcare Andrea Mussolini was an Italian politician, journalist, and leader of the National Fascist Party, ruling the country as Prime Minister from 1922 until he was ousted in 1943. He ruled constitutionally until 1925, when he dropped all pretense of democracy and set up a legal dictatorship.
15
John F. Kennedy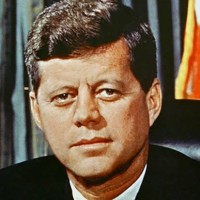 John Fitzgerald Kennedy (May 29th, 1917 - November 22, 1963) commonly referred to by his initials JFK, was an American politician who served as the 35th President of the United States from January 1961 until his assassination. The Cuban Missile Crisis, The Bay of Pigs Invasion, the Nuclear Test Ban Treaty, the establishment of the Peace Corps, developments in the Space Race, the building of the Berlin Wall, the Trade Expansion Act to lower tariffs, the Civil Rights Movement, the "New Frontier" domestic program, and abolition of the federal death penalty in the District of Columbia all took place during his presidency.
16
Mao Zedong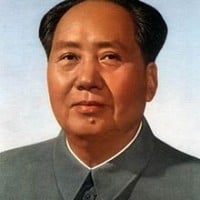 Mao Zedong, also transliterated as Mao Tse-tung and commonly referred to as Chairman Mao, was a Chinese communist revolutionary and founding father of the People's Republic of China, which he governed as Chairman of the Communist Party of China from its establishment in 1949, until his death in 1976. His Marxist–Leninist theories, military strategies, and political policies are collectively known as Maoism or Marxism–Leninism–Maoism.
17
Donald Trump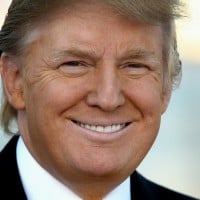 Donald John Trump (born June 14, 1946) is an American businessman, television personality, politician, and the 45th President of the United States. Born and raised in Queens, New York City, Donald J Trump received an economics degree from the Wharton School of the University of Pennsylvania in 1968. In 1971, Donald Trump took charge of his family's real estate and construction firm, Elizabeth Trump & Son, which was later rebranded as The Trump Organization. During his career as a businessman, Donald Trump has built, renovated, and managed numerous office towers, hotels, casinos, and golf courses. He owned the Miss USA and Miss Universe pageants from 1996 to 2015, and has lent the use of his ...read more.
18
Che Guevara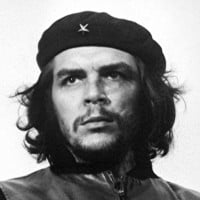 Ernesto "Che" Guevara, commonly known as El Che or simply Che, was an Argentine Marxist revolutionary, physician, author, guerrilla leader, diplomat, and military theorist.
19
Barack Obama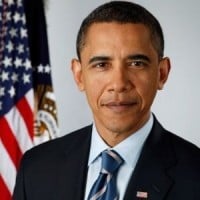 Barack Hussein Obama II (born August 4, 1961) is an American politician who served as the 44th president of the United States from 2009 to 2017. He was the first African-American president of the United States. A member of the Democratic Party, he previously served as a U.S. senator from Illinois from 2005 to 2008 and as an Illinois state senator from 1997 to 2004.
20
Diego Maradona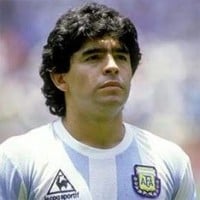 Diego Armando Maradona (October 30, 1960 - November 25, 2020) was an Argentine professional footballer. Widely regarded as one of the greatest players in the history of the sport, he was one of the two joint winners of the FIFA Player of the 20th Century award. Maradona was given the nickname "El Pibe ...read more.
21
CM Punk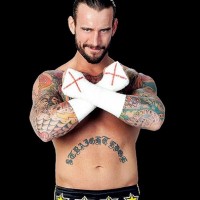 Phillip Jack "Phil" Brooks, also known by the ring name CM Punk, is an American comic book writer, actor, upcoming mixed martial artist and retired professional wrestler who is signed with the Ultimate Fighting Championship. He is best known for his career In World Wrestling Entertainment. He had multiple title reigns over multiple titles. While he was in the WWE, he was the leader of the New Nexus. His finishing maneuvers were the Go To Sleep (GTS) and the Anaconda Vise, many of his other moves were bulldogs, shining wizards, etc.
22
Elvis Presley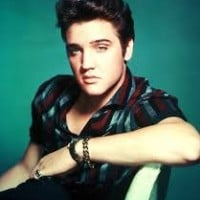 Elvis Aaron Presley (January 8, 1935 – August 16, 1977) was an American singer and actor. Dubbed the "King of Rock and Roll", he is regarded as one of the most significant cultural icons of the 20th century. His energized interpretations of songs and sexually provocative performance style, combined with a singularly potent mix of influences across color lines during a transformative era in race relations, led him to both great success and initial controversy. ...read more.
23
Vladimir Lenin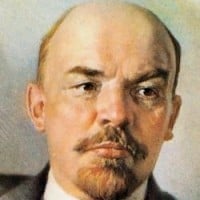 Vladimir Ilyich Ulyanov (22 April 1870–21 January 1924), better known as Vladimir Lenin, was a Russian revolutionary, politician, and political theorist. He served as the first and founding head of government of Soviet Russia from 1917 to 1924 and of the Soviet Union from 1922 to 1924. Under his administration, Russia, and later the Soviet Union, became a one-party socialist state governed by the Communist Party. Ideologically a Marxist, his developments to the ideology are called Leninism.
24
Martin Luther King Jr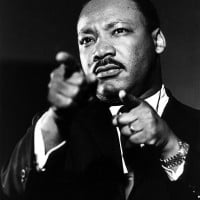 Martin Luther King Jr. (born Michael King Jr.; January 15, 1929 – April 4, 1968) was an African American minister and activist who became the most visible spokesperson and leader in the civil rights movement from 1955 until his assassination in 1968. King is best known for advancing civil rights through nonviolence and civil disobedience, inspired by his Christian beliefs and the nonviolent activism of Mahatma Gandhi.
25
Bill Gates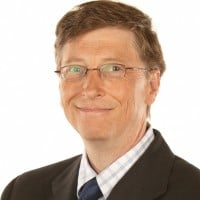 William Henry Gates III (born October 28, 1955) is an American business magnate, software developer, investor, author, and philanthropist. He is a co-founder of Microsoft, along with his late childhood friend Paul Allen. During his career at Microsoft, Gates held the positions of chairman, chief executive officer (CEO), president and chief software architect, while also being the largest individual shareholder until May 2014. He was a major entrepreneur of the microcomputer revolution of the 1970s and 1980s.
PSearch List