Top 10 Portrayals of Jean Valjean in Les Miserables
The Top Ten
1
Colm Wilkinson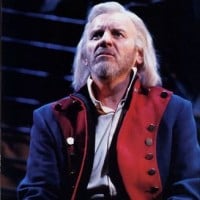 The original will always be the best. Colm really made the role his own and he became a household name back in 1985 when the production opened. The song "Bring Him Home" was written for his singing voice just like "Til' I Hear You Sing" was written for Ramin Karimloo's voice in "Love Never Dies". Colm returned to the role in 1995 for the 10th Anniversary at the Royal Albert Hall where many of the actors who defined the roles around the world came together as the "Dream Cast" of Les Miserables. Colm is the BEST Valjean. He has so much emotion in his voice and he really sours in those high notes. The voice of an angel.
The gravitas of Colm Wilkinson and the soaring range of his unrivaled voice leave all others in his wake. He is singular.
He is Jean Valjean! The rest of them are simply trying to get as close to Colm as they can!
No one else brings so much emotion to the role.
2
Alfie Boe

This man is just the best. That's all there is to it. For someone who understands the skill and technique it takes to sing "Bring Him Home", it's easy to understand why Alfie does it the best.
The man who is Britain's number one tenor who brings the same emotion and determination that Colm brought to the role. He takes that as inspiration and does it his own way, also the way that he acts the role out is really compelling to me. The 25th Anniversary at the O2 really demonstrates that. Say what you will about the cast, the new orchestration and how it's sung at the O2 but every new interpretation is always welcome to me. Alfie is just as good as the others who have played Valjean over the years and just like Colm, Ramin and JOJ, he's been lucky enough to play the role on Broadway. He's a great Valjean, especially when he sings that famous song "Bring Him Home"
Alfie Boe stands out in a field of giants. The richness and strength of his voice, along with the emotion he brings to the part make him the best Valjean to date and one of the best stage performers of all time.
Alfie by far the best Jean Valjean. His voice is the most wonderful to listen to. Vocal range is immense. His tenderness with the lyrics to Bring Him Home is beautiful.
3
John Owen-Jones

Part of the 25th Anniversary Tour in 2010, John Owen-Jones has surprised everybody with his take on Valjean having previously playing the Phantom in "Phantom of the Opera". His Valjean is the most emotive and most determined that I have ever seen. "The Confrontation", he really stands out with the level of anger towards Earl Carpenter's Javert and his rendition of "Bring Him Home" always brings a tear to my eye when I listen to the way it's sung. His voice really is a god-send. A fabulous Valjean and a really wonderful Phantom too.
Saw john Owen-Jones in the staged concert in November 2019. His acting skills were wonderful, his vocals were beautiful. Was impressed by his performance.
John is simply the best
4
Hugh Jackman

While I wasn't a big fan of the movie as a whole (Russell Crowe anyone? ) I did like Hugh Jackman as Valjean. The amount of commitment he gave to it was really amazing. Anne Hatherway was good too but Jackman really surprised me as it was the first time I heard him sing. No wonder I then went to see the Greatest Showman at the cinema five years later. Jackman really showed the emotion and the determined "can-do" attitude that was needed for Valjean and while his "Bring Him Home" wasn't the best (it wasn't bad though), the film could have been so much more than what we got. Nevertheless, Jackman should play this role on the stage sometime. In fact, I'll go tweet him now...
Heard Alfie Boe giving Hugh Jackman crap over his performance. And I thought that didn't show much class. I though Hugh did a great job and showed great emotion playing the role. Plus he could really sing.
Back in 2012 when I was 12, I had no idea what Les Mis was evan about and why Wolverine was in a musical, but dear Lord that man can sing and he will always be my favourite Jean Valjean.
5
Peter Lockyer

When I went to see Les Mis at Queen's for my birthday during it's 30th year, this man really surprised me as Valjean. His tenor voice really made my spine shiver when he sang those famous tunes, plus he looked good in the make-up and costume. His Valjean really stood out to me. Underrated.
6
Killian Donnally

The man who has had an incredible journey with Les Mis, starting out as a swing then an understudy for Valjean, Javert and Enjolrus, then principal Enjolrus and more recently principal Jean Valjean. Through that time he built his voice up to how it is now and really throws his hat in the ring when he plays the role. Although he's finished his West End run, he will playing the role for a UK/Ireland tour in 2019 and he definitely worth going to see, his Valjean is so relate-able, so tragic and so moving. He really loves playing it and it clearly shows.
7
Ramin Karimloo

After seeing him in Anastasia and Phantom, I fell in love with his straight tones that lead you into his beautiful vibrato. He is arguably one of the best on Broadway right now.
His powerful voice is so beautiful but the gentleness that also flows with emotion transport me to a different world. I have loved listening to him sing in every role.
First Enjolrus, then the Phantom and now Jean Valjean. And he gives us what has to be the most powerful and emotional Jean Valjean I have ever seen. Is there nothing this man can't do?!
8
Drew Sarich

This was the first Valjean I ever saw when I went to see Les Mis for the first time back in 2008 and he really impressed me with his "rock star" singing voice. This was more suited to him than Javert was. I really liked him as Valjean, I thought he did an excellent job.
9
Geronimo Rauch

A talented tenor and a really excellently executed portrayal of Jean Valjean. The emotion, the determination, the rage and the tender loving heart really shines in this perfomer. No wonder a year later he went on to play the Phantom like many others on this list!
10
Simon Bowman
Never saw this man actually perform the role but I heard him sing Bring Him Home and have seen him in costume. His voice is really suited for the role and he looks like a man who wants to become a better person.
Non only incredible voice, but as an actor, added so much more...
The Contenders
11
Gary Morris
He did the recording that I grew up with and adds some great emotion to "The Confrontation" and others.
12
Jeff Leyton
I have seen 3 others in this role but I though Jeff Leyton was the best.Not only his wonder voice but his interpretation of the role was excellent.
13 Randal Keith
14 Nick Cartell
15
Michael Burgess
The Canadian Jean Valjean. He has a soft, soothing voice.
16 Patrick Dunn
17 Dudu Fisher
18 Peter Karrie
BAdd New Item