Best Rap Albums of 2018
The Top Ten
1
Kids See Ghosts - Kids See Ghosts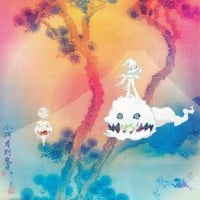 Easily one of the better albums of this year. Song production is very creative and works excellently with the combo of Cudi and Kanye
There is so much creativity most of u hating didn't even listen and just judged off Ye's politics
People don't realize this list is about music, not the politic opinion of the artist
All these old heads calling this album garbage. Smh
2
Ta13oo - Denzel Curry

Ok I really do not get all the hate you guys are giving this amazing album. It gives us an adventure through Denzel's dark thoughts, Denzel's ego, and the insight of the alter ego Ta13oo. The album is separated into 3 pieces, light, grey and dark. The album starts and ends with the same static showing that he is representing the cycle of life. Denzel gives us egotistic, political, angry, and depressing songs. This album is purely genius. 10/10
The album where Denzel finally started getting some recognition and also when he started to really get good as a lyricist.
Jesus Christ why are people hating on this album so much
Should be number one but everyone sleeps on Denzel
3
Kamikaze - Eminem

It's been a Long time since Em allowed himself to just go in the booth and vent. That's why this is the best album for many people. Every name had a reason and every issue (like ghostwriters, copycats, skim reviews, disrespecting OG's etc) was pissing Em off. And his skills are still Incredible
TA13OO and Kids See Ghost shouldn't even be on this list, this should be number 1 again.
Eminem saving the rap industry since nas, kanye and jay z don't have any balls. tupac would be proud
This album saved rap
4
Dicaprio 2 - J.I.D

This album beats all others on the list
The best album that came out that year
I like this album
Best album ever
5
Ysiv - Logic

Ta13oo is higher? Laugh out loud that album and Denzel as a whole are disappointing and mediocre. Logic's album definitely deserves to be higher than denzel the trap rapper (trap sucks)
Logic is better than Kendrick Lamar, there I said it! And why is denzel curry's album so high? That album was garbage and denzel is overrated trap garbage.
Great album, definitely better than denzel trash curry or kanye west should be higher
Great album, definitely should be higher than ta13oo or kids see ghosts
6
KOD - J. Cole

Some good songs but the album as a whole could've been better. Not one of my personal favorites of 2018. Hopefully Cole's next album will be better, but I'm a little worried since he's been working with all the trash rappers lately (21 Savage, moneybag yo)
People who don't like this probably thought Ta13oo, Kids See Ghost or Astroworld were good.
Better than denzel the trashman
7
Some Rap Songs - Earl Sweatshirt

Some Rap Songs is simply one of the best rap albums ever.
That album cover is amazing
Not only best rap album of 2018 but the best album probably of 2018. It's a masterpiece
8
Care for Me - Saba

9
Daytona - Pusha T

Cold, mechanical street raps. This isn't the album for Aubrey's Angels or street ignorant cats. This the one for the hustlers and the real street Gs. The beats were heat and King Push tore them apart. Drake stans stay losing.
Why is this so low? This album deserves to be in the top 4
Top 5 album of the year
10
Waylon & Willie 2 - Jelly Roll & Struggle Jennings
Definitely a lot better than most of the "mainstream" hip hop albums this year. You can actually understand and relate with what they're saying, it actually has a point and isn't just randomness, and it actually sounds good!
Definitely better than kids see ghost or ta13oo
This was a masterpiece
The Contenders
11
No Question - Apollo Brown & Locksmith

Even though this was only an EP, it is still one of the best projects released this year and it is better than all of the 7 track "albums" produced by that wackjob Kanye West. Locksmith's technical and conscious lyrics combined with Apollo Brown's classic hip hop production make this a very enjoyable listen.
12
Veteran - JPEGMAFIA

13
No News is Good News - Phonte

Should be number 1 but everyone sleeps on Phonte.
Get this to number 1! Best rap album of 2018.
This should be number 1 honestly
This is a masterpiece!
14
Drogas Wave - Lupe Fiasco

15
FM! - Vince Staples

16
Swimming - Mac Miller

17
Astroworld - Travis Scott

Only old heads call this album garbage
Life is about trying new things if you old heads don't want to try new things you don't accept new school rap with autotune you should give it a chance and listen to this masterpiece.
I think there should be a separate category for albums like this. I'm not going to say people can't enjoy this, but I just wouldn't classify it as hip hop in the same sense as I would a Logic or J Cole.
18 Stokeley - Ski Mask the Slump God
19
Weather or Not - Evidence

20
Lil Wyte - Lil Wyte
This is probably the best from Wyte since Still Doubted or No Filter. Wyte was starting to fall off the past few years but I think he's finding himself again. It's not as good as Doubt Me Now or Phynally Famous, but it's still decent. I could only wish it was longer than just 12 tracks.

Edit: Actually after really going back, I've realized that Still Doubted was Wyte's weakest album lyrically. This is definitely a better album as a whole, even though Still Doubted still has some good songs on it his lyricism was at it's weakest on that album and I'm glad he's finally getting back his bars. Still Doubted was honestly an album that I liked back when I liked trap music but now that I don't really like trap music anymore it's his weakest album.
Modern day masterpiece.
21 Parrafin - Armand Hammer
22
Streams of Thought Vol. 2 - Black Thought & Salaam Remi
Well damn, this is a masterpiece! Better than the first one.
23
Iridescence - Brockhampton

24 Elevators: Act I & II - Bishop Nehru
25 Ali - Locksmith
PSearch List