Greatest Rock Voices
The Top Ten
1
Axl Rose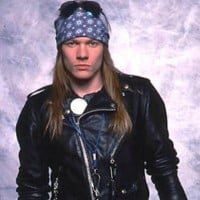 William Bruce Rose Jr., better known as 'Axl Rose', is an American singer born on February 6, 1962, in Lafayette, Indiana. He Is the founder and lead singer of the hard rock band Guns N' Roses. He is a celebrated but controversial figure in the world of rock.
Such a unique voice with so much emotion. Pair that with thoughtful lyrics and you have a winning combination. Ever listen to "coma"? "An all this crass communication, That has left you in the cold, Isn't much for consolation, When you feel so weak and old
But is home is where the heart is, Then there's stories to be told, No you don't need a doctor, No one else can heal your soul, Got your mind in submission
Got your life on the line, But nobody pulled the trigger
They just stepped aside, They be down by the water
While you watch 'em waving goodbye..." the words are just words but when you hear the emotion pouring through, it's powerful and moving! Gets me every time.
What defines a great voice is what the singer can do with it, one of the most important things for a voice in rock is being able to sing loud, and I think we all know how loud Axl can be. But what makes him so special is how he seems to feel the song, you can hear the anger in Out Ta Get Me, and, in Paradise City, how much he wanted to go home when it was written, and even in Don't Cry, no matter which version, he seems to reach out to the listener and tell them that no matter how bad something feels at the moment, it will get better. That's what makes his voice so amazing, it would be able to tell the songs message even if it did'nt have any lyrics at all.
Axl Rose's voice has a dramatism and a power to express emotions and feelings, on a very wide range. These rare quality is not only the result of his obvious amazing talent. First of all I think, it all comes from Axl Rose's genuine and complete capacity to feel everything that he sings. There is no fakeness in his vocal interpretations, because there is no fakeness in what he feels when he sings his songs. His songs are genuine, honest. The lyrics of his songs are many born from his own life, feelings, emotions, thoughts or life events. So his vocal performance is equally REAL. I love him. I think that he is one of a kind.
He's incredibly original, and since he came on the scene in 1985 - many have tried to replicate him, but no one can duplicate him. And those that try sound terribly sad. I mean Sheryl Crow's remake of Sweet Child O' Mine has got to be the worst do-over of any song EVER. Not to mention all the other sad versions of Guns N' Roses songs I've heard. Yet, when Axl remakes a song like, Mama Kin, Whole Lotta Rosie, Live and Let Die, Knockin' on Heaven's Door, etc. , it sells, and often rockers like his version rather than the original. He's just that talented.
2
Freddie Mercury

Freddie Mercury (born Farrokh Bulsara, 5th September 1946 - 24th November 1991) was a Zanzibari-born British singer of Indian descent, songwriter and record producer, known as the lead vocalist and songwriter of the British rock band Queen. He also became known for his flamboyant stage persona and four-octave ...read more.
Anyone who places Freddie Mercury lower than #1 is just kidding himself... You either never listened to him or you never listened to someone who was trying to sing one of his songs! I dare you to do both of those things and then come share your opinion here again! Chances are, you will hear your rock idol trying to sing Freddie's song and feel sorry for him... Just watch The Freddie Mercury Tribute concert from 1992 and you will get my point. And to be able to make the difference, watch Queen's performance at Live Aid from 1985 or any other concert of theirs and draw your conclusions. I am not even go into the topic of singing in different styles, because then it wouldn't be fair at all to the rest of the contenders on this list (or any other list for that matter)... King Freddie - always in our hearts!
Get that poser Steve Perry off of this list. Any one that voted for Steve Perry doesn't know what rock music is. Steve Perry isn't worth comparing to the legends of Freddie Mercury and Robert Plant, along with SO MANY OTHERS! God people, really?!?! He's the greatest voice in rock? ABSOLUTELY NOT! Anyone and everyone could sing like that guy. So many other 80s rock singers sounded like him, not out of respect, but because that is an easy voice to sing (which is one reason why 80s rock was so bad in general). If Steve Perry tried to sing "Love Reign O'er Me" I think Pete Townshend would have a stroke. Steve Perry being number 1 on this list is an insult to rock music. GET HIM OFF OF IT!
Most amazing male vocalist, his vocal range was way beyond his competition, it takes a voice of extraordinary range to make not just one track but so many tracks an actual anthem and Freddie did just that, nothing ever sounds like queen and nothing ever sounds like Freddie, he is a true legend. And these come about once in a lifetime.
Freddie Mercury has an incredible range (4 octaves) only people that match/come close (in vocal range) are Brad Delp and Steve Perry, yet they did not have the emotion and wide variety of "styles" that Freddie did. Also, Freddie was never trained in voice and became famous off of pure talent (except for some piano training at 9 years old).
3
Robert Plant

Robert Anthony Plant (born 20 August 1948) is an English musician, singer, and songwriter best known as the lead singer and lyricist of the rock band Led Zeppelin.
Robert Plant being excluded from the Top 3 is almost as stupid as Axl Rose being #1. Robert Plant probably has not only the greatest falsetto of all time, but also the most versatile voice ever. His voice works for any sort of melody or genre. He is a god of rock and roll while Axl Rose sounds like a whining baby when he sings.
I don't know what it is but its just so magical the way he sings. I can't imagine anyone else singin zep besides him. and wow, what a shock that steve perry iis #1 on this list. he is a close #2 to plant but come on are there really that many journey fans out there? Don't get me wrong I like em but they are over rated most people like don't stop believin that's it and wats with heart? Every1 on this site seems 2 like em. I like barracuda but not much more they are kinda like journey in that way. and I used 2 think that there were a ton of bon jovi fans out there but I guess I'm wrong there are a lot of richie sambora fans. for the record I listened 2 him and he sucks at singing bon jovi rocks though. but yea plants the best
Whole lotta love for Led Zeppelin's vocalist who probably is the most influential rock singer of all times. Freddie Mercury admitted that he was a fan of Plant and David Coverdale has obviously spent most of his career ripping on Robert.

Definitely my favorite tenor in rock music. Hope he's gonna change his mind and eventually tour with Jimmy Page and John Paul Jones. Wouldn't that be epic?
HOW IN THE NAME OF GOD DID AXL ROSE BEAT ROBERT PLANT? Anyone who hasn't voted for Plant needs to go listen to some Led Zeppelin and then we'll see how they feel. Robert Plant has an amazing, blues-y, and astounding voice, not to mention his amazing vocal range. He went perfectly with the best guitarist Jimmy Page and best drummer ever John Bonham, and bassist John Paul Jones. I have no idea how Robert Plant is anything BUT number one!
4
Steve Perry

Stephen Ray "Steve" Perry is an American singer, songwriter, and record producer. He is known as the lead singer of the rock band Journey during their most commercially successful periods from 1977 to 1987 and again from 1995 to 1998.
The fun we saw in his 1994 while performing in NYC with out Journey you truly saw a different side of Steve, he had fun and looked like he had the weight lifted off his shoulder, and his silky smooth voice was even more soulful than ever before, when he sand I'll be alright with out you/cupid one of the best interactions with the audience and one of my favorite video's... No one will ever come close to that silky smooth voice, and no one will ever touch our hearts the way Steve did every song takes you back to a place in time, and that is what a true singer/song writer is all about
I hope he sings for us soon he voice is missed more than he will ever no.. We miss you Steve thank you for all the memories you have given us and hope to hear from you soon. Faithfully
Many rock singers have distinctive voices and/or powerful voices. Steve Perry's voice is both, AND with a purity unmatched. He was put on earth by God to sing; there can be no other explanation. Listen to his voice soar into the heavens in conjunction with the guitar solos in "Wheel in the Sky," and "Do You Recall." Listen to him belt it out on "Edge of the Blade" and "Anyway You Want It." Listen to him get soulful on "She's Mine," and "Walks Like a Lady." Listen to him emote on "Faithfully," "I'll Be Alright Without You," and "In the Eyes of a Woman." Truly amazing. His vocal range and dynamics are unequalled. I hope he doesn't wait much longer to bless us with new music.
By the way, he is at his best when backed with blues-based rock musicians like Journey and on his "Street Talk" solo album vs. prog-rock studio musicians like on his "For the Love of Strange Medicine" solo album. He truly is "the Voice."
Steve Perry's voice is Powerful while still sounding creamy. He can hold a note longer than most people can hold their breath. His range and vibrato are truly amazing. The emotion and heartfelt sincerity in every word he sings alone make him the greatest singer ever to grace the stage. I can't get enough of listening to this man's voice whether it be with Journey or solo. He is a remarkable singer and a remarkable man. I consider it one of the greatest blessings in my lifetime to have been able to enjoy is beautiful voice on radio, CD or the Internet. Thank you Steve for sharing your remarkable talent with us. God Bless.
YESSS He made it to #3! Good Lord the man has worked so hard and fought bad health to be where he is today. He's more than a rock singer, he's more than The Voice...He's a man. He has heart, compassion, he cares, he loves his fans and his group he helped build to where it is today...Journey. He once said he didn't feel much like he was part of the group, that's one reason he worked as hard as he did...he wanted to be liked, loved, recognized and noticed. Little did he know he already had millions of fans right in his back pocket! Look into the mans eyes, beautiful yet feeling every word he sings. Watch his movements as he sings...His song "When You Love A Woman" in the video you can watch his hands, the expression on his face. He seems to reach far into his soul to give the best he has. He makes you feel as if you're the only person in the world he's singing to. His passion is truly a gift. His music is yesterday, today and tomorrow. He fits just about into every category of music ...more
5
Bruce Dickinson

Paul Bruce Dickinson, known professionally as Bruce Dickinson, is an English musician, airline pilot, and broadcaster. He is most well known for being the lead singer in heavy metal band Iron Maiden and his solo career.
Bruce Dickinson is such an amazing singer. He has an incredible ability to hit those high notes without sounding like fingernails on a chalk board. He can sing with such power and still have a lot of finesse. It's like doesn't have to put any effort into his singing, and yet still sounds amazing. That is why he is my favorite singer
He is definitely one of the greatest ROCK voices, like an air raid siren, he can do amazing thing with that voice. Almost voted for Gillan, Dio, and Brian Johnson, all amazing vocalists, I think a Rock voice should be Hard and Meaty, and I'm afraid Steve Perry is too soft for my liking. Go BRUCE!
As a long time Iron Maiden fan, I'll admit I'm a bit biased. But Bruce has a vocal range that tugs at my soul wavelengths and makes me want to thrash about to "The Clansman" or "Paschendale" for the rest of my life. Up the Irons from Texas, ladies and gents.
I was blown away last time I saw him in concert. I love Iron Maiden and have seen them many times - and he can hit every note, with a flawless tone and perfect tuning. He's just amazing.
6
Rob Halford

Robert John Arthur "Rob" Halford is an English singer and songwriter, who is best known as the lead vocalist for the Grammy Award-winning heavy metal band Judas Priest and famed for his powerful wide ranging operatic voice.
Hey, what the hell is Rob Halford doing at a position like 10! HE SHOULD BE NUMBER ONE! Rob is the God of Heavy Metal and All kinds of music... This guy has the best & most powerful falsetto voice ever heard in music and a vocal range over Six multi-octave! Come on people, he should be number one everywhere... All hail the METAL GOD! , /
Crazy Ass MOFO!
Rob always seems to challenge himself and he has the balls to perform his crazy vocal attack live, that't what blows my mind. Just listen to Painkiller, the best metal song of ALL time.
A king of high notes. Lead singer of Judas Priest. He is and always be The Metal God
Nobody can take their voice range through so many levels with one breath... Amazing...
7
Ronnie James Dio

Ronnie James Dio (born Ronald James Padavona; July 10, 1942 – May 16, 2010) was an American heavy metal singer, songwriter and musician. He fronted and/or founded numerous groups including Elf, Rainbow, Black Sabbath, Dio and Heaven & Hell. He is credited with popularizing the "metal horns" hand gesture ...read more.
First I scrolled down and saw axl really low so I was going to vote him, but I scrolled a bit more and saw Bruce Dickenson and was like NO, he needs top 5, but I scrolled a bit more and saw Dio. I had to pick Dio for being 40. 1 and 3 are the only ones right (but reverse the order. )
Being there to see and hear RJD and the great Ritchie Blackmore perform Catch the Rainbow, Rainbow Eyes and all the magic that RAINBOW exuded can never be duplicated except for the 8 times I saw DIO. He was truly magical.
Ronnie James Dio is the voice of heavy metal. He can put so many emotions when he sings. RIP, Dio. I'll always remember the day I could shake your hand.
One of the most powerful voices in the history of Rock! Small man, Big voice. RJD and Robert Plant are my personal number one and two, in that order.
8
Jon Bon Jovi

John Francis Bongiovi, Jr., known as Jon Bon Jovi, is an American singer-songwriter, record producer, philanthropist, and actor, best known as the founder and frontman of rock band Bon Jovi, which was formed in 1983. He is famous for his band's hit song "Livin' On A Prayer" released in 1986. He ...read more.
I'm like his song was great when...bon jovi he was a kind person although he was legend but in stage he kind to fan...he attitude remind me...to other person...he versatile...he can sing various song..I like always...not because rock..but the song was enjoyable...it can be sing with other people...know his name..entire world till malaysia...but..he still sing although he was old...I hope bon jovi could sing again...I know bon jovi in 2016..I know a little bit..but he voice was great...always is a great song
At its prime, which I would I say was around 88-95 his voice was untouchable, he had a little bit of raspiness along with the high notes and NO nasal voice back then, extremeyl underatted. listen to blaze of glory at the oscars ceremony in 1991, and always at live from london...
Jon Bon Jovi is my hero and also my superman. He is so talented and so complete.. he is the best.. I love him. Nobody can't replace him as a rocker and also as a sexiest guy.
I've seen Bon Jovi live more than 12 times and on every occasion Jon Bon Jovi has got a fantastic voice, I can listen to him all the time!
9
Ann Wilson

Ann Dustin Wilson (born June 19, 1950) is an American musician, best known as the lead singer and songwriter of the hard rock band Heart.
This is the most incredible voice in the history of Rock and roll I have ever heard. she will be 64 in June. Go see heart live. if you like Heart you know what I mean. As far as the rest. You have to be kidding me. this is obvioulsy voted on by people who have no recollection of the fifties. Little Richard had the most incredible voice of that era. Not Elvis, who really had a great voice. Axel Rose. give me a body of work, not just one album. Isn't it amazing the greatest female singer to me, had Blondie go into the R&R Hall of fame ahead of heart? That just shows the hypocrisy of that deal. I have been listening to R&R since I was 9 in 1955. somebody give me the voice who can sing Rock like ann wilson. I don't need to hear, Aretha, Whitney, because we are talking a different genre.
What amazes me about Ann Wilson is that she can still sing! Her voice is just as brilliant now as it ever was because she's taken care of it. Steve Perry doesn't sing anymore because he can't. He ruined his voice years ago with bad technique. Ann is the best because she knows how to take care of her instrument.
Wow, Ann at 32! She should be at the top battling it out.
Robert Plant and Ann Wilson share a lot of similar tones and techniques to me. Girl can still belt to this day! Check out Heart's cover of Stairway to Heaven. (with Jason Bonham on drums! )
I'm happy she is on the list but she deserves to be up higher in top #5 She is the Queen of Rock and after 35yrs sounds better today at 64 then in some video's in the 70's and 80's. And she's still blowing the doors down in concert!
10
Chris Cornell

Christopher John "Chris" Cornell was an American rock musician and singer-songwriter, best known as the lead vocalist, primary songwriter and rhythm guitarist for Seattle rock band Soundgarden and as former lead vocalist and songwriter for the supergroup Audioslave. His vocal range was C2 to A5, while ...read more.
Down at #10 ? Thanks for letting me know your ears don't work, guys. Chris Cornell is obviously #1, head and shoulders above all.
Axl Rose just sounds like an old rusty tea kettle and his voice is always the same. Freddie Mercury too sounds the same pretty much on every song and I don't care that he can do opera and all, his voice is pretty boring to me.
Listen to the Badmotorfinger album...
I fear no vocalist...but Cornell... he scares me ! There is not a voice more powerful than his. No one can scream like him. He can go super low and super super high like no one on here (listen to Beyond the hell to hear his range.) Read his lyrics ! Feel his emotion !
Undoubtedly... The most beautiful rock n roll voices ever.. Also acknowledged by most of the rock n roll legends. He is the one who has earned a great deal of respect in the world of pure vocals.. Many few know the limitless amount of talent n passion he has got.. Changed a lot of bands, does solos too these days just to find the perfect ambience n material to match his amazing capability, hez constantly looking for it... Betya guys his best is yet to come.. N when it comes, everyonez gonna bow down to this shining example of golden throat
Chris should be at least top five. Soundgarden was one of the pioneers for the grunge movement in the late '80's early '90's, and Chris was also a part of the supergroup Audioslave. The only bad album Chris has ever put out is Scream, mostly because us Cornell fans hate the fact that Chris went pop. Thank goodness he is back to rock music.
Profoundly moving, infinitely beautiful voice. I am not a connoisseur of octaves, ranges and techniques but I can hear in this voice all four seasons and all states of matter, all planets, Suns and nebulae, the sixth and seventh senses, the duality of quantum particles. And then some.
The Contenders
11
Sebastian Bach

Sebastian Philip Bierk, known professionally as Sebastian Bach, is a Canadian heavy metal singer who achieved mainstream success as frontman of Skid Row from 1987-96. Since his departure from Skid Row, he has had many television roles, acted in Broadway plays, and leads a solo career.
One of the greatest vocalists from ANY genre, but certainly THE greatest metal voice of all time! Should be number 1 or two on this list, top 5 at LEAST! Looking at the vast majority of names on this list ahead of him makes me absolutely sick, and shows that it's a popularity contest voted on by primarily non-musicians, not a measure of true talent or vocal abilities.. Any vocalist or true musician who doesn't awe in Bach's scary and unearthly talented vocals is either not a musician at all or just flat out DEAF! Not to mention he's one of the flat out most beautiful human beings ever created, man or woman.. Just one of those ridiculously attractive people.. And this is coming from a straight male.. Haha true story
I do really like several on this list and would have to agree that the order seems to reflect the popularity of the band more than the specific voice. Additionally, the bands popularity seems to carry a heavier weight than the singer. It appears that it's around an 70%-30% band-vocalist respectively. Moreover, it would be difficult to totally remove the bands influence, so ultimately it should be flipped the other way around so the vocalist achieves at least a 70%. Of coarse my conjecture is totally subjective, just like every other comment or vote. Some people might actually fight over something like this. I say we just sit back crank up the volume and reminisce all while enjoying our favorite artists. Someone like Sebastian can raise the hair on the back of my neck all whilst trying to sing along and failing miserably. Take care!
I agree with all the below comments. Adding that he always delivered and showed up on time to concerts and was not melodramatic like Axl Rose. Plus he didn't get fat lol like Axl did. Too bad the original member of Skid Row are not a band. If they ever do a reunion tour I will go for sure. If Black Sabbath can then so can Skid Row! All Hail the might Sebastian Bach!
Sebastian has THE greatest voice of all time of any singer in ANY genre! Hands down the purest, clearest, most beautiful voice. I've seen Jon, Axl, James, Vince even Bocelli live, all amazing. But none come close to the emotion, power, and beauty in Sebastian's voice. A gift from God!
12
Steven Tyler

Steven Tyler is an American singer-songwriter, multi-instrumentalist, and former television music competition judge, best known as the lead singer of the Boston-based rock band Aerosmith, in which he also plays the harmonica, and occasional piano and percussion.
Are you joking. Bon Jovi over steven tyler. Anyone can sing like jbj.

Tyler is really better then Steve Perry, even Axl Rose. I understand if you prefer another band over Aerosmith, but there is no denying with his range, gritty voice, that still holds up after all these years that Steven Tyler has the best voice in music period

There is not one other lead singer who can sing like him including Rose Or Perry.

Steven Tyler should be number 1, no question.
Steven tyler is a beast, he should at least be at the top 5 people. You should listen to him often, his not only good. He is great live. No one can sing his songs better than him. He's the best. And he's 65 years old and can still sing those damn high notes which a kid would find hard hitting.
Not top ten?
I think Steven is an AMAZING, incredible singer!
He goes for high notes like it's effortless
For sure deserves to be higher in the list!
This guy's the demon of screamin'! He should really be in the top 10 at least. Listen to 'Dream On', a TOTAL masterpiece.
13
Kurt Cobain

Kurt Cobain was born February 20, 1967, in Aberdeen, Washington. In 1987, he started the grunge band Nirvana, which became one of the most successful bands ever. He was a talented yet troubled grunge performer. Kurt Cobain became a rock legend in the 1990s with his band. He committed suicide at his ...read more.
I understand why people think Kurt Cobain is overrated as a musician in general, because he didn't really know any music theory. However, his voice is absolutely insane. He is one of the very few grunge singers who can screech like that and still make it sound good. Watch Nirvana perform the song Where Did You Sleep Last Night at their famous MTV Unplugged concert and you will be in tears.
Kurt Cobain, along with Nirvana, changed the music industry drastically in that they ended the Metal era of the 1980's and influenced the modern bands we hear today.

Most people would like to talk about his death, if he was killed, if he committed suicide, etc, and this very fact alone might have made him a legend to many people. But to me, he's a legend because he made great influential music. Music that rock wouldn't survive without. Nirvana is the core and heart of the rock body. Embrace him, not his death.
Kurt Cobain was the singer of Nirvana.
Kurt Cobain, The lead singer of Nirvana. Kurts music changed the music industry in a way that is still evident today. He influences so many people with his amazing music and lyrics. The world was blessed with his talent and presence until april 5th, 1994, when he supposedly committed suicide. now I could ramble on for hours on all of the evidence that makes it CLEAR that he didn't committ suicide but ill just skip that and say that kurts true fans already know all of that and know in their hearts that he didn't kill himself but was killed by courtney love. nobody is ever going to forget Kurt. his music will keep him alive as it touches people each and every day. The world was a better place when you were with us, Kurt. RIP.
Nirvana- the greatest grunge/rock band of all time
One of the greatest musicians of all time. front man of the grunge band "Nirvana", and the voice of a generation. had a passion for art, though not much of his work was ever shown. married to Courtney Love, and had 1 child, a daughter, named Frances Bean Cobain (she's the spitting image of him! ). comitted suicide in April of 1994. he will be loved and remembered forever.
Kurt, if you can see us now, you will know how much we all miss you. You were the greatest musician of all time and will always be remembered.
14
John Lennon

John Winston Ono Lennon, MBE was an English singer and songwriter who rose to worldwide fame as a co-founder of the Beatles, the most commercially successful band in the history of popular music. He was assassinated by Mark David Chapman on December 8, 1980 at age 40.
People voting are too young to know but let the numbers speak. John Lennon has produced such a mass level of great music the rest on the list would dream for. Really, Lennon at 56?
No one ever sang with the heart, soul and sheer brilliance of John Lennon. He was the most searing and expressive of them all!
High. Low. Melodic. Scream. He did it all because he had to do it. He took all his influences and sang his heart out.
Listen to Imagine and A day in the life. Now tell me who you're favorite rock singer is.
15
Amy Lee

Amy Lynn Hartzler, known professionally as Amy Lee, is an American singer-songwriter, classically trained pianist and composer. She is also the lead singer to the Arkansas band Evanescence.
At least she's in the top 20s. But honestly, she can hit in the range of 4 octaves with power in her voice. Bur she can also make her voice calm and relaxing, and she can put the force into it. Her voice is smooth and without a doubt she should be in the top 10.
She is just amazing! She has so much feeling and power in her voice! Too bad she's turning into a pop-princess... but anyway I hope she will never give up her way of singing no matter which genre she chooses! Go AMY!
She just so amazing, her voice is flawless. You can tell it comes straight from the heart when she sings. absolutely a amazing singer, I would vote for her any day. Pure, raw, emotion in her voice is what makes her one of the greatest.
Amy Lee's voice is beautiful. One of the best voices I've ever heard. She sounds like an angel and sings with a lot of heart and soul. And why is Brian Johnson higher on the list than her?
16
Sammy Hagar

Samuel Roy "Sammy" Hagar, also known as The Red Rocker, is an American rock vocalist, guitarist, songwriter, musician and entrepreneur.
By voice alone, Sammy Hagar pushes notes, and maintains a pitch, which many others in this list would outright fail to match. One only needs to hear his opening war-cry in Van Halen's song "A.F.U." to recognise his ability.
I would say at his peak Hagar is pound for pound the greatest live singer the hard rock genre has ever seen. The VH live double album is out of this world.
I liked his solo career more than when he was with Van Halen. Good voice overall.
He killed Van Halen. Hagar the Horrible.
17
Ian Gillian
Hands down none better! Could sing better in his 50s than most on this list in their prime.
Powerful, beautiful, gentle, amazing...Ian Gillan
I am going to quote Trump... "He is the best"
What an unbelievably powerful voice
18
James Hetfield

James Alan Hetfield was born on August 3, 1963. He is an American musician, singer and songwriter known for being the co-founder, lead vocalist, rhythm guitarist and main songwriter for the American heavy metal band Metallica.
James sings like he is going to crap his pants. Its funny but that does not mean it is pleasing. Looks like the Lion from the Wiz of Oz. He Blows.
He's got a unique voice... Probably caused by smokin and drinkin since he was like 3... And Lemmy from motorhead... Still they rule should be #1
Has the richest and to me most beautiful voice in heavy metal. # uno James all the way!
The front man from Metallica. Love the sound and the hardness in his voice.
19
Bon Scott

Ronald Belford "Bon" Scott was a Scottish-born Australian rock musician, best known for being the lead singer and lyricist of Australian hard rock band AC/DC from 1974 until his death in 1980. He was born in Forfar and lived in Kirriemuir, Scotland, for 5 years before moving to Melbourne, Australia, ...read more.
Bon Scott has an incredible tenor range. He hit every note on the button. He also had that little Richard Scream. Ac Dc literally had every teenage girl wanting to go after this naughty, adventurist diminutive front man urging you to be bad. The power he had. He sang every note powerful. So sad he died when they could have carried his little body up the stairs.
Bon Scott along with the young brothers amazing riffs are the definition of hard rock. They literally gave birth the guitar shredding and head banging everyone loves today. As Malcolm young said "other bands love to rock, but we love to rock n roll"
Bon Scott was Rock'N'Roll! He was a Rocker, a Roller, a Riot out of controller! (Sorry, If I had 2 votes, I've voted Brian Johnson as well! )
With his singing, there was no trying or screaming. It just came out hard and with the Angus Brothers, Oh man!
20
Roger Daltrey

Roger Harry Daltrey, is an English singer and actor. In a music career spanning more than 50 years, Daltrey came to prominence in the mid 1960s as the founder and lead singer of the English rock band The Who, which released fourteen singles that entered the Top 10 charts in the United Kingdom during ...read more.
Another singer that should be comfortably in the Top 10, but isn't for some stupid reason. Listen to the song Love Reign O'er Me and you'll be convinced that he belongs in the Top 3. The fact that Roger Daltrey put so much pressure on his voice with his emotional screams from the early days, yet still sounds good at age 76 proves he is wayyyyyy too low on this list.
The first, the GREATEST rock frontman and voice! Set the standard for all who followed - power and passion combined in an unparalleled package. Daltrey is IT.
The most powerful, sexy, heartfelt, belt-it-out... Did I say POWERFUL! Pure energy in that amazing voice. Thank you Roger!
How a clown like Chester Bennington is ahead of the legendary Who frontman proves most of these chippies don't know music.
21
Layne Staley

Layne Thomas Staley was an American musician who served as the lead singer and co-songwriter of the rock band Alice in Chains, which he founded with guitarist Jerry Cantrell in Seattle, Washington in 1987. Alice in Chains rose to international fame as part of the grunge movement of the early 1990s. ...read more.
The only other singer close to Layne Staley would be Chris Cornell. Staley's vocals and the way he can take dark lyrics and make them sound absolutely beautiful is a talent very few singers today can match. Staley's voice will resonate and influence many to come after him, you can't fake raw talent.
Number 37? Are you people serious? How the hell are Amy Lee, Arnel Pineda and Liam Gallagher ahead of THE Layne Staley? All 13 year olds voting for those "artists" need to listen to the entire Facelift album and experience the raw power and emotion Layne put in his voice. Incredible!
Well I guess people really are deaf... Layne Staley had one of the most unique voices ever. His time with Alice in Chains and Mad season, while short lived, spawned some of the best music the 90s offered in my opinion. I still listen to AiC and Ms everyday, mainly because of his insane vocal range. He should definitely be in top 10 smh
Layne Staley has the most unique voices in music industry and no one can replace him in Alice in Chains. And if you think he can only scream and has harsh voice, you should check Mad Season, when he sounds gently like an angel.
22
Arnel Pineda

Arnel Campaner Pineda is a Filipino singer and songwriter. He came to prominence in the Philippines during the 1980s and internationally in 2007 as the lead singer of the American rock band Journey.
Arnel Pineda sings with passion. He doesn't only hit the high note as in the original but really sings from his heart full of soul. He is a total performer as seen in his concerts inciting his audience..
In my opinion, Arnel is the real "VOICE". His versatile and powerful voice is truly the best. Others tried toreplicate the great Steve Perry but not one came close until AP came along and rejuvenated the true sound of Journey.
Arnel Pineda is a true singer's singer unlimited talent. He can sing any song and make it sound better while other artist can only sing certain style very limited.
Arnel Pineda has an amazing voice, the range and the ability to sing every song with so much passion and emotion. He is a total performer and a rare talent.
23
Brian Johnson

Brian Johnson is an English singer and songwriter. Since 1980, he is the lead singer of the Australian rock band AC/DC, with whom he was inducted into the Rock and Roll Hall of Fame in 2003. As of April 2016, Johnson is not participating in the remainder of the Rock or Bust World Tour due to hearing ...read more.
Because I was born on the year of '92
Top 10 all time, for sure.
I love god rock ac/dc!
Only 19?! He is number 1!
24
Hansi Kürsch

Hansi Kürsch, born Hans Jürgen Kürsch, is the lead singer, lyricist, co-composer and bassist for German power metal band Blind Guardian . Heavily influenced by Freddie Mercury, he creates a huge choir effect by overdubbing his own voice multiple times in complex, overlapping vocal harmonies. He records ...read more.
He's just perfect. Top 10 easily. He's got everything - power, range, vocal technique, versatility.
Demons & Wizards - Path of glory, My last sunrise
Blind Guardian - Thorn, Time what is time
A vocal god - modern metal/rock singing. One of the top 10 metal singers. Definitely deserves to be higher.
25
Jim Morrison

James Douglas "Jim" Morrison was an American singer, songwriter, and poet best remembered as the lead singer of the Doors.
HAHAAHA, your joking right, I'm sure you don't seriously think all of these 3rd rate wannabees are better than Jim Morrison. The only reasonable choices above him are Robert Plant, and Roger Daltrey. But Jim should be number one, no one had a more powerful, loud and soulful voice. My top 10 would be...

1. Jim Morrison
2. Robert Plant
3. Janis Joplin
5. Roger Daltrey
6. Grace Slick
7. Mick Jagger
8. Roger Hodgson
9. Freddy Mercury
10. Jon Anderson
Only Elvis before him was as perfect a rock frontman as Jim Morrison. Everybody from Axl Rose to Linkin Park grew up with a Doors poster on the wall, and even copied their swagger after his.
Of course, Morrison is also a charter member of the "27 Club".
RIP, Lizard King.
Its kind of funny, most of the people above him on this list from Axl Rose to Eddie Vedder had Jim Morrison posters hanging up in their room when they were growing up.
Any of them would tell you Morrison is the GOAT- Greatest Of All Time.
Jim had a hypnotic quality to his voice. No matter the age of the music, it still takes you to "that place"... you know what I'm talking about. Should have been in the Top 10 for sure.
PSearch List