Best Native American Rock Bands
The Top Ten
1
Redbone
Redbone opened many doors for other Native musicians but got little acknowledgement because Native musicians were not really accepted in the mainstream at the time. Most people don't even know how much their music influenced other musicians. In their own right, each one was a great musician and together they were unbeatable. Lolly's song, "Come And Get You Love" is still played on radio and covered by other musicians of today. They still have many fans and are still garnering new ones after all these years. They simply are the best.
Great band and even better people. Got to spend a few hours working with band members at a earth day festival. Talked about our grandma's cooking and the old ways being lost. They gave both Native musicians a chance to go mainstream and showed everyone that our culture and music did not stop evolving in 1492. Because of them many native groups combine different modern genres their traditional music.
Redbone was the first Native Band to break into the mainstream. Even though mainstream radio at the time refused to play some of their music for political reasons. Their song "Come And Get Your Love" has become almost an anthem in Indian Country. They had a great original sound that has never been duplicated although their music is covered still today. Fantastic musicians!
The Best American Indian group of all time. As a teen in the 70's, buying their album, Message From a Drum, I just immersed myself in the wonderful, unique, proud lyrics. they were so much more influential than I realized. Michael Jackson encouraged them to break out of the standard mold and "be" an American Indian group. I liked every single song on this album and others.
2
Blackfoot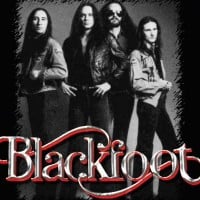 Blackfoot is an American Southern rock musical ensemble from Jacksonville, Florida organized during 1970. Though they are primarily a Southern rock band, they are also known as a hard rock act.
Although, they were pegged southern rock, these guys could deafen ears with their hard stuff also... Check out "Good Morning" off their Marauder album, Ricky Medlocke Lead singer now plays with Skynyrd, Jakson "Thunderfoot" Spires sadly passed on a few years back, but the name keeps going, and so does their music... Top album... Strikes spawned their two biggest hits, "Train, Train" and "Highway Song"... Take a listen you won't be disappointed.
Grew up listening to these guys! Some were in other bands before this... I don't know their names right now. but my kids and grandkids all love listening to the Mountain Album. Rock on!
Good musicians, great sound and really underrated back in the day. Fun people too.
I was Lighting Director one gig with them and they performed a great show.
3
Testament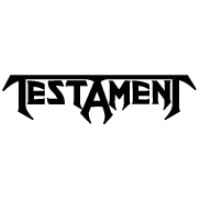 Testament is an American thrash metal band from Berkeley, California. Formed in 1983 under the name Legacy, the band consists of vocalist Chuck Billy, guitarists Eric Peterson and Alex Skolnick, bassist Steve DiGiorgio and drummer Gene Hoglan.
Testament helped me through my troubled teen years by allowing me to go to a different place in my mind while listening to their music. The song trail of tears sparked my quest for learning the truth about what the USA did to its native people, and how so little is being done to help them thrive as a culture. Testament has made its words heard;hovever, the treatment of Native Americans still has not changed. The US sends billions of dollars to other countries for democracy, but sweeps its own mistakes under the rug. I am known to be English, Irish, Chinese and Austrian, but I call myself American.
One of my all time favorite bands! Just saw them with Anthrax and Slayer five days ago.
4
W.A.S.P.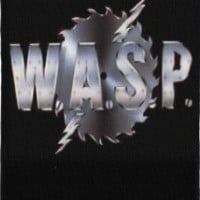 W.A.S.P. is an American heavy metal band formed in 1982 by Blackie Lawless, who is the only remaining original member of the band.
Blackie's voice is my favorite male voice of all time. he is brilliant, sensitive, beautiful melodies even with heavy metal sound, I have to hear him every day.
Just listen to W.A.S.P. , The Last Command, Inside the Electric Circus, The Headless Children and The Crimson Idol and you know, why...
Total inspiration for my metal madness.. !
Legend, lyricist and hell of a band!
5
Blackfire
I love this band. Punk Rock / Native American tones/ Metal. Great message in the lyrics. Especially with songs Downfall, How can we confess, Its Not Over, and Silence as a weapon. They were found by Joey Ramone before his death and were on the Vans Warped tour in 2004. Buy their CD's now. Laugh out loud. I did.
Blackfire is a band that is very important to me. They helped me find my identity both as a Native and as an individual. If it wasn't for them I think I'd still be at war with myself.
BLACKFIRE, composed of Dine Navajo) Benally bros and sis (Klee, Clayson and Jeneda), is the best NDNative American rock band I've listened so far. Their music, lyrics and blood and guts vocals, either in their punk-rock or traditioal style, is carrying much power in delivering their message.
Also, watch out for SIHASIN (Clayson and Jeneda Benally) and for Klee Benally solo songs, both are really good too!
Now working as a duo Sihasin (hope in Navajo language) a high energy unique sound of bass and drums, jeneda and clayson benally. Klee has his own solo project. Their music is stronger than ever.
6
Indigenous
I saw and heard Indigenous in Boston 12 years ago and they were TOTALLY AWESOME. They did a bunch of Jimi's music and blew the house away.
I love there smooth style true till the gods call us home where we give thanks to all of the great music they shared with us.
The best sound coming out of America!
Mato Nanji and group are amazing and totally original!
Very talented. One of my favorite bands.
7 Stevie Salas
8
Road Engine Dreams (R.E.D.)
-1998: Band first formed
-2006: Minor change in band- original drummer parts ways
-2007: Debut 10 song album recorded in East Vancouver
-2008: Nominee for 'Best Rock Album' at the Aboriginal Peoples Choice Music Awards in Toronto, Replaced 'The Johnnys' scheduled performance at Rogers Centre (aka Skydome) in Toronto
-Music currently available through iTunes, Spotify, YouTube, Amazon.com etc.
-2011: RED disbands
-2013: Studio build commences
-2013-2016: Writing new material begins
-2018: Rehearsal on new and old material starts, 3 of the original members work towards Indigenous Day performance- 1st successful show in 7 years (unplugged)
-2019: Announce 2020 release date for the long anticipated follow up album, 2 dates announced- 1. Indigenous Day (June 21st @ Trout Lake) 2. Fusion Festival (July 20th in Surrey), Studio build complete, Song writing continues for upcoming album, Music recording currently in pre-production
One of the best Native Indie bands on the west coast.
They are the band before the tribe...
9
Breach Of Trust
An absolute gem from La Ronge, Saskatchewan, Canada. Breach of Trust released two albums: "Songs For Dying Nations" in 2000 and a self-titled album in 2004. Standout tracks include the singles "Who Am I? " and "Edge of Summer." Highly recommended for any fans of hard rock.
10
Xit
One of the best bands ever! Love Tom Bee's voice.
"Reservation of education" all day.
The first Indian Rock and no other Indian Rock band in North America comes close
The Contenders
11
Smooth Reign
In my professional opinion, this group needs a strong manager and a budget to get them to where they should be. A very refreshing dose of what music used to be. Kudos Smooth Reign!
This band has a style of their own. They definitely stand out.
Definitely not your typical native band.
12
Keith Secola and Wild Band of Indian
Just saw them again at the grassroots festival in trumansburg, ny. They are SO AWESOME! I feel every note, every wail, every hit and stomp... Right down to my soul! They should be higher on the list... Like #2, ok?!
The song NDN car makes me happy and feel young. Down in Oklahoma on dirt roads and Black Jack trees with because's, friends and family. Stomp dances and Pow wows. Long live my gray war pony. The " Grey Ghost"
13
Coupstick
Coupstick is one of the MOST influential Native American bands I have EVER heard! Check them out! They are badass!
Uniquely amazing. That something that's missing in rock today can be found in Coupstick, and my God!... What a message.
My 2 native brothers band, they tought me a lot about life, and always treated me as one of theirs even I'm a whitey... Love those guys big time, they are totally badass
Coupstick is everything a band should be. Hard hitting to both the ears and heart.
14 Aaron Peters
15 The Johnnys
16 Betty X
17 Ill Niño
18
Shawn Michael Perry & Only The Brave
Give my brother a listen and vote for him!
19
The Black Owl Society
This band is seriously awesome. Such an amazing talent and sound! The bass player is an original member of Indigenous and has created this new trio that has explosive lyrics and a heavy blues/rock sound. The songs so far are a mix of some ground shaking originals and some blues you may already know, but a lot heavier. I definitely give this hot Nakota bass player two major thumbs up!
20
Systems Victims
North Dakota 's longest standing Native
Crust band. If you enjoy some crusty thrash! YouTube them!
21 Native Reign
22 Deadsy
23
Corporate Avenger
Awesome Industrial-Hip Hop-Metal Rock group.
Wikipedia says "Corporate Avenger is a Native American band from Southern California. The style of their music has varied over time, ranging from electronica and industrial to rap to rock. With each change, the subject matter has always remained the same: political matter, knowledge, and spirituality. "
The group is a great group with some controversial and radical songs.
Love this band. You won't find a much more offensive band but they talk about truth and yeah it hurts...
24
Hunters Moon
Navajo Metal band from Northern Arizona. They have been around since 2008. A few demos and an EP but something worth checking out. Musicianship is there, I've seen their new stuff on YouTube, they're amazing!
25 A Tribe Called Red
PSearch List