Blue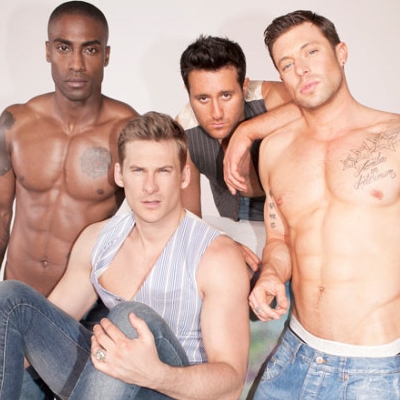 Uploaded by mood333
Comments
Top
Popular
Newest
I think that Blue are the best boyband to perform at the 2012's Olympic Opening Ceremonies! They're the only Boyband I could think to perform there and they really sweet, smart and very very talented! Lee is the most funny of them (as I think always), Antony is the shy one, Simon is the cool one (and quiet) and Dunk is the sweet one of them and because they're together again I want them to perform there! Kisses and hugs from Greece!
Lee Ryan, Duncan James, Simon Webbe and antony costa make up the best boyband ever! There vocals together are just perfect! Plus they are all so sexy!
Blue are an inspire boyband for me who are very talented, smart and really hot! Because of that year the Olympics will be in England we HAVE to choose an English band so they're the right choice for me! Lee Ryan, Duncan James, Antony Costa and Simon Webbe (the members) are very good artists so I think they worth to do this! A lots of good luck and kisses from Greece!
There is no better band in the world than these gorgeous boys! They have the most amazing voice and looks you will ever find I love my boys Duncan James, Lee Ryan, Anthony Cost and Simon Webbe
We can all rise to the challenge and get them number one!
Why blue? First:because they are English! I think the 2012 London Olympics Opening Ceremonies should be an opportunity to discover the local talents to the international public instead of choosing an already well known star! Second: because thy wan the award of the Best come back, that means that a lot of people were waiting for them! Third:because they deserve it: they represent what is England: the variety, the land of welcome, the English charm and the talent!
Blue are one of the most talented boybands ever and they got the best voices, plus they are hot.. Their music is amazing and they know how to deal with such big events like this.. They were made for Big Gigs
Blue are back and better than ever!
In my opinion having Blue would do the Olympics the world of good!
And the amount of people watching would be great for Blue's comeback
I think that Blue should be perform because they're definitely the most hot and best boyband in the world.! Actually even though they sadly lost at the Eurovision Song Contest (E.S.C. ) that doesn't means that they won't have another chance to perform to something which is known in the entire world. Lee Ryan, Antony Costa, Duncan James and Simon Webbe are very talented, smart and funny artists and they are a very very positive team to take that chance to perform because this event has to be positive so and positive team.! Kisses from Greece.!
Blue formed for Duncan James, Lee Ryan, Simon Webbe and Antony Costa.. THEY NEED YOUR VOTES MUCH VOTES BECAUSE THEY ARE THE BEST GROUP OF THE HISTORY.. PLEASE VOTE TO BLUE... GOOD LUCK GUYS
Blue are best guys ever to perform in such events. They are best vocal in the world and their voices combination no doubt is greatest. I think they deserve to perform in Olympics. I would be more pleasure for all their fans to see em performing there..
Well Blue, in my opinion, I think they are one of the most talented boybands ever. I've listened to their music since I was a young girl and I absolutely love them!
I've seen Blue perform this year and they were absolutely sensational! They're be absolutely perfect for the Olympics. With them being a worldwide success before, they're the best choice for the Olympics.
My favorite band, ever and always. Love them all the way. Sometimes we may feel that they're away from us, but no matter what, always in our lovers' heart. Now and forever.
Blue are the perfect example of everything that is good in the UK! They are amazing and are so so so good live!

Please vote for Blue
Blue represent talent! Blue are such good singers, their songs are so amazing and they are all so hot and sexy! If you love Blue please vote for blue! Xx
Blue are amazing! This could get them started again, I'll Definitely be watching them from New Zealand! Good luck to who ever wins x
Duncan, Lee, Antony and Simon! They're the best in the World! Their music makes us very Happy! Thanks to them I come to believe in music! Good Luck! Come vote For BLUE!
They are always the best! Though they were divided just three years after they started out, everyone think it's really a pity. If you have watched the movie of their new song "I can, you can still see how strong their confidence is! Now since they've been reunited, we should support them if you are their fans. We'll never forget their fantastic performance. They really need this chance to play! Hold on! Please believe them!
Please vote for Blue! They would be great representing the UK. They have great voices and are very well known in many other countries. We want Blue!
Would love to see blue perform they are amazing. I have been a fan for ages and I was happy when they announced that they was reforming. So glad
Lee Ryan from blue has one of the best voices ever. It's so sexy, but hauntingly beautiful! Duncan has such a beautiful deep husky sexy voice, simon has such a beautiful soothing soft voice and ants voice is like grizzly and so sexy! When these 4 boys sing together it is just explosive! They have to perform at the London olympics! I LOVE BLUE! EVERYONE PLEASE VOTE BLUE! Lots of love xx
They represent UK for Eurovision, they are THE English band in the world! And in France too we want to see them
Blue ~ with 4 talented singers: Simon Webbe, Duncan James, Lee Ryan, and Anthony Costa. Each of them has a unique voice, the harmony of their voices turn into an excellent boyband. They have a wide breadth of vocal ability, they definitely should perform on the Olympics. Please vote for Blue so the world can see how talented they are.
Blue are the best group I ever saw in my all life! I love them!
Duncan, Lee, Simon & Antony are the best! They had represented the Uk at Eurovision Song Contest 2011, un Dusseldorf... So they are the best!
Blue (simon, antony, duncan, lee) are the best boy band, especially one of the last group to be trained and always always ask for the fans! We love them all and hope you argue! VOTE FOR BLUE!
Related Lists
Best Songs from Weezer Self-titled (The Blue Album)
Greatest Blue Oyster Cult Songs
Best Characters From Red vs Blue
Best Blues Rock Songs