Charice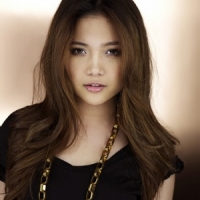 Found on nautiljon.com
Info
Jake Zyrus (born Charmaine Clarice Relucio Pempengco, formerly known by the mononym Charice), is a Filipino singer who rose to popularity through YouTube. He is a transgender man.
Comments
Top
Popular
Newest
I think Charice should perform because she is one of the strongest vocalist out today, and because she has an amazing story.. The Olympics are about attaining the impossible and Charice did that. She is strong and humble and a class act. Her Presence commands attention, but her smile is so captivating that you are enthralled once she looks at you, but you are entranced when she begins singing. She is what the olympics are about, being the best and reaching the impossible, all while showing love to all those around!
She represents the world. So far the only singer from Asia that had made a name in the US and Canada. She is the only Asian singer who made Billboards Top Ten, Had been invited to Italy twice in their version of American Idol. Sang duet with the 2 most recognized singers in the world, Celine Dion and Andrea Bocceli, Had performed in Las Vegas quite a bit. Had performed with Justin Bieber in Oprah, Had also performed at the Rockefeller Christmas show, was at Macy's thanksgiving parade, was a guest of Good Morning America, then Regis and Kelly. Had always been compared to either Whitney and Celine. Had appeared numerous times at Oprah and once on Ellen and I believe once on a British talk show. Very famous in almost every Asian countries and Middle East. In short she has the "NAME RECOGNITION" all over the world. Doesn't Olympics means The Worlds Event. So there you go.
CHARICE may be an instrument to promote world peace at the Olympics which has become a stage for conflict between countries ironically. Allowing CHARICE to sing her rendition of NOTE TO GOD may remind all participants how wrong humanity is in harboring hate, envy, destructive competitiveness, wrong sense of pride, divisiveness etc. ; and that we should let the positive virtues to rule our world - love, kindness, sharing, compassion, understanding, patience etc. Only CHARICE can effectively deliver the message of NOTE TO GOD and that's why I believe that she should perform even just that song at the most appropriate time in the history of our planet. Thank you.
You want a great live concert? No doubt she's my bet. She's one of the best live singers of our generation! Very versatile, she can transition from ballad, rap, pop, r&b etc type of music, plus she can play a guitar. She can make any song from dust to gold! She will continue the bloodline of Divas of the past. She has one of the billion talent!
Charice sings live unlike some k-pop groups who lip sync, she gives a perfect performance. She has been acknowledged by the best in the music business, multiple Grammy awarde, David Foster, the queen of talk shows, Oprah and many notable celebrities. Her voice and talent are fitted for this magnificent event as she is a magnificent singer!
She's the most well known singer in this planet at this point. She's gifted with a very powerful and soaring voice that you can't imagine she had despite of her lack in height.
She will do justice and perfect for all live performances... She had proven to sing the American National Anthem last year and few years back. She did perform the songs with quality and without ruining the anthem song. Her excellence in rendering the song made everyone connected emotionally. Bravo to Charice. London will be amazed and the listeners all over the world will be touched.
She is an incredible powerhouse who can fill a stadium with her beautiful voice and bring everyone to nosebleed heights. She belongs right there in this momentous event. And her back story is about the triumph of the human spirit, which is what the Olympics is about.
Um y is charice number 59 under the spice girls and beiber? What? Even the spice girls are ahead of her and they don't even exist.. The most powerful singer in the world is so far down the list, I am just shocked at this.
We need everyone on board to get charice to the top where she belongs. Why is britney on here? She doesn't even sing live?
Charice's voice glides and stays on top of mass of adoring fans when she sings LIVE in huge arena! -- while all other singers voice disappears.. Hers appears so clear & crisp. Thereby, I strongly suggest to put her where she really shines!
She could sing the power of the dream by Celine in her own arrangement by David foster... And when she's open her mouth, everyone could possibly hear her and would believe that Celine possess this girl body in different year but the same genre...
She is a great example of Olympics. She means a lot of inspiration. Her being a Filipino and an Asian that never gave her a credit that she could overcome what she had reached in the music industry. By her PURE TALENT that passed the other side of the world from west to east. Her voice would mesmerize the whole world. If you wanna hear a pure singing performance you have the best choice with her. GOD BLESS CHARICE!
Her voice is out of this world. Especially is she sings live. She can cover any song and believe it or not as if she owns the song. I just thought you should give her a chance to perform for you all. I fell in love with this girl since I saw her in Oprah Winfrey show in 2007.
Charice is an excellent role model for the youth of this world. At a very young age of seven, she knows how to survive by insisting with her mom that she has to work by singing. She succeeded by entering into almost a hundred singing contests for price money thus putting more food on their table. To this day, she remained humble never forgetting where she came from. She is indeed a marvel, an extraordinary talent!
She can sing whatever song you'll throw at her... She's unbelievable. She will deliver... And more.
Charice is an excellent performer... Her voice stands out in a large crowd. Also, she is a pro in terms of major events. Check out all her exposures in and out of the US. You will be amazed to hear such great singing talent.
Charice should perform at the Olympics because of what they stand for. They say it doesn't matter your circumstance or where you've come from because you made it. You're here now. Charice embodies what the Olympics are all about and on top of that her vocal prowess is incomparable, she sings with so much emotion and conviction that she would definitely start the Olympic ceremony of with a bang!
She has the quality of voice that make you feel like in heaven listening to an angel that gives you more power and energy to the whole world and her golden voice will heal your pain by her voice and gave you love and peace to the world. She deserve it.
Singer with angelic and powerful voice.. She sings better when perform live.. She also can mimic almost any singer... Not to mention she is multi-talented as she can act, sing and dance.. Oprah called her The Most Talented Girl In The World
I really love to see this most talented girl in the world dubbed by
Oprah Winfrey to perform for the Olympics 2012 because I believe that she will blow the world with her angelic voice. She is the One!
It would be great to see Charice perform in 2012 London Olympics. She has a powerful and beautiful voice that gives goosebumps and chills. If you want proof, go search CHARICE in YouTube and you'll know why. I'm a Chaster and been following Cha for years and still can't get enough. When she opens her mouth and sing, you won't be able to hold your tears. I couldn't.
She is a singer who can inspire people. She dares to be who she is ignoring the criticisms she might get. People of all ages love her may it be young or old ones. Personally speaking, she motivates me to reach my goals and ambitions in life as evidenced to her life, " nothing is impossible if you believe and work hard on it.
The London Olympics, should give Charice, a chance to hear her out. She is the best live singer in the entire universe. Charice, will give them the best performance with her powerful voice. She would give them that inspiration that would boost all the athletes, to the highest level. She is one of kind and very talented girl, with such incredible amazing voice.
She has a galactic voice not common to girls her age. She can sing any song from any genre and that in itself is simply amazing because not all singers can do that.
Charice will be an inspiration. She dream big and working on it tirelessly. Like the athletes who wants to achieve their dream and that is representing their respective countries. What is more amazing is that Charice have an amazing gift that she could share with the whole world. She could represent Asian act but could also cross the geographic barrier because she making her name known in International stage.
She's been making her mark in the music so performing in the big stage won't be a problem.
Related Lists
Best Songs Charice Pempengco's Charice