Cher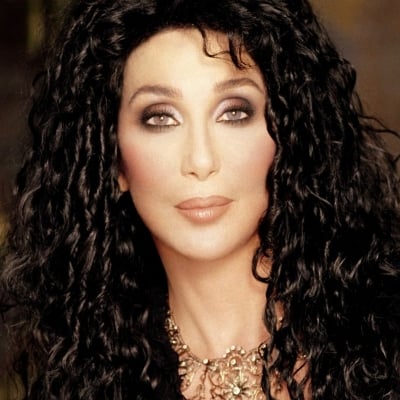 Found on art-sheep.com
Info
Cher is an American singer and actress. Described as embodying female autonomy in a male-dominated industry, she is known for her distinctive contralto singing voice and for having worked in numerous areas of entertainment, as well as adopting a variety of styles and appearances during her five-decade-long ...
read more
.
Comments
Top
Popular
Newest
Because she rocks a stage! She is amazing! And you never know what she might wear! Cher is always entertainment!
Cher is a legend and an icon as are the Olympics. There is no one in the world that doesn't know what the Olympics are and there is no one in the world that doesn't know who Cher is! Bring on the Olympics and the Legend CHER!
She is the greatest thing in the pop business. The only true DIVA! She has a couple of the number one hits!
Simply the most kind and most concerned singer about world peace today. Even her own Poloyphy Foundation brings young musicians together for lasting peace. Perfect in keeping with the reason for the games.
Cher rocked on Super Bowl! She'll rock on Olympics as well!
Cher would be an amazing act for this event! She's not only a great performer, interesting to look at, but she's sweet, funny, & has a personality & LOVES her fans! All ages love her. I know Cher fans anywhere from 12 (or younger) and up! She captivates everyone! She's daring yet sweet at the same time. There's truly no one like her. And everyone could relate SOMEHOW. And even if they can't her music is all they need to have an enjoyable experience! Vote good musicians... vote CHER!
Cause she's a LEGEND! She has been around for 50 years and sings amazingly! Also she just rocks!
The Goddess of Pop, Cher has to be one of, if not THE most amazing singer of all time - truly incredible!
Cher is back. She is legend. Cher, throughout a career spanning over 45 years, has broken many records. She is the only artist to reach number one on the Billboard charts in each of the previous six decades. Her hit dance single "Believe" is her biggest-selling recording and was the best-selling single of 1999, having sold over 10 million copies worldwide. She holds the Hot 100 record for the longest hit-making career span, with 33 years between the release of her first and most recent Billboard Hot 100 #1 singles, in 1965 and 1999 and 45 years between her first and most recent #1 ranking on any Billboard chart Cher ended her 3-year-long "Farewell Tour" in 2005 as the most successful tour by a female solo artist of all time. Cher has sold over 100 million albums worldwide. After a three-year hiatus and retirement from touring, Cher returned to the stage in May 2008 at Caesars Palace in Las Vegas where she performed her show Cher at the Colosseum until February 2011. Cher has a deep ...more
Because she is a great singer and no one is like her, she just do what she want and never let it go. and she's one of my favorite artist too :) well CHER rock's that so HARD :) That's why I liked her very much
Cher is the biggest superstars in the entire world! You don't get any bigger than Cher! Everyone knows who She is!
The only true Diva of our time! She is a real talent and a hard worker. She was then she is now and she will always be the greatest entertainer and a true living Legend! She encourages lots of people to survive and live no matter what others say.
Because she is the best. She is the POP Diva and deserve to be the opening show. In 2012 she is with new album and new tour, and of course she would rock the show. Her voice is far better today. Go Cher!
She will be at the top again with her new cd and therefore is just the right person to be given that honor. Her voice is fantastic and her singing abilities just get better and better over the years, Burlesque and YHSTLOM show that
CHER is back yet! the new album promises to be great, as well as music that will make Lady Gaga! DO YOU BELIEVE THAT IT WILL HOWEVER BACK IN London 2012!
I think she'd bridge the gap between the UK, US and every country just by showing up. That's how huge her appeal is. She has shown her caring for our US military in recent years, for the poor in both the US and other countries by special funding, and she's possibly the most honest celebrity when it comes to issues that touch us individually. Add to that - you won't find someone of her age who can rock you better! She may have a problem with dyslexia, but she never fails to deliver what she promises.
Entertain us, girl!
Cher is a living legend, music and style icon. She's coming back with new album and Her return is a great event as Olympics game.
She's the greatest of all time. She deserves it. London deserves it! Actually, the whole world deserve it! Let the opening ceremony be reminded forever as a happening of the greatest singer quality of all time. Cher, that's the answer, for sure!
She is a beginner, who'd last forever. she was is & would be great. she represents timelesness & the best choise to rock 2012 is CHER! no other performer could be compared to her howewer great they are. because she was here before them & achieved far more then any other
Because 2012 will be year of Cher! she just recording new big album! And she's a big artist! People just go for the opening to see her rocks!
She is one of the last true divas, a living legend and as good as always. She still manage to look hot on her craziest costumes and sing better than ever. She will be a hundred and in a wheelchair and still be better than all 20 year old girls. We definitely haven't seen the last of her.
She is the best on the list. I believe that being a music icon she will be able to deliver the best performance for the 2012 London Olympics. She is ageless, she can always fascinate the audience and she is loved by many. She is the real goddess of music. CHOOSE HER!
Go Cher Go! Because she's AMAZING! We want to see Cher singing one more time. Cher, Brazil loves you!
How often can we have a "100 yeas old" diva performing? Not only the goddess of POP but an Oscar, Grammy, Emmy winner, but also a great person, Cher should perform at the London Olympics Opening Ceremonies.
She is the One and only Queen of Pop! And She deserves this huge audience for her new album!
Related Lists
Cher's Top Ten Greatest Songs
The Greatest Ever Cher Albums
Best Songs From Cher's Living Proof
Best Songs From Cher's It's a Man's World