Lena Katina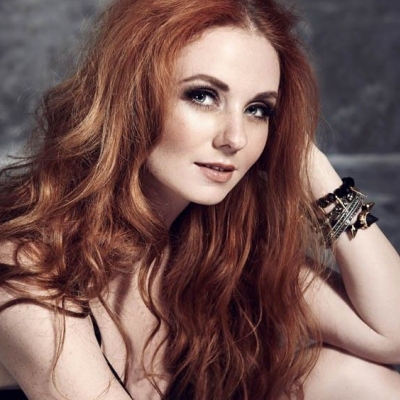 Uploaded by mood333
Info
Elena Sergeevna Katina, better known as Lena Katina, is a Russian singer and songwriter who is best known for her work with Russian duo t.A.T.u.
Comments
Top
Popular
Newest
Lena is known around the world for her pop songs as part of the multi-platinum award-winning duo T.A.T.U. her debut solo song just hit #1 on the Billboard dance charts beating out artists like Lady Gaga and Madonna for that spot. The single "My Melody" by Clark Owen featuring Lena Katina is already making waves at MTV in Europe although it was released only a few weeks ago. This is a chance to showcase a wonderful new solo artist that already has a following and has fresh new music to offer.
Lena Katina, is bringing to us a new music horizon that will fit perfectly in the Olympic games, her quality in each song she sing is perfect for this type of event. Is someone fresh in the music field, not superficial or commercial/plastic like other artists. She'll fill of positive energy whole the Olympic games with her voice, music and lyrics. People won't end disappointed with this choice
Lena Katina is an amazing singer who deserves to be on such an important event so people around the world can know more about her and like her music as well. She might be known well already because of when she was in the group T.A.T.U. but now she needs to be exposed even more but as a solo singer. Her music is incredibly good. Please vote for her! You wont regret it!
Lena deserves to perform, she is talented and has a super voice, she is best remembered for the Russian pop duo Tatu who came to fame with such hits as (all the things she said, not gonna get us and all about us)
Lena is now making and progressing herself into a solo career where we still admire her talent and brilliance to this day
She is extremely talented, hardworking and intelligent without saying that a woman is beautiful. She surely would have broken the course, because there is a singer who spawned in the media recently but has been touring a career of hard work and creating partnerships with artists of various países. No doubt she represents his home country with its more voice can enchant people of different cultures and different languages. Like the athletes who came from their countries to showcase their talent and inspire the world.
Lena is a great artist and a great human being, I think we should support her new career as a soloist and has a great voice etonces if support for that Chant in these Olympic Games will be a big boost for his career and as I said earlier in hermoza and I think he deserves it, I AM YOUR FAN LENA
I think there no doubt that Lena should preform in the Olympics. Her past includes working with the internationally famous group T.A.T.U. being the first group that went world wide from Russia WHILE teaching millions of people everywhere that it is OK to love yourself and love everyone out there, no matter what. Her voice is amazing, her stage presence is striking without relying of flash. She would make a great choice, seeing as she is a icon for unity, that being what the Olympics stand for. Thank you.
My Opinion Lena have a great voice and nice perform she is very notable, and she are a diamond. Lena katina is the best singer and the best woman... Very kind, beautiful, cute, and the Olympics would be fantastic opportunity to show how talented she is. This is my opinion.
Lena Katina should perform in the Olympics because she is an amazing solo artist and talented ex member of the Russian band T.A.T.U. her performance on stage are just awesome and her style is unique and I'm sure that everyone wants to see her and listen on stage
Lena Katina is a brilliant singer. She's been so amazing to us fans, she's lovely. I have to say she's got the swag! Please let her perform, she's the star that everyone will enjoy listening to. She'll never let you down!
She has a great stage presence, a true vocalist in a time when auto tuning has become the norm for many others. Lena puts everything into her music to be sure her fans enjoy the performance. Lena is just awesome. FACT.
Pena is a beautiful and inspirational person. She lovingly used her talent to reach people's hearts and make them feel good about who they are and I'm sure she will do a great performance with her angelic voice.
Go Lena, we all be with you. You can do it! Lena is the best revelation of music today. She is a wonderful singer and she deserves all the good in her life and an opportunity to appear and get a place in the music world.
In 2011 Lena embarked on her solo career. She packed her bags and moved from Moscow to Los Angeles, the epicenter of the music world. Her first solo release, Never Forget, has received positive critical reviews and is still making its way up the charts globally while the remix of Never Forget was number 1 on the Billboard Chart, pushing Madonna from the top spot. The song is currently number one and in the top 20 in numerous countries around the world.
She deserves it! I mean, she's #1 on billboard dance chart! An in many charts she's reaching good positions with her song Never forget. Besides have some more songs, like Melody featuring clark owen
Lena Katina has the voice and heart of an Angel! She had a number one song on the Billboard Chart for the USA and that song was number one in many other countries! And her new album is even better!
Lena is just a great talented artist that would be a great act for the Olympics opening. She would add a worldly flare to the opening of the biggest world competition. Please vote for Lena.
Lena was from the great Russian band T.A.T. you and has recently released solo material. It's music anyone can enjoy. I would love for her to get some more recognition over here in the USA
Lena Katina is the most famous Russian singer and she have fans in all the world. She have a Beautiful voice and a great personality, is humanist and she could be your best friend
You cannot have a show without Katina, even though she is not British she has a global following particularly in South America and Europe. She would be a real asset to the games
Lena is definitely a true artist, everything she does comes from the bottom of her heart and add to this an amazing sound live! Really fantastic to see her performing live.
Lena Katina is my most favourite artist. Her voice is pure and beautiful. She also has an awesome personality, and she was amazing in the group T.A.T.U. I hope she will be able to perform. Lena and T.A.T.U. had helped me so much with life and I really would love them to inspire other people around the world as well. So please for for Lena! Never Forget!
Lena Katina is a gay rights activist in a country where gays are often an unrepresented minority. She crusades for gay rights even though she is not gay herself and can be an inspiration to straight allies across the globe. Her music is smooth, pleasing, and all-around awesome and would be an excellent sound for the new era of the Olympic Games!
Lena Katina is a great singer and a universal presence. She is an awesome person, and h style is worldly and fir for the Olympics. Her presence would be an honor to all countries competing, and it would lend a breath of fresh air to such an internationally renowned event.
Hello, I want to vote for Lena Katina! I have heard that she's starting a new chapter in her career, that she will release her first solo album. So that's why I want to help all the people that loves her. Ha ha, I think she has a beautiful and celestial voice, you know, like an angel! Ok, that's all for today. Go Lena! From Argentina.
Related Lists
Best Lena Katina Songs