TVXQ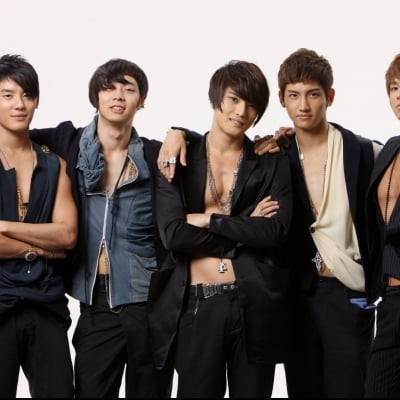 Uploaded by DynastiNoble
Comments
Top
Popular
Newest
They don't do bad on the looks, dancing and such either! Yeah, music is the key, I think, one of the keys to true world peace. We can all connect through it. Lets all connect through it! These guys are sincere performers. Absolutely. Hope they get picked to perform!...!
First of all, TVXQ! Has the most fans in the world which was recorded in the Guinness Book of Records. This influence is irreplaceable. Second, two boys have healthy body and positive character. They play a important role in teenagers in the world. I sincerely hope that TVXQ! Can perform at the 2012 London Olympics opening ceremonies. Thank you.
Because they are the best of the best!

Seeing them perform will make an awesome opening ceremony that will blast any event. I'm sure fans that hear this will come flocking in!
I think that really any kpop act would be a wonderful choice for the London Opening Ceremonies, but at the same time, I believe that TVXQ would be the best choice. TVXQ's songs are full of energy, they have amazing live vocals and dancing abilities. They aren't called Gods of the East for nothing. While this is the London olympics and it is important to represent their culture and their artist, it is also important to represent the world - because that's what the olympics are all about: one world. TVXQ truly embodies that fighting spirit that everyone in the world feels when they watch the games. In my opinion TVXQ is the perfect pick.
Their song make me feel I'm not alone, make me remember the time we spend together, make me sad, make me happy. I will never forget the best memory. In my heart, they are my hero. When I fall, their songs encourage me, never give up. LOVE TVXQ FOREVER!
TVXQ, they are hard, work steadily, coming, debut eight years, every album, every concert, can give me a new feeling, I like it very much, every time they style I like, especially the CB shape, U-know a more introverted, Max a more mature, I will always love you
TVXQ! Excellent work. Keep Your Head Down performance is strong.
Changmin and Yunho OWN the song and the moves. Olympic will not regret
TVXQ will rock the opening ceremony so come on
Be wise and let the Gods perform
Max & U-know show the world what you've got!
TVXQ IS THE BEST!
They got many awards and broke the record again and again. Their records in the world even be the best one. No one can perform like them and they even bring the people in the fad which called TVXQ! The best group is! No doubt!

My English is not good. I began to like them from their debut. I like their every song, such as hug, The Way U Are, Whatever They Say, Tri-Angle, Beautiful Life and Balloons. I think the members of TVXQ are very handsome and talented. Their dance and songs are very attractive which can make people excited. On the other hand, TVXQ is the most popular and welcomed group in Korea and Asia. I believe that everyone who will hear their songs and see their dance will fall in love with them. LOVE TVXQ FOREVER.
Amazing singers, amazing live stage performance every time. They'll blow your mind with their stage. They have proven themselves with winning the charts in both Korea and Japan. Not only well established and known throughout Asia they also have large fan bases internationally.
As a pop group star who debut for more than eight years TVXQ has made some incredible achievement. Although three members apart from them temporarily nowadays, fans still waiting for them. TVXQ is a miracle, the performance in stage, the faith they hold, for people who loves them is not only just an idol but life mentor as well. We wish more people can know there awesome performance and enjoy there music in this world wide Ceremonies.

I don't know the importance of the vote yet. If they can rank the first, can they eventually perform the opening show in the opening ceremony of the Olympics in London. But what I really know is I ought to, should, must vote for them to show my support for them... Because they are the number 1 group in Asia
What else could I say? It's even hard to describe TVXQ They're too great! Yunho and Changmin always show their best to all their fans
I hope TVXQ & JYJ can perform at the 2012 London Olympics Opening Ceremonies together.

I think both JYJ and TVXQ are the best idol in the world.
They have wonderful face, amazing songs, cool dance and cute personality.

Their performance is so attractive and awesome.
TVXQ is the best K-pop group all over the world.
I love sexy U-know and charisma Max.


TVXQ should be there as a representative from Asia, they're King of Kpop man!
Their performances are dynamic and powerful, their voice also soothing and strong!
They should let TVXQ sing QUEEN's We Will Rock You and let the people judge..
I love them more than I can say
They work hard to be the best
We can't imagine how heavy the hand they suffer from the departure
And I hope I can help them trying my best
They can give you a wonderful performance
Believe me and believe themselves
Honestly, if you don't want some manufactured boyband lip synching to a sweet and catchy pop song while dancing in synch it'll be a smart choice if you invite TVXQ to sing in the London Olympics in 2012. Their music is amazing and their raw vocals and powerful performances will make you realize that it is not at all a bad choice to invite them to sing in the London Olympics.
They are the king. They can give the best performance in the stage. Their number of fan was recorded in the GUINNESS, so they can attracted a lot of fan to visit England
They are your best choice. They are your. Best. Choice.

They are different from other groups. All over the world. They are world stars. They have the largest fan base in the world, and that's only South Korea. They have BIG fans all over the world. They deserve to sing on a stage where the world watches.

Oh my god.. They have COUNTLESS rewards and are honored by more than thousands of people. They had their debut at 2003/4. They are STILL. Number 1 on countless charts, Japan.. Korea.. They stood on stages of SO many countries. They have talents that are just literally amazing. They practiced, and went through more difficulties, obstacles, and pain than anyone. Every member had a difficult life. And they made it to being the Number one group of Asia. They have talents. That are just. Jaw-opening. They deserve this. They went through so much pain. They deserve to stand on a stage like this. They will suit the Olympic atmosphere, and they will show what Olympic spirit is. ...more
Recently, K-pop has captivate attention and spreads all over the world. So, it would be interesting if K-Pop Singer Participate in the Olympic Opening Ceremony. If you ask for The Best Singer, The Best Dancer, The Best Performance, and K-Pop Icon with powerful energy,. The only answer definitely TVXQ,.. They can bring The Best Performance and will Heat up Olympic Ceremony with their spirit. Being in K-pop industry for 8 year,. TVXQ has shown their existence comes for their talent and professionalism,.. They are deserved it..
TVXQ's songs are awesome. Yunho and Changmin always deliver extremely powerful live stage. They are not afraid of difficulties and try their best to achieve their goals. That's why they are so successful even after two year break. Their professionalism really matches the spirit of Olympics. TVXQ works hard and never gives up. TVXQ is also very popular internationally. If they perform in the opening ceremony, they will draw the attention of millions of people. I definitely want TVXQ to perform in the opening ceremony.
TVXQ is an amazing duo! They have so much talent and charisma that it's very hard not to be taken with their performances. They always strive to work hard, not give up, and be the best that they can be. I think they are perfect for what the Olympics represent. They inspire people from all over the world to reach for their dreams. Incredible talent but more importantly, amazing young men!
Only Rising Gods for me! TVXQ is well known in all the world, with their dance and vocal quality, and they deserve to be here first of all!
They are the best of the best! They 're really hardworking and talented! Their charisma 're incredible! Their voices, their dances and also their attractions are awesome! Because they are TVXQ! I really love them and wish all the happiness always come to them!