Hottest Male Tennis Players
Do you watch men's singles just for the heated matches or the hot bods? Who are the hottest guys in men's tennis today?

The Top Ten

1 Rafael Nadal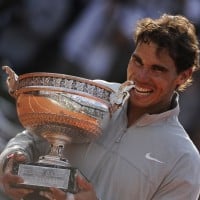 Rafael "Rafa" Nadal Parera is a Spanish professional tennis player, currently world No. 1 in men's singles tennis by the Association of Tennis Professionals.
His body channels the Greco/Roman statues of the ages. His smile brightens even the darkest of days. However, what makes him the hottest is his personality. His humility is something we all yearn to have but, could perhaps never aspire to despite how hard we try. He is simply HOT, HOT, HOT!
There are some really good looking male tennis players, out there, but rafa is something else, head and shoulders above the rest, those armani ads, the shakira gypsy video, the bar refaeli swimwear ads, I could go on all day, rafas pure sex on legs, an amazing tennis player too, xisca you are one lady.
Definitely the hottest tennis player ever. He has everything: lovely sexy, cute smile and perfect body, nicely tanned skin, just gorgeous and so sexy! Could go on forever!
Always give a great game. Always good in his personality. Such a great man. That makes him be the hottest. Great personality and smart guy!
2
Roger Federer

Roger Federer (born 8 August 1981) is a Swiss professional tennis player who is currently ranked world No. 3 in men's singles tennis by the Association of Tennis Professionals (ATP). He has won 19 Grand Slam singles titles, the most in history for a male tennis player. He has held the world No. 1 spot ...read more.
HOT, funny, badass, AND such a cutie at the same time.. Plus, MAN that man can play tennis! Watch him and I'm sitting there just "HOW DOES HE DO THAT? " *sigh* LOVE him! Hit a rough spot this year, but he is on his way back now. Oh yes, yes he is!

-- I like the other ones also.. But Federer ALL the way for me!
I like Nadal, but he really shouldn't spend so much of his time picking his shorts out of his bum on court. Federer has more class.
What makes him hot? all of it. The way he carry himself in the court made my heart flutter. Love his funny side..
Three words even more HOT and he's a goddess when playing tennis!
3
Novak Djokavic
He is the sexiest and crazy living tennis legends ever..! He deserves to be the number 1 not only in ATP rankings but also in our ratings
Novak has no sex appeal, never root for him although he comes across as a good guy!
I like your other picks plus Fernando Lopez!
A good husband, father and funny as hell
You should look at his six-pack.
4
Andy Roddick

No way! Not the least bit!
-soon to be off the market... :(
5
Marat Safin
Awesome sense of humor. Charismatic and handsome not to mention kinda crazy. One of the most entertaining tennis players ever.
He has a handsome face with the jawline, towering height and manly physique and I kinda like his temper. He is just HOT HOT HOT!
He makes me think of Josh Duhamel, who is one of the most sexiest men. Marat is absolutely beautiful
Because he's tall. His accent is great and he looks the best with out a shirt.
6
Grigor Dimitrov
Yes, great looking and said to be
A great guy!
I wish he and Maria were still an item!
The cutiest man ever. Plus the best smile that can melt you=
Great body, cute face
Good- looking guy
7
Andy Murray

He is the best looking man to ever walk this earth. How dare you not vote for this god of good looks!
Gorgeous. And funny, which is even more attractive.
Most handsome man I have ever seen
8
Tomáš Berdych
No appeal, but handsome.
9
Feliciano Lopez
Beautiful eyes, face and body
Very attractive- great eyes!
Just plain gorgeous
10
Fernando Verdasco
Handsome, but no appeal.
The Contenders
11 David Ferrer
12
James Blake
Very handsome and sweet too🎾
Seems like the nicest guy and Harvard guy besides!
Very articulate, soft spoken!
13
Carlos Moya
My favourites
14
Dominic Thiem
Omg he is like soooo hot like he is so young and hot... how is he not one of the top 5 at least. his jawline and smile... his hair too... his abs are drool worthy
How is he not higher? He is SO chiselled! Has the best smile I've ever seen on a man and the most impressive jawline and he's only 24! Drool!
So good looking face, amazing proportionate body, lean and mascular body with nice abs, legs are so sexy too...
25? What is wrong with you people? How is he so low! I'm like, completely in love with him!
15
Fabio Fognini
Crazy and fun to watch!
Classic handsome features!
The hottest tennisplayer in the world
16
Nikoloz Basilashvili
He is better than all the rest
Go Basilashvili u are great
17 Juan Monaco
18
Gilles Simon
Cutie and sweet!
19
Stefanos Tsitsipas
Right now the best looking guy in tennis world, such beautiful golden hair with towering height, wide arms and lean muscular abs, he has a charming personality outside tennis match.
He is the best looking player ever in tennis history
Cute young man, nice personality
20 Alexander Zverev
21 Patrick Rafter
22
Tommy Haas
Yes, so handsome and with so many injuries always came back!
23
Stan Wawrinka

24 Ernests Gulbis
25 Benoit Paire
PSearch List