Top 10 Tennis Players With the Best Forehand
The Top Ten
1
Rafael Nadal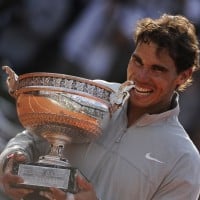 Rafael "Rafa" Nadal Parera is a Spanish professional tennis player, currently world No. 1 in men's singles tennis by the Association of Tennis Professionals.
You won't be difficult to find a player with depth, pace groundstroke in any era but Rafa's one is something really really special. He hits it with so much spin and high accuracy. Rafa could make magic with that kind of shot. His "banana" down the line forehand is unique. No one can ever hit it so many times like Rafa.
The King of clay Rafa is. But in my mind, Rafa is the King of Tennis. No one could have such an amazing career like him, not to mention that he has countless time spending in the hospital treating his injuries.

Vamos Rafa!
Rafa generates about 3400rpm topspin on his forehand on a normal day. Other player average 1500rpm tops. Imagine how much the opponent has to flip his racquet while returning. Play it with a flat racquet and you'll find the ball land at your feet.
With little more depth, Nadal's forehand would be unplayble. The extra depth also means a few more errors, but the result would be overwhelmingly positive in my opinion. The added depth would save his body and possibly prolong his career.
Very affective forehand. So much accuracy and yet so much power and topspin. The ball lands in (most of the times) and it 's the basic reason he 's the king of clay.
2
Roger Federer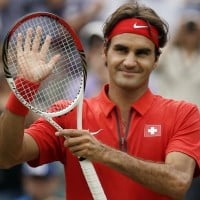 Roger Federer (born 8 August 1981) is a Swiss former professional tennis player who is currently ranked world No. 3 in men's singles tennis by the Association of Tennis Professionals (ATP). He has won 20 Grand Slam singles titles, the most in history for a male tennis player. He has held the world No. 1 spot in the ATP rankings for a record total of 302 weeks (the only male player to be No. 1 for more than 300 weeks) and was ranked No. 1 for a record 237 consecutive weeks. Federer turned professional in 1998 and was continuously ranked in the top ten from October 2002 to November 2016. ...read more.
The amount of topspin is not the only factor nor a decisive one to determine who has the best forehand, and even if it was, yes Nadal would be number 1 but Federer would probably be in the top 3.
Having said that, Federer is top class when it comes to attacking with his forehand (top spin, flat, inside-out, inside-in, down the line, running forehand either cross-court or down the line, drop shot, passing shots, angles, deep, short, drop shot, attacking lobs, volleying, half volley).
And yes he can use it with the same efficiency when defending, from flicks and half volleys to defending lobs. I've seen him using these shots in countless games with extreme accuracy and consistency and if I left a shot behind he can probably do it as well
His forehand is the best ever. He can hit it with topspin greater than 3000 revs and can also flatten out the shot. His inside-out forehand and down-the-line forehand are as accurate as a sniper. His forehand on the run can be devastating, like Juan Martin del Potro, and his rally balls can be as heavy as Nadal's forehand. He can hit his forehand with overspin, underspin, topspin, and sidespin. It is because of this variety in his forehand that he has won 17 Grand Slam titles, unmatched in tennis history... the greatest forehand of all time.
His forehand is the best ever. He can create every rotation with it - not only topspin as Nadal does but also flat shots. He can hit powerful shot as well as do it softly. At his prime he could hit it precisely at the place he wanted, this was just a flawless shot back then.
Federer has the most variety in his forehand and can hit flat to penetrate the court and topspin to keep opponents deep, come on! Has everybody forgotten how federer's forehand was before he got old?
3
Fernando Gonzalez
He's called Forehand-o Gonzalez for a reason. Gonzalez provides great topspin as well as stunning power for his forehand. He's great on the run, can spin it, can drive it extremely flat... He almost has federer's variety
Gonzy's forehand is the best ever without a doubt. It's such a sheer beauty to watch him hit it, with full power released from the body to the forehand & he hit it flat & clean.
Gonzalez has also a very fast forehand but it is not the same as Tsonga and Del Potro because it is more topspin power.
He has the fastest and the most consistent forehand in tennis history!
4
Juan Martin Del Potro
When del potro is in a good form then nobody can outpower his invincible forehands. He hits them with ultimate power and speed
Del Potro's forehand is not with a lot of topspin it is very flat but it is one of the fastest.
It is the fastest forehand in tennis at this present moment. Just requires more consistency
Delpo's forehand is powerful. More powerful & maybe the most dangerous when hit crosscourt.
5
Novak Djokovic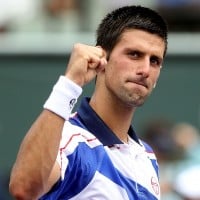 Novak Djokovic is a Serbian professional tennis player who is currently ranked world No.1 in men's singles tennis by the Association of Tennis Professionals.
His Fh is underrated because his Bh is so highly rated as the best ever. His Forehand may also be the best ever. Early in his pro career his Fh broke down at times, but that is clearly not the case since 2012 or so.
6
Andy Murray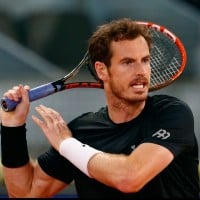 7
Fernando Verdasco
One of the biggest forehands I have ever seen live. The crowd literally gasped when he unloaded on a few of them. Basically a missile with topspin.
Verdasco's forehand is with a lot of topspin and speed and he uses a lot of slice.
8 Marin Cilic
9
Jack Sock
This guy deserves to be No.3 in this list, plus Nadal has the best forehand ever, not Roger
Pretty damn fast. Generates more speed and rpm than nadal.
10
Nick Kyrgios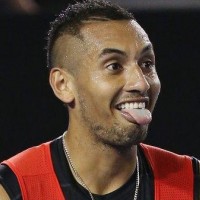 Nicholas Hilmy "Nick" Kyrgios is an Australian professional tennis player who is currently ranked world no. 30 in men's singles by the Association of Tennis Professionals. He is currently the highest-ranked Australian in the ATP rankings.
The Contenders
11
Gael Monfils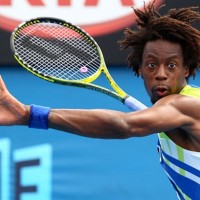 Gaël Sébastien Monfils is a French professional tennis player. He reached a career-high ATP world No. 6 singles ranking on November 7, 2016.
Greatest forehand in the world!
Nobody can reach his speed.
Monfils's forehand is very solid and fast.
I love his forehand, may if he practice like that in every training and match he can be back in the top five
12
Pete Sampras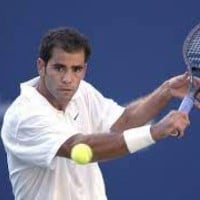 13
Dominic Thiem
He hits the ball so hard with so much topspin. Lacks regularity at times but altogether a stunning ground stroke
14
Andy Roddick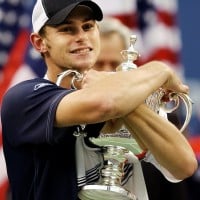 Roddick's forehand 2003-2005 was one of the biggest weapons on the tour, right behind his serve. However, after he dropped Gilbert as a coach, his forehand became a lot more spinny as he turned into a more all-around player.
Andy Roddick has a hard forehand when it's high in the air, but when it's low, he's good at picking it up. For example, when someone hits a slice, he brushes it up and makes them consistently.
Roddick doesn't have a great forehand when compared to Gonzalez, Tsonga or Delpo. But Roddick has a wimpy forehand which can be really dangerous sometimes.
15
James Blake
I believe Blake has hit the fastest forehand ever recorded.
16
Tomas Berdych
One of the best flat forehands in open era. He has a great technique of the forehand and not necessary use many power to do very fast strike
17
Stan Wawrinka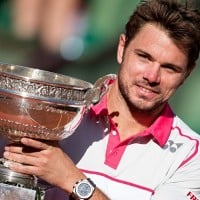 18
Milos Raonic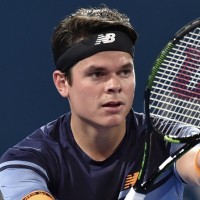 Milos Raonic is a Canadian professional tennis player. He reached a career-high Association of Tennis Professionals world No. 3 singles ranking on November 21, 2016.
His inside-out forehand is a fearsome weapon: great angles and power. The only issue here is covering the court he leaves exposed, not producing the stroke itself.
19 Ernests Gulbis
20
Kyle Edmund
Absolutely rips it
21
Jo-Wilfried Tsonga
Maybe the 2ond best Fh when it is on and when he gets a good look at the ball, only coming after Djokovic. Nadal and Fed make their Fh seem better because they are such great movers and receive the ball so well, but do not have the Fh quality of Djokovic or Tsonga.
Tsonga's forehand is really similar to Del Potro's Tsonga hits it harder but Del Potro's is faster.
Tsonga's forehand is not at all similar to Delpo's. Tsonga has a pure flat forehand, pretty much similar to Gonzalez's.
22
Jim Courier
He is very underrated, he deserves to get higher ranking. His forehand was deadly.
23 Mikhail Kukushkin
24
David Ferrer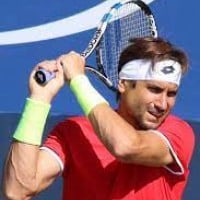 25
Juan Carlos Ferrero
His forehand is wicked. The topspin and power he generates for a small framed guy is amazing. He really pulverises the ball on the forehand wing.
PSearch List