Top 10 Best FC Barcelona Players
The Top Ten
1
Lionel Messi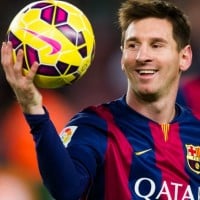 Lionel Andrés "Leo" Messi (born 24 June 1987) is an Argentine professional footballer who plays as a forward for Spanish club Barcelona. He is also known as one of the greatest football players of all time. He was born in Rosario, Argentina on June 24th, 1987.
Messi is my favorite player of all time. And I truly think he is the best in the world. It's just that he is an amazing player. But even though he doesn't have as high stats as Ronaldo,he still got all the skill, and effort into his game. He rarely every asks for a free kick or penalty, he doesn't even get angry on the field, and he just plays the best without thinking about what's the result.
I still got to give credit to Ronaldinho for literally like teaching him, and a bit for Luis Suarez for supporting him in his pro plays.
The best player is the one who learns the most effective skills from other brilliant players, and makes it his own...applies it in every match, and consistently produces out-of-this-world results.

That player is none other than Messi.

That's the simplest reason why Ronnie and the rest can't be the best, for those of you out there wondering why.

Also, his attitude (Messi) is unbeatable. Your attitude determines your performance. He's got the best attitude of a sportsperson the world has ever seen. Sure he has his rare behavioural dips in his career, but for the major portion, he's behaviour is certainly one of the best. No surprise then he's better than the rest. Behaviour = Quality of performance. And that applies to every area of life, by the way.
Messi surely is the best. He has scored lot's of awesome goals and he is the best player yet Barcelona has ever had. But he is also on of the best players we have now. But there is Cristiano Ronaldo. So really it is the battle of the
Cristiano Ronaldo and Lionel Messi. Messi has got So many awesome players with him. Just like Neymar, Mascherano, Dani alves, Pedro, Suarez, and lot's more fantastic players.
Messi with a lazy little pass from mid field to iniesta. Iniesta's return pass to messi. Messi with a lob ball to luiz suarez who was the only man forward surrounded by 11 players and still Messi manages to find him and suarez scores. Just makes the pass look effortless my Messi boy.
2
Diego Maradona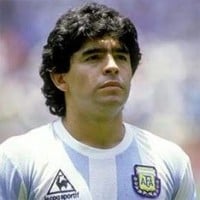 Diego Armando Maradona (October 30, 1960 - November 25, 2020) was an Argentine professional footballer. Widely regarded as one of the greatest players in the history of the sport, he was one of the two joint winners of the FIFA Player of the 20th Century award. Maradona was given the nickname "El Pibe de Oro" ("The Golden Boy"). He was known for the "Goal of the Century" and the "Hand of God" goal. He died of cardiac arrest on November 25, 2020 at the age of 60
Him and Messi I would say are equal but maradona won a World Cup and who can argue with that. Plus if you watch the film the greatest goals he beats the whole international team of England. Could Messi do that without his playmaker Xavi or his assister Iniesta? I don't think so! But even though I voted for Diego Maradona, Lionel Messi is a team player while Maradina is more self centered
Players of this error are favoured in everything starting from the boots, balls etc...these days balls are light, boots are also light hence enabling players to play better...Gone are the days of maradona were everything was too heavy...So I say maradona is number 1 cause he was able to perfom very well regardless of those conditions...
He IS THE BEST player ever. His skills are unbelievable. He dribbles around players like they're not there.
He was voted player of the century an d has scored the goal of the century.
Just watch his amazing skills and goals and you'll see why.
He WAS and IS the best player Barcelona (yet the world) has ever seen
I do not think you people know anything about soccer, because Maradona is number 1! If you did know anything about soccer (which you don't) then you would put him as number one.
3
Ronaldinho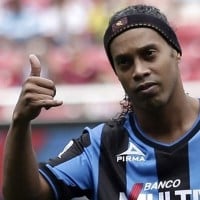 Ronaldo de Assis Moreira (born 21 March 1980), commonly known as Ronaldinho Gaúcho or simply Ronaldinho, is a Brazilian former professional footballer and current ambassador for Barcelona. He played mostly as an attacking midfielder, but was also deployed as a winger. Often considered one of the best players of his generation and regarded by many as one of the greatest of all time, Ronaldinho won two FIFA World Player of the Year awards and a Ballon d'Or. A global icon of the sport, he was renowned for his technical skills, creativity and dribbling ability, as well as his use of tricks, feints, overhead kicks, no-look passes and accuracy from free-kicks.
I know that I say Messi is the best, but I can't at all just skip Ronaldinho. It's like I'm going to die if you ask me the question: who's better, Ronaldinho or Messi? I'll just have to think way, way, way too much. But yes, Ronaldinho is really good. And he always plays with an amazing smile, he scores no-look goals, dances before scoring, and is always such a cheerful person. He even literally taught Messi how to play soccer. And behind Messi's first goal, Ronaldinho had given him the assist.
Sure, mess I may be the best in the world, but don't forget what he did for Barca. He has given bards many titles, he has made no look goals, fast plays, he has made barca go down in history as one of the best teams ever. In fact no one knew who Lionel Mess was back 11 years ago in 2005, Ronaldinho and Xavi, and Samuel eto'o we're out there scoring goals while messi was on the bench, Messi didn't even do his first goal all by himself! Ronaldinho assisted him! *cries* Why do you think Messi is better? Ronaldinho may be trash now, but Ronaldinho was a LEGEND. Goodbye Ronaldinho we'll remember you in our hearts.
Ronaldinho simply changed the history of Barcelona. Before him it was a team in crisis that had been without winning titles for many years.
Besides that, ronaldinho played with a lot of good players. that's it: GOOD. While Messi played during the best time of his carrer with the best players of his generation and leaded by the best guardiola, one of the bests coaches in the history.
Many of you are going to talk about numbers and goals and assistis
But football is way more than numbers and statistics.
Ronaldinho played with a smile in his face, like he was having fun with his friends.
I think Dinho is and will ever be the best we know the primary objective of soccer is entertainment and this wizard of Ronaldinho made us reach that special objective. He made soccer easy, interesting and scored goals when ever he wanted... Frankly he was always a cause of people going to stadia for Barca.. Dinho is just a unique specie of a player.. I mean that supreme specie that Messi will never be... Messi who does not feel for little children.. In Brazil he just showed the world how silly he is as concern little angel... Not worthy to be best player of My Loving club Barca... Dinho the creator and facilitator of good styles and passes respectively
4
Xavi Hernandez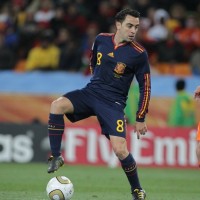 Xavier "Xavi" Hernández Creus is a Spanish professional footballer who plays as a central midfielder for Qatari club Al Sadd SC.
How is Henry better than Xavi? Xavi Isn't as flash as the top 6 but consistantly the best midfielder the club has ever had.
With the most no. of appearances... Xavi deserves to be no. 1... This list isn't about the best players.. It's about the best players of Barcelona
Xavi is one of the best assist man what world ever seen! A most goals born with Xavi's pass! Midifield MAESTRO!
Xavi and Ineista should be tied at #2 given their dedication to the club and their massive contribution to Barca's immense success.
5
Johan Cruyff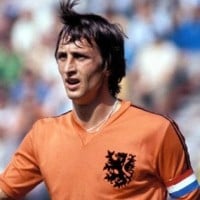 Hendrik Johannes "Johan" Cruijff (25 April 1947 – 24 March 2016) was a Dutch professional football player and coach. As a player, he won the Ballon d'Or three times, in 1971, 1973, and 1974. Cruyff was a proponent of the football philosophy known as Total Football explored by Rinus Michels, and is widely regarded as one of the greatest and the most prolific players in the history of the sport.
If the criteria is the amount of contribution to barca, then maybe there are players who made more than Cruyf. but if the criteria is overall career?! You are talking about the greats of Barca players but Cruyf is beyond that, he is the second best ever after Pele. Cruyf was Messi+Xavi+Iniesta+Busquets and we can even add DM10 and maybe Ronaldinho as well. He did all the works they did, he was so amazing. He was as good dribler as Messi and Maradona, they are slightly better than him. His vision?! The second best after Pele, in Barcelona he is above all, in the world he is above all exception Pele. HIs passing, pass distribution was better than that of Xavi. He was versatile and could play in any position like Pele and DI Stefano.
He is incomparable to other footballers but to the grace of the greatest players of all time - pele, Best, Zidane. He revolutionized areas of the game with the Cruyff turn. He catapulted Barcelona to a long awaited La Liga title since 1960, inspiring Barca to win an unprecedented victory over madrid at the Bernabéu, 5-0! Although he didn't win the European Cup playing for them, he returned as a manager and guided them to victory of Sampdoria.
He is I believe the greatest player to play for Barcalona - depending on Messi and if he can rise to the level of Cruyff.

If you doubt his talent watch 'the phantom goal'
The man who did it all, who started Total Football, gave FC Barcelona a new identity. He served the longest, won the most and deserves to top the list. Messi, probably the most talented, still has some way to go before he can equal Johan Cruyff.
I think Messi is the best. But Cruyff is at least top 5 all time in soccer history period. It should be Messi - for length of Barca career and stats, Maradona - better than Messi, short Barca career, Cruyff - best player of 70's, can play any where at high level.
6
Andres Iniesta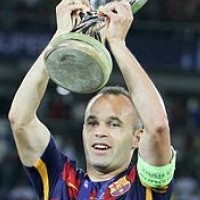 Andrés Iniesta Luján is a Spanish professional footballer who plays for FC Barcelona and the Spain national team.
Andres Iniesta is one of the best players ever in the world.
He is a nice player and is one of the top 3 players of Barcelona.
He deserves to be in the top 5.
Most underrated player ever.
One of the best in the world.
Not right that he or Xavi haven't won a ballon d'or.
Connects the play.
The best midfielder ever.
Andres Iniesta is one of the 5 best players ever.
He SUCKS you know! I will bet you he is 100th best! '! '!
7
Carles Puyol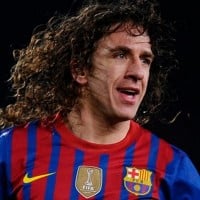 He is the best player
Best captain ever
8
László Kubala
He was The One.

Funny how 'true' Barcelona fans have no clue who he was. He was the reason Barcelona built the Nou Camp. The one who curved the ball on the way none did before. The one who shot from direct free kick... He was the first player EVER to score seven goals in a La Liga game... 280 goals in 345 games, still in the top 3 of all time Barcelona scorers.
The player of the century in Barcelona... every true Barcelona fan know him and thank him for what is Barcelona now... Legend
Who is this guy
9
Neymar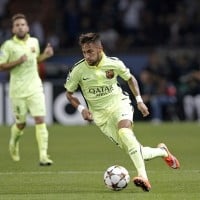 Neymar da Silva Santos Júnior, born 5 February 1992, commonly known as Neymar or Neymar Jr., is a Brazilian professional footballer who plays for Ligue 1 club Paris Saint Germain (PSG) and the Brazil national team as a forward or winger, and is also the captain of the national team. Neymar was born on 5th February 1992 in Sao Paulo of Brazil. He started playing international matches at the age of 17. Neymar salary is 9.18 million Euro. As a result, his net worth is about $75 million.
Neymar is the best soccer player in the world and will get to be better and better, soon even better than cristian Ronaldo. I think so and the world will too, when neymar gets best player award and player of the year. You will all regret the bad things you said about him and how you doubted him. Good luck Neymar, don't make me regret these words!
The star of the future. I was not a Neymar fan a couple of years ago - I thought he was overrated. Clearly he is not, and with Suarez and Messi is part of the greatest forward 3 of all time. He hasn't been at Barca long enough to be this high but if he stays at Barca, which he definitely should, he will move up to top 5.
Neymar is one truly amazing player I'm not surprised he got picked for the Brazil squad if I would have an ultimate team I would get him every time. I don't know any one that hates Neymar jr. my 2 strikers in Brazilian squad would be Neymar and coutinio. For me Neymar is one class striker.
I think Neymar and Messi make a good team and I think Neymar is the Worlds best player but I will give Messi Some credit so Neymar and Messi are the worlds best players I think.
10
Romario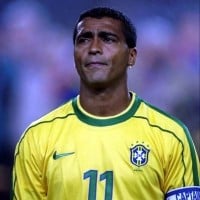 Romário de Souza Faria, known simply as Romário, is a Brazilian politician, who previously achieved worldwide fame as a footballer.
A great all round player with a eye for the goal, very hard for any teams back four to mark him, could turn you on a six pence just ask any man united fan.
The best ever.. if he could play more seasons with Barca he could be the best recorder for the team
The Contenders
11
Samuel Eto'o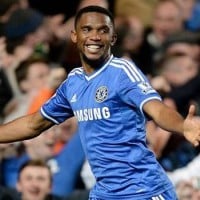 Samuel Eto'o Fils is a Cameroonian professional footballer who plays as a striker for Turkish club Antalyaspor.
Eto'o is one of the greatest players to have ever adorned the colors of Barca. Even though he was ridiculed out of the club by exchanging him for Ibrahimovich as well as a huge amount of money, he still proved his worth by helping Inter lift the champions league. He is indeed a great player of all time.
He was a natural striker in the purest form.He was lightening fast, good with the one-touch-shoot capabilities, brilliant runs and an incredibly hardworking player, excellent acceleration within the first 5 or 10 yards...oh oh a wonderful player
Eto'o is best player even if finally the club tried to dimoralised b/c eto'o + 67 million is not equal to ibrahimovic eto'o is among of the players those win three champions league.
He always make the difference in difficult situation, score in two championsleaque final, also paticipate collectively. If he was given the opportunity to stay, l don't think he could had have a river in goal scoring
12
Zlatan Ibrahimovic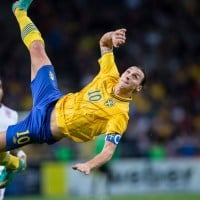 Zlatan Ibrahimović (3 October 1981) is a Swedish professional footballer who plays for an Italian club AC Milan and the Sweden national team for which he is captain.
He shouldn't be playing for psg now stupid pep.
He is one of his kind.. 1/10 of Messi
An absolute boss but not the best just a boss the chuck Norris of soccer
He's better then anyone
13
Michael Laudrup
Just before footballers turned super-mega-stars worth billions, with own clothes brands and sponsored by EVERY possible mainstream retailing companies around the world and before hype and headlines turned mediocre players into celebs, there where players who ONLY played football and whose legacy ONLY relied on their skill and talent. The best of these where Laudrup, Cruyff, Beckenbauer, Maradona, Pelé etc. Todays players are undoubtedly great and very skillful indeed. But take away EA Sports, YouTube, Nike finance, Smartphone companies etc. and I doubt any of them except Messi, Ronaldinho, Xavi and Iniesta (essentially a Laudrup), would be remembered any better. And remember too: Most people voting here are under 30... Just saying.

But all that said: Laudrup.
Laudrup worked in Italy (won Serie A with Juve).
Laudrup worked in Holland (won the Eresdivision with Ajax).
Laudrup worked in Spain (5 times winner of La Liga, Barca and Real Madrid).
Would Messi work I Real Madrid? In England? In Italy? This is a major factor in my opinion. Does he work with other players? Who makes who great? Does Xavi, Iniesta, Neymar and Suarez combined make Messi better? Laudrup WAS the one who made the OTHERS better.
Messi is the best in the world now. No doubt about it. But Laudrup is the definition of the clever Barca footballer.
Laudrup should probably be at number one. He was the most versatile attacking player that ever walked the face of the Earth. He was the Dream Team. The 5-0 0-5 results against Real before and after his controversal move to Madrid says it all. Michael Laudrup was the difference at that time. He was a faster version of Iniesta who scored more goals. Laudrup was the Cruyff of the nineties.
The most underrated player in football history. Cruyff once said that no one in the world was anywhere near Laudrups top level. Pep Guardiola once told a reporter that Laudrup had taught him everything he knows about football. He also said that the Balon D'Or was worthless because the dane never won it. Laudrups game between 1990-1992 was the highest level of football he had ever seen. This guy should at least be in the top three.
14
Ronaldo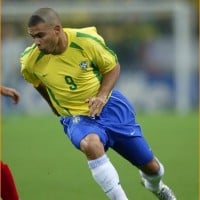 Ronaldo Luís Nazário de Lima, commonly known as Ronaldo, is a Brazilian business owner, president of La Liga club Real Valladolid, and a retired professional footballer who played as a striker. Popularly dubbed in Portuguese O Fenômeno ("The Phenomenon"), he is widely considered one of the greatest players of all time. As a multi-functional striker who brought a new dimension to the position, Ronaldo has been the influence for a generation of strikers that have followed. His individual accolades include being named FIFA World Player of the Year three times, and winning two Ballon d'Or awards.
Ronaldo, The Phenomenon, how I wish this man had been safe from injuries, that almost ruined his career, in fact injuries cut his career shot. He could literally play the ball with any part of his body, he was phenomenal, just simply a marvel to watch, nothing was impossible to him. He deserves to be no 4 in the World Soccer Hall of Fame, but I believe he is better than Zizou. Pele and Maradona are also the best, but they played at an era when defenders were not taken as seriously at they do now, and at era when the defenders technical ability wasn't that good. But Ronaldo De Lima could beat any defender on any day with skill, pace, and had such a high level technical ability beating the goalkeepers. He's the best, and no1 ever.
Please watch videos of him in barca on YouTube then you'll wonder why the hell he's 6th. He deserves to be on top of this list. With no doubt. The best striker of all time. No one did what he did.
Cristiano Ronaldo is a good soccer player. He knows how to pass the ball unlike Neymar and Messi because they both just ball hog.
If RONALDO had stayed with barcelona longer he would have been the best player in the team...
15
Luis Suárez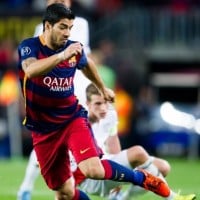 Luis Alberto Suárez Díaz (born 24 January 1987) is a Uruguayan professional footballer who plays for Spanish club Atletico Madrid and the Uruguay national team as a striker.
Suarez position on this list depends on how long he stays at Barca. If he sticks around for 5+ years he will be top 5. Neymar should be higher now because he is younger (and can reasonably be expected to stay longer) but Suarez is #2 player in the world now.
He is so good at football he's just amazing with dem skills and the power in his shots it's like if the keeper was close to Suarez and saved a powerful shot he'd probably breath a finger Louie Suarez!
Luis suarez is the brightest of his generation you think Ronaldo is better than him check out his goal against Norwich in the premiere league. /// Ronaldo was in fc Barcelona!
Luis Suarez is the best he is better than Neymar. He is better than Puyol and much more. He should be at least number 4 or 5
16
Hristo Stoichkov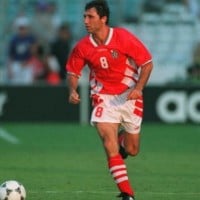 Hristo Stoichkov is a retired Bulgarian footballer who is currently a football commentator for Univision Deportes.
Extremely aggressive player, though it cannot be thought as a disadvantage. His passion, confidence and tenacity made him what he is remembered today - one of the most effective Barcelona strikers ever.
One of the best strikers that Barcelone has ever had. He was one of the leaders in Barca's Dream team during the 90s. Also one of the few players to win the European Cup (1992), the Golden Shoe (1990) and the Ballon d'Or (1995).
Thank you for making me proud to be Bulgarian! Bulgaria loves you and you will never be forgotten!
He Is a true Legend who deserves to be in the Top 10 Best Barcelona players!
17
Giovani Dos Santo
He looks the same as my cousin. And is an awesome player...I guess.
He's one of the best Mexican players out there. He's quick with great skill
What is he doing here
Good for team
18
Thierry Henry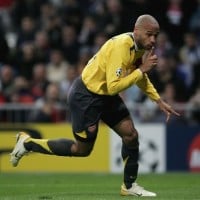 Thierry Daniel Henry is a French professional football coach and former player. He is the second assistant coach of the Belgium national team.
One of the most brilliant footballer I have ever seen.
Even though he has his best years in Arsenal still, in barca he was a perfect player. and since he left the club there is an empty place in left forward.
I wish he never played for Arsenal because he was amazing in Barca.
Such a fantastic player
Greatest forward ever
19
Sergio Busquets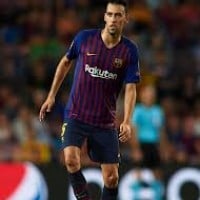 Sergio Busquets Burgos (born July 16, 1988) is a Spanish professional footballer who plays as a defensive midfielder for La Liga club Barcelona, where he is the club captain.
Deserves at least top 15... At least
Should be in top 15
20
Paulino Alcantara
They say he could punch a hole in the net with his shot... Proud to be a Filipino. Especially when we both came from the same City in the Philippines!
Greatest fc barcelon player of all time... 357 goals in 357 games... A club record I believe that has not been broken up this day...
The greatest FC player of all time. all time goal leader at 357. He is a Filipino doctor.
For one reason, he has is the record holder of being the top goalscorer until now.
21
Rivaldo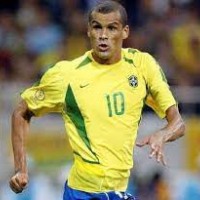 Yes he is well celebrated in the world, but not quite to the level he should. This man was never fully recognized in football, my opinion is that he was underrated by football. What an educated left foot, thinking of his combination with Ronaldo, they had such an understanding, and were a great pair to watch. Rivaldo could pick and pass Ronaldo anywhere in the field, he knew where he would be all the time. Indeed he deserves to be in the top 10 of Barca's all time. Sandiso Nkwinti, SA!
This pages voters are idiot! Rivaldo one of the best player ever. Power, geniality, lethal left foot and magic. Messi do these? very very underrated player ever Rivaldo!
Because of him I started to watch football. One of the greatest of all time!
Technically the best player I have ever seen. A bit of a cheat though!
22
Gerard Pique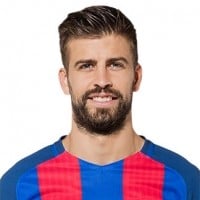 Gerard Piqué Bernabéu is a Spanish professional footballer who plays as a centre-back for FC Barcelona and the Spain national team.
Is he a wall or a human being its hard to tell? Due to he's defending.
The unbreakable wall
Best CB in the world
Pique must put
23
Arda Turan
Pure talent. Amazing world class skills inborn.
A master passer
24
Deco
Deco is true playmaker
25
Henrik Larsson
No one remembers this guy! Shame though. He was one of my favorite players of all times. He alone brought Barca that Champions League Trophy in 2007. Even the great Henry bowed to him after that match. Larsson knew that he was going to be a bench-warmer in Barca, so he became the best one ever.
PSearch List