Top 10 Best Female Tennis Players of All Time
The Top Ten
1
Serena Williams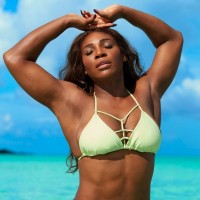 Serena Jameka Williams is an American former professional tennis player. The Women's Tennis Association ranked her world No. 1 in singles on eight separate occasions between 2002 and 2017. She reached the No. 1 ranking for the first time on July 8, 2002.
Serena's power serve and overall game would overwhelm any of the other top 10 candidates for the number 1 spot. The only debate is Steffi Graf. I think if they played 10 games head to head, Serena would win 6 or 7 out of 10. Steffi and Margaret Court look a bit better on paper and statistically, but many of Margaret's wins were before the Open Era. And Steffi was helped by Monica Seles being stabbed during her prime and removed as competition. Serena deserves the top spot. Serena is very likely to reach at least 22 Grand Slams, and tie Steffi. Serena, Steffi, Martina, Chris, and Margaret are the all time top 5.
Superbe groundstrokes, on the forehand and backhand side, great athlete, the greatest after her sister Venus I think, capable at the net, though not as good as Venus, mentally the strongest player ever, the best serve ever in the women's game (first and second serve). So much power, yet a smart game if she plays her best. Brings back balls no other player except for Venus could bring back. Great on every surface. I am not talking about who has/had the greatest career but who are, talent wise, the best ever. For me, that are the Williams sisters.
Unlike the greats before her, Serena Williams is accomplishing two very unique achievements in the singles game. First, she's collecting her hardware hall during an era where this kind of dominance is uncommon.

Chrissy, Martina and Steffi basically passed the baton one to another, but they also had contemporaries, rivals legitimately for supremacy with which they were forced to share the stage. Neither Chrissy nor Martina eclipse the other and given the HUGE asterisk surrounding Steffi's career, a very credible argument can be made that not only was Monica Seles better, but Steffi wouldn't have distinguished herself from Chrissy and Marti, had Seles been around to contest for a few more of those grand slam trophies. Does anyone doubt Seles would have won at least four more?

Next, Serena may be in the twilight of her career and as an elder states person, she is showing the field how to get her done! The other greats were waning in their late 20's and wrapping up their ...more
I think she has the most powerful serve the women's game has ever seen. I think Graf and Navratilova would come in second and third (though maybe not in that order). Though Martina and Steffi were both great champions, I don't think they were quite as powerful or fast as Serena. Yes, Graf beat Serena before, but I think Serena was on her way in and Steffi was on her way out. Neither player was at her peak.
2
Steffi Graf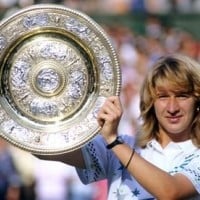 Graf is the greatest player of any generation period. As far as the Serena fan stating Serena beat Steffi when she was 16 that is false. Serena was older than 16 and Graf beat her twice anyhow. Given that Steffi was nowhere near her best from 97-99 she beat the top players anyway. Graf beat Serena in Hong Kong, Sydney, and narrowly lost to Serena in Indian Wells despite playing poorly due to reoccurring injuries. Graf also beat Venus in Sydney after taking out Serena beforehand. Then beat Venus in the QF's at Wimbledon too. She defeated Davenport, Hingis, Seles, and Clijsters during her final year. Just goes to show that even the younger top ranked player's back then couldn't stop an injury plagued sub par Graf. Imagine if Steffi was injury free during her final 2 years... She would have more than a few more Slams and none of those she lost a match, or two against would've came close. Graf is simply the best ever... And Serena well, not so much.
Steffi had several rivals of immense quality who stepped up to challenge her - Monica Seles, Martina Hingis, Arantxa Sanchez Vicario. She conquered them all. Serena has had no one of that quality, instead beating up on weak era players. Her rivalry with Sharapova was barely a rivalry. No one else challenged her at all, showing the immense weakness of the women's game under Serena. Steffi might have won many more if she hadn't retired at 30 - at the same age Serena had only won 13 slams, Steffi had won 22. Steffi could move better than Serena, who is really just a power player with very limited flexibility to her game.
But most important of all, Steffi had class. You wouldn't find her threatening to shove a tennis ball down an umpire's throat, or trying to make it into a racist issue when she got called out on her own bad behaviour. I respect Serena for achieving what she achieved in spite of racism against her, but I can't respect her for her behaviour, and for that alone she's not ...more
Graf's record in head to head matches against Seles is 10-5 in Graf's favour. In grand Slams it's 3-3 and before the stabbing Graf led 6-4 so don't know how people come out with stats that Seles is leading Graf in head to head matches because it's just not true.

The early 90s before Seles got stabbed it wasn't always Graf She beat to win all those slams, Graf lost to many other players in some of the slams during that time as She struggled with injuries and personal problems especially with regards to Her Father.

I love Monica Seles and what happened to Her was absolutely awful! But please people read the stats before you start posting comments like below about Seles beating Graf in head to head matches as it's not! True, even BEFORE! The stabbing.
She finished more by the time she was 30 than Serena who is now 33. In some ways Serena is better, and in some ways Martina is better. Honestly, if Hinigis had not had all her injuries Serena would not have won as many championships as she has. Of course, you could say the same about Graf not winning as many had Seles not gotten stabbed. Anyway, Graf stayed number 1 for many days longer than Serena. Graf had arguably more competition than Serena. Graf had a Grand Slam and Olympic medal in the same year (unheard of). 1. Graf 2. Martina Navratilova 3. Serena Williams (and I think that spot would have been taken by Hingis had she stayed healthy) 4. Margaret Court (Seles had this place taken from her due to being stabbed)
3
Martina Navratilova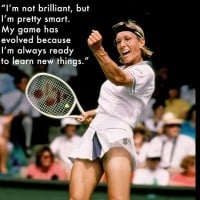 Martina won more tournaments than any other player including more Wimbledon titles. Wimbledon is the most pretigious tournament. She has the longest winning streak. She battled Chris Evert, another all time great, constantly during her career. Other players such as Graf and Williams did not face such competition. Martina also played dbls and mixed, while the others concentrated on singles. In fact, Williams concentates almost soley on the slams. In assessing players, you have to look at who they played for the titles and the overall career, not just singles and slams.
TRUTH...! Considering genius and achievements in singles, doubles and mixed doubles, no one (male/female) can catch Martina...her rivals were great players like Billie jean, Evert, Steffi, Monica,etc. Billie and Graf already selected Navratilova as all time great...
Martina is the greatest female tennis player who ever lived but also the greatest tennis player who ever lived. Bille Jean King in (2006) said about Martina "She is the greatest single, doubles, and mixed doubles player who ever lived".
In a few years my vote might be for Serena but at the time of this post I have to go with Martina. I believe that Steffi stats are inflated so I could not go with Steffi.
4
Chris Evert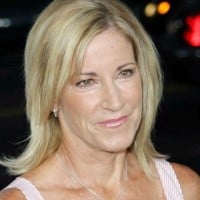 Chris Evert's poker face and her "You cannot beat me" look was intimidating. In the early 1970's, several top women had been psyched out by Chris. These included Then World number one Margaret Court, Virginia Wade, Francoise Durr, and so many others.
Loved the way she ran her opponents ragged while looking fresh as a daisy herself! She is responsible for the modern women's game. Superb anticipation and disguised shots that were difficult to read. Serve and volley players in particular were scared of her and ended up staying back and playing Evert's game for fear of being passed and lobbed. Her emotionless display on court also rattled many opponents. She was the bagel queen specializing in dishing out 6-0 sets!
She instilled fear in opponents especially in the 1970's - even among the top players - and the second tier of players felt they had absolutely no chance of defeating her. She rarely suffered "upset" defeats. Some of the top players tried to avoid the clay circuit just to stay away from Chris on her favorite clay surface where she was an absolute terror.
Simply put her won-loss record was the best in professional tennis. Greatness implies a certain span of time and if any one singular fact separates Christine Marie Evert from any other female tennis player it is consistency. There may have been valleys in her career, but never crevasses that she could not cross.
5
Margaret Court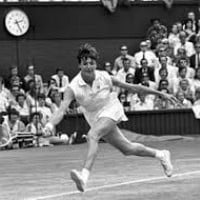 In 1970, Margaret Court became the first woman during the open era and the second woman in history to win all four Grand Slam tournament singles titles in the same calendar year. Court won a record 24 of those titles during her career. She also won 19 women's doubles and 19 mixed doubles titles, giving her a record 62 Major titles overall. Her all surfaces career match winning percentage of 91.74 (1177/106) is an all-time record. The International Tennis Hall of Fame states, "For sheer strength of performance and accomplishment there has never been a tennis player to match her". She is clearly the greatest female tennis player of all time, so why is she not number 1 on this list?
Court behind Seles who has less than half the slams she has and never won Wimbledon or even came close to winning it, even in her prime before the stabbing. Yeah ok. The Court hate has gotten ridiculous over the years. So she is a homophobe and not a womens libber, that suddenly means you can just ignore her achievements like they don't exist.
I agree Court should be ahead of Seles who should be below both Evert and Court. Court ranks below Evert who was simply the better player.
The record across singles and doubles titles says it all - hype that puts one era above another is just that - "hype". An athlete that dominates their competition shouldn't be relegated to anuls of neo-era revisionism which be-littles their dominance in play to a mere lack of competition.
6
Monica Seles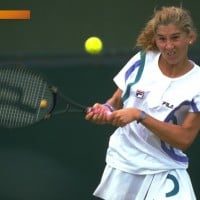 MONICA SELES was like the "Michael Jordan" of Tennis, during her prime, in her TEENAGE years... she was unbeatable -- UNSTOPPABLE! Yes! She was 'just' a TEEN, at the time... and thus, she would always find herself winning many, many GRAND SLAMS against the best players in the world... players such as Steffi Graf (in her prime)... indeed, she played against the BEST and she 'beat' the best! That is prior to that sad and tragic day, that forever changed the sport of tennis... when she was brutally and violently attacked by a deranged "Steffi Graf OBSESSED" lunatic... on April 30, 1993... Indeed, this girl was on a path... on a mission to become the GREATEST tennis player that ever walked the Earth... but then tragedy happened in 1993... and her DESTINY of becoming the greatest player ever dramatically came to a sudden halt... and in the process, her dreams of becoming the best ever were suddenly derailed... forever... and thus, she NEVER recovered from that TRAUMATIZING and Shocking ...more
People, PLEASE read tennis history. Realize how, BEFORE BEING STABBED BY A PSYCHO, Seles was beating Graff time and time again, even easily. She was breaking all kinds of records even in her teens, until the stabbing occurred, and her tennis career went down the drain, while Graff's took off, without any opposition. Seles HAD A POWERFUL BACKHAND, capable of shooting winners, something Graff never had by the way. Overall, Seles was more powerful, more effective, but she was stabbed and that was the end of it. This is about who is the best female tennis player of all time, not who got the most Grand Slam titles because of pure dumb luck --her superior opponent being stabbed--. Guys who think Steffi is the best ever, please inform yourselves, read and find out the truth!
Yes defnitely one of the smartest and fastest to adjust to the new game. I think she was the only one who could read Graff before she could hit a ball, hence the reason smartest. She also had very controlled risks which allow her to hit winners from any position on the court. So if not for the stabbing the Williams sisters would not have been that dominant so quickly, and don't forget the grunts, she is the benchmark.
Monica is so under rated. I'd forgotten how good she was and have rediscovered her games on YouTube. Man oh man, her power combined with the angles she could hit were just incredible.

I think had she not been stabbed in her prime, missing those important years, she would easily get the respect she deserves.

I think her game was better than both Martina and Chrissy. Her game was probably on par with Stephie and Sarina
7
Billie Jean King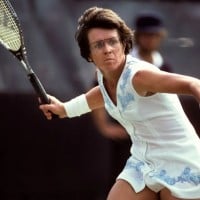 Did a lot for women's tennis including equal pay. A great in that regard. As a player, she was a "thinking" player who knew how to tailor her game to each opponent. And that enabled her to "punch above her weight".
If it weren't for Billie Jean King, no one would have ever heard of the Williams sisters, Maria Sharapova, or anyone else in women's tennis.
Battle of the sexes is enough to put her above all the rest.
If you don't know who she is you don't know women's tennis.
8
Martina Hingis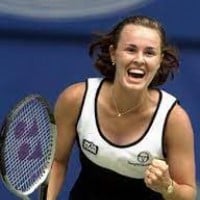 Hingis was the grand master of chess playing tennis. She could dismantle any power hitting opponent with placement, stroke and uncanny angles. An absolute favorite to watch.
Great finesse and gamesmanship. Would have had a longer time at number one were it not for the arrival of the Williams sisters who have dominated based on brute force.
When I saw Graf and Seles come along in the 1990s I thought that they were at another level from earlier players like Evert & Navratilova but then along came Hingis and the level was raised again. The only other player that may prove to be as great is Andreescu from Canada. Honourable mention to Kim Clijsters*
Beautiful to watch. She was a genius. Too bad she had to retire young, WTA lost the most talented player of the generation.
9
Justine Henin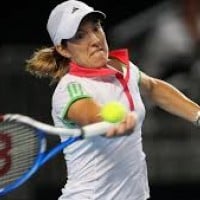 She has the best backhand in the womens game. She had a very good all around game and her slice was considered one of the best of all time. She won 7 grand slams and reached the final ov every grand slams including reaching the final in all of the grand slams in 2006. She also won the gold medal in 2004 at the olympics defeating Mauresmo in the final. The only grand slam she didn't win was Wimbeldon. She was considered one of the best volleyers on tour and won 3 consecutive French open titles. She retired with 4 french open titles, 1 australian open title, and 2 us open titles and is still known as one of the greatest tennis players ever
Should be way higher than this. Having her behind Sharapova and Seles is a joke.
The best, most attractive tennis without screaming!
Hit the ball like men! Best backhand ever.
10
Venus Williams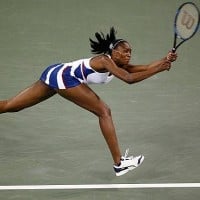 Longevity, class, power, agility. I have always admired the Venus game, and how she has adapted and added to her repertoire as her career advances. Her perseverance is very inspiring, especially her 2017 season which was phenomenal. Also her doubles and Olympic record is commendable too. What she has done for women's tennis from equal pay, to the representation of black women and her fashion icon status is amazing, she is still playing quite well today at 39, beating players half her age or ranked higher, and her record on grass is also noteworthy. When she wins a match her smile and happiness is magnetic and she is always respectful. Her love for Serena is obvious, a mentally weak person may feel threatened by Serena's success but Venus is able to celebrate her and also remain focused on her own success. She is an entrepreneur with her own pursuits outside of tennis, arguably a distraction from what she can achieve in tennis however it is nice to see tennis players focus on other ...more
I'd put Venus higher on this list, after Serena I think. I mean..her groundstrokes are the best I've ever seen. She is great at the net and is the greatest athlete on the courts. Venus' problem is that she wasn't consistent. At the absolute best she was good on every surface. I've seen her hit the best forehands and backhands, get back balls no other player except for maybe Serena could get back and at her best playing very smart. Most certainly the best game to watch. The only reason why she isn't the number one on this list is because she wasn't consistent and Serena is mentally stronger. I mean, she won - only - 7 Slams and made a high spot on every greatest player of all time list, that says a lot. Talent wise I just think the Williams sisters are the best. Don't forget Venus had a lot of injuries and at her best, she always had Serena as an opponent, who was playing her best at that time too. After her 2003 injury Venus just wasn't the same. So, don't always look at titles but ...more
The best groundstrokes I've ever seen. Best forehand and backhand, so much power. Great volleys, she is very strong at the net. If she plays her best she is great on every surface. Massive first serve, fastest ever on the women's side. Second serve can be good, but sometimes is a weakness. The best athlete on the courst ever. Mentally strong, but just not as much as Serena and she is very inconsistent. She can bring back balls no other player except for Serena could bring back. That's why I didn't put Venus on the top spot. A lot of you are wondering why I put the Williams sisters ahead of everybody else. Well..Venus was only been consistent between 2000 and 2003. If she is consistent, I think she has the greatest game ever. She is the one player who really changed the game. I don't think it's all about titles but about what players are capable of when they are at their best. As it comes to tennis I think the Williams sisters are just simply the best ever. After 2003 she was never ...more
It's weird that Venus and her sister use to be neck and neck with each other, now Serena wins everything. What happened? They are only a couple of years apart. Still, Venus is an all time great. It would be awesome to see her muster one or two more slam victories.
The Contenders
11
Maria Sharapova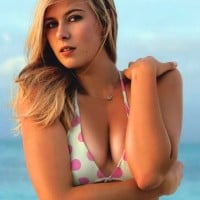 Maria Sharapova is a Russian former professional tennis player of Belarusian descent. Sharapova has competed on the WTA tour since 2001. She has been ranked world No. 1 in singles by the WTA on five separate occasions, for a total of 21 weeks. She is one of ten women, and the only Russian, to hold the career Grand Slam. She is also an Olympic medalist, having won silver in women's singles at the 2012 Summer Olympics in London
One of the greatest female tennis player ever and there is no doubt about it. Jumping forward in the highest level isn't that easy and she didn't just prove it but showed it when she was only 17.

And believe or not, I believe she has what it takes to be the best ever and she completely, undoubtedly deserves a lot more higher ranking in this list!
Terrific powerful player , very tough to beat ,great service ,great forehand ,great backhand. The second best player of the 2000´s after Serena . Career Grand Slam holder . Third youngest Wimbledon Champion in History . Owner of the greatest upset in memory when she demolished Serena at 2004 Wimbledon . The most marketable tennis player (male or female) of all time . A truly icon and legend . Definitely she belongs to the echelon of all-time greats ( number #6 or number #7). Hope her comeback in 2021 ! Love you Maria ♥
She is undoubtedly the most beautiful, world class, mind blowing, super female tennis player ever. And she deserves all these qualitative words because she really conquered millions of hearts by winning the Wimbledon when she was only 17. In other words " Love you Maria Sharapova! "
I love Maria Sharapova because she is tough no doubt about it and is always ready for a new game. She is so inspirational. She is the worlds greatest female tennis player in my opinion and she proves that she is the best plus she is my nationality Russian
12
Caroline Wozniacki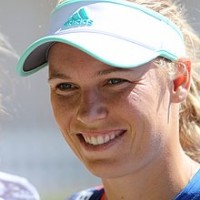 A role model for tennis players and one of the best this decade
13
Evonne Goolagong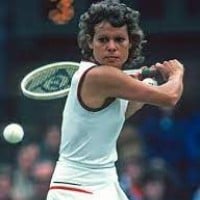 For me, Evonne stands out as one of the most graceful and sporting players. With her graceful, natural game she made tennis look easy. For this she deserves an honorable mention.

But she just did not have the competitive fire needed to be number 1 which was the kiss of death for her against someone like Chris Evert who exuded competitive fire!
I loved to watch her not only for her elegance but also for the variety in her gane; good baseliner and strong at the net, and able to produce the most incredible shots when in defense - today's players, female and male, with few exceptions like Roger Federer could learn from her agility.
14 Grand Slams, 7 Singles, 7 Doubles
Winning Australian Open 4 consecutive years
Wimbledon twice, the French open once, and Finalist at the US open for 4 consecutive years. Being one of the biggest rivals in tennis against Chris Evert, Margaret Court, Billie Jean King, Martina Navratilova etc.
Graceful, elegant player. Made tennis look smooth and easy. In my view did not quite reach her full potential - partly because of her lack of hunger, but mostly because of Chris Evert who ensured that Evonne stayed #2 behind her.
14
Ashleigh Barty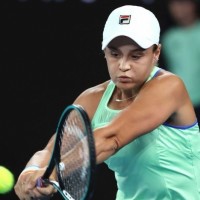 15 Tracy Austin
16
Lindsay Davenport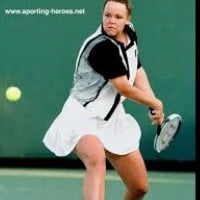 17
Gabriela Sabatini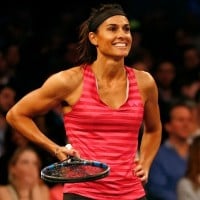 Gabriela had it all. She deserves to be much higher on this list. She had a great serve, a powerful return game, a cerebral ability to mix-up her types and placement of shots well and a charming personality that made her the media darling of women's tennis. A top-10 great player for sure,but more important--a quality person.
18
Simona Halep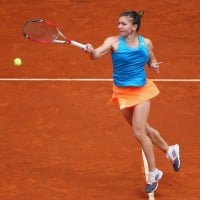 SiMONA is definitely better than #13. I would put her further up. Better than Davenport by a mile! Strong, focused, athletic, great backhand...
Very nice breakthrough season. She is the current queen of clay. Based on past seasons. She has back pains, sadly.
19
Li Na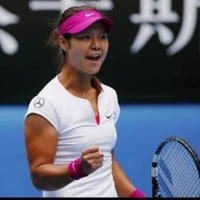 She encourages more Asians to play tennis.
Best two-handed backhand of all time!
Definitely the most underrated and overlooked player on this list
20
Jennifer Capriati
A solid tennis player throughout her career! She was punished for things that all of us did when we were young. We love you Jennifer!
21
Agnieszka Radwańska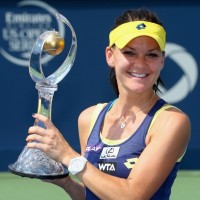 Agnieszka Radwańska is an amazing player she plays really well near the net and is known for shooting the most amazing and hard shots. As a little girl I always looked up to her attitude always inspired me how no matter if she was losing or winning she had respect for her opponent and she always stayed calm. As a teenager that player tennis I hope that in the future I will be able to play like her and make our country proud.
She's an amazing person and excellent tennis player. As far as I know she is on the fifth place in worlds ranking now.
Ninja on the court. Magical touch.
She could produce any shot you are even afraid of thinking.
I wish she could win any Grand Slam tournament.
"Magican" player! One of the best technique in tennis and the most clever game style!
22
Ana Ivanovic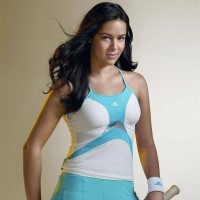 Ok it's because she's my pretend girlfriend, Which I mean I pretend she is my girlfriend. I saw her in person at the open last year and she is even more stunning than I could have imagined. I know some might say that my criterion for the best female tennis player might be sexist, but nigil tufnail once said" what's wrong with being sexy? "
So beautiful, kind and sympathetic.
23
Victoria Azarenka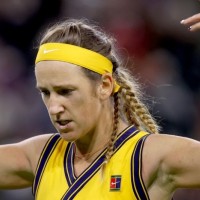 24
Angelique Kerber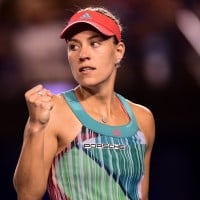 Angelique Kerber is a German professional tennis player who is currently ranked world No.1 in women's singles tennis by the Women's Tennis Association.
Such a great player to watch. She is perhaps not technically the best, but she used her weapons to over power taller, stronger, better players. She has incredible levels of fitness, toughness, ability to put endurance any player and utilize her highly unorthodox style. Her method of playing the squat shot is quite remarkable, as she squats so deep and squats back up so quickly, even against huge power shots. Her thigh muscles are incredible and she watering strong, and she is the only player capable of carrying this out in such a rugged way. She is the best at maximising her talents!
She ranks as the best based on being confronted with taller, heavier and largely stronger main opponents. Angelique is able to beat them however using her incredible fitness, speed, will and totally unorthodox methods. The way she plays that deep squat shot to buffer heavy shots and hit a ball slightly earlier or without having to move back to get the leverage, is delightful and shows off her immense thigh strength! She is just so watchable with her style!
Outdueled GOAT Serena still in her prime for year end #1 and 2 slams. Deserves to be top 30 all time.
Love this player! She will have a great future on the court!
25 Maureen Connolly
PSearch List