Top Ten Best Mexican Soccer Players
The Top Ten
1
Giovanni Dos Santos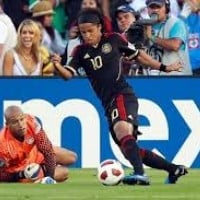 Giovani "Gio" dos Santos Ramírez is a Mexican footballer who currently plays for Major League Soccer club LA Galaxy and the Mexico national team.
Yes, I think he should be #2, he's my favorite player very skillful and amazing shooting, this boy still has a long career ahead of him he creates plays, assists, goals, He is a team player always wanting to get better, and he has he has amazing dribbling skills I thought his best goal was in the 2011 gold cup final vs usa, now that was a real beauty. He never gives up, he's the player willing to do anything for his team
Dos Santos is better than Chicarito, it's just that's people like Chicarito more cause of his attitude, he is a girl magnet, and gives good speeches not because of his skill. If it came to skill it would be Dos Santos, also Hernadez (Chicharito) isn't even top 10 Mexican soccer player at skill. (I did research and it seems like Dos Santos has better power ranking). Also he used to play for Barcelano for 2 years, 1 yr in bench and 1 in the field) Chicharito just sits in the bench a lot and only plays 10-15 min at the end.
Should not be number big fan of his but he needs to be below Hugo, Rafa, Andres, and L. Hernandez because his career is not consistent due to injuries. So he should respectfully be at #5 which is being generous he has not lived up to his expectations after leaving barca. from switching to mid to forward his goals have not increased a fair amount to rank him this high although I hope he can get it together in the mls.
My most favorite soccer player sense the 2010 South Africa world cup, my idle. Plus how can someone compare this guy to Chicharito. Gio got dribbling skills, shooting, and is way more talented at passing than Chicharito. Also unlike chicharito he doesn't fall as easy. Sorry chicharito your talented I admit but not as good as gio
2
Javier (Chicharito) Hernandez
I think he should be number 1 cause he has 44 goals. More than anyone. ( besides Jared Borguetti within goals) He is and he he is the first mexican to go to England and Germany! He has inspired many people &always the best player on his team
This guy is the best he gets Mexico goals in every game, why is he in the bottom he has scored 39 goals in just 24 international matches he's played. He deserves to be number 1.
He is one of the best Mexican soccer players for me! And also Giovanni Dos Santos! He is amazing and every time when I find out that he is playing in a game I HAVE TO WATCH IT! MY OPINION
Went straight to the top he didn't have to wait to prove him self like Hugo he just gotten the opportunity he deserves! Amazing intuition great speed And humble!
3
Luis Hernandez
He is Mexico's all time leading goal scorer! He scored many impressive goals through out many games, he should at least be in top ten!
Luis Hernandez always played for the Team and for the People!
He's the best now one can beat him
4
Andres Guardado
He is a great crosser and has great control with the ball and we wont forget best player of Mexico
This guy is Mexico's best, this rankings must be outdated. There's no way Gio is number 1 just no dam way..
He always play with he's heart. And that's what it takes to be the best player ever!
I think that he is the Best player because he never give up I
5
Vella
Ok who ever posted "Man all these chicharito fans probably some random girls who think he's cute he sucks missing that penalty almost cost the game against Costa Rica Vela the best he's scoring goals in Spain isn't he! " really? He just messed ok, he was the top scorer at 2011 gold cup, and so far Chicharito has scored 40 goals so far with Mexico and he even played with one of the best teams which is Real Madrid and Manchester United and bye I wrote this on July 20, 2015
Man all these chicharito fans probably some random girls who think he's cute he sucks missing that penalty almost cost the game against Costa Rica Vela the best he's scoring goals in Spain isn't he!
He has a bad game and people criticize him. This is probably why he doesn't like playing with Mexico. The fans expect to much out of one player. He is the best that Mexico has right now.
Vela is the best... They are starting to compare him to Messi and Ronaldo and even hugo sanchez!
6
Rafa Marquez
What?!?! Rafael Marquez #6? He should be Number 1, this man captained four FIFA world cups, was the first Mexican to win a champions league, and has basically won in every league he's played in, this man is a living legend he's played and scored in amazing teams such as fc Barcelona, the best Mexican defense ever, he plays his mind and his heart out, he can create amazing plays, I can assure you, there's no Mexican defense like him 👌
Won everything in Europe and a Mexican league title. Just needs the world cup to be better then hugo sanchez...
The best he should if been number 1 and javier should of been number 2
Don't forget he notched up a few free kicks back in his day.
7
Efraín Juárez
Gives it his all every game and always makes an impact on the field
Great style of play you can tell her really puts his heart into it.
He is really good at playing
8
Gerardo Torrado
Ya know, he may not score goals, but he was the one who set up the goal! He was the heart and soul of Mexico's team. He may be old now, but he was once a fantastic player.
He's the only one that at least try's to make a goal
He is way to old and to be honest, he sucks
Jajajaja these guy it's a piece of crap
9
Hugo Sanchez

Hugo Sánchez Márquez is a retired Mexican professional footballer and manager. A prolific goalscorer known for his spectacular strikes and volleys, Sánchez is widely regarded as Mexico's greatest-ever footballer, and one of the greatest players of his generation.
How can anyone compare Hugo Sanchez to someone like chicharito who can't keep the ball on his feet (chicharito is good and I am thankful that he has gave Mexico is the win but can't compare for mow). Hugo Sanchez is for now the best Mexican player.
I think he should be number 1. He is a Mexican legend who played on both Madrid's, stinky Pumas, and the best team in Mexico, Club America.
Hugo never had a international team. Back in his time Hugo was Mexico. Even so he did what chicharito couldn't: score in real madrid.
He's the best Mexican soccer player rated in top 100 best players of all time
10
Cuauhtemoc Blanco
Sheer talent, vision and skill. A true icon in the most winning team in Mexico which is "coincidentally" the most hated, America. Hated in America but loved when he played for Mexico. Hate me more
No one dribles the ball like blanco he is like the ronaldinho of mex. he is used for creating crosses and is one of the best penalty takers of all time and finishers chichaito can't take free kick to save his life and stands next to the post unlike blanco who can shoot from eneywear around the field never be a nother like him
One of the most skillful maestro's in football history, deserves to be in the top 10!
He is the greatest and has won Mexico a lot of gold
The Contenders
11
Chucky Lozano
Lozano's got a bright future ahead of him, his name will be in lights one day.
He is better than chicharito Jonathan an Giovanni down Santos and maybe even hererra
Incredible player! Opened up the score in the 2018 World Cup game
Lozano is the future of Mexican Futbol and will lead them to a 2018 world cup
12
Bravo
Omar Bravo para presidente
Chivas fan so he's raw bruh
Como juega en Chivas, es muy malo a mi me gusta el America.
Omar de Los mejores que CHIVAS a tenido
13
Raul Jimenez
He was a great player for Club America especially his penalty against Cruz Azul in the final.
You made the goal in cola America 2015 good goal
Good upcoming mexican soccer player
Now the best player from Mexico
14
Borgetti
Better that vela, currently had the most goals for the Mexican national team, chicharito in second..
Borgetti is the best he should be the #1
Top goal scorer of Mexico's history
El zorro del delsierto! Come on people deadly header!
15
Guillermo Ochoa
Probably best current player on Mexico's squad amazing how over looked keepers are
Ochoa is the best goal keeper in the Mexican team that they ever had
He is fine not best goalkeeper in Mexico but is good
One of the best goalkeepers in the world 2016/17
16
Carlos Vela
Carlos Vela is so underrated. Look at how well he did in his first season at Arsenal. Mexico need to give this guy a chance.
He is a brilliant player and his style of play is amazing
What? He should be in the top 10! So underrated player, he is an amazing playeer
This is stupid he should be in the top 10
17
Oribe Peralta
He has made very important goals like, when he made a goal against USA!
He is a great player and when he has a chance to score he scores
Awesome player helped to qualify and made about 4 golazos
Amazing winning Olympic goals
18
Marco Fabian
Too fat and he played on stinky Chivas
One of the best players in Mexico
Marco Fabian is amazing he's young I actually think he should be playing in Spain or MLS or England he has the ability to turn hopeless moments into the best he's had amazing long range and acrobatic goals such as the fc Barcelona one his attacking midfielder role serves him well, as he has the ability and creativity to make things happen
He scores from long distance and is really smart and does great passes even for cruz azul witch he made 8 goals but he could have done more but was getting ready for brasil
19
José de Jesús Corona
Amazing goal kepper he's gained all the confidence in the world by his teams internationally as well as clubs. Certainly one of the best Mexican goalkeepers
He deserves to be the greatest goalkeeper in mexico history after winnig the olympics with incredible saves.
He is the best he is the reason why Mexico hasn't lost yet
Wow! this player I will say tje fastest player of the team I think he should be4 or 5
20
Arce
One of the best
Just too suckish
21 Buatista
22
Jesus Manuel Corona
Great young player ( 22 year old ) 3 goals with Mexico in year 2015
He has amazing ball control and skills
He has amazing ball control and skills. definitely one of the best young players. even better than chicharito I would say.
23
Pavel Pardo
He is very good
24
Salcido
Best defender in Mexican history
25
Alan Pulido
He's the best forwards
PSearch List