Top Ten Best Mexican Soccer Players
The Top Ten
1
Giovani dos Santos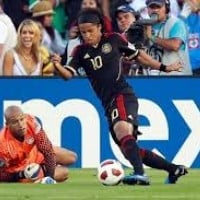 Giovani "Gio" dos Santos Ramírez is a Mexican footballer who currently plays for Major League Soccer club LA Galaxy and the Mexico national team.
Yes, I think he should be #2, he's my favorite player very skillful and amazing shooting, this boy still has a long career ahead of him he creates plays, assists, goals, He is a team player always wanting to get better, and he has he has amazing dribbling skills I thought his best goal was in the 2011 gold cup final vs usa, now that was a real beauty. He never gives up, he's the player willing to do anything for his team
Dos Santos is better than Chicarito, it's just that's people like Chicarito more cause of his attitude, he is a girl magnet, and gives good speeches not because of his skill. If it came to skill it would be Dos Santos, also Hernadez (Chicharito) isn't even top 10 Mexican soccer player at skill. (I did research and it seems like Dos Santos has better power ranking). Also he used to play for Barcelano for 2 years, 1 yr in bench and 1 in the field) Chicharito just sits in the bench a lot and only plays 10-15 min at the end.
2
Javier Hernández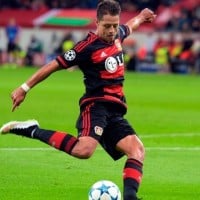 Javier Hernández Balcázar is a Mexican professional footballer who plays as a forward for German club Bayer Leverkusen and the Mexico national team.
This guy is the best he gets Mexico goals in every game, why is he in the bottom he has scored 39 goals in just 24 international matches he's played. He deserves to be number 1.
I think he should be number 1 cause he has 44 goals. More than anyone. ( besides Jared Borguetti within goals) He is and he he is the first mexican to go to England and Germany! He has inspired many people &always the best player on his team
Went straight to the top he didn't have to wait to prove him self like Hugo he just gotten the opportunity he deserves! Amazing intuition great speed And humble!
3
Luis Hernandez
He is Mexico's all time leading goal scorer! He scored many impressive goals through out many games, he should at least be in top ten!
Luis Hernandez always played for the Team and for the People!
4
Andres Guardado
This guy is Mexico's best, this rankings must be outdated. There's no way Gio is number 1 just no dam way..
He always play with he's heart. And that's what it takes to be the best player ever!
He is a great midfielder. he scored a beautiful goal against Jamaica in the final.
5
Vella
Ok who ever posted "Man all these chicharito fans probably some random girls who think he's cute he sucks missing that penalty almost cost the game against Costa Rica Vela the best he's scoring goals in Spain isn't he! " really? He just messed ok, he was the top scorer at 2011 gold cup, and so far Chicharito has scored 40 goals so far with Mexico and he even played with one of the best teams which is Real Madrid and Manchester United and bye I wrote this on July 20, 2015
Man all these chicharito fans probably some random girls who think he's cute he sucks missing that penalty almost cost the game against Costa Rica Vela the best he's scoring goals in Spain isn't he!
He has a bad game and people criticize him. This is probably why he doesn't like playing with Mexico. The fans expect to much out of one player. He is the best that Mexico has right now.
6
Rafael Márquez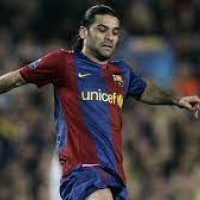 Won everything in Europe and a Mexican league title. Just needs the world cup to be better then hugo sanchez...
Don't forget he notched up a few free kicks back in his day.
The best he should if been number 1 and javier should of been number 2
7
Gerardo Torrado
Ya know, he may not score goals, but he was the one who set up the goal! He was the heart and soul of Mexico's team. He may be old now, but he was once a fantastic player.
8
Efraín Juárez
Great style of play you can tell her really puts his heart into it.
Gives it his all every game and always makes an impact on the field
9
Hugo Sanchez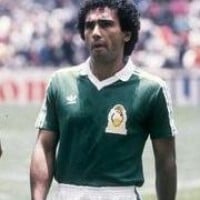 Hugo Sánchez Márquez is a retired Mexican professional footballer and manager. A prolific goalscorer known for his spectacular strikes and volleys, Sánchez is widely regarded as Mexico's greatest-ever footballer, and one of the greatest players of his generation.
How can anyone compare Hugo Sanchez to someone like chicharito who can't keep the ball on his feet (chicharito is good and I am thankful that he has gave Mexico is the win but can't compare for mow). Hugo Sanchez is for now the best Mexican player.
I think he should be number 1. He is a Mexican legend who played on both Madrid's, stinky Pumas, and the best team in Mexico, Club America.
Hugo never had a international team. Back in his time Hugo was Mexico. Even so he did what chicharito couldn't: score in real madrid.
10
Cuauhtémoc Blanco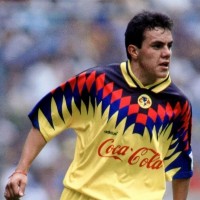 Sheer talent, vision and skill. A true icon in the most winning team in Mexico which is "coincidentally" the most hated, America. Hated in America but loved when he played for Mexico. Hate me more
One of the most skillful maestro's in football history, deserves to be in the top 10!
Just great soccer player
The Contenders
11
Chucky Lozano
Lozano's got a bright future ahead of him, his name will be in lights one day.
He is the best
12 Bravo
13
Raul Jimenez
He was a great player for Club America especially his penalty against Cruz Azul in the final.
Best in the world
14
Borgetti
Better that vela, currently had the most goals for the Mexican national team, chicharito in second..
15
Guillermo Ochoa
Best goalkeeper I have seen so far!
Great, the best for real!
Ochoa is the best goal keeper in the Mexican team that they ever had
16
Carlos Vela
Carlos Vela is so underrated. Look at how well he did in his first season at Arsenal. Mexico need to give this guy a chance.
Dumb! He should be in top 7
He is a good forward!
17
Oribe Peralta
He has made very important goals like, when he made a goal against USA!
I think he should be 4
You are my player
18 Marco Fabian
19
José de Jesús Corona
Amazing goal kepper he's gained all the confidence in the world by his teams internationally as well as clubs. Certainly one of the best Mexican goalkeepers
He deserves to be the greatest goalkeeper in mexico history after winnig the olympics with incredible saves.
Why is that best
21 Buatista
22 Salcido
23 Jesus Manuel Corona
24
Pavel Pardo
He is very good
25
Alan Pulido
He's the best forwards
PSearch List