Top 10 Fictional Villains
The Top Ten
1
The Joker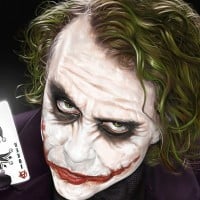 The Joker is a fictional super villain created by Bill Finger, Bob Kane, and Jerry Robinson who first appeared in the debut issue of the comic book Batman (April 25, 1940) published by DC Comics. Credit for the Joker's creation is disputed; Kane and Robinson claimed responsibility for the Joker's design, ...read more.
By far the most intriguing and unique villain, point-blank. It's not everyday (or any day, honestly) that you get a villain who simply wants to "watch the world burn" and nothing more; it's not everyday that you get a villain who is so mentally gone that there is absolutely no probability of them ever regaining their sanity (which brings up the question "Was the Joker ever truly sane? ").

The Joker is simply a masterpiece of a character, and it shouldn't come as a surprise that many, including myself, agree that he is the best villain in villain history.
Easily the best, not the most powerful, but the very best. He has the best character in all of fictional history. Some people underestimate him as just some mad serial killer, but trust me, the killing joke is the absolute best character to research, discover and to just learn more about. His name is unknown as well as his past (but told to be harsh by the Joker's wicked stories) and has no limits to his pure evil soul.
Joker is by far the best he is crazy, iconic and unknown plus if you watch the dark knight you will understand how much chaos he causes and pisses batman off. he killed jason todd robin and crippled batgirl
The comic joker was good, Nicholson was great, and Ledger was absolutely insane. By far the greatest villain.
And lets see what jared leto can do
2
Darth Vader

Darth Vader is a Star Wars character and the main antagonist of the first three original Star Wars films and the main protagonist of the Star Wars prequel trilogy under his original name Anakin Skywalker. He had been trained as a Jedi but defected to the Sith lord and Galactic Chancellor Palpatine. ...read more.
vader can slaughter joker but the joker is always prepared. he would be able to melt his helmet with his acid and give him a dose of joker venom. joker #1
Great character, great story great villain, nkt much more to say. Though I am surprised Thrawn did not make the list.
Vader can slaughter the joker with his hands.
Darth vader is the best villain of all time
3
Zarbon

Zarbon is Frieza's right hand man and highest ranking Commander and General in an army of millions. He is always beside his master and emperor, Lord Frieza, following his orders and carrying out his dirty work alongside his comrade, Dodoria. Zarbon is responsible for advising Frieza on numerous matters, ...read more.
Zarbon is one of the best villains in the entire series. He is responsible for telling Frieza to eliminate the Saiyan race, transforms into a reptilian beast, and pounds Vegeta in the most brutal fight scene.
Zarbon is a lover of beauty yet holds a dormant power, the ability to transform into a reptilian beast. He is the deadly dynamic; a combination of beauty and beast and is a mysterious yet demonic, ruthless, and brutal villain.
Most ruthless henchman in Dragon Ball universe and most intricately designed. Extremely awesome character overall in terms of story, mannerism, and overall evil.
It's great how Zarbon suggested and set up the Saiyan planet to get wiped out by his Master Frieza and continued to serve loyally until the brutal end.
4
Dracula

The Prince of darkness a truly awesome character and Evil.
5
Cruella de Vil

Cruella de Vil is a fictional character who appeared in Dodie Smith's 1956 novel The Hundred and One Dalmatians, Disney's animated film adaptations 101 Dalmatians and 101 Dalmatians II: Patch's London Adventure, and Disney's live-action film adaptations 101 Dalmatians and 102 Dalmatians as the main ...read more.
6
Xenomorph

Had to. It's a monster, but it's my monster.
7
Sauron

Sauron is the title character and main antagonist of J. R. R. Tolkien's The Lord of the Rings. Originally a servant of the first Dark Lord, Morgoth. Morgoth was later defeated and Sauron fled. He later came back to Middle Earth and took over as the new Dark Lord by using a Ring of Power. He was later ...read more.
The Dark Lord of Mordor. The One Ring to Rule Them All. 'enough said.
The dark of Mordor there nothing else to say.
8
T-1000 (Terminator 2)

T-1000 is full power material robot, the material T-1000 is noting do destruction and fatality. T-1000 is opponent T-800 endoskeleton. T-1000 his power tradicion and modul to killing.
9
Freddy Krueger

Fred "Freddy" Krueger is the main antagonist of the A Nightmare on Elm Street film series. He first appeared in Wes Craven's A Nightmare on Elm Street (1984).
1,2
Freddy's comin for you
(awesome, can't wait, he's hot--uh do not take that weird)
3,4
Better lock your door
(Can't. )
5,6
Grab your crucifix
(it's in my brother's room, he doesn't want me in there)
7,8
Gonna stay up late
(but it's a school night)
9,10
NEVER SLEEP AGAIN
(But I wanna meet Freddy! )
Fredy of mechatic seen, excellent ilusion man and magiy master.
10
King Ghidorah

King Ghidorah is Godzilla's Greatest Enemy of all times since 1964's Ghidorah: The Three Headed Monster.
One of the most malevolent creatures I have ever seen. He is apparently so Evil that when he was cast out of Heaven, Hell didn't even want him, so he landed in our reality. He is also Godzilla's oldest and most unyielding rival. No matter how many 'defeats' he suffers, he always returns. In the Monsterverse, Ghidorah nearly killed Godzilla every time they encountered each other. Ghidorah is also responsible for killing Godzilla's love interest, Mothra, and smiling about it as he prepared to deliver the final blow. The only way Godzilla could defeat him, was to cheat. Even after this though, Ghidorah's left head was featured in the post-end credits scene, suggesting that he is not gone. The fact that he could regenerate a head fully in mere seconds supports this statement.
This is my absolute favorite villain of all time. I mean come on! He is the best! He is the real reason to take down his arch enemy; Godzilla. And he is such a powerful monster. We all know that he's gonna be the biggest villain of 2019.
The Newcomers
?
Dimentio (Super Paper Mario)

Dimentio is an evil harlequin magician and the main antagonist of the 2007 Nintendo Wii video game known as "Super Paper Mario". One of his notable features is that he has created his own Dimension, known as Dimension D.
?
Freddy Fazbear (Five Nights at Freddy's)

Freddy Fazbear (originally known as Freddybear, as seen in the Kickstarter) is one of four main antagonists of Five Nights at Freddy's, who later appear as variations in the succeeding games.
The Contenders
11
Hans Landa

Christoph Waltz is an Austrian-German actor that has won 2 Academy Awards for Best Supporting Actor for his collaborations with director Quentin Tarantino in Inglourious Basterds and Django Unchained.
12
Doctor Doom

Doctor Victor Von Doom, better known as Doctor Doom, is a fictional supervillain appearing in American comic books published by Marvel Comics. The character usually is a villain of the Fantastic Four. He debuted in The Fantastic Four #5.
13
Kylo Ren

Kyle Ren is a fictional Sith lord, who is strong with the Force. Kylo Ren commands the First Order with a temper as fiery as his unconventional lightsaber. His debut was in 2015's Star Wars VII: The Force Awakens. Ren's real identity is Ben Solo, the son of Han Solo and Princess Leia. He was trained ...read more.
he is my god. Kylo is so tormented and scary and sexy! hoo-ee he was wasted...
14
Voldemort

Lord Voldemort is a fictional character and the central main antagonist in J. K. Rowling's series of Harry Potter novels. Voldemort first appeared in Harry Potter and the Philosopher's Stone, which was released in 1997.
Voldemort is smart powerful and could really kill anyone that tries to confront him. The only reason he loses is because of his own mistakes.
This guy is so scary. I wouldn't want to meet face-to-face with this guy. I love Harry Potter.
Voldemort could beat everyone else on this list. Also, wheres Sauron?
He is good but umbridge is way better
15
Venom (Spiderman)

Venom, or the Venom Symbiote, is an alias used by several fictional characters appearing in American comic books published by Marvel Comics, commonly in association with Spider-Man.
Villain he is rejected by spider-man,twice
16
Frieza

Freeza (Pronounced "Frieza" in the Funimation dub) is fictional character in the Dragon Ball series by Akira Toriyama as the primary antagonist of the Freeza Saga. He is a galactic tyrant who governs the Planet Trade Organization and is feared by the universe for his sadistic and brutal nature. He is ...read more.
He killed Goku's father along with most of the Saiyan race and made Vegeta his servant.
17
Thanos

Thanos is a fictional supervillain appearing in American comic books published by Marvel Comics. The character was created by Jim Starlin and Mike Friedrich. The character first appeared in Iron Man #55 and has been portrayed by actors Damion Poitier and Josh Brolin in the Marvel Cinematic Universe.
This guy is honestly a beast, he managed to get his hands on all 6 infinity stones. He is so evil, he killed his daughter to get the soul stone and that's hard. Thor is the only person who can defeat him though but he should have gone for the head...
big boy needs
18
Chernabog

Chernabog is a Disney villain from the 1940s film Fantasia, and in his segment, "A Night on Bald Mountain".
Best Disney Villain ever!
19
The Emperor

Evrything is proceeding as I have foreseen
Electric master awesome,epic, and sick moves
20
Loki (Marvel)

Loki Laufeyson, or Loki Odinson, is a fictional character appearing in the American comic books published by Marvel Comics. He is the adoptive brother and archenemy of Thor, and is known as the "God of Mischief". In the Marvel Cinematic Universe, the character has been portrayed by Tom Hiddleston.
Loki is an awesome character, I like him very much indeed.
Should be higher
He is epic only thor can touch him ( not a villain}
21
Hannibal Lecter

Dr. Hannibal Lecter is a character in a series of suspense novels by Thomas Harris. Lecter was introduced in the 1981 thriller novel Red Dragon as a forensic psychiatrist and cannibalistic serial killer.
Looking at him is creepy enough. The creepiest part is, he's cannibalistic and he's a master of getting into your head. He also speaks in a an eerie tone of voice. And he's good at blending in with his surroundings because he always seems so gentlemanly. He's the perfect serial killer.
With his cunning, intelligence, and great sense of smell Hannibal makes you feel inferior to him mentally and physically. He is top of the food chain and he knows it. Even when he is locked up you are not safe. Hannibal the Cannibal is not someone who's bad side you want to be on.
He will eat your liver with some fava beans and a bottle of chanti how is that not evil
my childhood nightmare...
22
Darkseid

Darkseid is a fictional character appearing in American comic books published by DC Comics. Created by writer-artist Jack Kirby, the character made a cameo appearance in Superman's Pal Jimmy Olsen #134 before making his full first appearance in Forever People #1. He is the father of Orion, Kalibak, ...read more.
23
The Riddler

The Riddler is a fictional supervillain appearing in American comic books published by DC Comics, commonly as an adversary of the superhero Batman.
24
Carnage (Spiderman)

Carnage (Cletus Kassidy) is a fictional supervillain appearing in American comic books published by Marvel Comics, usually as an enemy of Spider-Man. He appeared for the first time in The Amazing Spider-Man #361.
25
Lex Luthor

Alexander "Lex" Luthor is a fictional supervillain appearing in American comic books published by DC Comics.
Smart yet demented. The latter can also refer to the people who didn't vote for him on this list
PSearch List