Top 10 Canadian Parks and Botanical Gardens
The Top Ten
1
Montreal Botanical Garden (Jardin Botanique de Montréal)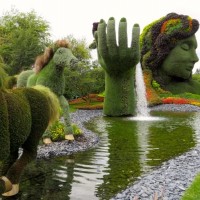 The image says more than I could express in several lines. It's one of those things you should see and not read about.

The image shows living sculptures - horticultural works of art - a woman's head, her hand, horses, and a small waterfall. There are many living sculptures in this Botanical Garden.
One of the few, if not the only, genuine Chinese gardens outside of China can be found in Montreal's Botanical Gardens.
2
Thousand Islands National Park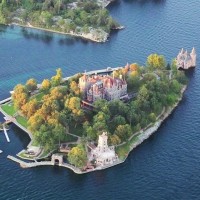 Interestingly, the outline of the visible island in the image is reminiscent of an F1 Circuit located in the same country. It appears to be exotic and a must-visit spot for an extended vacation.
(Alt. spelling: 1000 Islands) It's one of the oldest Canadian national parks.
It's a group of more than 1,800 islands in the St. Lawrence River that stretch for about 50 miles (80 km).
There are campgrounds, inland walking trails, annual family events, a national heritage building, cruises, and many more attractions.
3
Sandbanks Provincial Park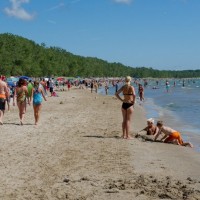 It's on Lake Ontario, and there are large beaches.
4
Algonquin Provincial Park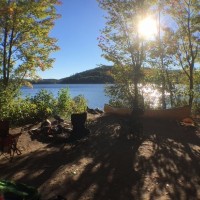 Located in Ontario, it is the oldest provincial park in Canada, established in 1893.

Size: about 7,653 square kilometers (2,955 sq mi), which is about a quarter of the size of Belgium.
5
Banff National Park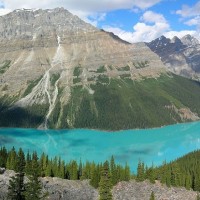 This is Canada's oldest national park, established in 1885. It's located in the Rocky Mountains, in the province of Alberta, 110-180 kilometers west of Calgary.

There's a beautiful lake, Lake Louise, that is glacier-fed, and the color of its water is turquoise.
6
Crawford Lake Conservation Area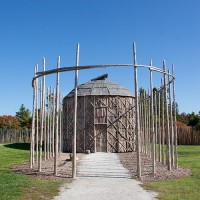 It is a large park in Ontario with an Iroquoian heritage site, a canyon lookout, 19 km of trails, a visitors' center, and, of course, a lake.
The image shows the entrance to the Iroquoian village - it's an old authentic Aboriginal village portraying Native life prior to the Europeans' arrival, turned into a museum.

This old village is one of the most interesting things I've ever seen - from their bedrooms to their graveyards. They didn't bury the dead, they placed them on high wooden racks.
7
Killarney Provincial Park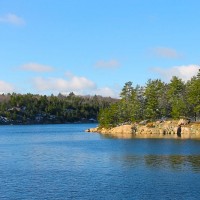 It is primarily a wilderness park with many lakes, situated on the north shore of Georgian Bay in central Ontario.
8
Forillon National Park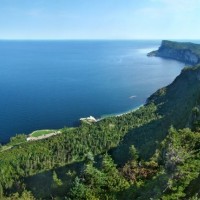 It's a paradise for whale watchers and bird watchers located in Quebec. Also, the tallest lighthouse in Canada is in this park: Cap des Rosiers Lighthouse.
9
Montmorency Falls Park (Parc de la Chute-Montmorency)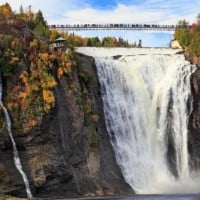 It's in Quebec.
Fun fact: these falls are actually higher than Niagara Falls.
10
Parc Omega
It's a safari park in Quebec.
The Contenders
11
Edwards Gardens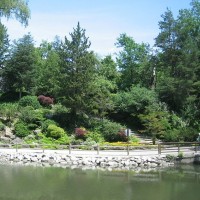 It's a Botanical Garden in Toronto.
12
Dinosaur Provincial Park
Amazing park in Canada! Lots of fossils and rattlesnakes. You may even spot a Tyrannosaurus rex skull if you are lucky!
13 Jasper National Park
14 Cape Breton
BAdd New Item