Top 10 Most Interesting Bridges Around the World
Bridges have proved to be very useful in transportation, significantly reducing travel time from one place to another, but some of these are unique and special in different ways. Given below are some unique bridges that are different and special in their own way.

The Top Ten

1 Bridge Of Sighs, Venice, Italy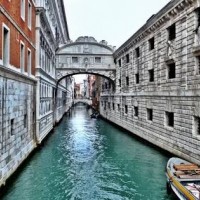 Intricately crafted using Istrian stone, this enclosed bridge connects the city prison with the Interrogation rooms. Prisoners crossed this bridge before being taken to their cells. It is said they would sigh as they took their final view of Venice.
2
Millau Bridge, Massif Central Mountains, France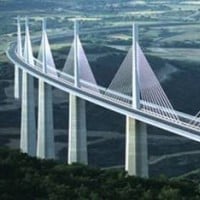 343 metres (1,125 feet) tall at its highest point, this bridge is taller than the Eiffel Tower. This Bridge broke 3 records right after construction - Highest Pylons in the world, Highest bridge tower in the world and highest road bridge deck in Europe.
3
The Forth Rail Bridge, Queensferry, Scotland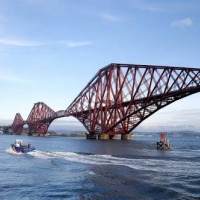 This Victorian bridge is so long that until recent developments in paint technology, it had to be continuously painted - as soon as the people painting it had got to the end, it was time to start at the beginning again.
4
Golden Gate Bridge, San Francisco, United States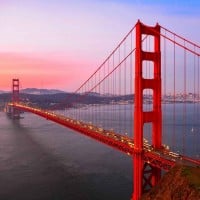 The Golden Gate Bridge is a suspension bridge connecting San Francisco to Marin County, California. Completed in 1937, it is an iconic symbol of San Francisco and is renowned for its Art Deco design and "International Orange" color.
This popular bridge, over 75 years old, is one of the most recognized bridge in the world. It is undeniable that the San Francisco we know today would not be the same without its skyline being graced by this beauty.
Arguably the world's most famous bridge.
Should be number one
5
London Bridge, London, England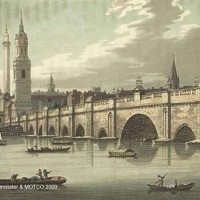 Actually sold to an American oil tycoon for 2.5 million pounds. Some rumors say that this was because they american though he was buying Tower Bridge.
Until 1750 this was the only bridge over the River Thames. Heads of traitors were placed on spikes above the southern gate of the bridge.
6
Tsing Ma Bridge, Hong Kong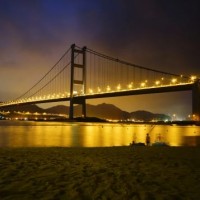 Hong Kong's Tsing Ma Bridge is the largest suspension bridge in the world to feature two decks and carry both road and rail traffic.
Not only that, but it was subjected to some serious wind tunnel testing as Hong Kong is subject to powerful typhoons. After costing $920 million, the Tsing Ma Bridge opened in 1997. There are no walkways on the bridge and it features sheltered carriageways on the lower deck when very strong winds prove to be too much for vehicles to safely handle.
7
Gateshead Millennium Bridge, Newcastle, England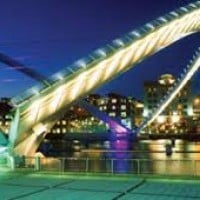 The Gateshead Millennium Bridge is the world's first and currently only tilting bridge. But the most amazing thing about this pedestrian and biker crossing of the Tyne River is that it appears as if an eye is winking whenever it is raised and lowered.
8
Hangzhou Bay Bridge, Zhejiang, China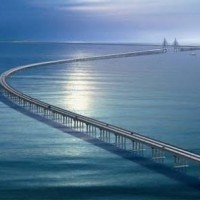 Connecting the Chinese municipalities of Jiaxing and Ningbo in Zhejiang province, the 35-kilometer-long Hangzhou Bay Bridge is the longest trans-oceanic bridge in the world. More than 600 experts spent nine years designing the Hangzhou Bay Bridge.
9
Mathematical Bridge, Cambridge, England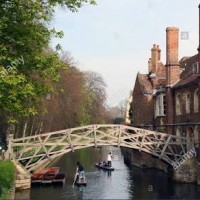 This bridge is rumoured to have been designed by Sir Isaac Newton without the use of nuts and bolts to hold the wood together. According to legend, students dismantled the bridge one night, but were unable to put it back together. It was then rebuilt using nuts and bolts.
10
Akashi-Kaikyo Bridge, Japan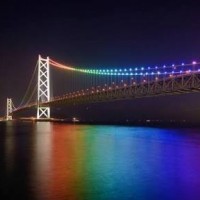 The Akashi-Kaikyo bridge currently holds the title of "World's Longest Suspension Bridge" with a span of 1,991 meters. The second longest is China's Xihoumen Bridge. A modern engineering feat, this bridge has remained the world's longest since 1998. The Akashi-Kaikyo Bridge stood a true test of strength even before it opened when it survived the Kobe Earthquake on January 17, 1995.
The Contenders
11 Rakotzbrücke, Saxony, Germany
12 Puente de la Mujer, Buenos Aires, Argentina.
13 Sydney Harbour Bridge, Sydney, Australia
14 Chesapeake Bay Bridge, Virginia, United States
BAdd New Item