Best Female Metal Singer
truemetal
The Top TenXW
1
Floor Jansen (After Forever)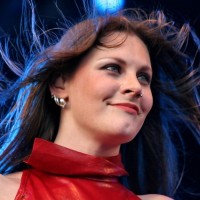 Floor Jansen has the best technique and the most versatility out of any female metal vocalist. This woman exudes metal. She is not only the best female vocalist in the genre, but one of the best voices in metal as well.

Since After Forever disbanded, she's been working with her project "Revamp". Both bands are worth checking out alone for Floor's voice. At the time of writing there is also a very high possibility that she will become the third lead singer for Nightwish, and I very much hope that this happens. She deserves to be recognized by a wider audience because she is so fantastic at what she does.
Anything that is not that gothic melodic screamo blacken everything dead dull hott topic crap... Unfortunately that is exactly what is taking over and people will not know what (heavy) metal really is. RIP, real heavy metal. We will not forget you though the drone zombie majority will never know you. RIP Femme Fetale, Doro Pesch of Warlock, Vixen, and many more. Great years now gone, and good things never last. The black drone cloud crowd is here taking over like a world zombie apocalypse. There are good female metal voices out there, but I have also made my point. Own the road, all ye true heavy metal bitches; raise your heavy metal horns and yell freedom! Rroo...
Floor Jansen is a brilliant combination of high technology and emotion in her voice. Stunning clean vocals, a beautiful operatic voice, ominous scream and crystal gentle ballad performance!
She is amazing
V22 Comments
2
Tarja Turunen (Tarja, Nightwish)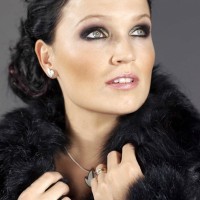 Tarja is the best singer that Nightwish has ever had
And now, her solo cR.Is also very successful
She was the first to mix metal and opera
Love her
Tarja got this wonderful voice, and the perfect additude on stage. She is very beautiful and got nice dresses on stage. Rock On Tarja :-)
Tarja has a beautiful voice, both strong and full of emotion. Albums like Oceanborn and Wishmaster show her ability best. I don't like her simply because she's a soprano, there are many out there in metal. She has indeed a unique voice, the one who introduced me in this kind of music. Nightwish and Tuamas's music were undoubtedly the most complimentary to her voice. I like her solo career, but it cannot be compared to the greatness that Nightwish is. To those that claim that operatic voices have no emotion, listen to "Two for Tragedy" and "Dead Boy's Poem".
She is got a strong and powerful voice and no one can't compare with her
V23 Comments
3
Sharon Den Adel (Within Temptation)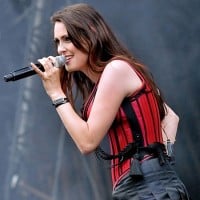 VOICE OF AN ANGEL AND A DEMON AT THE SAME TIME... AND ALL THAT WITHOUT ANY MUSIC CLASSES JUST PURE NATURAL TALENT! NOT LIKE SOME-SO CALLED SINGERS- WHO NEED CLASSES ALL THE TIME, AND SOUND THOUSAND TIMES WORSE! AND YOU KNOW WHY IS THAT? BECAUSE TECHNIQUE doesn't MATTER-ONLY HEART AND SOUL. YOU HAVE TO FEEL THE SONG, NOT JUST TO TAKE STUPID CLASSES, AND THINK THAT YOU ARE PRINCESS OR SOMETHING! NOT TO MENTION THAT SHE IS WRITING SONGS AND MUSIC FROM THE BEGINNING, TAKING CARE ABOUT SCENERY, COSTUMES, NEVER COMPLAINING ABOUT TRAVELING AND TOURING ANT by the way-HAVING THREE KIDS BESIDES EVERYTHING! SHE IS A DRAGON NOT A WOMAN! AND SHE IS SO UNDERRATED!
Best growling- Otep Shamaya (Otep)
Best opera metal- Lory Lewis (Therion)
Best new age metal- Amy Lee (Evanescence)
The most melodic and touching voice ever, who can sing whatever you want, even without any singing classes- SHARON DEN ADEL!
She is very underrated singer only because she doesn't pay a journalists to call her &quota Goddess&quot, like some other singers do (like Tarja Turunen, whos husband pays every interview and headlines with such a ridiculous title, to make you feel like that there is nobody else who sings even better! )I just hope that the voting is going to be fair once for all, and that the REALLY THE BEST is going to win!
Sharon is:
-one of the first and the best female vocals in metal music
-pioneer of the Gothic/symphonic metal
-role model for all other female frontwomen who started to dress like her (tarja)
-writer of all songs from the first album
-naturally talented without music school and singing classes
-some of them are just beautiful, some are just talented, but SHARON HAS IT ALL...!
My Top Ten: 1. Sharon den Adel 2. Sharon den Adel 3. Sharon den Adel 4. Sharon den Adel 5. Sharon den Adel 6. Sharon den Adel 7. Sharon den Adel 8. Sharon den Adel 9. Sharon den Adel 10. Sharon den Adel
V19 Comments
4
Simone Simons (Epica)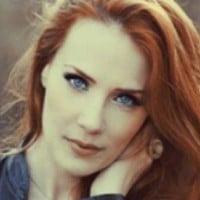 Not only one of the hottest, but also one of the greatest voices in female-fronted bands, or any genre of female singing for that matter. Listen to 'Tides of Time', it's a beautiful ballad which brings out the best in Simone's vocals. - petrucci75hammet
Her range soars octaves above Tarja's. Her voice is also very versatile, stretching from operatic to lower, dark pitches.
Her voice will make you fall in love with her.
She is very cool 😎
V7 Comments
5
Doro Pesch (Doro, Warlock)
DORO SHOULD BE THE FIRST! SHE IS THE TRUE QUEEN OF FEMALE FRONTED METAL BANDS- BECAUSE SHE IS THE PIONEER OF IT!

A LOT OF OTHERS ARE JUST PATHETIC COPYCATS AND "WANNA BE DANGEROUS CHICK" BITCHES! THEY ARE NOT IN A METAL WORLD BECAUSE THEY LOVE IT, BUT BECAUSE THEY SMELL THAT IT BRINGS MONEY AND FAME; LIKE TARJA TURUNEN (SHE don't LISTEN TO METAL, SHE don't HAVE A METAL VOICE, SHE don't DRESS LIKE LIKE METALHEAD - BUT SHE IS CONSTANTLY PUTTING HER ASS INTO THAT WORLD TO GRAB SOME MONEY FROM IT! )
DORO FOREVER!
Saw her in concert for the first time this year and she gave so much energy. You can tell she loves what she does. Doro is the best.
Why isn't Doro number one is beyond me! The true pioneer in women in metal
She's The Queen of Metal and should be number 1! She's the only one on this list that is actually Metal!
V16 Comments
6
Anette Olzon (Nightwish)
I love Anette because she is a great singer and a down-to-earth person. We don't need other divas like Turunen, and Imaginaerum is a perfect album. She's the perfect singer for Nightwish, and I can't wait to hear what she'll be able to do in the future
I love both Tarja and Anette for Nightwish. I'm voting for Anette because she is potentially more moving than Tarja.
Anette rocks more then Tarja! I really love New Nightwish era!
I love you anette olzon
V5 Comments
7
Charlotte Wessels (Delain)
She has an amazing voice along with her stunning looks
You have to see this live!
8
Liv Kristine (Liv Kristine, Leaves' Eyes, Theatre of Tragedy)
The most touching voice in metal
The warmest sweetest voice.
9
Heidi Parviainen (Amberian Dawn)
Heidi really does have a beautiful voice. I really like sopranos, but here, especially. I don't think anyone really compares. - djh101
One of the bests! In my opinion should be in 4rd
10
Ailyn (Sirenia)
Amazing singer, and a person.
The Contenders
11Lisa Johansson (Draconian)
12
Akane Liv (Liv Moon)
Akane Liv is an absolutely incredible soprano vocalist, who is also very versatile and isn't just constrained to the operatic side. She is a very passionate singer with excellent control and tone, I'd easily put her up there with the greats of Symphonic Metal like Tarja or Floor
13
Vibeke Stene (Tristania)
She has the most unique, touching voice in the world. I can cry because f her singing, there is no other singer who do the same with me. Shame that not so many people love her
She has an incredible voice, angelic and hypnotic, full of emotions. Besides, she has a unnbeatable singing technique.
She is one of the few women of metal genre that has a voice that sounds just as beautiful in studio and live.
She is the queen, tarja floor, simone are really amazing, no dobut, but is something about vibeke that makes her the most beautiful and touching soul singer, unique and simple the best,
14
Cristina Scabbia (Lacuna Coil)
She's an amazing singer, she has a special voice. When I heard her for first, I was amazed. Two words: Angelic voice.
Because she's a lovely green-eyed brunette who has a great body that I'd like to spend an hour with. Oh, she can sing?
Best voice ever, powerful and high at the same time... She is THE Metal Queen! Amazing girl.
She is the metal queen awesome voice and she is very pretty
V7 Comments
15
Nitte Valo
Singer in Burning Point
Superb power & pitch perfect while maintaining her unique own tone.
Best there is. What a strong voice,/
This lady ROCKS! Such a voice that never leaves you cold!
V5 Comments
16Noora Louhimo
17
Angela Gossow (Arch Enemy)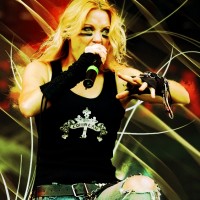 The best female vocal fry
By far the best she growls better than many men
Angela is best m/
The power of her voice has not equal
V5 Comments
18
Alissa White-Gluz (The Agonist)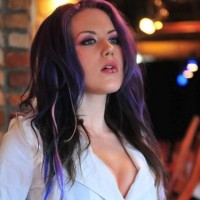 EXTREMELY beautiful and talented
The only person made me not to vote for Tarja - Rhapsody
19Monika Pedersen
20
Elize Ryd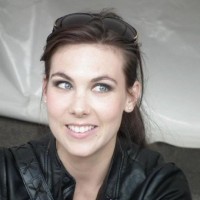 She is young and not well known, but once you have heard her singing you will never forget it. Elize has very beautiful voice, she sounds like an angel but at the same time she can deliver very strong vocal performance.
Probably the most beautiful voice, not only in metal, but just in general. She has excellent voice control and a super clear voice. I'm afraid that the only reason she isn't ranked much higher is because her band, Amaranthe, isn't as famous as Nighwish, Arch Enemy, Lacuna Coil, etc. Although I still do love those other singers, too.
BAdd New Item