Best Presidents of the United States
The Top Ten
Abraham Lincoln (16)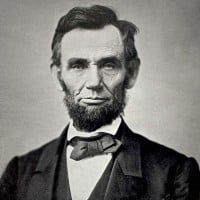 Abraham Lincoln was the 16th President of the United States, serving from March 1861 until his assassination in April 1865. Lincoln led the United States its bloodiest war and its greatest moral, constitutional, and political crisis.
Should be above Bush, you think 911 was worse than the civil war?
Clinton balanced the budget and actually left a surplus but top 5? No.
Personally don't think Bush43, Clinton, JFK, or Nixon belong in the top 10.
JFK was not a good president, just remembered well. Nixon was a brilliant politician but remembered as a shady scumbag, even compared to other politicians. FDR elected 4 times but if it weren't for WWII his new deal would have destroyed America not to mention court packing is worse than what Nixon did. FDR = shadiest president every (adulterer, internment camps, undercutting his own party to win a 3rd term... ) Obama is the worst for the deficit so far of any president in history and he won a nobel prize because they hoped that he wouldn't vote on a troop surge, which he did anyway. Those aren't arguments for praise. Any honorable recipient would have returned it after his decision but he was probably busy visiting the last of the "57" states. Washington had the ...more
Abraham Lincoln is the reason the United States is still United and began the elimination of racism by ending slavery. To do this he began a largely unpopular but necessary war. This made him hated to the point where he was assassinated but he went through with his decision anyway. Would any politician today do this? I doubt it.
Abraham Lincoln was man you could change his ideas. Like slavery he first thought it was good. Then he realized that slavery was wrong. He did almost everything to fix the country. No other president thought about slavery should be wrong or even segregation. Martin Luther king jr was not a president but still fought for what is right. Only Abraham Lincoln thought slavery was wrong. He was a man of changes and does what should be right among us. If he didn't exist there still would be slavery and African Americans would not be equally treated. So I think Abraham Lincoln should be the best president in history.
Even after his presidency, native Americans were still treated horribly compared to White people. All Lincoln did was stop slavery. You guys are giving him more credit then he deserves.
The best is "honest Abe". Glad to see the idiot Trump not in this mix. What a miserable failure. He'd be better suited to be a clown in a circus. He couldn't tell you what letter the word "leader" begins with. He should be referred to as the "bunker" president going forward. What a coward! And Clinton? Let's get real. He's best known for having an affair with an intern.
George Washington (1)

George Washington was the first President of the United States, the Commander-in-Chief of the Continental Army during the American Revolutionary War, and one of the Founding Fathers of the United States.
Even more than Jefferson or Madison he fought for a balance between state and federal government. Not to mention he believed in what he was doing.
#1. (no party) The father of this nation. If it wasn't for him, we simply would not be here and would never have gotten the experience to live in the best country in the world. It is because of strong and heroic men like him, that we live free today and he is a constant reminder of our democracy and the reason why our flag stands up strong and will continue to serve us forever and ever!
"Best country in the world" there is absolutely no foundation for that belief whatsoever. You have high murder rates for first world, poor education system, etc. Freedom and democracy exists in most first world countries, many more so than the US.
The only president with near-unanimous popular support. The reason he was the best president is because Washington held together the US when no one else could. I'm honestly not sure what the argument against him is.
Father of the country set the precedents. Held the early country together. With his experience was able to put down a rebellion without a shot.
Franklin D Roosevelt (32)

Franklin Delano Roosevelt, commonly known as FDR, was an American statesman and political leader who served as the 32nd President of the United States from 1933 to 1945. A Democrat, he won a record four presidential elections and dominated his party for many years as a central figure in world events ...read more.
Franklin D Roosevelt is probably my favorite, if not one of my favorite, presidents to date. He was so ahead of his time in his beliefs about how to properly handle the depression. In the 1920's, America was overrun with conservative rugged-individualists who wanted the government to be as weak as possible and hated any attempts by the Feds to regulate the economy. This lead to the Great Depression, which crippled the planet's economy and left 99% of humans dirt poor. Roosevelt brought back progressivism and, more amazingly, brought it into the previously racist and white supremacist Democratic Party. Wilson's attempts to do this during WWI failed because he himself had been a white supremacist and a radical southern baptist. Roosevelt deserves the credit for actually re-starting progressivism, and in doing so saving the country from collapsing into total anarchy. He passed new laws to regulate the printing and value of money, the competence of banks, emergency funding of schools and ...more
No one greater than Roosevelt. He was dead before I was born, but I can barely look at his picture without crying. My parents were children in the depression, and credited this man for literally saving them from starvation. Mother said no one was working, had any food, or money, and lived in daily fear of what would happen to them. They would listen to his fireside chats on the radio, and she said the fear would lift at the sound of his voice, and calm come over the house. He assured them they would be taken care of, not to worry, and the government trucks started delivering the potted meat and some staples. I have been told that almost every American home at that time had his picture hanging on the wall of their homes. Unless you lived during those times, you cannot fully appreciate what this man did. He saved America, paralyzed from a wheel chair. I adore this man.
FDR is my personal favorite president and he is undoubtedly one of the very best leaders our country has produced. Having come from a privileged background, he went out of his way to ensure that the needs of average Americans, who were struggling during the Great Depression, were addressed after years of neglect. He reassured them through his Fireside chats that he had their best interests at heart and was not going to serve as a tool for the "captains of industry" despite his elitist upbringing. One quote that defined his political and moral philosophy was how "the test of our progress is not whether we add more to the abundance of those who have much, it is whether we provide enough for those who have little."

Putting his money where his mouth was, he established many staples of American life today, including child labor laws, the 40-hour work week, minimum wage, and of course Social Security. He stabilized the economy with the signing of Glass-Steagel which helped to lessen ...more
FDR took and guided this nation through the great depression and through World War II. He is and was, the only President to be elected 4 terms as President of the United States Of America...Republicans could not defeat him so they pushed for the Amendment that limited a President to only 2 terms in office...which is everything I believe is against a Democratic Republic...the people decide on how long and how many times a President can serve..."term limits" in a Democratic Republic, is the people, the voters! FDR was the greatest President of the 20th Century...President Washington was the greatest of the 18th Century and President Lincoln was the greatest of the 19th Century...
Theodore Roosevelt (26)

Theodore Roosevelt was an American statesman, author, explorer, soldier, naturalist, and reformer who served as the 26th President of the United States from 1901 to 1909. As a leader of the Republican Party during this time, he became a driving force for the Progressive Era in the United States in the ...read more.
An honest politician, if there is such a thing. A man who actually cared about the average American citizen and the environment. He was brave in conflicts on the battlefield and in Washington. I'm not what you would call an educated man (only high school grad. ) But I can read and from what I have read, I feel I am right. We would have no National Parks if it was for him. A great solider, sportsman, conservationist, and most of all President. Thank God for Teddy Roosevelt.
Roosevelt served his presidency with honesty, and did what he thought was the right thing. He was popular enough to primary Taft and win a third term in 1912, but the Republican shills stopped him. Anyway, he was an environmentalist, trustbuster, and someone who did good for America.
#26. (Republican) strong imperialistic leader who's influence on government is still vital to the U.S. today with the creation of the Big Stick Policy. His love for nature and keeping America's national landmarks forever reserved is a constant symbol representing our pride and integrity! He also installed other effective policies such as the Meat Inspection Act and was determined to fight for the workers rights and benefits for the many Americans affected by America's Industrial Period.
Roosevelt was way ahead of his time. He was so naturally in tune with how he wanted to get things done and took action like almost no president before him had ever done.
Ronald Reagan (40)

Ronald Wilson Reagan (1911-2004) was an American politician and actor who was 40th President of the United States from 1981 to 1989 . Prior to his presidency, he was the 33rd Governor of California from 1967 to 1975, following a career as a Hollywood actor and union leader until his death in 2004
#40. (Republican) he was able to fix the economy, create twenty million new jobs, lower inflation rates, exempt low income Americans, create economic stability for small businesses, lower taxes, and bring in an end to the Cold War with his concise and effective foreign policy skills. He also was able to survive a gun shot and return to his duty only three weeks later. A real true American who believed in this country and a real true father to Conservatism! Even the democrats loved him. Good Bless Reagan.
Ronald Reagen is top president. He is a real but kicker, and if you see this in heaven ron I'll say you're the best president that ever lived and is still living.
The only president that was true to his word, most people that don't like him want a pacifist in charge, why do you think we are still bad ass
There is some misinformation here. Reagan did not lower inflation, the banks did and he took credit for it. He did not end the cold war, he started it again for no reason. We already had detente with the soviets, and Reagan broke it. If anyone, Gorbechev ended it. He did not at all help low income Americans, he completely screwed them over by slashing the budget for welfare. The gap between the poor and rich increased astronomically. Most importantly he did not fix the economy, he put us trillions of dollars into debt with his military spending, and lowered the average household income. I also read someone say something about the Iranian hostage crisis. He did not end this, the Iranians let them go on his inauguration day. Besides all this, he ended affirmitive action. This was a thinly veiled effort to reassert white dominance in the workforce. He also started the war on drugs, which targeted black citizens explicitly by giving longer sentences for crack cocaine and marijuana. He ...more
Thomas Jefferson (3)

Thomas Jefferson was an American Founding Father who was principal author of the Declaration of Independence, and served as the 3rd President of the United States from 1801-1809. He was born on April 13, 1743, and died on July 4, 1826, on the same day 2nd United States President John Adams died.
I personally don't understand how anyone can out rank this founding father, other than General Washington, for his role in creating the Americas. But even then - what is America if not free?

Jefferson was one of those rare independent thinkers, who spent his life studying the nature of man; and when you read what he wrote, it was all spot on. All his warnings and insistence on keeping power at a local, state level, where people could be held accountable for their actions were warnings that the entire world, not just America can learn from in today's globalist governments who act with impunity.

He was unfortunately the last of a dying breed of men, whose education of Latin and philosophy was soon traded for the ideals of the industrial revolution.

I often wonder what Jefferson would think of the modern world. Yes, our lives are incredibly easy and comfortable, but are we truly free? Would he sit back as the fed rapes and ruins what he fought for. Or would he ...more
Educators have failed president Jefferson in teaching that he is not worthy of our respect. Some argue that he was a hypocrite for not freeing his slaves. The truth is that Virginia law prohibited him from freeing his slaves because he was in debt. Jefferson's first draft of the constitution freed the slaves but that was quickly voted down in order to keep the southern colonies from immediately exiting the union. If Jefferson or Washington or Adams, among others could have freed the slaves by executive order and kept the country together they would have in a second but they knew the survival of the Union required patience to bring this about.
Thomas Jefferson is one of the most underrated presidents ever. The fact that G.W. bush and Bill Clinton were voted above Jefferson is bad enough, but Lincoln being number two is unbelievable. Lincoln destroyed Jefferson's vision of a free, VOLUNTARY union of sovereign states. If people understood history, Bush, Clinton, LINCOLN, and all other imperialist presidents would be voted down as some of the worst presidents in the history of the country. Read Jefferson's Declaration of Independence and it will become clear that every president which was voted above Jefferson (with the exception of Washington) supported policies which were counter to the founders' vision.
Thomas Jefferson was a Hypocrite... he might have come up with the Declaration of Independence but he refuse to free the slaves because their absence would make his life hard. I have not respect his efforts.
Thomas Jefferson was a hero, visionary, revolutionary thinker, as well as architect and all around genius. Any man who rejects these facts is just plain stupid and to replace them with the slavery scandal will be just as much so. What jefferson provided for this nation far surpasses any of his person shortcomings which all presidents even Washington and especially Lincoln, and to judge his political character by these would be foolish.
John F Kennedy (35)

John Fitzgerald Kennedy (May 29th, 1917-November 22, 1963) commonly referred to by his initials JFK, was an American politician who served as the 35th President of the United States from January 1961 until his assassination. The Cuban Missile Crisis, The Bay of Pigs Invasion, the Nuclear Test Ban Treaty, ...read more.
Seriously? George W. Bush is # 1? All he did was start the Iraq and Afghanistan War, not to mention he barely helped at all when Hurricane Katrina came through. Now JFK, he was amazing. He started the Peace Corps, started the Space Race, made sure African Americans had equal rights in housing( And would've done more for Civil Rights if he served longer), made sure Steel industries couldn't raise their prices over and over, and stopped the Cuban Missile Crysis, and he didn't even serve a full term! So JFK deserves first or second for sure.
I don't disagree with you that JFK was a good president; however, to blame the Iraq/Afghan War on George Bush is absolutely ignorant of the entire remainder of the story.
People who say JFK doesn't belong in the top ten obviously don't know JFK at all. He negotiated the Cuban Missile Crisis, which stopped a potential nuclear war, he was the one who started the Space Race which ultimately landed an AMERICAN on the moon, and he was a war hero, Purple Heart bearer who was willing to die for his country long before he actually did. I would cast my vote for JFK as one of the best presidents ever any day.
He also caused the Cuban Missile Crisis (via the Bay of Pigs invasion)
John F Kennedy was the greatest president in US history. Despite only serving two years due to his assassination, the 1960s were just better under him. Sure, the Cuban Missile Crisis escalated in his administration however he showed courage by not underestimating a superpower as well as being a womanizer who was fond of women even though he was married to Jackie Kennedy. Kennedy was a president of common sense, he opposed abortions, supported civil liberties for the African Americans and completely called for massive tax cuts. It almost sounds like he wasn't a Democrat after all. Kennedy still holds an important place in American history.
He's was the only Irish-Catholic president ever, and he was the youngest elected president ever. No one can represent the world, let alone America, as well as this guy. He would've completely solved any problems with Russia or Cuba, and who knows, even Korea or the Middle East. This guy knew what he was doing, unlike some other guys (ahem... Bush).
Dwight D. Eisenhower (34)

Dwight David "Ike" Eisenhower was an American politician and general who served as the 34th President of the United States from 1953 until 1961. He was a five-star general in the United States Army during World War II and served as Supreme Commander of the Allied Forces in Europe.
#34. (Republican) the strong and heroic WW2 general who lead the successful attack on Normandy. He helped the Americans defeat Hitler and it is because of his efficient military actions that helped us win V.E. day (Victory in Europe Day). If it wasn't for him, Hitler would have probably taken over the world, killed the rest of the Jews, and would have the remaining people still living under nazi occupation. Eisenhower was not only a superb war general but also a great president who was a strong civil rights activist and dedicated his presidency to stopping the spread of segregation across America. Not only did he get us out of WW2, but later during his presidency, he also got us out of the Korean War. The fact that he was able to get us out of two wars is very astonishing and is something that not everyone can achieve in their lifetime! However, he did it and he did it well!
Dwight Eisenhower had a great balance between foreign policy and understood that in order to have a Nation that is strong, people must be educated and equal, but also that in order for the world to be a place where we can all live in harmony, that there must be some action taken. He started NASA and accomplished more than most presidents. Even if he was apart of our fad, as Americans, to elect ex-generals (another ex. being Grant), he was actually a great president. He also headed NATO and attacked civil rights head on, making un-segregated schools an idea that would be followed up upon by JFK, who came after him. I am surprised by all of the people who put JFK and Reagan above him. The former came before him and nearly ruined our country for 16 years, was super screwed up and, if it hadn't been for Truman, would have allowed the spread of the USSR (which, communists or not, that is a bad thing). Reagan began another American fad of electing people who do not belong in politics to be ...more
Avoiding wars and conflict should get more credit than fighting them.
The reason why America rose to be a GREAT nation. He built our national infrastructure. He built our space program. He educated our population. He WARNED of the military industrial complex. He oversaw 8 years of peace during one of the worst periods in history. He was everything that Republicans today despise.
James Madison (4)

James Madison, Jr. was a political theorist, American statesman, and served as the fourth President of the United States.
#4. (Democratic-Republican) the father of the bill of rights who helped create the individual demands and benefits that still hold true to the American people this very day! Another perfect example of a founding father who's policies helped America succeed and improve its conditions for a stronger and more reliable nation. His strong inspiration and courage is a constant reminder of the civil liberties that represent our constitution and law of the land.
He was a very well-informed person, and many admired this about him. Because he knew so much and contributed a lot to the debates, Madison was called "Father of the Constitution." Also, Madison he took notes -published in The Federalist Papers- which are today our best record of what happened during the Constitutional Convention. Madison argued for federalism (power being divided between the states and national government), which eventually won over antifederalism (states having more power than the national government). Madison helped convince Virginia, which as a whole was opposed to a stronger central government, to ratify the Constitution. Madison was secretary of state for Thomas Jefferson (some even commented he controlled the president! ) and then became president himself. While he was president, the U.S. faced the War of 1812.

Personally, James Madison is my favorite president
Creator of the Bill of Rights and the United States Constitution, which is perhaps one of the most important documents in the Western World.
The Father of the Constitution. Along with Washington, Jefferson, Monroe, Adams, Hamilton and more these men gave birth to the United States of America. He led us through the War of 1812 which we (somewhat) won and the economy improved after the war. He is a legend and one worthy of a statue or a state
Harry S Truman (33)

Harry S. Truman was the 33rd President of the United States, an American politician of the Democratic Party.
Harry did what was right not popular, forcing owners and strikers to meet, integrating the military and firing MacArthur's ass. Heck he even brought in a surplus and actually lived a normal life after his presidency.
President Truman made the right decisions, Never the most popular. He fought for the country in WWI. He stood up against the KKK. He was against lying. His values were never questioned. He never trusted Stalin nor the USSR. He shaped the policy with his advisors on the cold war. He brought an end the WWII saving hundreds of thousands of allied lives and millions of Japanese. He stood up to the military. He asked Hoover to help feed millions in Europe after WWII. He actually took responsibility for his actions.
Truman acted based upon what he thought was right, not what would get him reelected. He integrated the military, helped found NATO and the UN, pushed the Marshall Plan through Congress, and so much more. He was not afraid to exercise the power of the executive standing up to Stalin as well as McCarthyism. He came in to office not wanting the job, and this lack of political prowess allowed a man of integrity to do what was right for the country. He made some of the toughest decisions in the nation's history and his incorruptible spirit led to them being the right ones. Hands down the most underrated president in American history.
He wasn't necessarily popular at his time. but I think he did great as president, besides the Korean war. I think he was a pretty faithful successor to FDR.

also, his mimic of H.V Kaltenborn (news reporter who incorrectly projected Truman would lose to Thomas Dewey in 1948 election) is pretty funny too.
The Contenders
John Adams (2)

John Adams was born on October 30, 1735 in Quincy, Massachusetts, United States. Adams served as the president of the United States from March 4, 1797 to March 4, 1801. He died on July 4, 1826 at the age of 90.
I honestly forgot his claim to fame aside from being one of the Founding Fathers.
#2. (Federalist) another founding father who's examples lead to the creation of the constitution and declaration of independence. It is because of his actions that lead to our freedoms and fought for our rights as American citizens. He is also the well known successor of our nation's first president George Washington and continued to carry out his dreams and responsibilities that made America stand strong to this very day!
I think he is better then george washington and better then a l way better
With few exceptions, John Adams is unmatched in Character, morals and honor. Of those in the 'top 10' only Abraham Lincoln and Thomas Jefferson come close to matching Adams. He is one of the original founding fathers, as a lawyer he defended the British soldiers in the Boston massacre (and got them equitted in a Boston courtroom full of people who wanted to hang them). He consistantly voted for what he believed was right (including voting for Indian rights) even when it was not popular. What president in the last 50 years would do that?
Andrew Jackson (7)

Andrew Jackson was an American statesman who served as the seventh President of the United States from 1829 to 1837 . He was born near the end of the colonial era, somewhere near the then-unmarked border between North and South Carolina, into a recently immigrated Scots-Irish farming family of relatively ...read more.
Jackson's policies toward Native Americans will haunt the population for ever in that he went against the Supreme Court and stationed US troops in Georgia in an attempt to settle and drive all of them out on the Trail of Tears.
If only more people knew this travesty. You forgot the part about Scalp Bounties though -- it gets even uglier.
Andrews Jackson was no racist. He fought all enemies of the American people and the union regardless of skin color. Be their Brits, French, Spanish, Indian , Blacks or of mixed race.
Violated valid laws to exile indians from their lands. Did everything he could to protect and grow slavery.
Jackson put the safety and integrity of the Unted States above everything. He viewed wild murdering Indians as enemies of the people but if the Indians were willing to become American subjects and behave reasonably civilized, and if they used the property assigned to them, he would accept them.

If the Indians kept conspiring with the Brits, the French and Spain against the Union he would happily kill them. Jackson thrived on war as U.S. still do all over the world.
William Clinton (42)

William Jefferson Clinton (Born August 19th 1946) is an American politician who was the 42nd President of the United States. He previously served as governor of Arkansas. He became president after unseating incumbent president George H.W. Bush in 1992. He was re-elected in 1996 after defeating Senator ...read more.
I've lost all faith in this list and in the people who have voted Bush as the 2nd best president, though I'm not surprised if you get your info from Fox News or even MSNBC.

The economy was BOOMING fantastically during this man's terms, and he knew how to work with both the Democratic and Republican party. Gas was cheaper than it ever was under George W Bush (and Barack Obama's first term. Another thing is that Bush DID NOT inherit a recession from Clinton; he inherited a SURPLUS and drove it into the ground, and yet the man is second place on this list?!
Reagan left us with the first tripled deficit. His trickle down economics was horrendous and totally debunked. He was responsible for dissolving the middle class. He thought poor kids should eat ketchup for a vegetable and that trees caused pollution. He totally ignored the scourge that was Aids which was a death sentence during his presidency. His horrific polices and non caring is topped only by trump.
It was the best era in my life time. The economy was good. I had my first job and making good money. There was so much prosperity and so much surplus then little Bush took us to war in Middle East and took it all away.
Our country prospered during the Clinton years. I liked that he could connect with an array of folks in and out of government. He seemed to be respected in other countries, and I felt that he had the people in America in his best interest. So what if he messed up in his personal life. It had nothing to do with his performance as president. And I think that Hillary played a huge part in the success of our country supporting our President.
Roads scholar and one of the very few Presidents that managed to keep this county in the black and not the red.
Calvin Coolidge (30)

John Calvin Coolidge Jr. was an American politician and the 30th President of the United States. A Republican lawyer from New England, born in Vermont, Coolidge worked his way up the ladder of Massachusetts state politics, eventually becoming governor.
The greatest president of the 20th century. His demeanor brought the country together: blacks, whites, upper class, and lower class. Under his presidency, the United States saw the greatest economic expansion in its history, which was evenly spread throughout all classes. Not only that, but he restored the integrity of the national government, avoided war with Mexico, normalized relations with Cuba, passed the Young and Dawes acts, which postponed World War II, limited the growth of government, and reduced taxes so the middle and lower classes were paying close to zero percent rates. Despite all these successes, the most profound aspect of Calvin Coolidge, was his adept understanding of the executive branch. Presidents do not create laws, but rather enforce them.
My favorite president. Helped pass Immigration Acts and helped change America into the Melting Pot it is today. He did what was necessary in a time of little need to maintain that title and led the body of America with a new found gait and posture unlike any president post-Coolidge or pre-Coolidge. Deserves to be appreciated much more.
Say what you will, but Calvin Coolidge was the best president, at least of the 20th Century. He was able to bring America out of a dark depression in 1921, and he created jobs for nearly the entire Country. Coolidge is the most underrated president, and, in my opinion, the Best.
Calvin Coolidge is only ranked low because he is falsely associated with leading to the Great Depression. He had economic policies that spurred economic growth and stopped the recession he faced early on. He sought racial equality more than the presidents who preceded and proceeded him. He reduced the scope of government when it desperately needed it.
James Polk (11)

James Knox Polk was the 11th president of the United States, serving from 1845 to 1849. He previously was Speaker of the House of Representatives and governor of Tennessee.
One of the few that accomplished what he promised in the election.
did all of his goals didn't abuse the power of presidency did what he said what he did
James Knox Polk was THE best example of a leader with efficiency, promise, consistency, and was really a major unsung hero. Polk came into the presidency with some laid-out goals, promised to get them all done, ended up completing everything he wanted to do (which was incredibly significant and crucial), and then left and never came back. What a bad-ass. This guy never gets enough credit and is a true success among US presidents. Polk's my favorite of all time, and he should definitely be a Top 10 staple. Polk should never be looked past.
Top 10 President #6 He said that he had an agenda and if he achieved it then he would not run again. He set goals and achieved them. Such agenda like annexing Texas, acquiring land in the west and settling the Canada--USA present border. Polk accomplished these goals in Texas becoming a state, the Mexican War with land acquired to the Pacific Ocean and fifty-four forty or fight to settle the question with Great Britain. He was successful so he served for 4 years as a result.
Lyndon B. Johnson (36)

Lyndon Baines Johnson, often referred to as LBJ, was an American politician who served as the 36th President of the United States from 1963 to 1969.
Lyndon helped MLK! He was good for filling in for JFK when he was shot!
He expanded medicare and medicaid. HE fought for Civil Rights and waged the war on poverty. The only reason he gets a bad rep is because of the prolonged War in Vietnam. Which he didn't even inherit in the first place and its not as if you can immediately pull out of a military involvement without any forethought. He was great. Accept it.
His record of domestic achievement including civil rights, medicare, medicaid, the war on poverty, education and the environments is unequalled. Despite Vietnam, a war he inherited, he left the US economy stronger than when he took over. His record grows year by year as his accomplishments and effectiveness are compared with his successors. A great president.
Medicare, medicaid, Civil rights, the war on poverty. THIS guy did more for the PEOPLE of America than anyone other the FDR. He may have been an oddball in private, but his achievements prove he put the people first. A great president.
James Monroe (5)

James Monroe was an American statesman and Founding Father who served as the fifth President of the United States from 1817 to 1825.
Monroe isn't perfect, especially on slavery, but #17 is too low for one of two presidents to run for reelection unopposed. That's what you call a leader.
He was one of the great Presidents. What made him more special than all others is that he was a leader as well as a great President. Washington was a leader, but a poor President, so was Jefferson and Madison, He held two cabinet post at one time under Madison, Secretary of State and Secretary of War (Defense) during the war of 1812. He was the most well loved and admired Presidents in history by the people. Admitted 5 states to the Union, Purchased the Florida Territory, which included Spain ceded Texas and Southwest US. Part of territory claimed in the Oregon Territory., stabilized the Panic of 1819, which lasted two years. Last of the Founding Fathers. Monroe Doctrine, last president not photographed, died poor, Governor of Virginia. Rush-Bagot Treaty with England, Treaty of 1818 with Britain, Russo-American Treaty of 1824. His accomplishments goes on and on.
The Monroe Doctrine was an important contribution. The geographic isolation of the United States was necessary for this country's experiment in democracy (yeah, I know we're a republic but this had never been tried on such a grand scale before) to come to fruition. The Monroe Doctrine supplemented the geographic isolation.
Monroe guided the nation safely through two great crises -- the War of 1812, during which he served as Secretary of State and of War--and the Missouri statehood controversy. He also helped to insure a peaceful transition of power after the contested 1824 election.
George H.W. Bush (41)

George Herbert Walker Bush (June 12, 1924 - November 30, 2018) was an American politician who served as the 41st President of the United States from 1989 to 1993. Prior to assuming the presidency, Bush served as the 43rd Vice President of the United States under Ronald Reagan from 1981 to 1989.
Iraq war had a clear mission, beginning, and most important, an end.
#41. (Republican) great leader economically and improved the quality of the economy after he took over from Reagan. The fiscal success from the 80's was able to continue strongly into his presidency and his foreign policy skills were also very sharp and effective. He succeeded at attacking Iraq from Kuwait and resolving conflicts in the Middle East with Iraqi dictator Saddam Heussin.
Why is George W. Bush higher on the list than George H. W. Bush? George H. W. Bush was much better.
Anybody who thinks Nixon was better than Bush needs some serious help.
Woodrow Wilson (28)

Thomas Woodrow Wilson was an American politician and academic who served as the 28th President of the United States from 1913 to 1921. Born in Staunton, Virginia, he spent his early years in Augusta, Georgia and Columbia, South Carolina.
Failed at everything. Lied about hiscstroke. Racist who resegregated the army. Encouraged jim crow.
Ouch! "he created the Federal Reserve Act", you mean he passed the Federal Reserve Act in exchange for money from the private banks that make it up...he then realized he had created a monster allowing private banks to lend money to the government at high interest rates, & that the Board of Directors had more power than anyone in the government, including him!. The man who founded the original Federal Reserve, the "the First Bank", said "Give me the power to print money, I care not who is governing"...because they have no power! Wilson regretted his decision & died saying he betrayed his country by signing that Bill, that's the best thing about him! Benjamin Franklin said giving away the power to print money, (& a private entity with NO audits at that! ) would destroy this country! I can't believe people are actually so misinformed as to list this as a positive, the man himself died in shame for betraying his country! It's the basis of every economic crisis since then. "The hand giving ...more
At one point in America's history we made 100,000 dollars notes and guess whos face we put on it. Woodrew Wilson.
One of the most openly racist presidents
William McKinley (25)

William McKinley was the 25th President of the United States, serving from March 4, 1897 until his assassination in September 1901, six months into his second term.
The worst. He was a super religious imperialist, annexating anything he could get his hands on. He didn't only win the spanish-american war, he started it. What for? Only to prove his power. He invaded The Philippines and instigated inhuman massacres. Frankly, I understand why he was assassinated by an anarchist. He brought the USA to where it stands now. An imperialist power. So whether you like McKinley comes down to whether you like imperialism.
Good president but we are in the stage where America can do no right so I have to follow the trend *cough * cough here I go he was imperialist who took Cuba, Puerto Rico, and the Philippines from poor Spain and annexed poor Hawaii from... poor Hawaii bad person bad bad person
Most underrated president of all time. Annexated Hawaii, won the Spanish-American war, and paved the way for Ted Roosevelt and the American empire as it is today, and finally taken by an assassin's bullet.

He is usually ranked in the 20s, but deserves much more credit.
Got us out of the Spanish American war with under a thousand deaths and annexed Hawaii
John Q Adams (6)

John Quincy Adams was an American statesman who served as the sixth President of the United States from 1825 to 1829 at the peak of a political career during which he served in various capacities.
He was constantly prevented from governing during his administration, but his platform would have been good for America. That includes strong economic policies and rights for Native Americans and such. Also, after his presidency he continued fighting for America in the House of Representatives.
Only president that I agree with all of his decisions: supported high tariffs, strong national bank, nationalizing canals and railroads, giving rights to Native Americans, and supporting the arts and academia.
You realize he was the only president to not win the electoral college or the popular vote right. He was only appointed because people respected his father.
Smartest President
Grover Cleveland (24)

Stephen Grover Cleveland was an American politician and lawyer who was the 22nd and 24th President of the United States, the only president in American history to serve two non-consecutive terms in office.
His name was Grover, and he served two separate terms, the only one to do it, pretty epic if you ask me
He was also 22nd president
He told Franklin Roosevelt when he was 5 that he would end up as nothing but a "scag"
Only president to have made two not consecutive mandates. He was the 24th president from 1893 to 1897 and also the 22nd from 1885 to 1889.
William Harrison (9)

William Henry Harrison was an American statesman who served as the 9th President of the United States from March 4, 1841 until his death on April 4, 1841. The cause of death of William Henry Harrison was pneumonia, after a cold and wet inauguration.
The guy that said he was a legend for signing papers is right. He IS a legend.
Only president that wasn't around long enough to screw up.
He is the only president to never make a mistake in office.
He was chilly
Zachary Taylor (12)

Zachary Taylor was the 12th President of the United States, serving from March 1849 until his death in July 1850. Before his presidency, Taylor was a career officer in the United States Army, rising to the rank of major general.
Idontneedausername did you seriously need to call him silly?
Just because you know something that others don't, doesn't make you any smarter than them! And name calling them only makes you more of an arrogant, selfish jerk!
I heard his grandson is still alive.
Not even a comment.
Might have prevented the civil war if he had lived.
Ulysses S. Grant (18)

Ulysses S. Grant was an American soldier and statesman who served as Commanding General of the Army and the 18th President of the United States, the highest positions in the military and the government of the United States.
Stopped the KKK. Passed civil rights legislation and 15 th amendment.
He wasn't the best president ever and could have done more and things better, but was a good president, nowhere near horrible or bad.
His high moral character which is evident in his attempts of peace with the native Americans, along with sending federal troops to round up the KKK in the south has to be appreciated considering he followed arguably the most racist president ever (A. Johnson)
Southern sympathizing propagandists had spent almost a century undermined his reputation. But you can't keep a good man down. If Lincoln hadn't put his trust in Grant, there would be no USA as we know it today. One of the country's greatest and most important figures.
PSearch List