Best Rock n Roll Pianists
The Top Ten
1
Elton John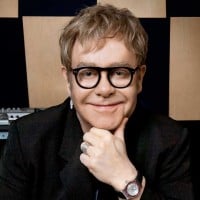 Sir Elton Hercules John CBE is an English singer, pianist, and composer. He has worked with lyricist Bernie Taupin as his songwriting partner since 1967; they have collaborated on more than 30 albums to date.
When Elton is playing he is not from this world. There must be more depth in this human being than any of us can imagine. Simply listen to an older album like 'Madman across the water' or see one of his shows with Ray Cooper. There is profound intelligence in his playing, every single note will be effectively accentuated, he's got so much feeling and even in the midst of the most dramatic pattern there is stillness and space. Never before (and probably never again) will there be a better contribution to modern music. Glenn Gould (classic) and Oscar Peterson (jazz) were also examples for that from where music comes from must not necessarily be this world. But Elton combines it all. In other words, just reduce Elton to his playing, and you would not even need to have him visibly around. His playing is all you need. He won't be in any competition with anybody because he simply can't be compared. All the others mentioned here would quote Elton as being there favorite and they are grateful ...more
Without a doubt, Elton is the worlds best rock and roll pianist. Even Billy Joel said, and I quote, "Elton kicks my ass on piano. He's fantastic a throwback to Jerry Lee Lewis and Fats Domino and Little Richard. His spontaneous, improvisational playing always challenges me. And that is his contribution to rock & roll and pop: his musicianship. Before him, rock was a bunch of James Taylor's guitar-based singer-songwriter stuff. Elton brought back fantastic piano-based rock. Elton knows what his instrument is capable of. The piano is a percussion instrument, like a drum. You don't strum a piano. You don't bow a piano. You bang and strike a piano. You beat the **** out of a piano. Elton knows exactly how to do that he always had that rhythmic, very African, syncopated style that comes from being well versed in gospel and good old R&B." Nuf said!
I just feel that song writing is a giant part of being a musician. And Billy seems like the obvious better song writer? Billy Joel wrote his song's lyrics too, which puts him on top for me. And his lyrics are just so poetic and smart. Piano Man, Scenes from an Italian Restaurant. Only the Good Did Young, Still Rock and Roll to me, and My Life just say so much more lyrically, to me at least, than Your Song, Rocket Man or Tiny Dancer. And It just seems so much more authentic and real to know the singer wrote the lyrics he's singing.
To tell Elton is the best, you can't just go by his hits. You have to dig into some of his more obscure catalog and listen to his live recordings. The piano playing on songs off his album "A Single Man" and his live performances of "I Heard it Through the Grapevine" are outstanding. His piano playing on "Blue Moves" and with the Melbourne Symphony Orchestra is devestatingly beautiful. And at the live concert in 1988 in Tokyo with Eric Clapton, when he backed Clapton on "Cocaine" and "Layla", he showed off keyboard chops that equal or best all other players. The genius of Elton John is that everything he plays fits the music a perfectly. He definitely shows his complete virtuosity and mastery of the technical side of playing piano, but he doesn't overdo it to an extent that makes the music seem to take a backseat to his showing off. He strikes the perfect balance, and always plays what really fits whatever song he is performing. That's the really where the genius of Elton John that ...more
Sir Elton John was a child prodigy and at the age of 11, he was offered a place at the Royal Academy of Music where he studied for 4 years. His teacher was very disappointed when he decided to leave, indicating he had a future with the Royal Philharmonic Orchestra. He could play advanced classical music, having never heard it before and without sheet music. However, Elton was keen to break into the world of modern music which he did. He can play any genre... rock, pop, jazz, country, gospel, blues, soul, classical et al. In short, he's a musical genius, composing songs in 30 minutes. Bernie Taupin wrote the lyrics but Elton did the rest, the arrangements, everything and he sang the songs! And his songs are revered, no matter what decade they were written.
2
Billy Joel

William Martin Joel is an American singer-songwriter, composer and pianist. Commonly nicknamed the "Piano Man", he has been making music since the 1960s, releasing popular albums throughout the '70s, '80s and '90s.
This guy is the greatest singer of all time! Far better than Elton John. Just look through all his songs and listen to them!
How could anyone be higher on the list than the Piano Man himself? Billy Joel masters any style, any genre, and can kick anyone's musical behind. (That's bee-hind, prounounced the redneck way)

The Prelude to "Angry Young Man" has rattled many a pianoplayers brains, not to say cheap keyboards. The bluesy/jazzy intro to "New York State Of Mind" has made many a mediocre pianist sound like God himself when they've found and mastered it through one of those sheet-cheat books. But the wild, crazy, ingenious piano playings on "Summer Highland Falls" is really what makes Billy wander off with the cake, leaving Sir Elton and the others standing gawking with amazement and shame.

And he knows what he's doing too! He's not just some dope who by trial and error finally figured out how to play both hands at the same time; he's written a classical album, and his portrait is hanging in Steinway Hall for Pete's sake, next to Liszt and Rachmaninoff! They don't do that to any schmo who ...more
As much as I adore Elton John, Billy is the better pianist. Far more diverse in his styles. Billy can play rock, pop, jazz, blues, soul, and classical with equal ease. His live solos are inspired, and always different. He is also probably the fastest rock/pop pianist on the planet! Amazing talent.
Billy is better than Elton to me due to superior song writing ability. Billy might be able to sing just a little better. Elton might be a bit better of a piano player. And they can both write great musical compositions. But Elton always needed help with writing lyrics, while Billy could write a song all by himself. Billy has also created such an immense range of music, while always filling his albums with good or great songs. It's easier to find a top 20 chart single than a bad song on a Joel Album.
The list is "best pianists" not singers, writers, performers, musicians, or total combos of talents.
3
Jerry Lee Lewis

Jerry Lee Lewis is an American singer-songwriter, musician, and pianist, often known by his nickname, The Killer. He has been described as "rock & roll's first great wild man." A pioneer of rock and roll and rockabilly music, Lewis made his first recordings in 1956 at Sun Records in Memphis.
The Killer could hammer hell out of any piano with any part of his anatomy and still sound amazing should be No 1.

PS Some of this list, do you know what rock and roll is? David Bryan, Ben Folds? maybe good pianists, but hardly rock and roll... Fats Domino, Little Richards, see!
david bryan. rlly? wtf. and freddie mercury? omg listen jerry lee lewis's music and then tell me how he's not at least in the top three.
Oh man, Jerry sure can tickle the ivories! He just puts so much emotion and enthusiasm into his piano-playing that it's almost impossible not to dance or sing along. His songs made sure everybody was having fun somehow!
Whether he's pounding the keys or playing gently, or standing on the piano and stomping the keys with his feet, he always sounds great. His playing is full of energy and attitude. There is nobody I'd rather listen to than this rock and roll pioneer.
4
Freddie Mercury

Freddie Mercury (born Farrokh Bulsara, 5th September 1946 - 24th November 1991) was a Zanzibari-born British singer of Indian descent, songwriter and record producer, known as the lead vocalist and songwriter of the British rock band Queen. He also became known for his flamboyant stage persona and four-octave ...read more.
Freddie Mercury, by the way, is one of mytop ten favourites of all time, and I think that he should be in second.
He was a songwriter who used the piano to create masterpieces of music that will never be forgotten--who else could do what Freddie did?
Freddie's style was unique: just listen to "Love of My Life" or "You Take My Breath Away". It is not the technical skill which is impressive, but rather the melody. They are superior to his lyrics, as he said - and he was right.
I understand why some of the others are ranked ahead of Freddie but in 20 years Freddie's work will still be standing as works of art, perhaps the same will be said of Elton John but I doubt anyone will remember Billy Joel and Jerry Lee Lewis will be no more than a novelty.
5
Leon Russell
No other Pianist combines rock, rhythm and blues and even Gospel in their playing like Leon. He is an icon and if you were to ask every other pianist on this list, who is the best, they'd more than likely say Leon. It's exactly what Elton John said when he indicted Leon in to the R&R Hall of fame. Another easy way to see where he stands and his legacy, is to see how many Major artist's records he performed on. HUNDREDS! He was the pianist in greatest demand for many many years. Rock on Leon. You are number 1!
The title of the Top Ten forum should be "Piano Players That Were The Most Popular and Made The Most Money" - Leon was technically the best piano player. Ask Elton, Billy and the rest. They know
His signature sound is apparent in all of us his backup of hundreds of artists and groups from the Beach Boys to Frank Sinatra. He's still a great showman.
One of the few piano players that can identify as soon as you hear the first few chords.. Truly a unique and talented musician. I smile like a river every time I hear his music.
6
Ray Charles

Ray Charles Robinson, professionally known as Ray Charles, was an American singer, songwriter, musician, and composer.
Even blind he beats many good pianist.
Ray and Rick are best real rock'n roll pianist forever.
Rock n roll pianists aren't being named here. Ray, Jerry lee lewis, little richard, fats Domino.
Ray is complete when he's with his piano. Nobody's piano playing has the soul and emotion that comes out of Ray's keys when he plays.
Ray should be way higher
7
Billy Preston

William Everett Preston was an American musician whose work included R&B, rock, soul, funk, and gospel.
You guys are getting Billy Preston confused with Billy Powell. Billy Powell is the pianist in Lynyrd Skynyrd, who had really good piano solos in songs like "Sweet Home Alabama" and "Tuesday's Gone" and songs like that. I'm sure Billy Preston is a good pianist too, but I don't know him that well but I do know he's not in Lynyrd Skynyrd!
Definitely not the Lynyrd Skynyrd keyboard player lol, just a guy that wrote and played music for the greatest (not forgetting his own music) He is the only non Beatles member to be credited on one of the band recording : Single :Get Back (The Beatles with Billy Preston).
Played with john Lennon, Elvis...top notch
Great pianist!
8
David Bryan

David Bryan Rashbaum, best known as just David Bryan, is the keyboard player of the popular American Rock band Bon Jovi, with which he has also co-written songs and performed backing vocals.
The most handsome and talented keyboard player in the history of Rock :) A men who plays Mozart to warm up his fingers before a rock concert
Amazingly diverse pianist. Can turn his hand to any genre imaginable. And to have been accepted into Juilliard as a young man is an achievement all of its own.
Love Him! He is my inspiration as a keyboard player... he is the melody in Bon Jovi, wi
9
Ray Manzarek

Raymond Daniel Manczarek, Jr., better known as Ray Manzarek, was an American musician, singer, producer, film director, and author.
By far the most versatile keys player ever. Listen to the Morrison Hotel album for instance... Every single song he's playing with a different sound and style. His playing can do anything to bring you down and dirty with blues to far away lands with songs like Indian Summer. RIP Ray, you're touched my soul... And you're still there.
Ray suffers on this list from the fact he didn't play pop music. His keyboard skills greatly exceed those above him on this list. Look into his solo on Crystal Ship.
The Doors didn't need a bassist thanks to the brilliant skill of this keyboardist. Definitely deserves to be higher up this list.
Ray will always be the best for me. By far the most creative.
10
Ben Folds
Up there with the greats like Billy Joel and Elton John. Folds makes the piano sound like a whole band. He uses every note of the keyboard to his advantage. An extremely underrated performer, songwriter, and piano player. He is easily in the top 10 greatest rock and roll pianists of all time, and that is saying a lot considering the competition.
Ben's songwriting is personal and quirky, but somehow it's so specific it becomes universal. He is an outstanding technical musician, but plays and sings with heart and balls. He can write, sing, play, and compose like a champion. His contribution to music is underrated and deserves recognition. And, he's exceptionally pleasant and kind.
Ben Folds is a brilliant songwriter and a passionate pianist. If anyone deserves to be on this list, he does. From goofy, upbeat arrangements like "Song for the Dumped" and "One Angry Dwarf and 200 Solemn Faces" to heart-wrenchingly honest songs like "Still Fighting It", I'd say the man has far more piano talent (and talent in general) than a man should be allowed to have. Musical genius. Piano genius. Lyrical genius. Humor genius. Genius. Period.
Incredible energy and skill, and possess an astounding ability to improvise at any time.
The Contenders
11
Yoshiki Hayashi

Yoshiki Hayashi is a Japanese musician, songwriter, composer and record producer. Better known by his stage name Yoshiki, he is best known as the leader and a co-founder of the heavy metal band X Japan, for which he is the drummer, pianist and main songwriter. The band achieved breakthrough success ...read more.
He puts his soul on every music of him. He doesn't just make musics, he creates masterpieces of melodies and emotions.

Far beyond just being a composer or a artist, he can make you cry, make you scream, make you angry, he can make you feel every single emotion he wants to show and use it as a kind of therapy, to heal and to create happiness even when the music is sad, because he can make you live the music and see the light at the end of the tunnel.
Yoshiki is amazing musician who inspire us. His music is like a miracle. It heals. And personally Hayashi-san is like miracle. He's legend who influenced strongly on Japanese music scene. Great respect to this wonderful person.
Yoshiki, had he gone classical, would be a virtuoso pianist. He is an amazing pianist and has incredible skill at improvisation as well as at playing pretty much anything in existing works. This man can play Chopin almost better than Chopin himself... and then play something like Art of Life.
Yoshiki is my hero. This old guy is still like 20 years old and he is so awesome! I wish to be born earlier and know him when he was younger.
12
Rick Wakeman

Richard Christopher "Rick" Wakeman is an English keyboardist, songwriter, television and radio presenter, and author.
I have been a fan of Yes for about three years now, I believe. It took me until just this year, however, to start paying attention to each musician individually. Before, Yes was just some good listening; now, they're an opening to the height of musical genius. My mom and I call them the classical composers of modern times for a reason, and Rick is nothing short of the greatest (if not THE greatest) keyboardists I have ever heard. Wonderful, fluid technique, flawless style and speed, Rick is definitely someone I would pay a small fortune to see.
In terms of his virtuosity, precision and speed, he is second to none. In addition, he is a great composer, arranger and is in great demand as a session musician. " One Take Wakeman " is in a class by himself.
Seen him in concert numerous times, with Yes, solo, and Anderson-Wakeman. Blows away people like Elton John. Elton John is a megasuperstar who plays piano very well, mostly as accompaniment to his singing. However, he is light years behind Wakeman.
He is the genius who played piano on David Bowie's song Life On Mars which is just fantastic.
13
Matt Bellamy

Matthew James "Matt" Bellamy is an English musician, singer, songwriter, multi-instrumentalist, and compose most famous for being the main vocalist in alternative rock band Muse.
Butterflies and Hurricanes, Space Dementia, Sunburn... Even better, listen to Exogenesis! Simply genius compositions and unbelievable skill
If you haven't seen Bellamy's work, he is brilliant! Songs like Ruled by Secrecy, Butterflies and Hurricanes, Isolated System, Sunburn, The Globalist, Space Dementia, and Exogenesis are amazing!
Butterflies and hurricanes Piano SOLO, I am a pianist an I have searched videos of other pianist trying to play this piano solo and no one play it as Bellamy
Although not as famous for his piano skills as the rest, he has the most raw talent. There are many videos of him improvising onstage, check them out.
14
Paul McCartney

Sir James Paul McCartney is an English singer-songwriter, multi-instrumentalist, and composer . With John Lennon, George Harrison, and Ringo Starr, he gained worldwide fame with the rock band the Beatles, one of the most popular and influential groups in the history of pop and rock music .
The Queen / Beatles die hards have got to step down a little. Just because the Beatles and Queen were great bands doesn't mean Paul McCartney and Freddie Mercury were great pianists...
Give me a break. Paul's a great musician but his piano playing is average at best.
Didn't really appreciate his piano playing until later in life. Stellar spirited player.
Paul is a superior pianist and deserves nor respect for his piano playing I have think billy Joel Elton John and Freddie Mercury are the only players are better than him
15
Fats Domino

Antoine "Fats" Domino, Jr. was a French Creole pianist and singer-songwriter. He released five gold records before 1955 and had 35 hit records in the U.S. Top 40. He died on October 25, 2017.
Much higher on my list. Top 20, in my opinion.
Just listen to him play, awesome
How is he not higher?!
Should be number 1
16
Stevie Wonder

Stevland Hardaway Morris, known by his stage name Stevie Wonder, is an American musician, singer, songwriter, record producer, and multi-instrumentalist.
Why isn't he higher
Songs on the key of life, enough said...
The man is blind and he plays piano is that not enough
One of the best pianists. He made his instrument sing!
17
Bob Seger

Robert Clark "Bob" Seger is an American singer-songwriter, guitarist and pianist. As a locally successful Detroit-area artist, he performed and recorded as Bob Seger and the Last Heard and Bob Seger System throughout the 1960s.
Worth a mention at least?
18
Little Richard

Richard Wayne Penniman, known by his stage name, Little Richard, was an American musician, singer and songwriter. He is widely regarded to be one of the most influential rock musicians of all time.
He should definitely be around the first top 5. A shame this pioneer, the architect of rock and roll... is not any higher. I'm 17 and I say this. His piano playing came first before Jerry Lee Lewis, and Little Richard had such a strong vocal range. If you heard his stuff in the 70s and 80s, you's hear his huge gospel influences as well as other genres that make him incredibly unique. He was an inspiration to so many, including Jerry Lee Lewis, Elvis Presley, and Elton John. You can't diss a legend like this. At least make him in the the 10 guys, the man knows how to rock and roll and move those fingers! If you've seen him live you'd get it.
He was the best. The guy could play the instrument upside down behind his back and in almost any position. The only one that could bang the keys like him might be Jerry Lee Lewis but he didn't have the "beat" Little Richard had. Little Richard was also before him time wise. I think racial lines got him blackballed too far down the list. He is pure talent and he sings as well as he plays the piano. Amazing talent. I would have wanted to see him play way more than the others. Elton John and Billy Joel couldn't play upside down or between their legs or behind their backs without missing a step. Man what a showman!
Watch him in Concert Then make your own mind up
Should be hire. He is the piano rocker all the others try to be like.
19
Trent Reznor

Michael Trent Reznor, known professionally as Trent Reznor, is an American singer-songwriter, record producer, and film score composer. He is known for his intense music videos.
20
Keith Emerson

Keith Noel Emerson was an English keyboardist and composer. Emerson played in a number of bands before he found his first commercial success with the Nice.
Taking all things into consideration, Keith Emerson has established himself as one of the premier piano players in any genre throughout the 20th century. If we were honest, we'd have to say that not only can he play circles around everyone on this list, but his composition output far outweighs those of mediocre pop stars such as Elton John and Billy Joel. He's really in a league far above popular music in general, and therefore needs to be on a more intelligent list with the likes of Glenn Gould and Arthur Rubinstein.
Are you kidding me? How is Keith Emerson not number one and Elton John is? Anyone can play crocodile rock but try playing Emerson's Trilogy or Endless Enigma part 1, fugue, and part 2. Keith Emerson is crazy good. If it were me this is how I would rate it...
1. Keith Emerson, 2. Rick Wakeman 3. Billy Joel
Because keith plays keyboard more than piano while Elton john is strictly piano
I love Elton, I really do, but technically Emerson is a better KEYBOARD musician than 1-12. It's not just about pianos.
Emerson is an phenomenal artist who redefined the rock scene for years to come as one of the definers of prog rock piano.
21
John Lennon

John Winston Ono Lennon, MBE was an English singer and songwriter who rose to worldwide fame as a co-founder of the Beatles, the most commercially successful band in the history of popular music. He was assassinated by Mark David Chapman on December 8, 1980 at age 40.
I love John Lennon but his is not the best piano player and I don't think he should be this far up on the list
Crippled Inside. Imagine. Watching The Wheels. A Day In The Life. Jealous Guy. Sexy Sadie. Face it, guys, he's awesome. What can you say? He's not just awesome, he's John Lennon.
I love John but he didn't play piano on Crippled Inside Jealous Guy & I don't think on Day In The Life
I agree, John had more of an outrageous personality that folk listen for (meaningful/stories from an unbalanced mind).
John Lennon is by far the best
22
Mike Shinoda

Michael Kenji "Mike" Shinoda (born 11 February 1977) is an American musician, rapper, singer, songwriter, record producer, graphic designer, manager and film composer. He co-founded Linkin Park in 1996 and is the band's rhythm guitarist, primary songwriter, keyboardist, producer, and co-lead vocalist. ...read more.
MIKE SHINODA... What can I say about U... I mean mike is I think the only pianist who can rap n play piano... He is in top 10 list of rappers n pianists so basically mike is amazing... N I can't even believe it that he is on 34th position because he deserves to be on top of the screen because he juz so awesome... JUST SO PHENOMENON... LOVE you MIKE... N LINKIN PARK!
He's quite underrated because of stunning vocals of chester, great sounds produced by the band...
Love Mike! Linkin Park is one of the few bands that keep rock alive nowdays!
23
Garth Hudson

Eric Garth Hudson is a Canadian multi-instrumentalist. As the organist, keyboardist and saxophonist for Canadian-American rock group the Band, he was a principal architect of the group's unique sound.
He just made the Bands songs sound even better. He was great and an integral part of their overall sound.
This guy is a genius, he should have way more votes.
Garth was hands down the best.
Glad to see someone else appreciates one of the best, classiest, multi-talented musicians since the dawn of rock 'n' roll.
24
John Paul Jones

John Baldwin, better known by his stage name John Paul Jones, is an English multi-instrumentalist, songwriter, composer, arranger and record producer. He is best known as the bassist for the English rock band Led Zeppelin. ...read more.
Trampled Underfoot! Kashmir! Rock and Roll! come on people led zeppelin
Should be WAY higher!
Misty mountain hop!
"All of my love "
25
Richard Wright

Richard William "Rick" Wright was an English musician, composer, singer and songwriter. He was the main keyboardist and a backup vocalist for the psychedelic and progressive English rock band, Pink Floyd .
Even though he was always the quiet member of Pink Floyd you can truly understand how much he contributed to the band in song such as "Echoes" "Us and Them" and "Great Gig in the Sky" he also added his vocals in much of their music. His songwriting was also flawless even though he wasn't the best lyricist. He truly did much more for the band than what he is given credit for
His playing in Echoes was exceptional. Though hid playing was never on the forefront of Pink Floyd's music it is clear from what we hear from his playing that he was a brilliant artist.
Some rock pianists bang out notes and play simple chords, Richard was classically trained and brings the whole package. His melodies and chords are wonderful. He needs to be in the top ten.
just listen to dark side of the moon and ull agree he must be at number 1
PSearch List