Top Ten Coolest People in the World
The Top Ten
Jesus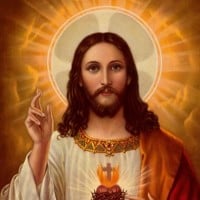 Jesus Christ was born in Bethlehem, Palestine. He was born to Mary, as the bible says "she was found with child of the Holy Ghost" (Matthew 1:18). He was both man and God (John 20:28). According to the bible He is God alone (Deuteronomy 6:4). ...read more.
People keep saying that Jesus is THE ONE, but no one backs it up. I will in order to glorify our Creator who in the flesh is Yashua. First, logical proof for the Divine existing is that when it all boils down, there are only 2 possible explanations for the ultimate origin of order: intention or the lack thereof. Without intention, all you have is regression and minimum order. Regression is not progressive, so it couldn't have progressed order to a high level. This is why erosion doesn't and can't make even a simple little sandcastle. So there is no hope for accidental DNA. It was originally intended. For an Intender behind nature to not have to exist, regressive would have to be progressive, but wrong does not equal right, dark does not equal light, atheism does not equal rational. So the Divine exists. That Jesus is God is proven considering first that the Divine is good since it is the source of all that is good. It gave us unmatchable gifts such as your senses. Suffering is due to ...more
Wrong, there is no one. Jesus is just a human like the rest of us within our own time-space continuum.
I think Jesus should be first because 1) he sacrificed his life for us 2)he's perfect 3)he's the Son of the one who created the universe, life, Chuck Norris, Tony Hawk, KS Chithra, and etc. Jesus should be first!
The person who wrote this article was very insightful, your observation' just sounds.. Well.. It's the obvious..
I am not a strict religious person, and I don't like strict people at all. But Jesus is very cool, he did so many things to me that even he is not between us!
Those who despise Jesus Christ, BACK OFF! It comes to me that you know NOTHING about Jesus! I understand you say that there is only one God, or Jesus is a regular person. But Jesus isn't God GOD. He's God's one and only son, but at the same time, he's a one of the 3 FORMS of God. God told the people that he will be sending a Savior. And that's Jesus. He knew from the very beginning that he had to die on the cross. He knew from the very beginning that he would shed his blood for us. As he was being nailed on the cross, he could've just used his powers and break free, and kill all the people that were watching and laughing at him. But no... He endured it all the way, and died. Then 3 days later, he rose from his death, and went to heaven. This is too much for God and Jesus to do for all those people who causes sins all over the world. But in the end, it was worth the pain. Jesus died and rose again. God's one and only son rose from the dead. If you don't believe or want to believe ...more
Bruce Lee

Bruce Lee was a Hong Kong American martial artist, action film actor, martial arts instructor, philosopher, filmmaker, and the founder of Jeet Kune Do.
Bruce is one of the greatest people to ever have lived! It's true. More than just martial arts, he was a philosopher of life. Anyone who doubts this should watch the Bruce Lee Lives! Series.
Bruce Lee is the ultimate badass. He had 5% body fat and was as fast and agile as a snake. He kick Chuck Norris's ass and not only is the greatest martial artist of all time, which meant using weapons such as poles and nunchucks, he was a philosopher. Bruce Lee's quotes are very inspirational. Coolest person ever.
Owned Chuck Norris. Best Martial artist ever. He introduced martial arts to the Western world. His screams were the coolest. His moves were amazing. Bruce Lee is Number 1.
Wear yellow jumpsuits, peeps! Bruce Lee is/was my role model, and his skills were amazing!
Eminem

Eminem, born Marshall Bruce Mathers III, is an American rapper, actor and music producer born on October 17, 1972 in St. Joseph, Missouri. Eminem has sold over 300 million records making him the bestselling hip-hop artist of all time. In addition to his solo career, he is a member of D12 and (with Royce ...read more.
Coolest rapper ever expressing his feelings in his rap
He doesn't care what people think cause he's him!
Eminems so cool man best rapper in the world
Eminem is one of the coolest person on earth not in heaven he's been thru a lot too he deserves he stopped taking drugs not a lot of people could do that he tried to help his daughters by trying to help them with there childhood he had to leave them Eminem is the best rapper too he motivates people including me he deserves to be the coolest person that's why he is the coolest person not including Jesus
Chuck Norris

Carlos Ray "Chuck" Norris is an American martial artist, actor, film producer and screenwriter. He was born in March 10, 1940, in Ryan, OK. He is famous for mostly starring in western and action movies.
Jesus can walk on water, Chuck Norris can too- and swim on land. He does karate, is in movies, has his own galaxy called Awesomesauce, stars including the names of Unstoppable, Amazing and Magical. This includes planets called Spectacular, Famous, Bad***, Enchanting and Scary. Also, the world has ceased to recognize Chuck Norris's awesomeness and put his name on every page of every Record Book ever printed. Did I mention that he still hasn't eaten from McDonald's yet? He EATS McDonalds instead.
Chuck Norris Review:

A fear of spiders is called arachnophobia. A fear of tight spaces is called claustrophobia. A fear of Chuck Norris is called logic

Chuck Norris threw a hand grenade and killed 50 people... Before it even exploded.

Chuck Norris can grab an orange from an apple tree and make the best lemonade you've ever tasted

Chuck Norris is so powerful that he is immune to Justin Bieber

When a zombie apocalypse happens, Chuck Norris doesn't try to survive. The zombies do

Chuck Norris can cut through a knife with hot butter

Chuck Norris caught a cold and threw it off so hard it hit Stalin and broke 3 of his ribs
I haven't seen him in anything but the Expendables 2, but with all the memes and Wikipedia, one may find this guy is just pure awesome.
Someone who can speak Braille, swim on land, roundhouse kick people with his mind, can believe it's not butter, and pick oranges from an apple tree and make amazing lemonade out of it should be higher on this list.
Michael Jackson

Michael Joseph Jackson was an American singer, dancer, and songwriter born on August 29, 1958 in Gary, Indiana and passed away on June 25, 2009. He donated (at least) a remarkable 500,000,000 dollars to charity. Michael is also known as The King of Pop (a title given to him by Elizabeth Taylor) or under ...read more.
How the heck is Michael Jackson not in the top 10!
I love him... I believe he is still alive... Michael if you are reading this please come out of hiding and reclaim your throne as king of pop.
Michael jackson is a musical god he should be number 2 for sure! No one will ever be better than him! I mean arnold schwarzenegger really?! Michael jackson is amazing.
He should be on the top 10 most coolest people of all time
Arnold Schwarzenegger

Arnold Alois Schwarzenegger is an Austrian-American actor, filmmaker, businessman, investor, author, philanthropist, activist, former professional bodybuilder and former politician.
Predator, Terminator, Total Recall. This guy has been in some of the most awesome movies of all time.
Could he be any more Awesome?
Put The Cookie Down! Arnie is so cool, and his come with me if you want to live thing is epic, wait, I have to take a break, I'll be back.
President, Strong, Talented, an actor, and probably much more to be seen of Arnold Schwarzenegger, he is an epic human being!
Will Smith

Willard Carroll "Will" Smith, Jr. is an American actor, comedian, producer, rapper, and songwriter. He is best known for his acting career overall. He has been in many popular movies, These include, but are not limited to, the Men in Black franchise, The Pursuit of Happyness, and After Earth. He is ...read more.
COME ON PEOPLE! Its Will Smith! How isn't the man cool, ever seen men in black? 'the difference between you and me... I make this look good' quote by him, no? Well what about how he is good at dancing, rapping and acting and has an awesome personality
I love Will Smith in everything he does. He should definitely be at least in the top five for Men In Black, I Robot, and many other things, so I would say he's pretty damn cool.
Coolest of the cool. His funny, great actor, great rapper, great personality and more. AWESOME!
My favorite person of all time. I own all of his movies except seven pounds, and even all six seasons of Fresh Prince. I have a Hitch poster on my door, So you could say I worship him.
Mick Jagger

Sir Michael Philip "Mick" Jagger is an English singer, songwriter, and actor, best known as the lead vocalist and a co-founder of the Rolling Stones.
Other than Jesus, this is about the first one I agree with. The rest are all action stars, most of whom wouldn't have a prayer of doing in reality what they do on the screen. Chuck Norris at number four kind of explains to me why our country is so hateful.
He should be the king of rock he invented swag pretty much he all the girls wanted him he was the bad boy Paul McCartney
This is THE rock god, legend and icon. This man invented rock, to hell with all those other copycats.
Leader of the band and rock icon. He has stood the test of time and gotten several generations to love his music. A great band and a great singer songwriter.
Jimmy Page

James Patrick Page is an English musician, songwriter, and record producer who achieved international success as the guitarist and founder of the rock band Led Zeppelin.
Defined cool during the Zeppelin era - dark, mysterious with a dangerous occult aura. Page by all accounts should have died during his heavy drug phase but came out the other side intact. Connoisseur of guitars and women. Could still snag almost any Woman at 73.
Rock and Roll was Jimmy Page! Legend in life...music, rock style living, gals, all of it... iconic!
Come on guys. Millions of people (me included) would give their lives for a jamming session with the God himself
One of the most influential and creative musicians to live!
Kurt Cobain

Kurt Cobain was born February 20, 1967, in Aberdeen, Washington. In 1987, he started the grunge band Nirvana, which became one of the most successful bands ever. He was a talented yet troubled grunge performer. Kurt Cobain became a rock legend in the 1990s with his band. He committed suicide at his ...read more.
Kurt, my man, if you were alive today, I would listen to you on the radio. Why? Nirvana's Boss! Alternative, Punk, Rock, Rockability... How can you not like? I smell like teen spirit! So do U. Rip Kurt your my role model because I play guitar and I'm 9.
Dude kurt cobain is my hero man honestly any artist that competes against this amazing guy will be trampled on the the power of his teen spirit and become history or stuck between his shattered pieces of his guitar on stage after a godly performance no one will amount to all the greatest grunge rock hits of all time this is the true meaning of pure music with a sweet and sour lick that sounds like pure gold to the ears I didn't grow up in the cobain era but this man is so great that his music has touched my youth all the way to make me feel like pursuing a great guitarist legacy with but my voice will never be as memorable as his though 😅
I am a musician and I hope I am very good when I grow up
There will never going to be anybody as unique as Kurt. There will never be another legacy like Nirvana. 20 Years down the line, and people still listen to Nirvana. Kurt Cobain, all the way!
The Newcomers
?
Ritchie Blackmore

Richard Hugh "Ritchie" Blackmore is an English guitarist and songwriter, best known for his work in the hard rock/metal bands Deep Purple and Rainbow. He was ranked number 16 on Guitar World's "100 Greatest Metal Guitarists of All Time" in 2004, and number 50 in Rolling Stone magazine's list of the ...read more.
The Contenders
Vin Diesel

Mark Sinclair, better known by his stage name Vin Diesel, is an American actor, producer, director, and screenwriter.
The Fast and the Furious, Triple X, Pitch Black and Riddick. He's one cool dude.
Wow - amazing how stupid these people are - I'm sure vin doesn't think he's cooler that the stones
U should put Vin Diesel 1st because he's amazing and I love him so much
He is a pretty cool actor in the fast and the furious franchise.
Jackie Evancho

Jacqueline Marie "Jackie" Evancho (born April 9, 2000) is an American classical crossover singer who gained wide recognition at an early age and, since 2009, has issued an EP and seven albums, including a platinum and gold album and three Billboard 200 top 10 debuts. Evancho's 2017 album, Two Hearts, ...read more.
She's been cool since the age of 8 and gets cooler every year.
So hot that no one could touch Jackie when it comes to song, acting, beauty, ad infinitum.. Does it all in a cool relaxed presence; and will receive a standing O for it.
She's so cool... She's Hot!
She is the only girl
Todd Kowalski

new guy
Lionel Messi

Lionel Andrés "Leo" Messi is an Argentine professional footballer who plays as a forward for Spanish club Barcelona. He is also known as one of the greatest football players of all time. He was born in Rosario, Argentina on June 24th, 1987.
What are you kidding.. messi's the coolest person who ever existed on this damn earth man.. noe what I'm saying'
Have you seen him play for Barcelona? He's awesome and very good when it comes to football. thank you for keeping him on the list. He should probably be on the no. 1 position as far as I think. Thank You! Good Luck!
Legend, probably best soccer player ever
I say he needs to be in number ten on here he's a really cool
Legend. Probably the best player in most widely played sport on Earth and maybe the best sportsman in history. He is at the level of Wayne Gretzky, Usain Bolt, Michael Jordan etc. And why cool? Bcs he always try to keep low profile, doesn't make stupid comments, has respect and is still the young boy who overcame a growth illness.
Evo Morales
This guy is a dumbass!
he's not bad
the bomb
great dyde
Paul McCartney

Sir James Paul McCartney is an English singer-songwriter, multi-instrumentalist, and composer . With John Lennon, George Harrison, and Ringo Starr, he gained worldwide fame with the rock band the Beatles, one of the most popular and influential groups in the history of pop and rock music .
He's not my favorite person (or artist) on this list, but last summer, I saw him on his Freshen Up tour. It's amazing that he still has THAT much energy, and is healthy as a horse.
Honey Boo Boo, Justin Bieber and Skrillex cooler than Paul McCartney? I beg to differ... I can't believe I had to put Paul on this list and he wasn't already on... Is this real life?
Wrote some of the best Beatles songs, part of the greatest songwriting duo ever. Legend of music, pop culture and human history
There is NO ONE living cooler than Paul. No one even comes close.
Jon Stewart

Jon Stewart is known as the most honest person in Americanew media and started probably the best news crew in the world, at least for sure the best in america.

He also gets the people to think rationally and have no biases about a situation, all he does is shows you what most news stations wouldn't and tells his viewers the full story not to mention he fights for what's right unlike the junkies at Fox.

He recently resigned from his seat at the Daily show and chose Trevor Noah to take his place, and Trevor really is pretty good idea hope eventually he'll be in the top 10.

Jon is a legend who deserves somewhere at least in the top 5
Honesty is a rare thing now a days. We have become a herd of opinionated brats with little thinking and lots of pride. We need to base our ideas and opinions more on science and less on political views.
This is a rare show of intelligence by the Top Ten voters, except that Stewart should be even higher.
Jon Stewart is one of the most intelligent, funny, and honest comedian that had a hilarious way of talking about politics. He should be in the top 10 for sure.
Jason Statham

Jason Statham is an English actor. He is known for his roles in the Guy Ritchie crime films Lock, Stock and Two Smoking Barrels, Snatch, and Revolver.
God of action movies...next Bruce Willis
YES... If only he had 5% body fat like Bruce Lee huh... Than he would be number one!
Best action hero ever he was in crank, the transporter and the expendables
My favourite action star for this modern era... With a very cool acting..
David Bowie

David Robert Jones, known professionally as David Bowie (January 8, 1947 - January 10, 2016) was an English singer born in London, the son of a fundraiser and a waitress. He is credited for his experimental and creative musical discography which has won praise and accolades for many critics and fans. ...read more.
Bowie helps you cope with life, he for me has got to be the greatest man to have ever lived. He is a hero.
This man can wear a Tina Turner wig, fake eyebrows, and the tightest pants in the world and still be considered manly.
When he was alive (still not used to using the past tense), I modelled my appearance after him. Everything from his hairstyles and his clothing to the way he stood and spoke. He had this reserved charisma quite unlike that of anybody else.
Just watch the video recorded at a live concert in Germany "Heroes" and you'll know why he should be No. 1.
Tony Hawk

Anthony Frank "Tony" Hawk, is an American professional skateboarder, actor and owner of skateboard company Birdhouse. Hawk is well known for completing the first documented 900 and for his licensed video game titles, published by Activision.
Awesomeness best boarder ever so awesome! So awesome! My math teacher stitched him up her name is mrs. Mayer best math teacher ever best skateboarder ever
He is so the best at everything he rocks
Tony Hawk is the best skateboarder Ever
Jesus doesn't have a Pro Skater video game
Matt Shadows

Matthew Charles Sanders, better known by his stage name M. Shadows, is an American musician, best known as the lead vocalist, songwriter and founding member of the American metalcore/alternative metal band Avenged Sevenfold.
The Guy who Killed his school's principal only with words... That's all I can say...
He started a band that has members with not only skill, but heart personality and they saved my life. Thank you for giving all of us a band as awesome as Avenged Sevenfold.
He is so chilled, badass and intelligent. So talented as well, and inspired a ton of people!
Your incredibly strong that's why I think you are the one!
Elvis Presley

Elvis Presley was an American musician and actor. Known as "The King" He was mostly known for his number 1 singles including "Heartbreak Hotel" "Hound Dog" "Jailhouse Rock" "Love me Tender" Elvis debuted in the movie "Love me Tender" and focused less on his music and continued that way. ...read more.
Beautiful man fabulous looks, sex on legs. THE coolest guy who ever lived.
Elvis was and is the coolest guy who ever lived, full stop. This list with elvis at 22 just confirms how inaccurate these polls are. Pathetic!
He invented the cool
The definition of cool. He ranks much much much higher than this
James Franco

James Edward Franco is an American actor and filmmaker. His first prominent acting role was the lead character Daniel Desario on the short-lived cult hit television program Freaks and Geeks.
Just an awesome, hilarious, loveable guy. Purely just cool.
He's too hot for words.
He's the coolest
Awesome, funny, and true! He's coolios! He deserves to be in the top ten def!
Morgan Freeman

Morgan Freeman (born June 1, 1937) is an American actor and narrator. Freeman won an Academy Award in 2005 for Best Supporting Actor with Million Dollar Baby (2004), and he has received Oscar nominations for his performances in Street Smart (1987), Driving Miss Daisy, The Shawshank Redemption and Invictus. ...read more.
The only reason we are alive right now is because Morgan freeman is narrating this very moment.
Morgan Freeman should be number one. I mean this guy melts my ovaries whenever I hear him. His job has to be hard though since he turns every mic he speaks into to gold.
He's cooler than everybody ahead of him in this survey put together, except for Jesus and Jon Stewart.
You do not know what your talking about, your list is dum
Jimi Hendrix

Jimi Hendrix (born November 27, 1942 - September 18, 1970) was an American rock guitarist, singer, and songwriter . Although his mainstream career spanned only four years, he is widely regarded as one of the most influential electric guitarists in the history of popular music, and one of the most celebrated ...read more.
The guy played guitar behind his back and with his teeth he even lit his guitar on fire one time
Jimi Hendrix is the #1 Rock stat, Rock star = cool! And I want to be a rock supper star

And guy played guitar behind his back and with his teeth he even lit his guitar on fire one times

The guy played the star spangled banner with his teeth then set it on fire and then smashed it. He played in an overnight jam all the way till morning at Woodstock. He is widely noted as being the greatest musician in the history of the world. He is noted to be modest, quiet, and humble. He is highly respected by Eric Clapton, Kieth Richards, Chuck Berry, Jack White, and all the greats. If you disaggree him being a cool guy, go worship your crappy Eminem.
Yes, behind his back, with his teeth... Try behind your back while using your teeth. I mean, it might sound hard, but you'll get it down one day.
PSearch List