Top 10 Characters in Dawn of the Forgotten
WARNING, IF YOU HAVE JUST STARTED TO READ THIS BOOK, THIS LIST MAY BE FILLED WITH SPOILERS.

The Top Ten

1 Theodren

He's kind, he's relatable, has a cool backstory, and he's a badass... what more could you want?

2 Almar

You really gotta feel bad for him. His entire life, for over a thousand years, was spent being mocked and betrayed by the very people he loved and cared for. The world was nothing but a wasteland of backstabbing heartless scum! All he wanted, deep down, was acceptance, but until the very end he didn't see how impossible that chance was.

One of the best antagonists on my list! That's for sure.

3 Zoran

4 Carrion

5 Valora

Daughter of Aran Sadorian. She was known by many as the only elf to take on the tyrant. Her desire for justice was given to her from her mother who died while attempting to benefit the humans at the start of the rebellion.

6 Sven

7 Steffen

8 Armand Malrick

A stubborn, self-centered man of the higher nobility who was always loyal to his comrades. He even betrayed his country just to save them, and with time he understood those who he once rejected.

9 Drew

10 Lydia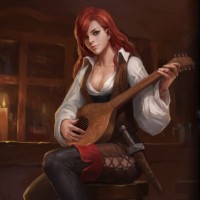 The Contenders
11 King Derek
12 Fenris
13
Lena
A women who never showed her emotions, someone who cared for others and just wanted the world to be better.
14
Ilaria
The light within the darkest caves.
15
Helena
A mother with a complicated past... Before Ilaria's birth, she lived a life of cruelty. She just wanted her daughter to be blind of that cruelty.
16 Guaren
17 Zarriok
BAdd New Item