Top 10 Weirdest Fast Food Menu Items of All Time
The Top Ten
1 Double Down (KFC)
2 Cheeseburger-Stuffed Crust (Pizza Hut)
3 T-Rex Burger (Wendy's)
4 Waffle Taco (Taco Bell)
5 Bacon Sundae (Burger King)
6 Octuple Bypass Burger (Heart Attack Grill)
7 Meat Mountain Sandwich (Arby's)
8 Breakfast Burger (Carl's Jr.)
9
Baconator (Wendy's)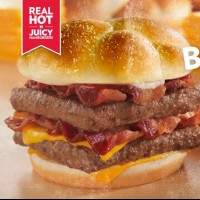 10 McRib (McDonald's)
The Contenders
11 McPizza (McDonald's)
12 McSpaghetti (McDonald's)
13
Mac Wrap (McDonald's)
Back when McDonald's had snack wraps, they decided to adapt their signature burger into one. Unfortunately, they underestimated just how much of a difference the sesame seed bun made.
14
Hula Burger (McDonald's)
Literally a burger with a pineapple slice where a beef patty would be. No wonder the Filet-O-Fish won the battle of the Lent-friendly offerings.
15 Doritos Locos Taco (Taco Bell)
16 Bell Beefer (Taco Bell)
17 Double Big Mac (McDonald's)
18 Premium Kuro Burger (Burger King)
19 Stuffed Cheeseburger (Harvey's)
BAdd New Item