Most Handsome Thai Men Under 30 in 2017
The Top Ten
1
Nadech Kugimiya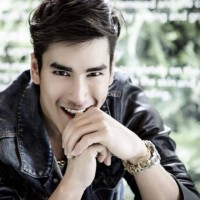 Handsome and has many abilities in his occupation Thai actors. Excellent.I like his activities too
Nadech Kugimiya is a Thai model and actor. Nadech Kugimiya is the youngest adopted child of Yoshio Kugimiya and Sudarat Kugimiya. Nadech Kugimiya was born in Khonkaen, Thailand. His nickname Barry comes from his original nickname "Brand". - Audree
2
James Jirayu

I found James Jirayu is a young multi-talented Thai star. Besides the look, he caught my attention of all his amazed acting skill. He's something special.
Jirayu Tangsrisuk, also known as James Jirayu, is an actor, singer and model. He is currently studying at Rangsit University majoring in Business Administration. - Audree
3
Mark Prin

handsome
Prin Suparat, known internationally as Mark Prin, is a Thai actor and model. He is seen in Channel 3. He is member of a group called 4+1 Channel 3 Superstar with Mario Maurer, Nadech Kugimiya, Pakorn Chatborirak, and Phupoom Pongpanu. - Audree
4
Mario Maurer

Mario Maurer is a Thai model and actor. Starting off a career as a model at age 16, he later became best known for his lead role in the 2007 film, The Love of Siam and the 2010 sleeper hit, First Love. - Audree
5
James Ma

Very handosome guy. I would like to know him better.
James Assarasakorn, commonly known by his real name James Ma, is a Thai actor and model. He made an acting debut in 2013 in Gentlemen of Jutathep Series as M.R. Ronapee Jutathep - Audree
6
Ken Phupoom

Phupoom Pongpanu, better known by his nickname Ken, is a Thai actor, known for his leading role in the Thai television soap opera Saam Num Nua Thong. - Audree
7
Phet Thakrit

Got hooked when I watched First Kiss movie. You should make another movie! Filipino fan here.
Thakrit Tawanpong, or better known as Phet Thakrit is ThaiLand's Channel 3 Television actor, and a naturist. - Audree
8
Toey Pongsakorn

Toey Pongsakorn is a Thai actor. He began his career in the Thai Entertainment first off as a contestant in "The Idol Project 2" and won the title, "Top of The Idol. - Audree
9
Mike D Angelo
I support him because he is the handsomest actor and singer.I just hope you all agree
10 Mik Thongraya
The Contenders
11
BamBam
Wow handsome man
"Most Handsome K-pop Idol and Prince Of Thailand."
"He has achieve so much since at a young age."
12
Top Jaron Sorat

13
Alek Theeradetch

Theeradetch Methawarayuth, Thai actor - Audree
14
Phiravich Attachitsataporn
He is the hottest
I would like to support him to be on the most handsome guys in Thailand. Hope you guys have the same opinion with me.
15 Tanawat Wattanaputi
BAdd New Item