Heaviest Thrash Metal Bands
The Top Ten
1
Slayer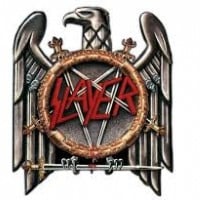 Slayer is an American thrash metal band from Huntington Park, California, formed in 1981 by guitarists Jeff Hanneman and Kerry King. They rose to fame with their 1986 album Reign in Blood, and is credited as one of the big four of thrash metal bands, the others being Metallica, Megadeth, and Anthrax. ...read more.
2
Kreator

Kreator is a German thrash metal band from Essen. Their style of music is similar to that of their compatriots Destruction, Sodom and Tankard; along with those three bands, Kreator has been referred to as one of the "big four" of Teutonic thrash metal, and they are often credited with helping pioneer ...read more.
They were far heavier than Slayer in the 1980s, but 2000s Slayer seems heavier than 2000s Kreator, however, it might be because I tend to find mediocre metal music heavier than it is.
If you take Slayer, speed it up, make the vocals harsher, drop it into a portal to hell and let the devil himself put his own touch on it And then drag it back violently to earth. You get Kreator they're just heavier, and believe me I love Slayer
Should be number 1. Just listen to Pleasure to Kill. It's WAY heavier than Reign in Blood!
Pleasure to Kill is easily fast death metal.
3
Sepultura

Sepultura is a Brazilian heavy metal band from Belo Horizonte. Their first album, Morbid Visions presented a proto-black metal sound with Wagner Lamounier of Sarcófago. Sepultura's sound varies by the album, from thrash metal, groove metal, and even death metal.
4
Sodom

Sodom is a German thrash metal band from Gelsenkirchen, formed in 1981. They have gone through many line-up changes, leaving bassist vocalist Tom Angelripper as the only constant member.
The album's Code Red, Tapping the Vein and In War And Pieces speak for themselves
Tapping the Vein album is heavier than all Slayer album sorry, Sodom should be #1.
Listen to Tapping the Vein or 'Til Death Do Us Unite, it can't get heavier than that.
5
Morbid Saint

Morbid Saint is an American thrash metal band from Sheboygan, Wisconsin, active from the mid-1980s to the mid-1990s. The band opened up numerous concerts for Florida's Death, one of the progenitors of death metal, as they shared a manager.
Relatively unknown but damn heavy, beats Slayer, Kreator and Sodom hands down.
Hands down they beat Metallica and Megadeath all the way down.
6
Dark Angel

Dark Angel is an American thrash metal band from Los Angeles, California formed in 1981. Their over-the-top style (extremely fast, heavy and lengthy songs with lots of tempo changes, lyrics and extended instrumental parts) earned them the nickname "the L.A. Caffeine Machine". Although Dark Angel had ...read more.
Dark Angel is an American thrash metal band from Downey, California that formed in 1981
7
Venom

Venom are an English extreme metal band formed in 1979 in Newcastle upon Tyne. Coming to prominence towards the end of the new wave of British heavy metal, Venom's first two albums—Welcome to Hell and Black Metal—are considered a major influence on thrash metal and extreme metal in general.
Even though Slayer is better than Venom, Venom is heavier. Although, I suppose they're not technically thrash, either. Voted for Venom.
8
Demolition Hammer

Demolition Hammer is a thrash metal band from the Bronx, New York. The band formed in 1986 and released three full-length albums between 1990 and 1994. Century Media Records made a complete anthology available in 2008.
9
Testament

Testament is an American thrash metal band from Berkeley, California. Formed in 1983 under the name Legacy, the band consists of vocalist Chuck Billy, guitarists Eric Peterson and Alex Skolnick, bassist Steve DiGiorgio and drummer Gene Hoglan.
Best Heaviest Thrash band ever. enough' said
Just listen to DNR. That's pretty damn heavy.
10
Possessed

Possessed is an American thrash/death metal band, originally formed in 1983 in the San Francisco Bay Area. Noted for their fast style of playing and Jeff Becerra's guttural vocals, they are routinely called the first band in the death metal genre. Possessed is the sometimes credited with being the first ...read more.
The Contenders
11
Exodus

Exodus is an American thrash metal band formed in 1979 in Richmond, California. Spanning a career of 37 years, Exodus has gone through numerous lineup changes, two extended hiatuses, and the deaths of two former band members.
Not as heavy as slayer, but close
12
Sadus

Sadus is an American thrash metal trio from Antioch, California known for the unique, borderline death/black metal growling of vocalist Darren Travis, and speeding up thrash metal to levels previously unheard of with the help of bassist Steve DiGiorgio whose bass lines truly pushed the limits of the ...read more.
Sadus is actually the heaviest of all those bands
13
Destruction

Destruction is a German thrash metal band. They are considered one of the "The Big Four" of the German thrash metal scene, the others being Kreator, Sodom and Tankard.
14
Vektor

Vektor is an American progressive thrash metal band from Tempe, Arizona. The band was formed under the name Locrian around June 2003, but changed their name to Vektor in 2004.
15
Overkill

Overkill is an American thrash metal band, formed in 1980 in New Jersey. They have gone through many line-up changes, with singer Bobby "Blitz" Ellsworth and bassist D.D.
16
Forbidden

Forbidden was a thrash metal band from the San Francisco Bay Area. Formed in 1985 as Forbidden Evil, the group was founded by Russ Anderson and Craig Locicero, who were both ever-present members.
No, they are even softer than Metallica & Megadeth. Their vocals are probably the cleanest in the genre
17
Metallica

Metallica is an American Thrash Metal band formed in 1981 . The original lineup was James Hetfield (Vocalist and Rhythm guitarist), Dave Mustaine (Lead Guitar), Lars Ulrich (Drums), Ron McGovney (Bassist). The group came into mainstream from their Self-Titled album and the hit single "Enter Sandman". ...read more.
18
Megadeth

Megadeth is an American thrash metal band from Los Angeles, California. Megadeth was formed in 1983 by guitarist Dave Mustaine and bassist David Ellefson, shortly after Mustaine was fired from Metallica. They have released 15 studio albums to date, and have gone through many lineup changes, with Dave ...read more.
Megadeth should easily be in the top 10 they have remained a thrash band thru out their career!
19
Strapping Young Lad

Strapping Young Lad was a Canadian extreme metal band formed by Devin Townsend in Vancouver, British Columbia in 1994. The band started as a one-man studio project; Townsend played most of the instruments on the 1995 debut album, Heavy as a Really Heavy Thing. By 1997, he had recruited permanent members; ...read more.
20
Machine Head

Machine Head is an American heavy metal band from Oakland, California. Formed on October 12, 1991, the group was founded by vocalist and guitarist Robb Flynn and bassist Adam Duce. They have received great critical success especially for their album "The Blackening" which is considered a modern metal ...read more.
Since WHEN was Machine Head a thrash metal band?
21
Nervosa

22
Death Angel

Death Angel is an American thrash metal band from Daly City, California, initially active from 1982 to 1991 and again since 2001. Death Angel has released seven studio albums, two demo tapes, one box set and two live albums.
23
Sarcofago

Sarcófago was an influential Brazilian extreme metal band. They were fronted by Sepultura's original singer, Wagner Lamounier, and Geraldo Minelli.
24
Atheist

Atheist is a progressive/technical death metal band from Florida, founded in 1984 by drummer Steve Flynn and singer/guitarist Kelly Shaefer.
NOT THRASH METAL
25
Pantera

Pantera was an American Heavy Metal band formed in 1981 by guitarist Dimebag Darrell and drummer Vinnie Paul. The band started out as a Glam Metal act in the 1980s with little success. After discarding their original lead vocalist and enlisting Phil Anselmo, the band signed a major record deal with ...read more.
But they are Glam metal and Groove metal
PSearch List