Hottest Video Game Girls with Green Hair
The Top Ten
1
Litchi Faye-Ling - BlazBlue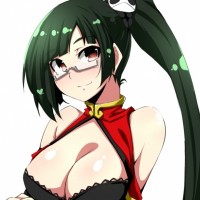 2
Morrigan Aensland - Darkstalkers

Morrigan Aensland is a video game character from the Darkstalkers series of fighting games by Capcom, introduced in Darkstalkers: The Night Warriors in 1994.
3
Rydia - Final Fantasy

4
Rottytops - Shantae

5
Tira - Soul Calibur

6
Fuuka Yamagishi - Persona

7
Frieda - Ys: Memories of Celceta

8
Victoria - Agarest: Generations of War

9
Clone - Atelier Escha & Logy

10 Asha - Monster World IV
The Contenders
11
She-Hulk - Marvel vs Capcom

She-Hulk is a fictional character appearing in American comic books published by Marvel Comics. Created by writer Stan Lee and artist John Buscema, she first appeared in Savage She-Hulk #1.
12
Muzet - Tales of Xillia

13
Palutena - Kid Icarus

Palutena is a character from Kid Icarus (1987), Kid Icarus: Of Myths and Monsters (1991), and Kid Icarus: Uprising (2012). She is also a playable character in Super Smash Brothers for 3DS and WiiU (2014), and in Super Smash Brothers: Ultimate (2018). She is the goddess of light and ruler of Angel Land, ...read more.
14
Marino - Mega Man X

15 Lyn - Fire Emblem
BAdd New Item