Best Metal Albums of 2018
The Top Ten
1
Firepower - Judas Priest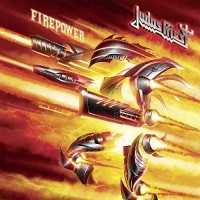 I'd place this one between Defenders and Painkiller. A great return to form!
This was a great album. My favorite song here is actually Sea of Red.
Gotta say, I really enjoyed this one. Well done Judas Priest.
Priest are still the metal gods they were back in the 70's.
2
Diluvium - Obscura

This band... Hands down.
I liked a YouTube comment on Obscura's new album: "It is ironic that a band named OBSCURA has made everything so clear."
100% true.
Such prog, Such feels.
3
Illusive Golden Age - Augury

Great album (progressive/ technical death metal)
List to check out - Best Songs On Augury's Illusive Golden Age
4
Queen of Time - Amorphis

The combination of folk element and death metal is SUPERB.
The vocals are perfect too.
Definitely recommend it.
That's a pretty good album, guys. It sounds quite poppy at times but it's good for beginner metal fans.
5
The Outer Ones - Revocation

That's a really really good album!
Great is our sin is the best.
Best album cover art!
6
Northern Chaos Gods - Immortal

Even without Abbath the band still kicks ass! Love the album!
7
Where Owls Know My Name - Rivers of Nihil

Prog death with sax
8
Algorythm - Beyond Creation

9
Devouring Radiant Light - Skeletonwitch

10
Meditations - Kataklysm

The Contenders
11
The Sciences - Sleep

12
Trident Wolf Eclipse - Watain

Cool that this album is getting love.
13
Jungle Rot - Jungle Rot

14
Ion - Portal

This is a really heavy album from Australia - contains Experimental Death Metal.
Sounds like Gorguts meets Morbid Angel meets Nile, and more.
15
The Arrow of Satan is Drawn - Bloodbath

In my humble opinion this album is better than their last album.
Good album not bad. Will have fun while listening, but it's not on the level of their first three albums.
Best 1 so far, old Nick sounds possessed, and the brutal riffs crush the old bloodbath albums into dust period.
Brutal, Holmes is a freak.
16
Wasteland - Riverside

17
The Scars of Man on the Once Nameless Wilderness - Panopticon

18
Stranger Fruit - Zeal & Ardor

An interesting combination of black metal and spiritual/gospel music. Sounds silly on paper, but in practice, you'd be surprised by just how good it is. The lead single "Gravedigger's Chant" is both catchy and powerful, and the closing track "Built on Ashes" is honestly one of the most beautiful tracks I've heard in a long time.
19
Eonian - Dimmu Borgir

20
Astral Necromancy - Hoth

21
Damned If You Do - Metal Church

22
The Sacrament of Sin - Powerwolf

Absolutely perfect power metal!
23
Holy Hell - Architects

top 3 material
24
Our Raw Heart - Yob

25
The Colder the Night - Elderwind

PSearch List