Top Ten Best Professional Motivational Speakers
It takes more than a catch phrase and a gimmicky marketing strategy to become a truly motivational speaker. Some speakers rely on years of research into the science of the mind while others rely on their own personal struggles and experience.

Regardless of the source, there are a few qualities possessed by successful speakers that make them great at what they do - motivating others to find success and happiness in their lives.

Below are the best motivational speakers in the business. Whether you get to hear them speak live, purchase one of their products, or just watch a YouTube video, these individuals will get you motivated to change your life for the better.

These Individuals are not simply leaders who happen to give good speeches but rather, speakers who make a living at motivating others.

The Top Ten

1 Eric Thomas

His street savvy style and quick talking prose come from his being homeless in Detroit as a youth. His marriage of over 20 years, business of pushing people to better themselves through hard work, and laid-back delivery make him both relateable and powerful.
From books to podcasts to YouTube videos (even some free products FREE on his website) E. T the Hip-Hop Preacher has all the bases covered.

The man just makes you obssessed with getting better within everything you do!

2 Tony Robbins

Everyone knows of Tony Robbins. While he doesn't come from a background of poverty and overcoming adversity, his advice on unlocking your inner potential is no less powerful.
Try to get past the cliche and actually listen to his message.

3 Les Brown

This former politician turned author does just about everything. He writes books, hosts a radio show, and is one of the most powerful motivational speakers on the scene. Don't let his 70 year old stature fool you... He comes from being born in an abandoned building, to being adopted, to being declared mentally retarded in school, to becoming a US Congressman and T.V. show host. His speeches are powerful and motivating.

Les brown is awesome.

4 Zig Ziglar

Not just a fixture of the corporate world, Zig spoke to everyone about anything. As a WWII vet, a salesman, and author, Zig touched the lives of everyone he met - and millions more he never knew of. His southern drawl pulls you into his prescription of happiness and purpose.

5 Eckhart Tolle

While Eckhart is often associated with his books (which may seem a little new-agey), his personal philosophy is both powerful and infectious. Coming from a deep depression, Eckhart punched through to the other side and witnessed a personal kind of Nirvana that he is quick to teach about. Not meant as a meditation technique, his words will change your perspective on your priorities.

6 Jim Rohn

Jim comes from a hard-working family background and quickly rose to financial success. Listening to him is to learn how to become a millionaire - as learned from someone who did.

7 Wayne Dyer

Another Detroit native, Wayne has been on the scene for decades. His books have become some of the best-selling books of all time. Coming from early life as an orphan, he overcame life's challenges and is happy to show you how to do the same.

8 Nick Vujicic

"Someone that has no arms, no legs, and speaks about how enjoyable their life is motivational to people to never give up.

9 Stephen Covey

His book The Seven Habits of Highly Effective People has become synonymous with motivational speaking. As a college professor and doctor, his credentials are both from personal experience and science.

10 Deepak Chopra

Dismissed by many as a new age guru, Deepak specializes in a combination of holistic medicine and enlightened personal philosophy. His ideas and speeches on personal power are engaging and empowering.
The Newcomers
? Andrew Tate
The Contenders
11
C. T. Fletcher
From the streets of Compton (and proud of it), he gets you both pumped up to workout as well as to see beyond your own potential. While you mainly see him in a gym pumping iron, he has moved his motivation into the classroom to help kids of all ages see that there's more to life than expectations.
12 Joel Osteen
13
Iyanla Vanzant
As a staple on the Oprah Winfrey Show, Iyanla is not only a motivational speaker and author, but a lawyer as well. She teaches the power of healthy relationships and personal freedom.
14
Jarrod Clark
Has helped me get through many of the troubles of life so far.
15
Neel Raman
He inspires entrepreneurs and highly motivated professionals to express their greatness and share their passions by empowering them with the clarity, confidence and tools they need to be successful in business and life.
16
Arnold Schwarzenegger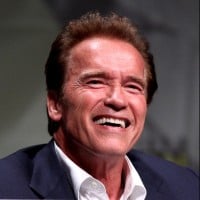 Arnold Alois Schwarzenegger is an Austrian-American actor, filmmaker, businessman, investor, author, philanthropist, activist, former professional bodybuilder and former politician.
17 Benny Hinn
18 Julien Blanc
19 Rousawn Dozier
20 Sandeep Maheshwari
21 Paul Dinletir
22 Greg Plitt
BAdd New Item