Top 10 Best Airlines
The Top Ten
1
Emirates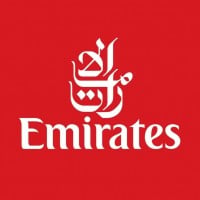 Emirates really is an amazing airline. At the time I am writing this, they have 84 A380's in their fleet, the most in the world. Their new aircraft also have big, good screens, even in economy. They have the best entertainment system in the world and their food is good. They are also good with kids as they have kid meals, activity packs and teddy bears. They have spacious comfy seats and business and first class even have their own mini bar. Also, their first class isn't just a good seat, you have your own private suites, and a shower + mini bar. They also have the biggest fleet out of all other airlines. They even have an onboard bar on all A380 aircraft. Emirates is amazing!
The service is amazing, the food is great, spacious seats, but what shocked me was when it crashed a few days ago, 18 cabin crew managed to get 282 people out of a burning plane. I have only ever been on emirates, as I wouldn't want to take any chances with other airlines. Love love LOVE emirates.
I haven't took any flight with Emirates, but judging from what most people say about Emirates and my father's experience on the Emirates I can see why Emirates deserved to be the best airlines.
I relate this airline 2.5 stars. It could've been 4 stars if my 7 year old sister didn't get food poisoning on the way back from Dubai to Los Angeles
2
Qatar Airways

I. LOVE. THIS. AIRLINE!

Traveling is really boring to me but when we get on the airplane... It's just like a dream.

Love the movies and food.
Amazing airline. Everyone is so nice, and even in economy the service is really great. #1!
Amazing service, always on time. They have a great selection of onboard movies too!
I guess there good but there are other good airlines
3
Singapore Airlines

Best airline yet. For all airlines it has the best economy seats yet. The flight attendants are so nice and there are great movie options. The food was pretty good too. We had this unique chicken or curry. For the breakfast, there was this very soft bun we had and it came with a nice cup of this dairy product that was kinda similar to milk. They also offered us Coca Cola with a few traditional biscuits. Very nice. On airlines, I never sleep because seats are very uncomfortable, but these seats were made out of real leather and had cozy blankets and pillows so I was able to sleep almost half the flight from LAX to Singapore which was 13 hours! So this is a great airline. Singapore was a very nice trip. I recommend this airline to anyone who never traveled to Singapore. This is the best and should be better than Emirates.
You can't beat the Singapore first class suites.
I suppose that Emirates is pretty dam good but I much prefer Singapore airlines, oh and their flight attendants are HOT!
Beautiful flight attendants that cater to your every need, comfy and modern seats, one of the youngest and safest fleets in the world, what more could you ask for?
Emirates is widely overrated, in my opinion it's a bit tacky to be honest whereas singapore airlines is like a hotel in the sky, the quality is outstanding.
4
Southwest Airlines

Southwest has always been my favorite airline to fly with. I've yet to encounter a rude employee (hopefully never will) and they always make my flight more enjoyable! There have been many times where the flight attendants made the whole cabin chuckle with jokes over the speakers.
Southwest doesn't have full meal options (breakfast, lunch, dinner) but they do provide snacks such as peanuts and crackers. They have an abundance of drink options, which is personally enough for me. They also do not provide premium seats but offer some of the lowest fares out of any company. I mean come on, free luggage!
My personal favorite airline. The staff was so polite, and our flight was barely delayed. Though they didn't have meal options, the snacks were nice and sweet. I will definitely be flying with them again.
I've never been on Southwest before, but it looks like a good airline in my opinion.
I love Southwest Airlines, they are the best!
5
Etihad Airways

Last year when I went to London, I flew from where I live to Abu Dhabi with Ethihad airways on business class. It was GREAT. You get your own mini bar with drinks and snacks in it, the blanket you get for sleeping is so cozy (in case you didn't know in business class your chair can go back to a full bed). The food was delicious! I had a stake with potato and salad for dinner on board the A380, and at night time, I shut the blinds, put the chair back to a bed and went to sleep. It was a 12 hour and 10 minute flight and the last 6 hours of the flight, it was dark. I got 5 hours of sleep. Etihad is by far the best.
Etihad airways has the best first class in the world 2nd best business and 5th best economy. I flew from Abu Dhabi to London last year in business class on an a380 and it was amazing. Plus, they have the additional class called residence with is a 3 bedroom suite. Etihad are by far the best.
Great, great airline! I flew from London to Abu Dhabi and was pleased to see how great it was! Etihad wins hands down!
I think it should be in second before emirates. It was great to fly from India to abu dhabi, great journey
6
United Airlines

Looks like someone responded to my comment!
I could go on and on about how you post false information about them and even me, so I'm gonna put the problems in a list!

Everything wrong with your comment (in a CinemaSins style rant):

Problem 1) I did not ride United in the 20th Century, I rode them recently a few times! I've never had a bad experience with them!

Problem 2) "Fly The Obnoxious Skies" is probably the worst parody slogan I have ever heard! If your goal is to be a comedian, then you really need to reconsider all of your life decisions up to this point!

Problem 3) Speaking of my flight, none of the staff were rude to me! I've never had a bad experience with United! United rarely kicks people off flight (same goes for any airline). The owner of the rabbit who died on that United flight is blaming the airline, but in reality it's her fault for taking her rabbit on the flight in the first place! Same for the owners of that dog who also died on a ...more
Can not compare with Asian carriers. Customer service is terrible! Will never set foot again in Newark airport as long as I live.
Nothing like Asian carriers like Singapore Air.
Qatar and Emirates if you want to experience what an airline should be.
Honestly this is just a typical airline. My only favorite about this is the fact that they took Rhapsody in. Blue as their theme song.
Great airline I went to New York on a 777 then got a connecting flight on a 737 to Orlando great service!
7
JetBlue

My dad told me a story: he booked two flights on JetBlue airlines. The first flight was late, and he missed the second flight because the first one was late.
New York's airline! Great staff, good amount of room, always on time, unlike American Airlines! There is wifi and a T.V. for each seat. JetBlue is very affordable and you get better for what you pay for.
Amazing mint 1st class, very nice and respectful/respectable flight attendants. I would recommend anyone flies on this airline! 1
Great entertainment, great service, great food (which is rare), great everything.
8
Qantas

Qantas, Oldest Airline on Earth, Since 1922, Never Crashed, has got 12 A380's and now has the best economy and Business class I the A380. In Economy, they have self serve bars filled with snakes and drinks, they also have private offices for Business class. Qantas, is by FAR the best
QANTAS. QANTAS never crashed. Oh that's gonna do me a lot of good because QANTAS doesn't fly to Los Angeles out of Cincinnati, you have to get to Melbourne! Melbourne, Australia in order to get the plane that flies to Los Angeles!
I always get on a Qantas flight if I want to travel somewhere instead of Jetstar. It's one of my favourite airlines. Hasn't had a fatal accident since 1951 and even though I have a fear of flying, I always feel safe on Qantas.
Amazing! Never crashed, cool name, long flights, great comfort, and most of all, an awesome entertainment system with every movie imaginable and games!
9
Cathay Pacific

Cathay Pacific is always fully booked. If you don't want your flight to be full, plan early and book early and also stay in Premium Economy (if you are seated on economy) because it's comfy.
When I took flight from Surabaya to Hong Kong by Cathay Pacific as a nine years old girl, I really enjoyed the entertainment and the service inside the aircraft.
When I took a flight from Surabaya to Hong Kong by Cathay Pacific, I really enjoyed the service ad the entertainment inside the plane.
To be honest, I hate this airline! It's always fully booked and I keep on getting bumped off (meaning I don't get onboard the flight).
10
American Airlines

I don't know why people hate American.
Their new planes and seats are great. Be lucky and try to find a flight with either 77W or A32T because those planes are bomb. Food and cabin are great.
You'll be very unlucky if you have the old 757, because they have the old big leather seats (first class) and terrible T.V.. Food is still good.
How United is above this is beyond me. American is my favorite because it was the airline responsible for the best flight I ever flew. Flew from Nashville to Los Angeles.
Turbulence is awesome because it feels like a roller coaster.
You'll be VERY lucky if you get a 767 Luxury Liner
The Contenders
11
Turkish Airlines

Turkish airlines has gotta be my favorite. Delicious food, friendly and responsible staff, and so much more. This airline is definitely better than united airlines or southwest airlines, and it should be higher on this list.
Zach Snyder came to our school today to teach us about the significance of Turkish Airlines and now I notice that none of his films go by without referencing this GodForsaken airline. He also talked to us about how to make a good superhero film while burning a Batman comic so there's that going for it.
Relaxing flight, kind flight attendants, great food, good economy class, clean planes, nice plane interior. Turkish is the best I have flown with so far.
Should be in the top 5s. I just recently when with them and their service is even better than Qatar Airways. And I got a cheap ticket.
12
Delta

I have flown both nationally (USA) and internationally over 20 times, and from my experiences, Delta is the best. They have amazing flights attendants, for starters. Second, the coach seats in a big, big, big Delta plane are the same quality as American Airlines' first class! They have free food, and WiFi as well. Delta is the best.
Emirates is the worst airline. Here's why. Firstly, the airline is trying to pamper you with their good food, and seats, and stuff, but they are not a true airline. They are the largest operators of the fuel guzzler A380, which will end production in 2021. At least Delta and even Singapore Airlines has a much more sophisticated fleet. Plus, Delta has the #1 TVs in the entire aviation industry. Gold plated seats can't beat that. So, if you want to be an AvGeek or environmentalist, do NOT fly Emirates, aka the airline that only the passengers who only care about their comfort fly on. Be a real AvGeek and fly any airline that's not Emirates.
The delta ground crew are lazy. After flying with delta, I got off the aircraft and was told that my luggage had been lost and I was told to go to a staff at gate 32. So I did, and when I got there, I told her what happened, and she grunted, and said I'm sorry there is nothing we can do about that it isn't our responsibility.
Delta is America's Oldest Airline, and personally I think they have had the most experience, and it is a good airline. With plenty of flights around the United States, food that is just enough and almost always new! For the best experience, ride the bigger planes. ;). The only downside is the lack of movies, and luggage problems every now and then. But still, fly this airline!
13
THAI

This one is a nice one
Love this airline
Suwandi krap this one in super best in the world
Smooth and warmth THAI hospitality
14
British Airways

I flew to Japan on British airways and got lots of attention very nice crew I would definitely recommend.P. S the have there very own dedicated terminal at Heathrow terminal 5.
Amazing airline and one of the oldest in the world! They have the most 747s in the world and also have 12 a380s on order!
Never had a bad experience unlike most other on this list
I fly them cause I'm British! They are great!
15
AirFrance

Air France, belonging to the airline holding company, Air France-KLM, is the privately owned flag carrier of France. Air France's headquarters are located at their global hub, Paris Charles De Gaulle Airport.
World Class, Cute and elegand hostess, best pilots, service and food
This is the best, hands down
awesome I flew on it from nyc to flew to Paris and had no problems.
16
All Nippon Airways

Great service great crew great food
The damn moies
I love ANA airways I could go to tokyo from los angeles airport on 3 years in December 26 2019 almost year 2020 I want to travel at tonight great expensive No baby crying in ANA great Boeing 777-300ER untill 3 years
it is horrable 1NO AC 2 THERE WAS NO FOOD I FLEW FROM JAPAN TO MOCOW WITH NO FOOD
17
Air Canada

Best Airline by far - nicest Flight attendants I have ever met.
The flight attendants are awful, they give me yucky food!
You can get discounts if the plane is late.
18
Asiana Airlines

Great food compared to Emirates and very comfortable seats in both business and economy.
Economy class is better
19 AirTran Airways
20 Aeroflot
21
Frontier

Frontier is good for national travels, but they aren't the best. They do have cheap tickets, but the service isn't all that great.
An ok experience.
22
Virgin America
Literally the best airline if you're flying around the US! Great service, comfortable seats, and many free amenities to make your flight more entertaining!
I really like it. Here are reasons why:
1. Polite and great service
2. Room for my feet
3. Comfortable seats
4. Free drinks!
How is this so low in the list! Love everything about it!
Oh yeah. There is great legroom! My legs weren't cramped.
23
Philippine Airlines

As a filipino, this is a horrible airline. The food is really bad and there is no T.V. on a long flight. And also the flight is always delayed, I'm serious. Whenever I go on an international fight, I take cathay pacific, delta and emirates. Take those three airlines instead of this.
Really awesome airline and service but bad schedule. Not to criticize them or anything but they usually have delays and they don't have good schedules. But overall awesome airline. Go Philippines
It's my preferred airline to connect to Asia from either LAX, SFO or LAS. With their brand new B777 I bet this airline will soon rise to the top 10 spot. Great service as well.
If you are a filipino, you will understand how good it really is, come on! try it out and you will get the service you need
24
Korean Air

1 of the best there parterns with delta too that is besides the point that I also flew with them and it is a good all aronud airline
Should be #3 the best airline I used so far
Best of the best should be #3
Good except for food
25
Air New Zealand

This honestly one of th best airlines and would be in the top if it was more well known, the service is great and the staff are amazing. You also don't pay anything for extras like food PR baggage
I just went on there 747 and it was real bumpy but I liked it and they give you free food
I love air nz, the air hostess let me see the captains pit, the food is very tasteful too
New Zealand and all over!
PSearch List