Top 10 Best Skateboard Brands
The Top Ten
1
Plan B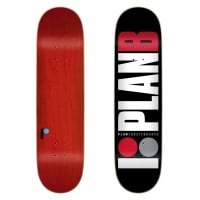 Established in 1991 by Mike Ternasky, Plan B Skateboards is known for its high-performance decks and star-studded team of professional skateboarders. After a hiatus, the brand re-emerged in the early 2000s and continues to be a leader in skateboarding innovation.
Plan B is the best because it has a lot of pro skaters, and not just pros but some of the best skaters in the universe. Plan B also has better pop.
I was a beginner and was in a big dilemma about which board to choose. I saw it ranked first on this website, so I got a Plan B. I'm not disappointed. It has durability and pop. I don't know about other decks, but if you're a beginner like me and have a passion to learn tricks and want good quality at the same time, then I would definitely recommend Plan B.
It is the best board ever! It has the best pop and durability. Element should not be first. It should be third. But if you're looking for style, pop, and durability, buy a Plan B!
2
Element
Founded in 1992 by Johnny Schillereff, Element Skateboards has been a prominent name in the skateboarding industry for decades. Known for its commitment to environmentally-friendly practices, the brand also has a wide range of high-quality boards, apparel, and accessories.
I own an Element Section logo deck, and it is amazing. Mellow concave is by far the best because it makes you so much more confident in learning tricks. Most Element decks include mellow concave, which is brilliant, apart from a few of the pro skater decks. If you're struggling with tricks, or if you're advanced but feel you just need a better deck to do tricks on, definitely buy one of these. Superb!
I find that Element is a better brand, and I'm glad it's number one because that's where it should be. I assure you that this would be the best board for you. It's also great for doing tricks like kickflips and 360s. It's perfect for grinding rails and all sorts of stuff. I have an Element board, and I think it's one of the best boards out there. I've ridden other boards, and they just don't measure up to Element skateboards.
Element is awesome. It is the best board for grinding, kickflips, and 360s. Element rocks! I don't care what you think. It's the best board ever!
3
Zero
Zero Skateboards was founded in 1996 by professional skateboarder Jamie Thomas. Renowned for its bold graphics and durable construction, Zero is a go-to choice for skateboarders who focus on street and park riding.
Zero is amazing, and I have been skating Zero for a few years now. They seem to have good pop, concave, and they don't snap that easily. The only bad thing I have to say about Zero is that the pop, depending on which deck you get, loses it. I would recommend Zero for any skater out there. No matter what other brand I skate, Zero has me crawling back.
Zero! The best of the best. I can do everything with this board and more! I snapped my Element in half with just an Ollie! The Zeros are sick with graphics and great with the concave! Way better than those other two crappy brands in first and second.
The first board I ever had was a Zero, and I still have it and ride it. It still rolls smooth, and aside from replacing the grip tape, it's like new. I have 4 boards: Zero, Element, Black Label, and a Blind. The Zero board is by far my favorite.
4
Girl
Created in 1993 by Rick Howard and Mike Carroll, Girl Skateboards has been a staple in the industry for decades. The brand is recognized for its iconic logo and commitment to producing high-quality skateboarding equipment and apparel.
Barely anyone who voted seems to actually be able to skate, so this whole list is just wrong.

Anyway, it depends on what you like to skate. I skate mainly street and mini, so I have to go for Girl. The pop is amazing, and they are tough boards. I threw myself down a 10-stair, foot straight on the nose, and not a crack appeared. They have a nice shape, not too curvy, not too flat, with a big square nose and tail to allow for better control and durability.

Vert winner: Death/Creature. All bowl and ramp skaters I know skate either of these brands. They are astonishingly durable and have a brilliant shape on their 8.25+ models, and they are relatively cheap.

Street honorary mention: Element, Plan B, Almost, Heroin, Enuff, Jart, 5Boro, Skate Mafia.
Girl skateboards have a lot of pop. I don't know about you, but I love a huge nose for nollie flips, and Girl has a lot of pop on the nose too. I have also tried Element, and they just suck. I have also tried Alien Workshop. They are decent but don't beat Girl. Plus, my Girl board has so far lasted me four years of street skating almost every single day. I always skate big rails down big stairs, so get yourself a Girl skateboard!
5
Birdhouse
Established in 1992 by Tony Hawk and Per Welinder, Birdhouse Skateboards has long been an industry giant. The brand offers a wide range of products from decks to accessories, and it continues to sponsor high-profile skateboarding events.
Really good board and good durability. I personally would rate this board a lot higher than 10. Come on, this is Tony Hawk's brand, and Tony Hawk is the best skater ever!
This generation's "Classic" board. My first was the Falcon 2, and it's still together after 11 years. Enough said! I love Birdhouse and all of Tony Hawk's branches of entrepreneurship!
Birdhouse is a very good company for skateboards. Its durability is very nice, and tricks can be done very easily. Please vote for Birdhouse to make it number one.
6
Almost
Launched in 2003 by professional skateboarders Rodney Mullen and Daewon Song, Almost Skateboards is known for using innovative materials like carbon fiber and Resin-7 construction. Their decks are designed for durability without sacrificing performance.
It's a no-brainer. Almost is far superior to other deck brands. The construction and durability of their boards are far beyond other brands. The concaves are perfect. I've tried numerous brands, and nothing stands up to Almost.

You have to seriously try to break their Impact boards. Vote for Almost and do everyone a favor who's buying boards for the first time or looking for a better board to get. They have to be up at number one. Trust me, don't buy a Plan B or Element. They may have cool graphics and cool riders, but Almost is a real skateboard brand. Watch some Rodney Mullen montages and buy an Almost. Enough said.
Almost is the best skateboard deck brand because of its quality. Especially if you get a deck with impact or double impact support, it will last very, very long and pop high. Almost is the BEST brand, in my opinion. Besides, they have a lot of good skaters on their team, like Haslam and Mullen.
7
Enjoi
Founded by Marc Johnson and Rodney Mullen in 2000, Enjoi is known for its playful aesthetic and whimsical deck graphics. Their skateboard decks often feature their distinctive panda logo, and the brand has a reputation for quality and fun.
I got the 8-inch Jose Rojo deck. I have had two other decks and have been skating for over a year, and I didn't even come close to landing a kickflip. Within two weeks, I was landing them more than half the time. Great pop and insane concave. I can't see why Element is #1. They are absolute rubbish.
I like Enjoi because of its great pop, and their boards are really light. I got one on March break, and it's so much better than my previous Dark Star board. For me, Enjoi should be at the top of the list because they are super easy to ride and last a long time. They don't even crack easily! ENJOI IS BOSS.
I've had a couple of Enjoi boards, and I like them the best. Great pop, speed, and turning, as well as being lightweight and durable. Not to mention, they have some of the best graphics you can get on your deck. Enjoi is the way to go!
8
Darkstar
Founded in 1997, Darkstar Skateboards is a brand that focuses on offering durable and affordable skateboard decks. Known for utilizing cutting-edge technology, Darkstar aims to provide high performance for skateboarders of all levels.
For my last four or five decks, I've been skating Darkstar. To be honest, I only got my first Darkstar deck because of Ryan Decenzo. That dude's sick! I think Darkstar is a great brand. I used to skate Zero before, but there's virtually no difference in weight, and Darkstar seems to be stronger. There's also more of a mellow concave, which I dig. I had a Flip deck, and I had to give it to my brother because I just couldn't land anything on it. I blame it on the thick concave. I mean, you know what they say: skating is 10% physical, 90% mental.
Darkstars have good graphics. They're amazing. The grip tape is also top-notch. Their pops are pretty good, and the wood quality is also very good. Darkstars use very light wood, which is one of the reasons they are great.
My brother has a Darkstar, and sometimes I use it. All my friends say the board is amazing. The trucks on the board run smoothly, as one of my friends pointed out. It's a great buy, especially for $150. It couldn't get any better and is worth every penny.
9
Blind
Established in 1989 by Mark Gonzales, Blind Skateboards became famous for its iconoclastic approach to skateboarding culture. The brand is known for its technical innovation and often controversial, irreverent graphics.
I love Blind skateboards. Blind has good quality and great pop, and they have nice graphics. I know Blind is not the best, but it's my favorite brand so far. People, enjoy your skateboards, even if it's Almost, Plan B, or maybe Blind. Just enjoy.

All skateboard brands are excellent to me, but for me, I choose Blind because of the great pop and good quality. However, there are still many excellent skateboards out there. If you're looking for a board that has good quality, great pop, and nice graphics, I say Blind. But again, there are still brands that are better than Blind. For me, I choose Blind.
I got two Blind decks, and they both lasted me a year. The pop lasts a long time, and the concave really keeps its shape. These were my first boards, and from my experience, they have lasted me the longest. The Eternal Life decks are also supposed to be very good. With good graphics and high-quality decks, Blind has got to be one of my all-time favorite boards.
10
Baker
Baker Skateboards was founded in 2000 by professional skateboarder Andrew Reynolds. With a strong street skateboarding focus, Baker has become a household name in the skateboarding community and offers a wide range of decks and apparel.
I've had a Baker board for two and a half years now, and it hasn't chipped or anything. When I first got it, I placed it on two sawhorses and jumped on it to test, and it didn't crack or anything. That's how much I trust Baker and their skateboards. They also have cool designs. I think Baker should be in the top place.
Baker is the best brand if you plan on running your board hard. It almost always pulls through, even through some of the roughest things you can skate. Also, consider the list of the pro skaters. It's the only team that is still about the skate life and not about the fame life.
I really do think Baker is boss. Plus, the designs are off the chain, like the Baker logo on the bottom of the deck. The decks are really good for grinding, lightweight, and have good to great pop. Honestly, Baker is really all I skate.
The Contenders
11
Flip
Originating in the UK and relocating to the US, Flip Skateboards was founded in 1991 by Jeremy Fox and Ian Deacon. The brand has sponsored some of the most prominent skateboarders and is renowned for its high-quality decks and unique artwork.
I don't know why Flip is only eighth on the list. I've been skating Flip for five years and loved every one of their boards. They are super durable and lightweight. Their concave lasts forever, and their pop is amazing! Don't even get me started on the graphics. I don't know why any other brand is before Flip. Also, I'm actually standing on one of my Flip decks right now.
Flips are the best. I recently bought one, and my new setup is a David Gonzalez P2 swirl deck with the new Independent Stage 10 standard forged bar trucks, Flip 54mm ride free wheels, Flip ABEC 7's HDK's, plain Mob griptape, and Enjoi colorful little buddies 1" alien hardware.

I've had this deck for 4-5 months and not even a crack or even started to square at the tail.
I love this board! I have a Flip Geoff Rowley Pro model deck (not P2), Grizzly grip, Girl Allen wrench hardware, Independent Geoff Rowley red Stage 10 V trucks, Powell blacklight wheels, and Bones Swiss bearings. Trust me, this is the best setup you can ever get. I love it! I'm going to buy the same brands each time!
12
Alien Workshop
Established in 1990 in Dayton, Ohio, Alien Workshop has a unique, somewhat mysterious aesthetic, often featuring extraterrestrial and conspiracy-themed graphics. Their boards and skate gear are highly regarded for quality and innovation.
Alien Workshop is the sickest board you can ever get. I mean, who wouldn't want a board made by Rob Dyrdek? He is the coolest skater of all time. Why would Rob Dyrdek even make a bad board? If you were to buy a skateboard, or suggest one to a friend, all you have to say is "Alien Workshop." Get an Alien Workshop skateboard, and you will never regret it.
Alien Workshop is the best board I have ever had. I've had it for a few months and have done many tricks with it. I even fell off a hill, where I pretty much almost broke my face, but my board was still in amazing condition! ALIEN WORKSHOP for the win!
The designs are super creative, and you get a nice, smooth grind with some great pop. Alien Workshop is a really well-rounded skateboard company, and I'm really glad I'm a part of their skateboard company. Alien Workshop rocks!
13
Deathwish
Created in 2008 as a sister company to Baker Skateboards, Deathwish has quickly become known for its edgy graphics and high-performance boards. Aimed at hardcore street skateboarders, the brand offers a variety of products that reflect its intense ethos.
Deathwish is THE best board ever! Awesome graphics, pop, and concave. Deathwish should be number one. What idiot put it at seventeen?
Best board I've ever gotten. It's the first board I ever owned as well. I totally recommend it to anyone who wants a board. Also, it has the best designs!
Awesome shape, graphics, and team. What more can you ask for? It's the same as Baker, but a little weirder, which is awesome!
14
Mystery
Founded in the early 2000s, Mystery Skateboards is known for its minimalist aesthetic and commitment to quality. The brand produces a range of products from decks to wheels, focusing on performance and durability.
Mystery is one of the newer brands. You cannot argue with the spectacular quality they provide for such a new board! Their team is also super badass. They are also owned by Zero. Even though they are different, it's a great prestige.
Mystery is a strong skateboard company with a great team. Mystery decks are very well-built, with slick, bold graphics and design elements. I easily recommend Mystery skateboard decks.
It's an awesome deck. I bought it a few months ago and have tried a lot of tricks, from a lot of gaps and stair sets. My board hasn't chipped once! It will last me for many years to come. I recommend this board to everyone, whether you're a beginner or a pro.
15
Zoo York
Founded in 1993, Zoo York takes inspiration from New York City's skateboarding scene and graffiti culture. Known for its urban aesthetic, the brand offers a range of skateboards, apparel, and accessories that resonate with city dwellers and skateboarders alike.
Zoo York is truly amazing. It is by far the best, no questions asked. It looks awesome, is durable, and has amazing pop. Bro, Zoo York is beast. Everyone, seriously, get a Zoo York. Do it. They are amazing.
Amazing deck! It hasn't even chipped or broken, and I've had it for 7 months. Great pop too, better than all other brands that I have tried.
I had my Zoo York for 4 months and have been landing tricks off rooftops. It doesn't have a single crack.
16
Creature
Founded in 1994, Creature Skateboards is known for its horror-themed graphics and durable construction. Targeting skateboarders who prefer transition and ramp skating, the brand offers a wide array of products that suit a more aggressive style of skateboarding.
Awesome skateboards. Made the same way as Santa Cruz and Flip, and they deserve to be in the top 10. Awesome pop and flip. I recommend them to everyone!
It's a great skate brand, and I've had a bunch of people tell me to use it! I think it should be in the top 10. I've ridden one before, and it lasts a long time.
Creature is the best. I don't see why it's all the way down here! Everyone who is intermediate or an amateur should have a Creature! Everybody, vote for Creature!
17
Volcom
Founded in 1991, Volcom primarily started as an apparel brand before branching out into skateboarding. Known for their "Youth Against Establishment" mantra, Volcom offers a diverse range of skateboarding products, including boards and gear.
Amazing, love their style.
I love their clothing.
18
World Industries
Established in 1987 by Steve Rocco and Rodney Mullen, World Industries was instrumental in shaping the skateboarding industry. Famous for its provocative graphics and strong influence on skate culture, the brand has a legacy that continues to be celebrated.
World Industries rule! Yeah, I might not skate all the time, but I do skate. I've had my World Industries board since 2007. You can barely see the sick graphics on the bottom. I've grinded it all off. But the board still hasn't broken yet. It's still basically brand new! World Industries!
World Industries are the best, man! Totally the best. They should be #1, man. Zoo York should be chosen too, as second, and Zero third. Birdhouse should be fourth.
World Industries is awesome. It has good pop, they're fast, and are very tough. I would recommend it to anyone who likes good boards.
19
Black Label
Founded in 1988 by John Lucero, Black Label Skateboards is known for its straightforward, punk-influenced aesthetic. The brand specializes in quality decks and has a dedicated following among skateboarders who appreciate its rebellious spirit.
The main reason Black Label has always been my favorite skateboarding brand is because of their unique and sick deck designs. These are not the kind of boards that you can find in just any store. They are way more rare than World Industries.
Black Label is hands down my favorite skateboard company. It's hard to find in the Midwest, but when I go to the park and people see my deck, they're like, "Damn, that's a smooth deck."
It lasts for quite a while and has more pop than the first four brands on the list.
20
Circa
Originally founded as a footwear company in 1999, Circa later expanded its line to include skateboards and related products. The brand has a reputation for producing reliable and stylish skate shoes, as well as quality skateboarding decks and accessories.
C1rca shoes are the best. The Sierra Fellers Pro model, the Talon, is very comfy, fairly light, and the most flexible shoe I have ever skated in. Though, if durability is the issue, then maybe you shouldn't get them. If you are a hard skater that needs durable shoes, then I recommend Fallen Footwear. Anyways, C1rca is great! But so is Fallen.
Good brand, decent prices. Also has a great pro deck line.
21
Vans
Although primarily a footwear brand established in 1966, Vans has become an integral part of skateboarding culture. Besides iconic skate shoes, the brand has extended its offerings to include skateboard decks and accessories, often collaborating with other major skate brands.
I like Vans because their boards take a long time to break. They also make a lot of clothing to wear, and their shoes take like 2 or 3 years to wear down. Plus, they stick to the board perfectly.
Best skate shoes I have ever had. Good quality and don't tear up easily. I have worn nothing but Vans for years.
Vans are amazing! They have great grip! Plus, they are very stylish for guys and girls.
22
DGK
Dirty Ghetto Kids (DGK) was founded by professional skateboarder Stevie Williams in the early 2000s. The brand aims to reflect the grit and resilience of street skateboarding, offering a range of products from decks to apparel.
I'm fixing to get a DGK. I have an Alien Workshop and Toy Machine, and I skate them a lot. I gave the Alien Workshop to my brother, and I can feel the Toy Machine about to break. So yeah, DGK all day. I can't wait to get one. I hear they chip easily, but that's the only bad thing.
I have been skating these for about 3 years. They are a real masterpiece. The only downside is that they seem to break pretty easily for me. However, the shape and pop make up for it.
These boards are sick. They are way poppier and more durable than any other boards on this list. The graphics are amazing, as are the pros. The concave makes every trick you do so much easier.
23
Santa Cruz
Founded in 1973, Santa Cruz Skateboards is one of the oldest skateboard brands still in operation. Known for its iconic "Screaming Hand" logo designed by Jim Phillips, the brand has a storied history and wide product range, including boards, apparel, and accessories.
I have to admit that they do chip easily, but they are impossible to snap, seriously. They have great graphics and pop. I have the Shuriken Shannon Jailbreak board, and it was slick from the start. I definitely recommend it.
I've been riding Santa Cruz since '88 and still have a few now. My son is 13 and rides SC boards. I guess it's about being the original and best, and years of not just growing up with the scene, but actually influencing it massively!
I've ridden Santa Cruz boards since 1983 and still buy them. If this company and their boards have been around as long as I've been skating, you know they're solid! Powell boards are just as good.
24
DC
Originally founded as a footwear company in 1994 by Ken Block and Damon Way, DC later expanded its product range to include skateboards and apparel. Known for its comfortable and stylish skate shoes, the brand has also contributed to skateboarding with quality boards and gear.
I have gone through several brands like DVS, and the shoes never worked for me. I skate daily and I skate long. So, I tried Ryan Smith 2.0s and they were durable.
Obviously, it's the most famous, and the guy who made it has had three TV shows. The brand is just awesome.
Best skate shoes that I've ever had! 10/10
25
Toy Machine
Created in 1993 by professional skateboarder Ed Templeton, Toy Machine is known for its unique and often quirky graphics. The brand has a strong following due to its focus on quality decks and its engagement with the skateboarding community through films and sponsorships.
Seriously, guys, I noticed how most of the top brands on this site are all mainstream brands that most of you can find in your local Walmart. Seriously? Toy Machine has the best decks, hands down. You can't find a better balance of pop, feel, and shape. They also have the sickest designs, hands down.
BOSS! Toy Machine has been very good to me. It was one of my first pro decks. I've had mine for 2 years now. This is probably the best kind of deck out there. Elements snap really easily, but Toy Machines don't snap very easily at all. My 18-year-old brother jumped in the middle of my deck and I didn't even hear a crack.
Toy Machine should be first, right next to Flip. I mean, I haven't even heard of Mystery, and I skate a lot. I don't understand at all why Element is ranked number one. It was my first board and it was crap.
PSearch List