Top Ten Best Progressive Metal Drummers
List of the best drummers in Progressive Metal, Djent, etc. bands.

The Top Ten

1 Mike Portnoy (Dream Theater)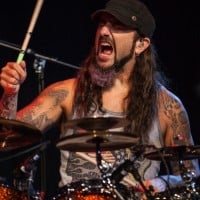 Michael Portnoy is an American drummer primarily known as the former drummer, backing vocalist, and a co-founder of the progressive metal/rock band Dream Theater. Known for his technical skill as a drummer, Portnoy has won 30 awards from the Modern Drummer magazine.
Why is tool's drummer ahead of DT? You obviously don't listen to progressive metal if that's how you put the list together. Portnoy first, then Mangini.
Best drummer in the world indeed! No one can or will ever do it like he does!
Only beaten by joey jordison, One of the greatest drummers ever!
2
Danny Carey (Tool)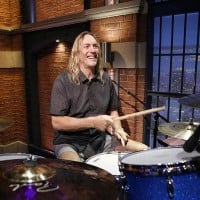 Daniel Edwin "Danny" Carey, born May 10, 1961 in Lawrence, Kansas, is an American drummer and instrumentalist best known for his work in American Grammy Award-winning progressive rock band Tool. He has also contributed to albums by and played with such artists as Zaum, Green Jellÿ, Pigface, Skinny Puppy, Adrian Belew of King Crimson, Carole King, Collide, The Wild Blue Yonder, Lusk, and the Melvins... read more
Easily the most technical drummer in the prog music community. His timing is impeccable and his sound is uniquely his own. Nobody drums like Danny Carey.
Danny Carey is not only the best progressive metal drummer in the world, he is one of the best drummers of the modern era. Without Carey, Tool doesn't exist, period. He is beautiful to watch on the drums as he effortlessly delivers some of the best sequences on the planet. The only frustration is that Tool hardly ever comes out with new material, but when they do, it's always a step above the previous sound.
Truly a master behind the kit, there's nobody else that could've delivered his style in Tool and his work never ceases to amaze.
3
Mike Mangini (Dream Theater)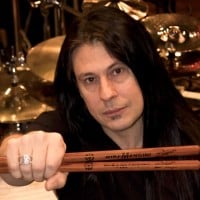 Mike Mangini is an American drummer. Since 2010, he has been a member of progressive metal band Dream Theater, following the departure of founding drummer Mike Portnoy.
I keep seeing this debate about Mangini vs Portnoy. First of all, they are both two of the best drummers in the world. They are both off the scales amazing at what they do (in fact anyone who can play every DT song is). Technically, Mangini kicks Portnoy's ass, that's a fact. Mangini can do a lot more and is much more technically advanced. But it's Portnoy's showmanship that everyone loves. Also it's one thing to write the drums to a DT song (Portnoy) but another to be able to cover it note for note (Mangini). In my opinion there is no better drummer they are both amazing in their own way. Portnoy shouldn't have messed about with taking breaks etc and this wouldn't have happened anyway!
After his audition with DT Petrucci said: "Having Mike Mangini with his level of skills, is gonna take that to a whole another level."
I knew Mangini was better than Portnoy but this confirmed my opinion (reading between the lines).
There are several videos on YouTube with more comments from the DT members.
4
Thomas Haake (Meshuggah)
He's not a man... he's a machine!
5
Martin Lopez (Opeth)
He is a monster! When he was in opeth he did something that will never be repeated
You should be a drummer and listen part to part to find out what he plays specially in ghost reveriies.
Best in the history of prog metal with no doubt...
Blackwater park and Deliverance says it all.
Definitely one of the best drummers on the planet
6
Mario Duplantier (Gojira)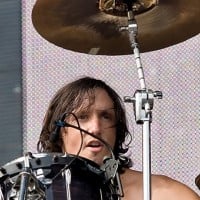 Mario Duplantier is a French musician and artist best known as the drummer of technical death metal band Gojira.
His blast beats aren't just spamming, they have rhythm. He can flow perfectly into any part of the song and solos better than anyone on this list.
7
Brann Dailor (Mastodon)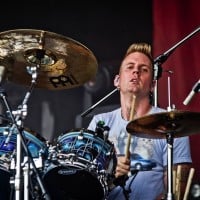 Brann Timothy Dailor is an American drummer/singer best known as a member of the Atlanta, Georgia metal band Mastodon, in which he is the drummer, backing vocalist, lead vocalist and primary lyricist.
Dailor takes the cake!
8
Jason Rullo (Symphony X)
Jason rullo is the best prog drummer for me because his rudiments is better than any drummers here.. Peace
9
Blake Richardson (Between The Buried and Me)
Watch the parallax drums video, he is so effortless on playing very complex parts, but not for the sake of complexity, but for the groove or texture of a passage.
Blake's ability to play incredibly technical and complex rhythms while maintaining flawless technique and dynamics is simply and utterly mind blowing.
Blake Richardson's technical ability is beyond belief.
10
Gavin Harrison (Porcupine Tree)
He is beast. Plain as that.

He is so self aware of what he plays, and that is quality that is hard to find amongst many musicians. He should more attention than he does now, as his playing has opened up my ears to how I perceive odd time signatures and odd groupings. A good example would be Sound Of Muzak or the bridge section of Halo (Both are works by PT).

He also seems so humble and kind. A lot of musicians are usually quite the opposite.
Gavin Harrison is the best drummer in the world period. Let alone the best drummer in any individual category of music that he plays. You don't win progressive drummer of the year multiple times without being the best.
I just saw him with King crimson. I was lucky all the pawn shops were closed, otherwise I would have sold my drums and quit playing. What a beast!
The Contenders
11 Martin Axenrot (Opeth)
12
Virgil Donati (Planet X)
I wouldn't say anyone underestimates his drumming or questions his ability. he is just not higher in the list only because his bands are not as well known as Dream Theater or Tool. He is very technical and unorthodox. That makes his style unique and brilliant.
One of the most insanely technical and progressive musicians out there!
13
Casey Grillo (Kamelot)
He is easily the best drummer in this..
14 Matt McDonough (Mudvayne)
15
Nicko Mcbrain (Iron Maiden)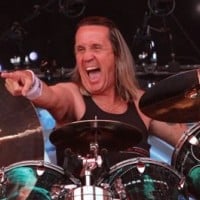 Michael Henry "Nicko" McBrain is an English musician, best known as the drummer of the British heavy metal band Iron Maiden, which he joined in 1982.
16
Matt Halpern (Periphery)
Periphery drummer is easily the best new progressive drummer out there. Obviously he is no mike portnoy or mangini, but if you listen to Make Total Destroy or Feed the Ground, then you'll know what I'm talking about. Technically superior to any other drummer on this list besides the Dream Theatre drummers.
Its all about polyrythems, Halpern can do em, and the only other drummer that can do em is Thomas Haake from Meshuggah. You guys obviously aren't very deep into drumming if Matt Halpern isn't in the top 5
17
John Dolmayan (System of a Down)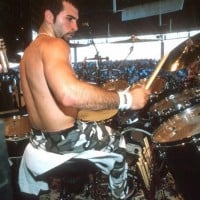 John Dolmayan is a Lebanese-born Armenian-American songwriter and drummer. He is best known as the drummer of System of a Down. During System's hiatus, he made a solo album based solo on covers called These Grey Men, which featured vocal performances from Serj Tankian, M. Shadows, Franky Perez, Jonathan Dorr, Jonah Perry Nimoy, and Sirusho. Tom Morello provided guitar work on Street Spirit. Dolmayan and Serj have argued on social media, due to their drastically different political beliefs.
18
Marco Minnemann
Easily the best drummer of all time.His ability knows no borders,He can play anything any time but his lines are really really hard to play. No one is more relax and capable in playing drums.Even is hardest and most technical parts.
Maybe that's his secret.Always laughing
God playing drums but better...
Most underrated drummer
19
Daniel Presland (Ne Obliviscaris)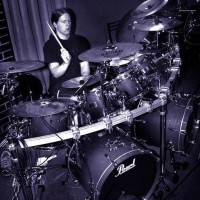 20 Piotr Kozieradzki (Riverside)
21
Mark Zonder (Fates Warning)
Most imaginative drummer ever.
Just look at his body of work!
22
Matt Garstka (Animals as Leaders)
This dude is seriously a beast. Very underrated cannot even believe he's not on this list... Rhythm Drummer named him #7 last year. He's the current drummer for Animals As Leaders.
23
Shaju (Artcell)
Glad that Metal_Treasure chose this guy on his remix. He is really a very good prog metal drummer, also prog rock. His solos are great
24
Clive Burr (Iron Maiden)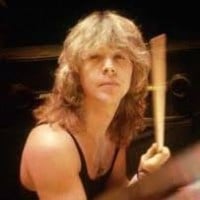 Clive Burr was an English drummer. He was a member of Iron Maiden from 1979 to 1982. Previously a member of Samson, Burr joined Iron Maiden in 1979 (coincidentally at about the same time Bruce Dickinson joined Samson).
25 Matt Greiner (August Burns Red)
PSearch List