The Ten Best Selling Songs in 2018 in Austria
With 2018 being over, I thought it was time to look at the best selling songs of the year. Not necessarily the best ones, but the ones that did best in terms of numbers.

In Austria, the following 10 tunes were the commercially most successful ones of 2018, they were essentially what the year sounded like over here. It is quite different than the list from the USA, and both in combination show perfectly how the tastes of the nations drift apart further and further. A couple of years ago, that wasn't as much the case, and many trending songs from the US arrived over here as well.

The Top Ten

1 In My Mind - Dynoro & Gigi D'Agostino
This was to be expected. It was inescapable and topped the charts for several weeks, all without even having a music video. It's a catchy techno song, which I'm happy is a genre that still gets people in party mood - because I never got how RnB and hip hop, which I like, fit into a club without even a steady beat.
2
Nevermind - Dennis Lloyd
To be honest, even living here I had no idea this song was so popular. It didn't leave a lasting impression on me the first I listened to it, but really, it's not half bad now that I gave it another try.
3
Bella Ciao (Hugel Remix) - El Profesor & Hugel
This on the other hand is a techno song I found to be very underwhelming. "In My Mind" was both catchy and a bit mysterious / dark in tone, but this sounds very unspectacular. The sample sounds good but the drop is far from being hard hitting, it even sounds less full than the sampled verse.
4
Solo - Clean Bandit & Demi Lovato
A typical example of a pop song that proves success in the late 2010s, at least over here. The Clean Bandit songs are all okay and easily recognizable, but they never managed to blow my mind. When they're on the radio, you are entertained for a while, but it's no material that I couldn't get enough of. And Lovato had a better song this year with her Christina Aguilera duet "Fall in Line" - especially because her voice is so drowned in effects on here that they could have hired an anonymous singer as well.
5
These Days - Rudimental, Jess Glynne, Macklemore & Dan Caplen
Much like with Clean Bandit, I think it is absolutely okay for it to play in the background, but it's completely average to me, without anything that would make it stand out. Also... I am a bit sad about Macklemore's evolution, coming from "Wing$", one of the greatest songs of the decade... to a mediocre guest part on this.
6
500 PS - Bonez MC & Raf Camora
Yeah, this is some stuff I enjoy! Bonez MC and Raf Camora just barely missed my best of 2018 lists ("Ja Mann! " was shortlisted for my Top 50 Songs and "Palmen aus Plastik 2", which the song originates from, was a candidate for my Top 50 Albums list), and I really enjoyed the many, many top ten hits they had last year (which really were quite a lot), including this tune.
7
FRIENDS - Marshmello & Anne-Marie
Yes, this is a pop song that's closer to my taste. Catchy, with an instantly recognizable melody a cool instrumental. Everything about it screams "enjoyable".
8
One Kiss - Calvin Harris & Dua Lipa
This is such a fun throwback to eurodance. The beat, the selection of synths and drums, the overall tone of the composition and the singing style all reflect the best sides of the 90s genre. It positively reminded me of Gala's classic song "Freed From Desire".
9
Rise - Jonas Blue with Jack & Jack
In all honesty... I never heard of this song. I first read its title on this very list about the best selling songs of 2018. I will give it a listen later on.

Edit: listened to it. Yeah, I heard it before. The definition of average.
10
Neymar - Capital Bra & Ufo361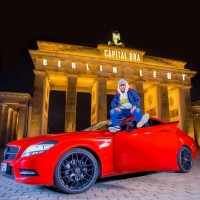 I actually expected the guy who had five number one hits this year to rank higher. "Neymar" is one of his better songs. More pop than hip hop, it has a really cool melody and feeling, although I preferred "5 Songs in einer Nacht".