Dingdong Dantes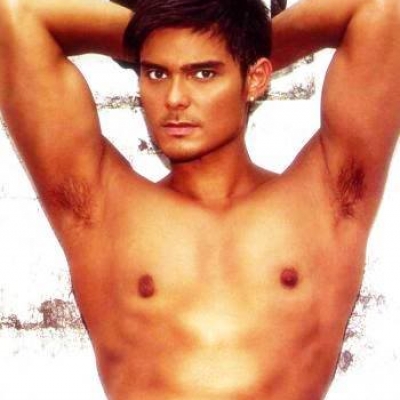 Uploaded by nes
Info
Dingdong Dantes is a Filipino actor, television presenter, commercial model and film producer. Dantes is currently working as an exclusive talent of GMA Network, also the Chairman of the YesPinoy Foundationand manages his own film studio named AgostoDos Pictures.
Comments
Top
Popular
Newest
Dingdong is not only gorgeous but a man of substance as well! He's a good actor, a singer and a dancer, a producer, a director, a host... A business man, and owns a foundation... He deserves to be the sexiest man because aside from having those mentioned qualities, he has the LOOKS!... The BODY... That whenever he comes around, everyone would just turn his way... And hey, not just girls! He loves his woman and hundred percent a genteman and a loyal lover to Marian. Despite his success, he stays humble and never boastful... Just some of the qualities deserving of being THE TOP SEXIEST MAN IN THE WORLD!
He's one of the hottest men alive. What makes him hot is not his body or his looks (as what people first notice when they see him) but what makes him hot is his golden heart. His foundation, the YES PINOY FOUNDATION is a great success, helping Filipino youths to have a brighter future. His a great man, a great son, a good friend, a caring brother, and a loving boyfriend to his girlfriend Marian Rivera. It's his golden heart that makes him hot! So Dingdong keep up the good work because you inspire many people including me (Andrea C. )
, He's one of the Best Actors in the Philippines, not only an Actor, Dancer, Producer, Director, Great Host but He's a Humanitarian as well, He helps children who are deprived of education through his own foundation known as "Yes Pinoy Foundation". He has big heart especially for children a kindhearted man true to his feelings, a "one woman man", now that's what you call SUPER SEXY!,
Dingdong Dantes, a very good actor, a down to earth man, a man of passion and compassion, very humble, feet always on the ground, a good dancer, a singer in his own right, a gentleman, handsome and everything. A Marine Reservist. He was once on a 3rd spot as the World Sexiest Man. He's our well-loved Dingdong Dantes
A man who is sexy even if wearing pink shirts and he carries it well. Physical sexiness coupled with his reliability with his words and promises. Values in life is unmatched. Love of family is foremost and a very caring, thoughtful and loving partner to his one and only. - larilyninola
The total package. Handsome, broad shoulders, toned body, intelligent, talented artist, youth education advocate, philanthropist plus he's a very devoted and loyal boyfriend to his beautiful girlfriend marian.
If you think the name "Dingdong" is sexy already, wait until you hear his real name; Jose Sixto Raphael Gonzalez Dantes I. This Filipino-Spanish actor is simply amazing. He was my first ever crush and will forever remain my crush. From his teen dancer days as a member of Abztract Dancers, Dong has proven so much. To me, Dong is sexy in all aspects; he is an award-winning actor, Marine reservist, youth advocate, and many more. Plus, he is one of the more humble Filipino celebrities. Stay humble and stay sexy Dingdong!
Complete package... Talented, handsome, humble and nice person, inside and out!... The best among the best... So loyal and true to his words... Very loving to his family and to his one and only love, Marian Rivera...
Dingdong dantes is the best actor and the sexiest in the Philippines.. He has the looks, masculine body and talent.. He can dance, sing, actor, and ambassador.. Go go go dingdong we're proud of you
He is handsome and adorable! No wonder for being the top sexiest man in the world. As an actor, he's the best... He's versatile. He won already an award in his craft. PROVEN!
Dingdong looks so neat and clean... I saw him on MOA several years ago and he looks very very clean, neat, he's so quiet and humble... And a little bit shy... I don't know why he was so shy that time...
DINGDONG DANTES is the most intelligent and best actor of his generation, but still to be kind hearted and loving son. Brother, friend and boyfriend, his humility is comes with it!
A gentleman, loving, caring, a good son, a God-fearing person, a youth's empowerment advocate, an art & culture ambassador, good looking (a head turner)
Dong Dantes is the man of the hour.. He deserves to be in the top 10 sexiest men in the world!.. He has it all.. Good looks, versatile actor & lovable person!...
Yes, it's Dingdong Dantes. He's smart, a gentleman, handsome, a good person, helpful, a hunk and a man of word! A person who can be looked up especially by the youth.
A man so blessed not with just good looks and big brains but most especially with pure heart and dignity..
DingDong deserved to be the top sexiest man in the WORLD for the second time around "CONGRATULATIONS"...
He's handsome, sexy, strong personality, good body, a businessman, a producer, put up Yes Foundation to help children for their school, one woman man, faithful, protector to his love one, to his family & friends, singer & host, know his style of shirt, jean & coat in any occassion & event.
I like dd because he has a nice body and he has a good looks too and caring, loving and et and he has a lot of achievement in his life too its nice to see him that he never change though he so very popular but still very down to earth person that why I admire him.. Good luck to him...
Aside from the fact that he's a dancer, actor, director, producer, and an advocate, he is a reserved soldier in the Philippine Marines. I'm proud of him.
He is a man of substance. He is very talented with a very god heart who helps people in need through his foundation. He has all the good qualities of a good man that every woman is dreaming of. He desrves to be the number one sexiest man in the world.
Best actor, good director, a gentleman and helpful person. A very humble man and a man one woman. Has a magnetic personality and so handsome too.
Dingdong has proven to us that is one of the best actor in our generation in Philippine men artist. He has a total package in terms of artist. - lalainesandoval
You really deserve to be in the top 10 lists... You make us very proud... Good looking inside and out... Good luck dingdong...
He has strong sex appeal. He seems to look like the very younger version of famous Jack Lord of the original Hawaii 5-0! Muy gwapo!