Jared Leto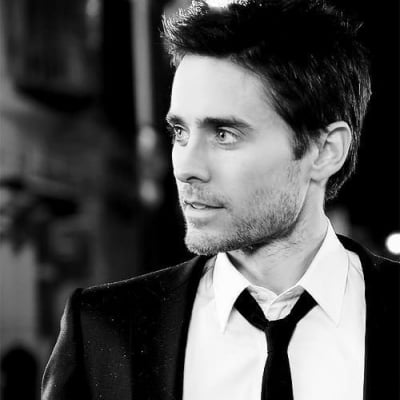 Uploaded by catwalk
Info
Jared Joseph Leto is an American actor, singer-songwriter, and director. He is well known for being the lead singer of Thirty Seconds to Mars.
Comments
Top
Popular
Newest
The fact is that intelligence is sexy! Success and creativity also. Added to this comes passion and talent (musically and acting).
A person who has all of that, can only be sexy. And when to all these properties even comes such eyes, this beautiful face and the unique style, then we can speak of a very attractive and sexy person. All this is Jared Leto. Not for nothing, he was already two times in a row, among the 50 most beautiful people in the world.
He's such a beautiful man. Inside as well as out... And yeah, the bonus is that he's super sexy!
He's more than a pretty face and hot body he's an artist he's a good and passionate person and he cares for people he made a photo book of Haiti to raise funds and 100% of net profits will go to charities to assist those affected by the quake. He also along with his band developed a beautifully. Org site to help raise awareness about issues that threaten the health and well-being of our planet. He encourages people to follow their dreams no matter what and say "don't regret at anything you do cause in the end it makes you who you are".
A man who loves as no one else and teaches to love. Nobody has in the eyes of so much kindness and understanding what he. Thanks to him millions of people changing their dreams into reality, seek to defend them and believe in brave new world. Thanks to him, I believe that people are good. He's my hero. From year to year looks better, and his smile makes is that grey rainbow colours. He's simply perfect. Eyes, the smile, big heart, the whole he is. There is no one better than Jared Leto - My vegan vampire, vagabond and blue-eyed angel. ♥
Aside from the looks, he is talented and does is best for charity. When I saw Jared as an actor back in the 90s. He was a pretty face but I became a huge fan when I heard his music and compositions not to mention, his phenomenal video productions. Jared Leto speaks out against animal cruelty, human trafficking (which is rampant in my country) thus using his popularity and all that he does to produce positivity. This is beyond sexy, just no words
Have you seen his pictures and in life? It's like! How can he look so young and be 40 years old!
Jared leto is an inspiration to many people, great singer, great actor, is a hero, an idol. Well is probably the hottest man in the world.
Jared is healthy, has a great body structure, amazing baby blue eyes in which you can see the ocean, looks great in every hairstyle and is not afraid to explore new styles and he's a very elegant man. Not to mention he's successful and determined to follow his dreams and a very inspiring role model which makes him even hotter.
He is male perfection personified. He inspired me on so many different levels and improved my life thousandfold. Not to mention those penetrating blue eyes...
Perfection put into one person. He has a great body, beautiful eyes, he cares about pretty much everything, he has an amazing voice, he's quite the genius AND he's an awesome actor. What more could a girl ask for?
I vote for Jared Leto. In my opinion, my choice is obvious. Jared - the most beautiful, intelligent and talented man on the planet! Better than him just nobody there!
VOTE for JJ... He is the hottest man on EARTH and on MARS :))) ALL Echelon need to VOTE! Lets gt him higher. & #BOINK
I love Jared Leto. His eyes, Hair, Style and most of all his sense of humor.
He is truly a beautiful person. Not only because he is gorgeous, but he's also a philanthropist, talented musician, actor, director, singer, and defender of our planet. He's the real deal. Every year he just gets better!
This man is not only sexy on the outside but is just as sexy on the inside... If not sexier. He is a humanitarian. Always looking to better this planet and get us all involved. He is a creative genius and NO ONE will ever compare to him and his beautiful soul!
There's no question about it Jared has a smoking hot body beautiful face gorgeous blue eyes and an amazing personality so he is defiantly the sexiest man in the world EVER plus he can sing and act and play instruments and he can make us laugh what more could we ask
He is a super actor and frontman best alternative group "30 seconds to Mars". He has very good body and unbelievably wide blue eyes. *_*
Please, he's over 40 and still sexy as hell. Dammit! I want my future husband looks like him.
Jared has been and will always be the sexiest man alive, he's talented gifted and over achiever.. His real beauty is in his multi-talanted spirit, our favorite singer/song writer and actor of all time
There's so much I could say about Jared :) His eyes, smile, his laugh, his body :) But he's also the sweetest guy in the world, I've had the privilege meet him. He actually talked to me and he kept the conversation going, and when the talks to you his beautiful blue eyes never leave yours and he's so cute and flirty :D He's a hard worker and really cares about what he does, he puts his heart in it and it shows. I just think there is nobody who deserves to be the "Sexiest man in the world" more than Jared. Also I've never talked to another woman who hasn't found him attractive, he's just ridiculously hot ;)
Blue-eyed, skinny, weird, vegan guy.. And a vampire! Can he get any hotter than that? :$
You should definitely vote for Jared Leto. This man cannot be replaced with anything or anyone. He's a great actor and has a unique voice. Any other band would just have fans, he doesn't. He has a beautiful family, Echelon. This man has the biggest heart, he loves to help people. He definitely cares about people more than he cares about himself. He is not like other celebrities who only care about the materialistic world. He is different, and different is what makes him the best man in the world. He, Shannon and Tomo have changed my life, they change the way I look at everything, they made me want to live my life. He definitely deserves all the best. Our sexiest vegan vampire.
-First: "Sexiest man in the world"? More than Jared?. <-- Haha I don't think that! That's IMPOSSIBLE...

-Second: He's the only man getting sexier and sexier year after year Who else? WHO can do it? Answer: JUST JARED... I can say some things that do Jared the best choice:

-Jared is:He is many things, too much trust me... Trying to summarize the infinitely beautiful of Jared Leto, I can say that: He's the best of all the mens, he is handsome, gentle, cute, he look healthy, he have a great body, sings amazing, is very adorable, kissable, touchable and of course it's SEXY hot and delicious... JARED HAVE TO WIN HE'S THE BEST DAMN THING! Is my passion my love my hero my husband, but still doesn't know it... His blue eyes *--*, smile, his laugh, his body are just perfect, he's also the sweetest guy in the world, he have sense of humor And he's better than all those men's, he's different, HE'S SIMPLY PERFECT... If he doesn't win I will think that the people don't know what ...more
He's extraordinarily talented, a brilliant innovator, an eloquent speaker, generous, kind, caring and GENUINE. He can dress to the nines and be a perfect gentleman when the situation calls for it and he can be a raunchy rock star that drips hot sweaty sex when he's on stage performing with his band Thirty Seconds to Mars. He's obviously very secure about his own sexuality. That is an incredible turn on for me. Let's face it, most men are homophobes. I don't think many straight male actors would go the extent that he did to portray a transgendered woman much less play the part at all. He's a positive influence on people and he doesn't just give lip service. He does it by example everyday in how he lives his own life. He tells us it's okay to be different and encourages us to make our dreams a reality. That life is too short to get bogged down by negative energy. He makes you want to be a better person, to take better care of your health and to take care of one another. I could go on ...more
Jared Leto currently is 41 years old and looks like his in his twenty. He's got beautiful eyes, great body, good sense of humor and a great personality. Plus he is a vegan so he is really healthy. He has his own style and doesn't care about any ones opinion. He's an actor and the lead singer of the band called: 30 seconds to mars. He is an inspiration for millions of people (mostly teenagers). He taught me to believe in myself and to follow my dreams no matter what. He cares about his fans and loves them more than anything. THERE'S NO ONE LIKE HIM. He is the best choice!
Related Lists
Best Jared Leto Movies
Top 10 Reasons Why Jared Leto's Joker is Fantastic

Top Ten Actors Who Should Replace Jared Leto's Joker