Top 10 Greatest Songwriters of All Time
The Top Ten
Bob Dylan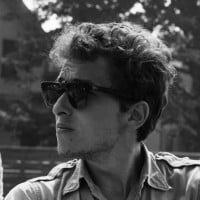 Bob Dylan is an American singer-songwriter, author, and artist who has been an influential figure in popular music and culture for more than five decades.
I am giving up on this site after seeing this. His songs are just songs they are poems that embody the whole word. He was considered the voice of his generation, the same generation that had the civil rights movement and Vietnam. Like a rolling stone is the most important song in the history of modern music. The reason he is so low has to be people don't know who he is anymore and because of that, to quote dr farnsworth "i don't want to live on this planet anymore"
He changed music in our time more than any other writer. And his style of singing changed like chameleon to suit his needs. Something no artist has since matched.
The guy has influenced practically every songwriter from Lennon to Jack White, and US presidents have even made references to his lyrics in their very inauguration speeches. Not only did he teach the world that good songs don't have to be about broken hearts by writing lyrics that actually seem relevant, he also wrote some of the finest melodies ever in his unique, yet down-to-earth style. This guy should be number one, for ever!
A songwriter who crosses into the realms of some the greatest poets and writers who have ever lived. In a thousand years time he will be remembered along side William Shakespeare, William Wordsworth, Dylan Thomas, Ezra Pound and Edgar Allen Poe his words will never be forgotten. He sang at The march on Washington (his song 'When the ship comes in') which saw Martin Luther king Jr produce his iconic 'I have a dream' speech. In conclusion his words were not only beautiful but extremely relevant, he fought not only the injustice of sending men to die in an unnecessary war but the unforgivable treatment of black Americans by the American police force and other authorities, He must therefore be regarded without any questionable doubt as the greatest songwriters of all time, nobody before or since has even come close to this poetic genius.
John Lennon

John Winston Ono Lennon, MBE was an English singer and songwriter who rose to worldwide fame as a co-founder of the Beatles, the most commercially successful band in the history of popular music. He was assassinated by Mark David Chapman on December 8, 1980 at age 40.
Hands down the greatest musician to ever live. He inspired many great musicians that most people worship, and he pioneered many genres. If you talk about who wrote the best music it is definitely Lennon. And about lyrics, he makes a fight with Morrissey and Bob Dylan.
John and than Paul. This is not just my opinion this is the way it should be. With songs like imagine, come together, dear prudence, all you need is love, strawberry fields forever and I want to hold your hand there really is no way that he shouldn't be number one.
Lennon was a great songwriter but not a great musician. McCartney and Harrison were both more skilled and versatile on their instruments. Lennon was smart. He wrote great songs and surrounded himself with outstanding musicians.
John was brilliant and his lyrics and songs were other worldly and imbued with the fighting human spirit, social consciousness and means to challenge the human potential. He was brutally honest and courageously self-reflective. Much more so than Paul could ever hope to be and even, George.
Clever ploy by whoever put this list together, to "split" the Lennon-McCartney votes. This allows someone much less deserving to possibly be at the #1 spot, although either John or Paul should be at the top regardless. It is nice that George Harrison is at least recognized by the list though. Simply put; Lennon-McCartney songs have outsold and out-charted everybody else on this list COMBINED. Paul McCartney himself is the most successful musician of all time, period.
Paul McCartney

Sir James Paul McCartney is an English singer-songwriter, multi-instrumentalist, and composer . With John Lennon, George Harrison, and Ringo Starr, he gained worldwide fame with the rock band the Beatles, one of the most popular and influential groups in the history of pop and rock music .
He's so good, I am envious. I mean Yesterday in a dream, Let It Be in a dreams, Hey Jude, whilst driving to Julian Lennon, Here, There and Everywhere whilst waiting for John to wake up from bed, Mull of Kintyre, a love song about where he was living, Yellow Submarine, from a place between sleep and dream, Live and Let Die after being asked to write a song, I could go on and on and on.

He's just so effortless and he has perfect physical structure of songs in his mind. Each of his albums is the equivalent of another persons greatest hits, and he averages about one album per year since 20 years old.

I once read an internet article proposing that for a songwriter to achieve legendary status, he/ she has had to write 3 well known songs. So for example, Dolly Parton has, I will always love you, Jolene, and Nine to Five. Paul Simon (in Simon and Garfunkel), The Sound of Silence, Bridge Over Troubled Water and The Boxer. Those songwriters could be considered a legend, or more ...more
Paul is the best at writing songs actually. He just dreams of them he is actually the best and he deserves more credit for his work. Besides he was such an influential part of rock and boy bands I mean come on.
First of all, Paul McCartney is the most successful songwriter in history. His collaborations with John Lennon and solo work has sold more than all the others on this list combined, and yes that DOES include MJ, Freddie Mercury and all the rest put together. Each person's musical taste is their own, and they are entitled to it, but when you throw in Paul's singing career with The Beatles, wings, and solo, he is BY FAT the most successful musician in history.
This list is full of paradoxes. There's no doubt that Paul McCartney deserves to be number 1. Those who suppose otherwise are just local supporters of their own national heros, which has nothing to do with the universal appeal of their music.
Paul Simon

Paul Frederic Simon is an American musician, singer-songwriter and actor. Simon's fame, influence, and commercial success began as part of the duo Simon & Garfunkel, formed in 1964 with musical partner Art Garfunkel.
The sound of Silence, america, the dangling converstion, I am a rock, Flowers never band with the rain fall... Enough Said.
On the Top Tens list of singer/songwriters, which is much more legit than this bogus list, he is deservedly in the top ten, at number six.
VERY good song lyrics. one of my favorite song writers
In my opinion, Paul Simon deserves to be in the TOP TEN.
Great melodies and good lyrics.
No doubt. Also very creative in incorporating music from many areas of the world
Neil Young

Neil Percival Young is a Canadian singer-songwriter and musician, producer, director and screenwriter.
Trapped on an island with only one artists' complete catalog to listen to for the rest of your life, it HAS to be Neil Young. Says the 63 year old guy.
I can't believe Neil Young is not at least top 20, for me he is number 1. My best guess is that they couldn't find his name? Who knows.

Hey hey my my, Rock an Roll Can Never Die
Neil young is the best songwriter and singer that I know of. What kind of person would put him at so low? His voice and songs are wonderful. He should be in the top ten.
Probably the most diverse & timeless musician ever born. No one rocks like Neil. Excellent live showman. His songs? Just look em up sometime!
Michael Jackson

Michael Joseph Jackson was an American singer, dancer, and songwriter born on August 29, 1958 in Gary, Indiana and passed away on June 25, 2009. He donated (at least) a remarkable 500,000,000 dollars to charity. Michael is also known as The King of Pop (a title given to him by Elizabeth Taylor) or under ...read more.
Most underrated part of his genius? We all know how great he was with music videos, dancing, singing, live performing etc but his songs were so well written and almost all by him
Michael so many amazing songs including "Billie Jean" "Don't Stop 'Til You Get Enough" "Wanna Be Startin' Something" "Bad" "I Just Can't Stop Loving You" "Black or White" "Beat It" "Heal the World" "Earth Song" "They Don't Care About Us" "Stranger in Moscow" and much, much more...
The reason why he is the best songwriter is very simple: he wrote loads of songs that have a connection with him and ALL of his fans. They are all the better taken forward to the epicenter of Michael's creations. Moreover, in terms of quantity, Michael has still so many songs sleeping in vaults that will show in the future that he was still the King Of Songwriting. Wait for songs like "Breed", "ays in Gloucestershire" or "World Of Candy"!
Michael's own solo written and produced tracks were always instant hits. Don't Stop til You Get Enough, You Rock My World, and Black Or White are just some examples of his greatness. Michael has written a few tacky songs, but of course never released them on an album and only gave us his best!
Carole King

Carole King is an American composer and singer-songwriter. She is the most successful female songwriter of the latter half of the 20th century in the USA, having written or co-written 118 pop hits on the Billboard Hot 100 between 1955 and 1999. King also wrote 61 hits that charted in the UK, making ...read more.
Yes, let's run through the list of people who have done her songs. Aretha (Natural Woman), Dave Mason (Will You Still Love Me Tomorrow), James Taylor (You've Got a Friend, among others), Grand Funk Railroad (Locomotion), Steve Lawrence (Go Away Little Girl), the Monkees (Pleasant Valley Sunday), the Beatles (Chains), the Shirelles (Love Me Tomorrow), etc, etc, etc. I challenge anyone to come up with a list of songs written by anyone above her (save for Dylan and the Beatles) that can equal Carole King.
This list is a joke! I can't even believe the names I am seeing on this list! Has anyone on here ever heard of Bob Dylan? Townes Van Zandt? Leonard Cohen? Paul Simon?... I can understand why you would have Carole King, Billy Joel, Freddie Mercury, and Michael Jackson on here, and I do like Keane, but this is really a joke. Go back to elementary school for a few more years and try again!
A guy from Bon Jovi and a guy from Keane are ahead of this woman?
She wrote Tapestry for gods sake! Just think of all the legends who have sung her songs, Aretha Franklin etc.
Joni Mitchell

Roberta Joan Mitchell, professionally known as Joni Mitchell, is a Canadian singer-songwriter. Drawing from folk, pop, rock, and jazz, Mitchell's songs often reflect social and environmental ideals as well as her feelings about romance, confusion, disillusionment, and joy.
It just seems wrong to have Joni Mitchell sandwiched between someone named Tamer Hosny and someone named Nick Cave.
Hands down Number One. Better material than over rated Dylan.
The best I know of. Circle Game, A Case Of You... Both Sides Now...
Leonard Cohen

Leonard Norman Cohen was a Canadian singer-songwriter, poet and novelist. His work explored religion, politics, isolation, sexuality and personal relationships. Cohen died on November 7, 2016 at the age of 82.
Leonard has written one of the most covered songs in recent years, Hallelujah. Think about that.
Better than anyone else on this list. Should be on the top.
Leonard cohen simplyrules and should be closer to the top of tjis list, fools
There's something about him, his sound, his humor, the mood, the tone, the words, the bkgrnd vocals. somethin' indescribably powerful in its quiet melodies, romantic. beautifully romantic.
Bruce Springsteen

Bruce Frederick Joseph Springsteen (born September 23, 1949) is an American musician, singer, songwriter, and humanitarian. He is known for his work with the E Street Band. Nicknamed "The Boss", Springsteen is widely known for his brand of poetic lyrics, Americana, working class and sometimes political ...read more.
A working man's musician and incredible lyrics and melodies, how he is not number one I do not know. In each song he fits the message that everyone else can only fit into an album. Bruce is the best.
Bob dylan then bruce end of story.
HOW is Bruce ranked so low? He connects with the human condition unlike anyone else, all in perfect poetry.
Should be top ten.
The Newcomers
?
Townes Van Zandt

?
Jackson Browne

Clyde Jackson Browne is an American singer-songwriter and musician who has sold over 18 million albums in the United States.
The Contenders
Chuck Berry

Charles Edward Anderson "Chuck" Berry was an American guitarist, singer and songwriter, and one of the pioneers of rock and roll music. He died on 18 March 2017.
Smokey Robinson

William "Smokey" Robinson, Jr. is an American singer-songwriter, record producer, and former record executive.
Pete Townshend

Peter Dennis Blandford "Pete" Townshend is an English musician, singer, songwriter, and multi-instrumentalist, best known as the lead guitarist and songwriter for the rock band The Who.
It is disgusting that Pete Townshend is ranked 59 on this list. He is easily in the top ten for the list of greatest songwriters in the history of popular music. He pretty much wrote every Who song, including every song for their two rock operas. And then I see the nobodies that are ahead of him on this list. These nobodies wish that at the end of their careers they can have a hint of relevance in music history, whereas Pete will never come close to being forgotten. In my unbiased opinion, The Who are the third greatest band of all time, right after The Beatles and Led Zeppelin, and, although the other three members are very important as well, if Townshend wasn't a key member of that band, they might not even be on the list of the 50 greatest bands of all time. That's how important his songwriting was to the band. A genius of a songwriter and a genius of a musician. Seriously, come on people! Wake up!
Pete is definitely one of the greatest songwriters of our time! Have none of you ever heard, "Blue, Red, and Grey? " That song helped me cope with depression and anxiety, he -saved- my life. Pete is a bloody genius and I hope that one day the world can truly appreciate this lovely man.
Townshend is the best. The first person in rock to combine abandon with intellect and make it work in spectacular fashion. And his solo work equals his greatness with the group, a rare feat indeed. Music and lyrics are of the same incredible standard and his performance prowess seals the deal. Only Hendrix can stand on similar ground.
Who else could write pretty much all of two of the greatest rock operas, three of the greatest rock albums and one of the greatest concept albums of all time. The guy is a legend.
Freddie Mercury

Freddie Mercury (born Farrokh Bulsara, 5th September 1946 - 24th November 1991) was a Zanzibari-born British singer of Indian descent, songwriter and record producer, known as the lead vocalist and songwriter of the British rock band Queen. He also became known for his flamboyant stage persona and four-octave ...read more.
Bohemian Rhapsody, The March of the Black Queen, The Millionaire Waltz, Great King Rat, Innuendo... Great Songwriter
Freddie Mercury Bohemian Rhapsody song is by far the best Written song Freddie Mercury wrote that song went down in history as the best Rock song of All Time, with the Deep Lyrics and the Opera sound really showed off Freddie Mercury Four Octave Vocal Range and made him one of the best singers ever, Bohemian Rhapsody song is one of the weirdest songs but the song is also one of the most popular songs ever made by a band and written by Freddie Mercury, and We Are The Champions is a song that nobody can't sing including Bohemian Rhapsody dong, and other songs such as Another One Bites The Dust and the famous Bass Riff song Under Pressure if you can think of the Under Pressure Bass Riff you are a genius and that's what Freddie Mercury was, he was a Genius with a great voice he is one of the strongest Tenors I've ever heard his voice risen in strength and Substance and Conviction and power, God truely blessed Freddie Mercury with a Voice, Love Freddie Mercury.
I don't take this list seriously just because of the fact that some guy from a-ha is number 1. Then there are other people in the top ten who either don't deserve to be there or no one knows. Then you have legendary songwriters that are so low on this list like Pete Townshend (55? ). All-in-all, if you're doing legitimate research on great songwriters, don't pay much attention to this list.
Freddie was an amazing song writer, equal with John Lennon, and much better, than Paul McCartney. Paul McCartney couldn't write never ever a masterpiece like Bohemian Rhapsody.
Lou Reed

Lewis Allan "Lou" Reed (March 2, 1942 – October 27, 2013) was an American musician, singer, and songwriter. He was the guitarist, vocalist, and principal songwriter of the Velvet Underground, and his solo career spanned five decades. ...read more.
Hey babe, take a walk on the wide side
Robert Plant

Robert Anthony Plant (born 20 August 1948) is an English musician, singer, and songwriter best known as the lead singer and lyricist of the rock band Led Zeppelin.
He deserves to be number one. Of course, there's the monumental 'Stairway to Heaven, ' but apart from that, there are other, far lesser known songs like Achilles Last Stand and Carouselambra (they're really really poetic). There's also the breadth of his songwriting, ranging from outpourings of longing such as 'Ten Years Gone, ' to songs like Black Dog and Trampled Underfoot, which are rife with innuendos. And then, of course, there are Led Zep's ten minute epics
He's so creative and very imaginative
One of the greats in song writing
Extremely creative and poetic
David Bowie

David Robert Jones, known professionally as David Bowie (January 8, 1947 - January 10, 2016) was an English singer born in London, the son of a fundraiser and a waitress. He is credited for his experimental and creative musical discography which has won praise and accolades for many critics and fans. ...read more.
I'm shocked, no one voted for this dashingly brilliant guy. He is the most inspirational artists of the 20th century, TONES of today's bands just owe him - music, style (hey, J-Rock luvers, visual key was his invention))) - EVERYTHING. At least he deserves this for Ashes to Ashes)))
Totally agree
Space oddity. life on mars.
Kurt Cobain

Kurt Cobain was born February 20, 1967, in Aberdeen, Washington. In 1987, he started the grunge band Nirvana, which became one of the most successful bands ever. He was a talented yet troubled grunge performer. Kurt Cobain became a rock legend in the 1990s with his band. He committed suicide at his ...read more.
He is one of the most tragic stories in music history. He was mentally and musically gifted and the fact he could overcome a bad childhood to show that is credit. If he lived longer I am confident he would be in the top three. Much more humble than the likes of McCartney. His surreal but heavy sounds spoke to many
Part of his genius was his ability to write great songs with meaning and an edge. The voice of his generation (whether he liked it or not).
Kurt was a troubled guy, but because of that it made him one of the greatest song writers of all time. In dave Grohls words "he could take something that would take me an hour to explain and put it in two words". It's sad to see him so far down here at 31.
Simple is the best
Brian May

Brian Harold May is an English musician, singer, songwriter and astrophysicist, best known as the lead guitarist of the rock band Queen.
made we will rock you awesome song and much more
...wrote more than 200 songs for Queen, his own band, and others.
Brian Wilson

Brian Douglas Wilson is an American musician, singer, songwriter, and record producer best known for being the multi-tasking leader and co-founder of the Beach Boys.
Brian is number one of a small group of true geniuses in "pop-music", judged from pure musicality. With Paul McCartney in second place or maybe in a shared top position. The scales tip slighly in Brian's favour, in my opinion, due to his great to excellent work in recent, mature years. Though moderately successful, his work since 1988's "Brian Wilson" has been sadly by-passed by much of the public. He deserves better, a grand revival.
Music today wouldn't be the same without him. One of the few real game changers in music history.
Legendary songwriter whose work will never be forgotten, no matter where he ends up here.
Brian's specialty is writing albums like Pet Sounds or SMiLE, but, those albums are made up of great songs. Surf's Up, Heroes and Villains, God Only Knows, Don't Worriy Baby? This guy should be right up there with Lennon, McCartney, and Dylan.
Stevie Wonder

Stevland Hardaway Morris, known by his stage name Stevie Wonder, is an American musician, singer, songwriter, record producer, and multi-instrumentalist.
Most posters on TTT are so young that they believe the Earth was just formed and was still cooling in 1989, and that all music before 1995 was Fred Flintstone beating on logs.
Gordon Lightfoot

Gordon Meredith Lightfoot Jr. is a Canadian singer-songwriter who achieved international success in folk, folk-rock, and country music. He is credited with helping to define the folk-pop sound of the 1960s and 1970s.
Gordon lightfoot really should be in the top ten! I mean bob Dylan was his biggest admirer
Still is, I assume.
Roger Waters

George Roger Waters is an English singer, songwriter, multi-instrumentalist, and composer. He is mostly known for being the secondary lead vocalist and bassist of Pink Floyd.
24th? This dude went from Walk with me Sydney to Dark Side of the Moon. His work is definitely to the same caliber as Bob Dylan & Lennon-McCartney. His lyrics explore mental health, war, loneliness & corruption. He pushed the boundaries of what a concept album can be & simultaneously sold an insane amount of LPs which shows how commercial his work is while also keeping it sophisticated & profound.
Guys are you crazy? Greatest songwriter of all time , developed the main concepts behind pink Floyd's greatest albums - Dark side of the Moon , The Wall , Wish you were here , Animals . Should without doubt be first
I think this list would be quite different if everybody voting took some time to listen to the writing of Waters. There are a lot of great song writers out there, but Roger has a very unique way of making power- and meaningful lyrics which blends in perfectly with the music resulting in the best constructed songs of all time. Furthermore his solo career and work with Floyd consists of albums, which are to be considered as a combined product of music and not just separat songs. These factors makes Roger Waters the best song writer ever.
This rankings sucks, if Roger is on #39. His music isn't for everyone, if you know what I mean. While listening to his work, your brain must work at 100%, you can't relax. You're starting to think about world, cruel world.
Tom Waits

Thomas Alan "Tom" Waits, born December 7, 1949 is an American singer-songwriter, composer, and actor. ...read more.
68th... unbelievable... single digits more like it. Bob Dylan, Bruce, Tom Waits, and then John/Paul (? )...
Tom got to be one of the greatest entertainers. His music is an expression of his life.
Eminem

Eminem, born Marshall Bruce Mathers III, is an American rapper, actor and music producer born on October 17, 1972 in St. Joseph, Missouri. Eminem has sold over 300 million records making him the bestselling hip-hop artist of all time. In addition to his solo career, he is a member of D12 and (with Royce ...read more.
Eminem is a great songwriter. Far from the best but in my opinion the songwriter of the century. The way his lines are put together in his songs make sense in a way I have never experienced before. Every word counts in his texts and non are wasted. I absolutely love some of his albums even though they are as far from the type of rock music I listen to as they can get. It takes a genius for me to listen to rap, and Eminem sure is that.
Seriously? Funniest lines, even the serious ones are genius. They have hidden meanings, metaphors not to mention he makes it sound/ feel good
I can't believe he's not already in top ten. I mean who can write like him? His lyrics are unique in every way.
You're joking right? Eminem writes lyrics, not songs. There is a huge difference.
PSearch List