Best Female Albanian Singers
The Top Ten
1
Dua Lipa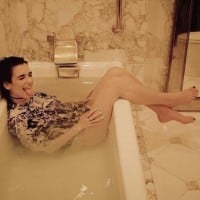 Dua Lipa (born 22 August 1995) is an English singer and songwriter. Dua Lipa was born in Westminster, London, to Albanian parents.
She's so hot and I really love her voice
2
Elvana Gjata
She was my favorite singer, she is my favorite singer and she will always be my favorite singer
I LOVE YOU!
She can sing live I went to her concert in the summer of 2013 she is the best. Great stage presence and she can keep the crowd pupped. I love her and I really appreciate her energy when she performs. She is also very beautiful and she seems really sweet. I LOVE YOU ELVANA YOU ARE THE BEST. WAY BETTER THAN DAFINA ZEQIRI AND GENTA ISMAJLI HANDS DOWN I DON'T CARE WHAT ANYONE HAS TO SAY. YOU GO GIRL KEEP DOING YOUR THING! LOVE FORM New York City!
I love all of her songs and she is my favorite singer.
Her best song is me ty. That song made me cry.
3
Elhaida Dani
She is the winner of the first series of The Voice of Italy. Her voice is very beautiful, I love her.
SHE WON THE VOICE OF Italy IN 2013. SHE WAS FAMOUS IN Albania YET.
SHE SINGS VERY WELL AND I LOVE ALL HER SONGS.
4
Besa Kokedhima
She is known also for winning the tenth edition of Kënga Magjike with "Tatuazh në Zemër" (Tattooed heart) and the sixth edition of Top Fest with "Engjëjt vrasin Njëlloj" (Angels kill the same).
She has a best vocal and all her songs are my favourite like : tattoed heart, zemren dot nuk ta lexoj,Boten do ndryshoje...
5
Dhurata Dora
Dhurata Dora, born 1996 in Germany and by the way she is as we call it an newcomer to the musicscene. She did offer directly the freshness and energy so doors are wide open.
Her best song is TI don.
6
Dafina Zeqiri
SHE IS A COPY OF CIARA. I LOVE HER VOICE.
7
Genta Ismaili
She is an Albanian-Kosovar singer.
Her music is the best of Kosovo for dancing.
8
Rosela Gjylbegu
SHE PUTS A LOT OF ENERGY. SHE IS SO FANTASTIC.
9
Bebe Rexha

Best songs I have ever heard. Amazing voice. Beautiful personality. Beautiful in general. I can relate to all of her songs because of all the things I've been through in the past 2 years at the age of 16.
No doubt, not only best Albanian singer but best worldwide singer. Unless you hate her. That's unlikely! She'll be the best to me.
Should be in the number 1 spot. Amazing talent and passion.
Can't wait she said there is a bid surprise today
10
Kejsi Tola
Is an Albanian singer. She was the winner of "Ethet" (Albanian Idol 2007). In May 2009 she represented Albania in the Eurovision Song Contest 2009 in Moscow, Russia with "Carry Me In Your Dreams".
Her best songs: Me jeto, Atje, ICeberg.
SHE IS SO SWEET. SHE SINGS LOVELY SONGS.
The Contenders
11
Ledina Celo
She is an Albanian singer and model.She lives in the U.S.A.On 19 November 2006, Ledina Celo won 2nd place in the Kënga Magjike song festival with the song "Jemi Të Huaj", a power ballad.
12
Argjentina Ramosaj
SHE IS A KOSOVO SINGER. ALSO, SHE, HAS A GREAT VOICE AND don't SING IN PLAYBACK LIKE OTHERS KOSOVO SINGERS.
13
Rita Ora

Rita Sahatçiu Ora is a British singer and actress . Her debut studio album, Ora, released in 2012, debuted at number one in the United Kingdom . She dated Rob Kardashian .
Is a British singer and actress. Her debut studio album, Ora, released in 2012, debuted at number one in the United Kingdom. The album contained the UK number-one singles, "R.I.P." and "How We Do (Party)". After reaching the peak position as a featured act on DJ Fresh's "Hot Right Now", Ora became the artist with the most number-one singles on the UK Singles Chart in 2012, with three consecutive singles reaching the top position. She was nominated for three Brit Awards at the 2013 ceremony. SHE HAS A GREAT VOICE TOO. I LOVE ALL HER SONGS ARE WOW. I'm PROUD ABOUT HER.
Such a beaut and with a strong voice!
Stunning in every way!
14
Ava Max
Her new album is a big hit
She's so amazing when she sing so am I on stream!
the best singer ever
15
Era Istrefi
THE BEST and MOST POPULAR Albanian singer right now and also the prettiest! Her song "BONBON" is absolutely AMAZING and very good for dancing. A rising star, she's only been new to fame since 2013 and already making international waves while being only 21 years old. Hope to be hearing what her next hit song will sound like. Also can't wait to hear her live, I can just feel she's going to be even more famous than she is now and who knows maybe she'll even become more famous than Rihanna and Sia combined...
Her voice is so good
Her best song is Bon Bon
16
Enca Haxhia
She is kindest Idol ever
Enca of course
She's the best Albanian singer EVER: "Love On My Body", "A Po t'Pelqen", "Ciao", "Dreq", "Dua", "Bow Down", "Play My Game"...
17 Vace Zela
19
Miriam Cani
SHE LIVES IN GERMANY. SHE IS A PERFECT SINGER.
20 Luana Vjollca
21
Tayna
She is a great singer
22
Xhensila Myrtezaj
Obviously. Pure Talent.
23 Eneda Tarifa
24 Rona Nishliu
25
Eni Koci
Best R&B artist surely
PSearch List