Top 10 Best Motorsports
The list of the top 10 motorsports in the world from Formula 1 to Moto GP.

The Top Ten

1 Formula 1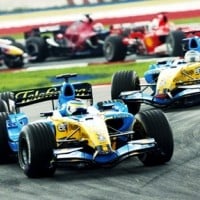 Formula One is the highest class of single-seater auto racing sanctioned by the Fédération Internationale de l'Automobile (FIA) and owned by the Formula One Group. The FIA Formula One World Championship has been one of the premier forms of racing around the world since its inaugural season in 1950. Formula One season consists of a series of races, known as Grands Prix, which take place worldwide on purpose-built circuits and on public roads.
Every motorsport has its flaws, and F1 is no different. However, it's still the true king of motorsports. Tons of overtaking, varied racetracks, and several of the drivers are entertaining both in and out of the car. It's only big flaw is it's team domination eras. If you can get past that, there's little to complain about in Formula 1.
Those who say F1 has no competition and no passing clearly doesn't watch F1. Overtakes are always better in F1 than in NASCAR. Just by side for a long ass time isn't good racing, it's manufactured racing. On the other hand, watching an F1 driver slowly close in on his rivals and setting up a move slowly is real racing.
the pinnacle of motorsports... a lot of techs, certainly but the driver isn't less valuable and having interest enough in it, there are a number of different stories happening at the same time.

A possible championship fight, a middle team fight for the third place in the constructors, the rise (or fall) of a team through the years, the personal story of a driver in his path to Formula 1... and it goes on and on, follow it enough and you'll know those stories and the races will become even more interesting.
NASCAR is good just F1 is a different level of skill. I'm not a fan of 1 Motorsport. I like watching WEC, IMSA, NASCAR, F1, ARCA, K&N, F2, motocross, the list goes on. So I don't care if anyone disagrees with me because if I could vote for more than just one I would vote for everything.
2
Nascar
Formula 1 has no competition, no passing, and no type of fall off. Nascar has tons of these and much more. It is far safer than the four above it. It isn't given the chance it deserves and it is unfairly stereotyped. Although, I can not deny. Most of them are true. And yes at times during long green flag runs or back to back cautions, it can get a bit boring. But what sport doesn't have those issues? However, Nascar is never boring when you're at a live event.
NASCAR at its peak was leaps and bounds ahead of any other league. No auto racing outfit will ever approach what NASCAR was from the late 80s to about 2007.
V8 Supercasrs look more like show cars I like the big numbers like 33 I reckon NASCAR is the better then V8 Supercars accuse the crappy temas can keep up like Michael Waltrip. Usally Jimmie johnson Wrecks s=because he is the 7 time NASCAR champion and still can wreck. Not like V8 Supercars Jamie Whincup wins all the time never wrecks only one time at the gold coast 600 last weekend but still.
Truth is that the NASCAR after 2010 was meh because it was just boring in general. But before that year, NASCAR was fun to watch, as announcers were entertaining and acted professionally, racing was exciting and unpredictable, and the drivers had to endure a lot more obstacles.
3
Moto GP
I appreciate all forms of racing, but every race in MotoGP is a RACE from start to finish. If riders are with 1.5 seconds of each other in the last lap, the final corner or finish straight will determine the winner. The physics are insane. Many times I can't comprehend how the rider can corner in the wet at incredible speed while passing another rider and not crash. I've been riding for 30+ years, so a little biased. Formula 1 is like chopping down a tree while MotoGP is fast, beautiful and heart-breaking at times. Yes, I watch F1 every race
F1 is just an outdated motorsports and its fans living in the past.. I myself remained a F1 fan since 1998 upto 2009 but then I realized it has gone stagnant (no heroes, no villains, no overtakes, no excitement whatsoever)... I started following MotoGP in 2002 and realized how many empty spaces it filled up that are left un-attended by F1. Long Live MotoGP...!
MotoGP has actual racing - vs F1 parade laps. Excitement in F1 is the first 3 turns, then pit stops - embarrassing. MotoGP is man and machine as one, with actual passing for the lead. Real motor sport drama.
If you like motorcycles you are probably going to like this sport, like I do. F1 is just so boring(in my opinion), its only fun to watch the highlights on youtube. Some tracks they go on for like 60+ laps.
4
IndyCar
I have difficulty understanding why indycar is placed number 7. As a formula 1 fan I cannot appreciate indycar more. With races like the indy500 not only being physically challenging, but also being mentally strenuous as the drivers race at very high speeds with very little margin for error.

Yes, indycar is slower than f1, but in a straight line an indycar is significantly faster even though it has 250hp less than f1. They also weigh a lot more because of the extra protection for drivers so that crashes at very high speeds can be safe, as indycars tend to crash at much higher speeds.

If you still think that indycar is too slow because of the cota timings. Consider this, when was the last time f1 raced on an oval circuit, and what happened? Even if f1 tyres did not blow up due to the extreme tyre loading on an oval circuit, they would still be a lot slower than indycar, simply because f1 cars and indycars are designed to excel at different types of racing and therefore ...more
Nobody works harder in open wheel racing than an IndyCar driver. You can argue all you want about them not being as fast as F1 on a road course, but driving this vehicle at it's limit for an entire race with wheel to wheel action is, in my opinion, the toughest racing around.
Simply the best, closest, diverse and most competitive open wheel racing series on the planet year after year.
The best racing series no one pays attention to! Indy is the best! A diamond in the rough.
5
Rallycross
This is the best sport, (especially electric). This isn't ignored. Most of the best rallycross drivers in the world are in it. Johan Kristofferson, Matias Ekström, Timmy Hansen, Kevin Hansen, Timer timerzyanov, Andreas Bakerrud...
Cars are better when they work on both gravel and dirt and asphalt.
Superb sport I like it.
Andreas Bakkerud, Steve Arpin, Petter Solberg, Ken Block, Sebastien Loeb, and many more race in this amazing sport!
6
Endurance Racing
I want cars that doesn't break down as fast.
I think that it is a fight for teams to finish and win and pretty much a very intense sport
7
WRC
The sport is quite amazing because the cars are all standard road cars you can buy today for very little but the tuning and skills that go into each stage is truly amazing, and the sport has such a rich history of rivalries like Lancia VS Audi, Subaru VS Mitsubishi and the entirety of Group B.
This is truly the king of motorsports
Driving at speeds of over 130 mph on multiple terrains (Dirt, gravel, snow, asphalt) with sharp turns where drivers are sliding sideways at 100mph plus and crazy jumps going at top speed. The drivers (co drivers) and the cars need to endure more than probably any other other motor sport in the world.
I prefer cars where you can have a spare tyre with you and 2 or more seats.
If you like driving around in circles this is not the sport for you.
8
Monster Jam
This is the best motorsports that no one can top that!
9
Drag Racing
Most participants of any.
10 Motocross
The Contenders
11 Monster Truck Racing
12
V8 Supercars
V8 Supercars is easily the most exciting motorsport in the world, You have crazy in car temperatures, Insane tire degradation and the driving skill needed to muscle one of these cars around the circuit is near that of a Formula 1 car, Needs more coverage all around the world.
One of the best in the world by far, pure aggressiveness, close competition, and if you haven't seen a lap around Bathurst what are you doing with your life?
Great racing, tough cars with none of the driving aids you see in GT, F1, LMP etc. Pure muscle car racing and always have great supports to boot.
Simply some of the best Racing in the World today.
13
Touring Car
For me the BTCC is much more interesting than F1. BTCC provides more action, it really takes the phrase "Rubbin' is racing" to the max. I mean think about it, when last did you see a crash like the one for Rob Austin at Brands Hatch in F1? Every lap is exciting because there is someone always trying to get as high as they can, even if they cause a bump or two. F1 the slightest bit of contact you have to pull in the pits and will cost you $ 1 000 000 to fix
This has to be higher! I mean, see these different teams, drivers, all in these spread out tracks in the UK! You see different winners every year, every week, every race. Such an action packed sport. Go Aiden Moffat!
Crazy crashes, close calls, amazing races...
Practical race cars now we are talking.
14
Formula E
With Gen 2 cars released, the race is more intense and fast-paced. 8 races with 8 different winners from 8 different countries, that's how intense the race has been for 2019. Love it much more than F1, in the sense of competition.
Not as popular as F1, but it is a really great Motorsport, one of my top 10.
Electric thrills, what is better?
I doubt it could get any better.
15
Stock Car Racing
The brazilian Stock CCar series are very competitive and to win, you need much more than just an fast car...
16
24 Hours of Le Mans
Real enthusiasts can race for hours. If you don't like endurance racing you don't like racing.
17 Truck Racing
18 Supercross
19 Formula Two
20
Rallying
I like road legal race cars.
21
DTM
For me, it's a series that is seriously underrated as most of the races are seriously fun to watch.
I prefer factory built instead of custom.
22
Go-karting
Close action packed racing, the roots of all the big names in motorsport. more to it than your standard arrive and hire karts! Karts racing at 80+mph with drivers being within hundredths of a second of each other!
23
Formula Drift
I love it the smell of burning rubber and seeing them go sideways around the corners my fave is the 25 RTR mustang.
Ridiculous amount of skill involved which goes unrecognised. Brilliant to watch and participate in"
Drifting is fun to do and it is great fun to do.
Cool cars racing sideways at 80 mph!
24 Speedboat Racing
25
Super GT
Road and and fast that is what I want.
PSearch List