Greatest Dirtbike Riders
The Top Ten
1
Travis Pastrana
Pastrana can ride anything, anywhere, anytime. Motocross, supercross, freestyle, desert, flat track, enduro the man can do it all and do it the best. He could easily match Ricky Carmichael for speed on a supercross track and probably would have won more titles if he stayed healthy. The skills he has on any sort of dirtbike are unmatched. He is the modern day Malcolm Smith.
Awesome Dude, keep up the great job, I think that the tricks offered a dangerous adrenaline pump to everyone who is watchin you.
I love you you are so good and you should go back into motocross your are the best rider in the world.
2
Ricky Carmichael
Ricky was faster than James Both guys were class acts. Just go to the video. James was miss treated by FIM. AMA needs to cut that relationship. Also Mr Tickel. Whats up playing with people's lifes like That.
Carmichael is the GOAT! He will never be beat. No matter what! Carmichael, Tomac, and Roczen are my 3 favorite!

P.S. subscribe to Nuculear T.V. on YouTube!
Undisputed. You can run everything, but you need to be the best at one thing. This guy, on top of how humbke he is, is a sick and crazy rider.
3
Ryan Dungey
Very talented dungey grew up mere miles from my house/ different schools but married Lindsey in my brothers grade. He is quiet down to earth and very humble for his skill and achievements.
Ryan dingy is one of the best.
My son says your awesome
4
Ronnie Mac
I feel that the rest of the readers on this thread did not take a simple 69 seconds to read down the comments and vote the absolute best into first on this pole.

Uncle Ron for #1
His style and persona make his riding fun to watch.
He is an inspiration
5
Chad Reed
I could only wish to be like Chad reed he's the best there is!
He is the best Australian rider ever.
He is the best current rider!
6
Ryan Villopoto
Very quick rider, I believe every year he raced for monster energy kawasaki, he wouldve one a title, fastest rider in history I think.
Villopoto is the best cause he has dedication and heart. Just let the number one plates speak for them
Selves
Dude dominated the Motocross Des Nations, twice from what I heard, and he tried out the MXGP circuit.
7
Jeremy McGrath
Best supercross rider ever...and at present, helping youngster with his team and DC
A true ambassador of the sport and skills most wish we had.
The King. He made it look easy too.
8
James Stewart Jr.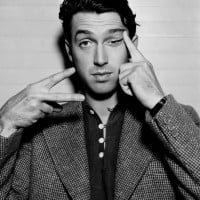 James Stewart (May 20, 1908 - July 2, 1997) was an American movie star, who is widely considered to be one of the greatest actors of all time. He is best remembered for his roles in Rear Window, It's a Wonderful Life, Vertigo, and Mr. Smith Goes to Washington. Stewart was known for his distinctive drawl and down-to-earth persona, which often helped him portray American middle-class men struggling... read more
This guy tears it up! I can only imagine being even close to as good as him!
This guy is so fast on a 250 2 stroke. You name a track he will race it for sure.
The guy is a champ no dought about that!
9
Brian Deegan
My favorite rider in the world. I have always wanted to ride with him and his sons
You kids are going to follow your footsteps.
The best. Love watching him and his kids on YouTube. Go subscribe
10
Graham Jarvis
Just a machine with skills far succeeding any other dirt bike rider and should be at number one as he doesn't ride for the money he rides to out do his previous extreme motorbike achievements which in turn improves the benchmark to his rivals and makes HARD even harder!
Respect!
Definitely the King of Hard Enduro. Unbelivable technical Skills. Has a 6 sense for finding the perfect way in hard enduro events.
Truly skilled especially in the technical stuff and is gnarly bro.
The Contenders
11
Eli Tomac
This mans is goat!, keep riding hard
You are the best rider
You are the best
12
Malcolm Smith
Malcolm could do it all! Back in the day on those old bikes, motocross, enduro, desert, trials! Everything on a dirt bike, he was the best.
A true class act. Pride of the desert.
Absolutely a Top 10 rider!
13
Toby Price
He's won the DAKAR twice.
DAKAR is known as the hardest bike race, even with a broken wrist.
If that's not good riding, I don't know what is!
14 Ryan Dungy
15
Roger Decoster
Why did I vote for Roger " The Man " de Coster. Roger is the man, he may not have won 10 world championship's in reference to Stefan Everts but he's definitely the best MX rider the World has ever seen. Stefan Everts #2, #3 - Ricky Carmichael or Bob " Hurricane " Hannah...You pick. Joel Robert, Tony Caroli, Joel Smets, Eric Gobeors, Heikki Mikkola. Your greatest outdoor motocross rider's are European rider's and always have been as I only have 2 American rider's listed in Ricky Carmichael and Bob Hannah.
De Coster is the absolute godfather of motocross.
A legend! Really stands in a class of his own.
He was the best. 5 championships All on Suzuki
16
David Knight
The best, at his age he is still so committed and gets results.
17
Ken Roczen
He's the best supercross rider in the world please put him up higher
He's my favorite
18
Mike Metzger
The god father of free-styling and riding!
Original Old School, a beast on a bike.
19
Ashley Fiolek
Do you realize that she is the only girl and she is still amazing!
Because she is the best womans rider in the world, she has the number one plate and she has a hearing disadvantage so she should be on top she is so good at racing
Fantastic rider and inspirational person. All round cool chick
20 Nate Adams
21
Stefen Everts
Beat Bubba at age 34! If Everts would have raced Bubba and Carmichael at age 25 over a full season I think he could of definitely beat Bubba and I think he could of challenged Carmichael
First off, it's Stefan Everts. Not Stefen.
Second, and more importantly, how is he not top 10? If not top 3? He holds the record with 10 World Titles!
King of motocross
22
Kurt Caselli
Amazing rider and a even better person.
Such an amazing rider and such an amazing person. We miss you KC!
Be remembered as a person not a racer!
23 Danny Laporte
24
Jeremy Steinberg
Twitch is the man that has pushed the envelope on how to treat fans and how to love the sport of riding.
25
Bob Hannah
Grew up watching him race, loved his energy and skills.
Should be way higher.
PSearch List