John Deacon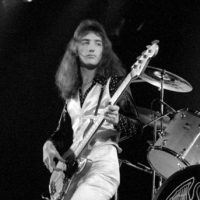 Found on queenonline.com.s3.amazonaws.com
Info
John Richard Deacon is a retired English musician, best known as the bass guitarist for the rock band Queen.
Comments
Top
Popular
Newest
He is the underrated member of that band. He just quietly went about his business doing the greatest thing of the time. He would still be right up there if he was still active.
John Deacon is the best bassist who does the job of a bassist. He provides the base well, and listening to his basslines feel like someone is singing backing vocals. Yet he doesn't consume any limelight (pardon for Another One Bites The Dust and Under Pressure - Ice Ice Baby stolen from the latter). He was the one who made me love the bass. Another One Bites The Dust is of course legendary, but listening to the bass playing from other songs of Queen - mind blown. He's invisible yet omnipresent. My inspiration of course is this guy. He doesn't sticks out, since he's the glue. And he's horribly underrated for his job, which is an underrated job anyway.
John Deacon is amazing at bass, he deserves being in the top 10, but a lot of people don't know him, in a documentary about Queen someone said"people thought of Queen as Freddie Mercury, Brian May, Roger Taylor And that guy on bass", but in queen songs you can notice the difference without bass, it just doesn't sound the same without it, plus he wrote "Another One Bites The Dust"(Which was number 1 in america for 3 weeks and number 1 in 16 other states) and created the Bass Riff for "Under Pressure.
Anybody in QUEEN is the greatest because Queen is the best band in the universe!
So, naturally John Deacon is the greatest! Very under-rated, just like Queen is extremely under-rated, same as Brian May and Roger Taylor are for their respective instruments which they are totally brilliant at!
Even Freddie Mercury is not as respected and recognized as The Number One singer like he ought to be, which is a sin! Anybody w/ ears & just a bit of common sense will readily admit that Freddie has the best voice ever!
It's a shame that none of these phenomenal musicians, all geniuses in their craft, have received enough attention & admiration. Yes, they quietly make the list of the best this & that, but they are so far superior than what people give them credit for!
They're simply MAGNIFICENT... Beyond belief! If people could just get past Queen's greatest hits and delve more into their hidden gems, they would find a treasure trove of sheer ecstasy! Unlike most bands whose best stuff ...more
He could play the wooden bass, and has played it on one of the Queen songs ("Bring Back That Leroy Brown" and "'39"). He was technically excellent, he could carry the melody if desired, or he could support the group unobtrusively - which he often did. He is underrated, because he never wanted to be in the limelight, he never sang a lot (his mic was turned way down), but bass playing, he did with perfection.
He's so underrated. Almost everybody have heard his songs (some of them being Another One Bites the Dust, You're My Best Friend, I Want to Break Free and my personal favourite: Spread Your Wings), yet when you ask them who wrote them, they will probably say "uh.. Freddie Mercury? ". A lot of rock stars have "big personallities" (meaning egos), and take a lot of space. I really respect John Deacon for not being one of them, although I wouldn't mind if he came out of his dark cave soon to play some more music. Stay, Smeagol, don't become Gollum!
Really underrated. John Deacon is not only good because of his bass-playing, but he also is a great songwriter. "Another One Bites The Dust", "I Want To Break Free", "Spread Your Wings", "One Year Of Love" and "You're My Best Friend were all writed by this guy. (Sorry for my English if it has mistakes)(I'm from the Netherlands)
Oh My God! John Deacon is underrated! He's quiet, okay. SO? It doesn't mean a thing. John Deacon is the best! I can't believe he's number 22! Raise the roof! Raise Deacy! And he wrote... "You're My Best Friend" and "Under Pressure", "Another One Bites The Dust", "I Want To Break Free", "One Vision" and more. I read he even wrote "The Show Must Go On"! DEACON IS BEST BASSIST!
Long live Queen. Long live Freddie Mercury (I LOVE, LOVE, LOVE Freddie! ).
This guy created two of the most recognisable bass lines in history, Another One Bites the Dust and Under Pressure. Just hum those bass riffs to anyone and they will know them. There are hardly any other bassists who have achieved that.
John Deacon is also responsible for writing some of Queen's biggest hits, such as I Want to Break Free, Another One Bites the Dust and more.
How is Deacon 32nd? inventor of the Deacy amp, player of great baselines such as in Another One Bites the Dust, and Under Pressure. Great song writer too with songs such as "You're My Best Friend, I Want to Break Free"
Rarely appreciated to his full extent, a bass player that played every song with ceaseless brilliance. His work with Queen always supported and subtly improved any vocals and guitar. A man who was always in the background, but ultimately was the stepping stone that helped Queen into stardom.
How can this guy not be in the top ten?! I mean like, he might not shine out like his band mates much because he doesn't really like to be in the spotlight but hey! he's brilliant. It pains me that he is so far down because he is a great bassist who produces music that everyone can relate to. His playing is simply out of this world. And for those of you who think he's not that good simply because he is quiet and seemingly unassuming,remember that we are voting for the music here and not simply for the fame they've managed to hog through their flamboyant lifestyles. for those of you who think he's great I think you can all relate to the :"It's the silent ones" because in John Deacon's case it is SO true.
Deaky rocks! This quiet dark horse has written some of rocks classics, (You're My Best Friend). He has inspired a generation of new bassists. And he held his own in a band that had some of rocks heavyweights. If you watch a Queen concert, you'll see what I mean. To have all that greatness all on one stage... Whew!
Lest we forget, he also wrote several of Queen's big hits, including "Another One Bites the Dust", inspired by his early love of Soul. He also co-wrote songs with Freddie Mercury as well as collaborations with the band. Included in the hits he alone wrote are: "You're My Best Friend" & "Spread Your Wings". He was also a multi instrumentalist & played rhythm guitar on several studio cuts, and with his background & formal education as an electrical engineer, he built the so-called Deacy Amp which both he & Brian May used. It was the amp used to create the guitar orchestras present on many of Queen's recordings.The guy's brilliant. He may be retired from music but he should still be ranked among the best.
John is massively underrated. He's basslines are so smooth and melodic. Listening Millionaire Waltz, Good Old Fashioned lover boy, and you will find the beauty of the bass he played - Not to mention the songs like Dragon attack, Under Pressure!
John Deacon was the quiet one in Queen, his ongoing joke was "I'm just the bass player". But a great one he was. Under Pressure, Another One Bites the Dust. Just so amazingly cool and talented, he was an equally talented song writer as well.
Greatest bassist ever with some killor bass solos - Liar, Another one bites the dust, Under Pressure. He composed some of the Queen hits like You are my best friend, Anotherone bites the dust, Back Chat and I want to break free.
When it comes to traditional bass playing, Deacon takes the cake there and then adds some of the most simplistic, yet complex twists to the basslines... a traditionalist at hard but a real inegnious engineer of his craft - ozlacs
Deaky is an insanely under appreciated member of Queen, with most people only acknowledging Freddie, Brian, and Roger. His amazing work as a bassist deserves to be recognized. He is, in fact, the man who came up with the bass line for under pressure, another one bites the dust, crazy little thing called love, body language, good old fashioned lover boy, etc... I could go on and on.
Just look at his own creations: Another one bites the dust, Spread your wings, You are my best friend and so on... Also don't forget the iconic bass lines in Another one bites the dust and in Under pressure. Should be in top 5.
Once again- he deserves to be in the top ten! He is the best there was, the best there is, and the best there EVER will be! He should also be remembered like he should be and be recognized for the few amazing songs he wrote!
John Deacon had wicked bass lines such as in Another one Bites The Dust, Dragon Attack and many other bass driven songs. My favorite work of his though is in Killer Queen. The bass is not over complicated, but genius.
Listen to Another one bites the dust, Under pressure, Dragon attack and Liar. You'll then see why this guy is a legend and the greatest bass player of all time. This guy also wrote some of the biggest songs of all time.
Maybe not the best bass player ever, however, he really knew his instrument and even though he wrote simple bass lines, they really worked and I would say he even wrote some of the greatest basslines of all time.
Thanks to john for all the great songs he created and bassed
If it wasn't for you john we wouldn't have had great songs such as under pressure and another one bites the dust
Never given enough credit
Related Lists
Best Queen Songs Written by John Deacon
Top 10 Best John Deacon Basslines