Mike Starr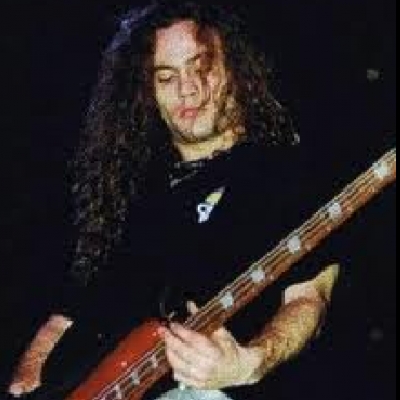 Uploaded by Mumbizz01
Info
Michael Christopher "Mike" Starr was an American musician, best known as the original bassist in Alice in Chains, which he played with from the band's formation in 1987 until 1993.
Comments
Top
Popular
Newest
I regard Mike Starr to be one of those great artists who nonetheless goes unrecognized by many, due to some personal flaw that had little to do with their music. Mike provided a kind of dedication, talent and charisma to the birth of Northwest Grunge. He and a few others from other bands there, embodied the spirit that defined grunge: complexity from a dark, moody, simple locale; disregard for dominant social directives, and a mysterious raw energy that was expressed in his music, his look, his life. His talent playing bass helped deliver that deep moodiness that is associated with grunge music, and has gone unmatched by any other that followed him. Much the same can be said for his best friend Layne Staley. What is left, is not Alice anymore. - BackBeat
Mike was a quiet boy. Traveled many times in his younger years. He grew up quickly and absorb many people skills quietly taken everything around him in. He never cast judgement on anyone or anything, always felt compassion. He was a dreamer, loved music, had a passion for life and taught himself to play bass! Wow such a God given talent. We would smile when he called and told us to listen for his band, never knowing the success behind them. He and his band came to town with Van Halen and instead of hanging with a hyped up lcrowd he had his tour bus bring him home to us. He lLOVED family and I remember the first night of their show we went to see him... I felt how damn happy he was to introduce us to his band mates and Van Halen members... "you have to meet my cousins "... And now after all this I now get how truly powerful, successful, talented and loving Mike Starr is and always will be... He is more than a top 10 list! He is simply the best!
Mike... Just look at this guy! Raw energy spewed from his fingertips into an electric thunderpunch that knocked the wind out of you and left you gasping for more! A Bass for sound, Fire for sight, a knife for touch. He stood before the stage of the universe at sunset, When earth life faded. He summoned the universe, and crowned it with MAGICK sounds to replace the natural sounds. He sacrificed. Illustrated the profit drawn from the scheme of incarnation. Illustrated the use of the lower life to feed the higher life. Unconditioned, the Absolute. Burning up in the flame of his own sound, and born Again-the Phoenix! He lives forever through his Bass. Mike was an amazing person as well as an artist, and deserves the proper recognition! Listen! R.I.P. mike Starr, and shine
Mike Starr was a young self styled Bass player. He had a style that he developed that was unique to him. His style was heavy and clean. Mike had been in a couple of bands before joining up with the Seattle based Alice In Chains. It became very evident in the song "Would" dedicated to Andrew Wood who had passed away and was credited as being the father of Grunge and brought attention to what would become known as The Seattle Sound" Mike Starr was definitive part of that sound with his heavy Bass sound. A true talent gone too soon Rest Peacefully... And the band played on. Peace
Mike Starr was an amazing bass player. He displayed tons of energy on stage. He put his heart and soul into his playing and shined in everything he did. He was involved in paving the way for a whole new musical movement. He should be in the top ten!
The Best bass player ever existed! If someone has some doubts about the fact that he is the BEST bass player he/she should listen to the live version of "Junkhead" at The Singles party premier! After you've listened to that there will be no doubts that Mike Starr is the BEST bass player in the world! RIP Mikey! We all love you! A man with great soul and talent!
Mike was the best bassist ever. He was such a sweet and kind person and love life. He helped with starting up the grunge scene and being a part of Alice In Chains and will forever have a place in Grunge Rock and Rock in Roll.. He would do anything for a friend.. When he entered a room, the room instantly became full of light. I miss him so much.. Mikey your with Layne now.. May your Soul RIP Mike Starr "SHINING STARR"
If anyone deserves the top spot it is Mike Starr! The best bassist from the best band on the planet! Not only was he an amazing bass player, he was also an amazing person with a heart of gold and an awesome sense of humor. He cared deeply for his friends and fans and he is missed more than he will ever know!
This man is amazing, and should ranked much higher. Jesus, he composed some of the best bass work for their earlier stuff, and especially the stuff that ended up on Dirt.
Mike starr forever!
He was a part of a driving force that changed the music world forever!
Let him finally get the recognition he has always deserved!
Mike Starr... Best Bassist that ever lived! Amazingly talented... Touched the world not only through his music but by sharing his personal struggles to help heal others...
I have three things to say, Alice in Chains. The band is fantastic and reaches so many people with their words and the bass line is what distinguishes them from other bands. Mike Starr played his bass like he and it were one. The music came right out of his soul. He gets my vote for the Best Bassists ever.
Mike Starr was my friend, sometimes my sounding board and always compassionate. He could portray that "hard rocker dude" persona, but in all ways he was a beautiful soul and the hearfelt way he played his bass amplified that. Alice in Chains will never be the same. However the cacophony of ear candy that he and Layne left behind will live on til the end of time. Blessed be the power within one bad ass bassist named Mike Starr and how he shared his soul through his bass for all the world to see, feel and experience. Xox
Rest in Peace, my friend. You are and will always be deeply missed. Not only the music world, but the world as a whole was a better place with you in it.
This man is the best bass player in the world... His fans love him, I still love watching him play in videos jumping around the stage and still kicking butt on the bass.. Not too many people can play like he did and do that at the same time.. NOT LIKE HIM.. NO ONE LIKE HIM! THE BEST!
Definitely amazingly talented, he also co-wrote some of the best songs of the "grunge" era. Rest In Paradise Mike you are loved and NOT forgotten!
Mike developed man hard bass lines for several bass heavy songs. Had his personal life been less turbulent, Mike surely would be one of the firsts on this list. His style came naturally and it has been said that "he was a prodigy on the bass from the first time he picked it up"! Mike Starr belongs on this list!
Mike Starr was a phenomenal bassist! He definitely posthumously deserves this! His fingers moved so quickly, and he put his heart into everything he played. We miss you, Mike!
Mike needs to be WAY further up on this list. It's the generation that doesn't appreciate GREAT music and listens to the new "pop" bands (Avenged Sevenfold) that would rate someone like that higher than Mike. He WAS AMAZINGLY talented... And a part of one of the GREATEST bands of all time.. Doubtful "Avenged" will ever have that ranking.
The smokey, bluesy words from Layne wouldn't have been sounded the same without Mike's solid play to frame the mood.
I had a good talk with Mike on my patio right before he left this world and on to the next. He told me about how he came up with the bass line for "Would" in which was one of pieces of a music composition that allowed his part in making the song become the dark back bone that the track couldn't live without. We miss you Mike!
He had a way of drawing you into the song with his talent. I am at a loss of words to describe how his art touched me... Deep into my heart and soul. Ya just FELT it.
I will always treasure the influence he had on my life and also for others as well. We adore him. Such a big heart and true spirit! RIP Mike.
Glad to see he's finally at least in the top 30.. And it's the less he deserves. Mike was neither a rockstar, nor just a bassist. He was a complete musician, with heart, soul, the most important about music. Speed and technuiqe are required to be good, but it's not everything. He had much more than just that. That's what makes him unique, that's what makes him the best.
Mike Star was a man who literally lived for Rock & Roll. Every day of his life was Rock & Roll. Sure he had his struggles as they all do, but at the end of the day if you put a Bass in his hand - he would Rock It!
The Best Bass player! Mike is dearly missed and will not be forgotten! He touched a lot of people's heart whether it was personally knowing him or just through his music! I will never forget his smile, as it was a true smile! May his soul rest in peace! The Best Bass player!