Tetsuya Ogawa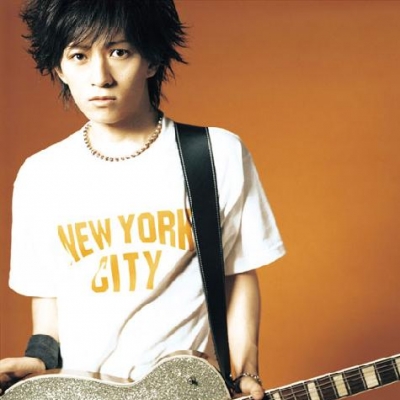 Found on glitter-graphics.net
Comments
Top
Popular
Newest
Tetsu is why japanese music should be out there to the world, so that they could see what real talent is. Most people here don't know a thing about skill, they never heard of him, and they never will because they're too stubborn to see the different kinds and shapes of music.
What we see here is bassists who have been in the mainstreem, people have heard of them, but testsu is as good, and even better (the case of tokio hotel... seriously people, are you sick or something? ) Tetsu is pure hard talent folks, pure talent, awesome skill, awesome music
Tetsuya is the most amazing bassist I have ever known.

When most people think of bassists, they think of him/her as the most boring member of the band, (I mean, come on, how many dumb bass jokes have you heard? ) but when it comes to Tetsuya, he is the beating heart of L'Arc~en~Ciel. He is a big part of what makes their music unique and wonderful. He plays the most complicated, melodic, beautiful bass lines.
I'm very glad he gets the recognition he deserves here. I wish more people would be willing to give foreign music a chance... L'Arc is a band like no other. Tetsuya is a bassist like no other.

Listening to L'Arc has literally made my life. That's greatly in part thanks to Tetsuya!
the first thing that made me know that the intro of a song played on radio is Laruku's song, is from his bass.
not many bassist (or at least I've never met one but him) who can play that kind of bass.
though I don't know about music, but his bass is ssoo amazing! very unique and... God I just can't describe it!
i love your masterplaying on bass Tetsu-sama! *kiss! * - micopunk
TETSUYA is the best bassists with capabilities that are unnecessary in doubt
Arrangements of many songs he has become a very cool song with a style of Japanese rock music makes every song is very comfortable ear
He has the best ability and are very creative
From the lyrics of songs he made an incredible song with arrangements that
He really deserves to be the best bassists ever with the works that have been in her
Please give applause he is THE BEST EVER bassists TETSUYA OGAWA
Skillfully, he may not be the best.
But the magic that he brings in every note that he plays is just awesome.
You see, playing bass is not just about how fast you can play bass.. It's not always about how many notes you play.
It's about how basslines carry every single song you play.
This needs a lot of imaginative skills, great ear, and skills for execution.
This is what Tetsuya is. Best bassist that God has created so far.
Tetsuya is awesome! He is the leader of all things genki! I'm so glad I could see a site with him considered one of the best bassists ever! I've seen this several times: "Tetsu is the bass God! " Plus he's had his band for 20 years! That's a long time for a lot of Japanese bands!
He is sheer genius, his skills as a bassist are truly a marvel. You can not deny it after hearing the songs he writes. From L'Arc to TETSUYA. Every song he writes is to much to take in. So in my opinion, other than just being a wonderful bassist he is an amazing songwriter. A music icon in my eyes.
He has amazing sense of music. And his music can break the "language barrier", so the listener can understand the sense of his music although hey don't know the Japanese language.
And the most important thing, he's very TALENTED! He play he bass like a GOD
Tetsu rocks!
his talented... Has good looks... Good sense of fashion... His a great leader of l'arc en ciel! And I thank him of founding the band, with hyde, ken, sakura(ex-mem), hiro(ex-mem), pero(ex-mem) and yukihiro...
he really rocked in STAY AWAY!
yeah!
has a good voice too...

Very good, cool, and potent bassist. He can sing, compose and manage other bands other than L'arc en ciel. Anime lovers, I know you must have heard of Laruku if you watch Full Metal Alchemist. FFS they performed at Madison Square Garden; multiple bands on this site dream of performing there but can't. Other than that, please vote for Reita because the GazettE are taking over the WORLD.
Tetsu did two masterpieces on bass that deserve to be quoted : Blurry eyes and Honey. Bass lines in these songs

Are magic. Blurry eyes bass often made me crying such the bass is awesome in this song. I can too

Quote "stay away", "flower"... Indeed, I realized that all his bass lines are awesome
Tetsuya made me pick up a bass, he's the absolute monarch of melodic bass lines, always puts on a killer show and dresses much better than you and your girlfriend. Plus his compositions are among the best rock tracks ever, Driver's high baby. Those bass lines takes you to heaven.
You know what? I get speechless if I have to explain Tetsuya's awesomeness. He's just too great! What, skill? He has it. Beautiful idea of chords? Don't ask. He got it. For short, Tetsuya has it all.
Bass game from Tetsuya, not simply as appendages to a song, but an inseparable part of the song, how to play is also very varied and full with a distinctive melody.

GO TETSUYA!
Tetsu - San is a great bassist with a unique style. I love his laughing and the energy he shows, while playing the bass. It seems, when Tetsu - San is playing the bass, that he's really happy. Happy to be on stage with the guys and to show his great skills.
He is definitely the god of bass. His bass lines are totally awesome in every song he plays. When you listen to the songs, you can hear the bass lines that really stand out. His bass plays an equally important role as other instruments.
He's skill is perfect! No more, no less. Just perfect! Beauty, speed, and emotion merge into one. I told you he's just perfect! Add it with his calmness while he's playing his bass. Tetsuya is the best! Vote for Tetsuya!
He is an incredible bass player, with impressive skill and above all the feeling expressed in his solos is amazing, it is indeed refreshing to find him in this list and that he is recognized as the great bass player he is. TETSUYA!
Just listen to Stay away and Heaven's Drive! Tetsu inspired me to be a bassist! He always composes nice songs too.. The best leader band, bassist, vocalist, guitarist, musician, composer, and arranger ever!
He makes bass as melody. Huo... Really awesome. TETSU-SAMA I choose you as the best bassist ever.

What a high skill when you play "new world", "jiyuu e no shoutai", and NEXUS 4.
He make beautiful melody with his fingers. Ha can make marvelous song with his skill. Speed with pick? Don't ask. See it for yourself, and you'll know why I said it. Need more opinion?
Best example of a bassist. He plays good. His fingers' movement is so fast. He's my long-distance tutor. If only I can see him in person. I will definitely ask him to teach me to play bass. Hahaha..
He has an identity.. I love when he plays his bassist, it's not just skill, he also had harmony.. good luck and go ahead Tetsu, we will always beside you!
all the bassists in this list are good but my vote have 2 go 2 Tetsuya cause he is my hero I think he is very musically talented n the bass line he came up with are well put together n well played
Tetsu plays not only with skill, but heart-feeling...
This is the true art of bassist.

"Bass not only an instrument, but it also takes part to sing in a song"